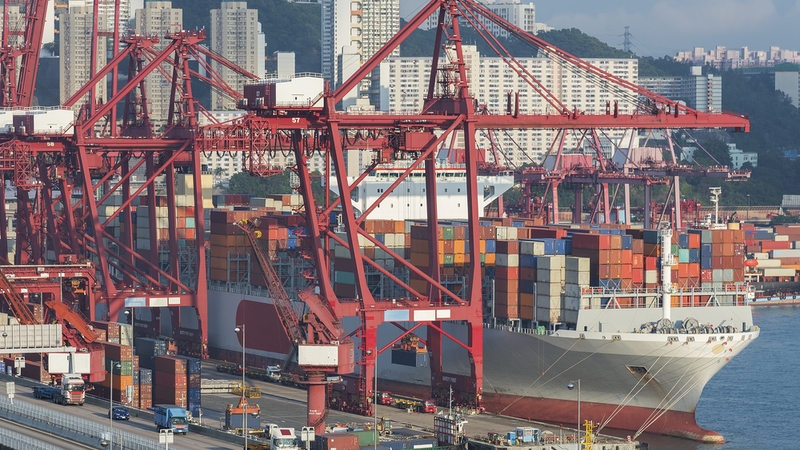 https://hkmb.hktdc.com/en/ODc2MTE1OTM1
Hong Kong Logistics: Maritime Prospects and Trends
Interview with Dr. Robin Li Yubin, Vice President, China Merchants Port Holdings Co Ltd
C H Poon
There is a somewhat pessimistic view of the future of Hong Kong port logistics, with many noting a decline in competitive performance in recent years. Looking at shipping, logistics and trade data alone, it does appear that things are not faring well at present. In 2004, seaborne trade accounted for 31.6% of total trade volume, dropping to 21.6% in 2012 and slipped further to 12.4% in 20201. In 2004, Hong Kong's container port throughput amounted to 21.98 million TEUs, making it the world's busiest container port. In 2020, it only handled 17.97 million TEUs, ranking ninth in the world2.
However, from the perspective of its in-depth participation in mainland China's "dual circulation" strategy and the development of the Guangdong-Hong Kong-Macao Greater Bay Area (GBA) as a whole, the port of Hong Kong still occupies an important position.
HKTDC Research recently interviewed the Dr. Robin Li Yubin, Vice President of China Merchants Port Holdings Co Ltd on the prospects, direction and opportunities of Hong Kong's port logistics market in national development. China Merchants Port Holdings Co Ltd is a world-class comprehensive port service provider with a network covering 50 ports on the mainland and various countries and regions of the world. It is the second largest shareholder in Modern Terminals Ltd, which operates seven container berths and two feeder berths in Hong Kong. A subsidiary of the China Merchants Group, the company's headquarters are in Hong Kong.
HKTDC Research: China Merchants Port operates ports in China and various parts of the world. In your opinion, what advantages does Hong Kong have in the global logistics supply chain? What are the benefits of stowing goods in containers on the mainland for transit and export via Hong Kong?
Li: Hong Kong is an important international transit hub. It not only enjoys more international, flexible policies as a free port than its mainland counterparts, but also leads the world in trade and customs facilitation. The reliability of Hong Kong's transportation and logistics infrastructure and logistics services is also among the best in the world. Thus, many leading international brands and companies dealing in high value-added goods choose Hong Kong for inventory management, labelling, packaging and other processing procedures. Easy access, an international airport with large handling capacity, free port status and reliable logistics services all help to make Hong Kong an ideal cargo transit port for distributing goods to other countries and regions, and tapping the growing demand in China and other Asian countries for high-end goods.
Apart from hardware, supply chain management also needs the support of software, that is, professional services. Hong Kong's ideal geographical location and free and open social system, in addition to its well-developed marine-related high-end supply chain services, are reasons why so many international shipping and maritime service companies use Hong Kong as their base. The following data may well illustrate Hong Kong's importance: the merchant fleet owned or managed by shipowners and ship management companies in Hong Kong accounts for 9.6% of the world total. In addition, there are some 800 maritime companies providing all kinds of maritime services, including ship management, ship agency, ship broking, marine insurance, and maritime legal and arbitration services3.
The drop in Hong Kong's port container throughput and world ranking does not mean that it has lost its advantage as a high-quality logistics service centre. To the contrary, Hong Kong's container throughput still ranks among the top 10 in the world in spite of keen competition from nearby ports. This actually reflects our sound logistics infrastructural support and professional logistics service capability.
However, we must also see that regional co-operation and technological application are the development mainstream. Hong Kong should seize the development opportunities of the GBA and extend its strengths and experience in shipping, port and logistics services to other cities in the GBA and expand the market to the whole world through the GBA.
Hong Kong should also adopt advanced digital technologies to support the development of its shipping industry. Examples include the application of smart port technology, the demonstration project for the research, development and application of smart waterways in Guangdong, Hong Kong and Macao, the application of the BeiDou Navigation Satellite System, and the integrated application of internet-of-things and other technologies in shipping. This way Hong Kong can better consolidate its strengths in the global logistics supply chain.
HKTDC Research: What is the main direction for the development of port logistics in Hong Kong at present? What is your take on the application of new technologies in port logistics?
Li: The are two main directions. One is to develop and strengthen Hong Kong's marine-related services, such as cargo transit and professional shipping services, in conjunction with other ports in the GBA, and promote co-operation with other ports in the GBA. The other is to continue strategic co-operation with leading areas in the field of information technology to achieve the strategic intelligent digital transformation of port enterprises and inject new vitality into the port logistics business.
Our Mawan Smart Port at Shekou, Shenzhen, became operational in late June 2021. The Port of Mawan has been in operation for over 30 years, in its early years it was a port for labour-intensive bulk cargo business. Great efforts have been made to promote technological application since port transformation commenced in 2017. Through co-operation with leading internet technology companies, the Mawan Smart Port now boasts nine integrated smart elements, including China Merchants Core (a smart business platform), China Merchants ePort (a one-stop online customer service platform), artificial intelligence, 5G application, the BeiDou Navigation Satellite System, automation, smart customs, blockchain and green low-carbon operation.
After transformation, Mawan Smart Port now covers an area of 983,600 square metres, with a total berth shoreline length of 1,930 metres and a total of five berths, including two 200,000-ton special container berths, which can accommodate the world's largest container liners, the largest in South China. The port can handle up to 3 million TEUs annually. We think the Mawan Smart Port project can help the Hong Kong's logistics sector make positive deployments and deepen the application of information technology in the GBA.
Cargo Movement Between Port of Hong Kong and Ports in Other GBA Cities
The following figures show the cargo throughput in Hong Kong and other parts of China in 2020, according to the Hong Kong Shipping Statistics released by the Census and Statistics Department of Hong Kong. Goods discharged refer to goods from that region discharged in Hong Kong, while goods loaded refer to goods loaded in Hong Kong for shipment to that region.



Port cargo discharged
(1,000 metric tons)

Share of port cargo discharged in terms of total cargo throughput (%)

Port cargo loaded
(1,000 metric tons)

Share of port cargo loaded in terms of total cargo throughput (%)

Total

169,931

100%

79,355

100%

Mainland China

85,207

50.1%

41,738

52.6%

Nine GBA Cities

69,334

40.8%

31,290

39.4%

Macao

848

0.5%

3,045

3.8%
The following are figures on the cargo throughput of goods from the nine GBA cities discharged and loaded in the Port of Hong Kong in 2020:



Port cargo discharged
(1,000 metric tons)

Share of port cargo discharged in terms of cargo throughput of the nine GBA cities (%)

Port cargo loaded
(1,000 metric tons)

Share of port cargo loaded in terms of cargo throughput of the nine GBA cities (%)

Total cargo throughput of the nine GBA cities

69,334

100.0%

31,290

100.0%

Zhuhai

22,602

32.6%

1,057

3.4%

Dongguan

12,482

18.0%

1,680

5.4%

Guangzhou (Huangpu and Panyu Ports)

6,829

9.8%

12,045

38.5%

Foshan (Foshan, Nanhai and Shunde Ports)

6,225

9.0%

6,495

20.8%

Zhaoqing (Duanzhou, Dinghu, Gaoyao and Sihui Ports)

5,825

8.4%

725

2.3%

Huizhou (Huicheng, Boluo and Huidong Ports)

5,179

7.5%

14

0.0%

Shenzhen (Shekou, Mawan, Chiwan and Yantian Ports)

4,008

5.8%

4,255

13.6%

Zhongshan

2,958

4.3%

866

2.8%

Jiangmen (Jiangmen and Xinhui Ports)

2,049

3.0%

3,090

9.9%

Others

1,177

1.7%

1,063

3.4%
HKTDC Research: Sea freight rates have been on the rise in recent months. Are there signs of this surge easing? What is your advice to companies facing problems of space shortage and surging freight rates?
Li: Since the end of last year, ports across the world have been affected by the combined effect of Covid-19, Brexit, the Suez Canal blockage and other factors to different extents. The global container shipping market still faces considerable uncertainties in 2021. For example, global supply-demand mismatch, container shortage and port congestion may cause a chain reaction of freight rates, shipment reliability and other factors. If the pandemic gradually comes under control, we believe that shipping schedules, capacity and container delivery will gradually return to normal and container freight rates will slowly drop.
As to problems of space shortage and high freight rates, we recommend adopting a positive attitude and planning for contingencies in advance. On the one hand, we should strengthen negotiations with shipping companies and supply chain partners and work together to draw up integrated solutions. On the other hand, we believe that all companies should do a solid job of epidemic prevention and control to ensure the smooth passage of maritime logistics channels and the safe and steady supply chain operation.
HKTDC Research: We have been grappling with the pandemic for over a year now. From a broad perspective, what do you think are the major development trends for the global port logistics market in the days ahead?
Li: We believe the Covid-19 pandemic will remain the biggest uncertainty, but its impact will gradually diminish as vaccination rates pick up. As the pandemic eases, economic and trade activities will gradually resume and global economic recovery can be expected, thus boosting a steady growth in the demand for global maritime trade. This will also contribute to the sustained development of our port logistics market.
In the long run, the global port logistics market is facing changes in the following four directions: First, change in the global economic pattern, that is alteration in the comparative advantages of different countries. Second, change in the import-export pattern, that's to say variations in the progress and direction of economic development in different countries. Third, change in customer groups, meaning changes in companies' business patterns and consumers' consumption behaviour. Fourth, change in digitalisation and intelligent transformation, specifically the impact of science and technology on supply chain management.
Among the four changes mentioned above, we believe that the change in digitalisation and intelligent transformation is the winning card for port logistics companies. The Covid-19 pandemic has hastened online operation for the port logistics business and "technology-led" will be the most important trend for port logistics companies. We will follow the global technological development trends closely and think long term with the present in mind, in an effort to make the transformation and upgrading of ports owned and operated by our group a success.
Shifting Patterns in Trade in Recent Years
Among the major shifting patterns in trade identified by the World Trade Organisation in its World Trade Statistical Review (2018-2021 editions) are the following:
Over 65% of the world's export merchandise trade is carried out by 10 economies, with China, the EU and the US topping the league.
The rankings of ASEAN countries in global export merchandise trade are rising steadily.
In 2010-2020, the average growth in global manufactured goods exports was faster than global economic growth. In 2020, China accounted for one-third of the global exports of office and telecom equipment. Office and telecom equipment exports from the top 10 exporting countries (and regions) as a percentage of total office and telecom equipment exports globally rose from 79.7% in 2005 to 90.6% in 2020, demonstrating a trend towards concentration.
In 2010-2020, the average growth in global exports in fuel and other mineral products was faster than global economic growth. In the same period, however, the export value of renewable-energy goods has seen a steep increase.
In 2010-2020, the average growth of global exports in agricultural products was faster than global economic growth. The global food trade has been slowly trending upwards in recent years. China's import amount for meat and marine products has been rising quickly in recent years.
Currently, the pharmaceutical value chains are highly globalised. China is the world's biggest supplier of raw materials in pharmaceutical value chains, European countries (such as Ireland and Switzerland) are the world's largest manufacturers of active pharmaceutical ingredients, while the US is the world's top buyer of raw materials in pharmaceutical supply chains.
HKTDC Research: The importance of environmental protection has been well recognised by the logistics industry in recent years. What are the measures your company is adopting to promote environmental protection?
Li: We strive to respond to the government's carbon neutral and carbon peaking strategy by advancing innovative green development. In a bid to build green supply chains to achieve the vision of establishing green ports, we encourage giving priority to sourcing environmentally friendly equipment and strengthening climate change-related risks management. Meanwhile, we have launched environmental protection promotion activities online and have incorporated energy conservation and emissions reduction concepts in daily routines.
The environmental initiatives we have adopted in our core port business include the adoption of new energy conservation technologies and products such as "fuel to electricity conversion" and "shore-based power supply for ships". In the past year, we have rolled out a fuel to electricity conversion project for rubber-tyred container gantry cranes in Shantou Port, substituting fuel-powered equipment with electricity-powered equipment. By using clean low-carbon electricity to replace fuel, we aim at achieving zero exhaust emissions and raise our energy utilisation rates.
Meanwhile, phase one construction of the shoreside electricity project at the Guang'ao Port Area of Shantou Port has been completed. Ships berthing in this port area can switch off their own generators and charge up with pier side charging equipment, thereby minimising atmospheric emissions during berthing.
Green development is a complicated systems project, so we have always been exploring ways to improve green management in a bid to carry through the five major development concepts of "innovation, co-ordination, green, openness and sharing" and practise green operations across all our business areas. At Colombo International Container Terminal (CICT) in Sri Lanka, for instance, we are committed to using energy-saving products to create a green, low-carbon port. To this end, we have installed LED lights and fitted our rubber-tyred container gantry cranes with advanced electric lifters instead of traditional diesel-powered lifters. This can reduce carbon emissions by 6,502 tonnes a year and make CICT the first green pier in Sri Lanka.
HKTDC Research: The Central Government has stated in the 14th Five-Year Plan that it will support Hong Kong in enhancing its status as a shipping and trade centre. How should Hong Kong's logistics sector prepare itself?
Li: Hong Kong is a highly market-oriented and international free economy underpinned by the rule of law. Leveraging the "dual circulation" strategy, Hong Kong is fully capable of becoming a participant in domestic circulation and a facilitator in international circulation during the 14th Five-Year Plan period. Its active participation in the GBA initiative will bring continuous impetus to Hong Kong's economy.
As to the future development of Hong Kong's logistics sector, the Hong Kong Port will remain an important hub for establishing Hong Kong as an international shipping centre and will serve as a critical link for dual domestic and international circulation. For this, Hong Kong's port logistics industry should actively leverage its unique advantages, seize development opportunities and enhance its market competitiveness.
Specifically, it should:
Actively seize GBA development opportunities, strengthen co-operation with ports in the Pearl River Delta region and develop high-end services related to port logistics.
Lay the groundwork for the transformation and upgrading of the port logistics industry through digitalisation, automation and smart applications.
Give due attention to integrating upstream and downstream resources in Hong Kong's logistics supply chains, jointly develop niche supply chain services and continue enhancing the global competitiveness of Hong Kong's logistics sector.
Highlights of the 14th Five-Year Plan and the Outline Development Plan for the Guangdong-Hong Kong-Macao Greater Bay Area Relating to the Development of Hong Kong's Port Logistics Industry4
Outline of the 14th Five-Year Plan for National Economic and Social Development and the Long-Range Objectives Through the Year 2035
Improve the quality of the national highway network; accelerate the construction of world-class port and airport clusters; build world-class port clusters in the Beijing-Tianjin-Hebei region, the Yangtze River Delta and the GBA
Strengthen the development of international air freight capacity and the competitiveness of international ocean shipping
Expand the industries covering energy conservation and environmental protection, clean production, clean energy, ecological environment and infrastructure upgrade towards eco-friendliness
Accelerate the construction of intercity railways, co-ordinate the functional layout of [GBA] ports and airports, and optimise the allocation of shipping and aviation resources
Deepen reforms in customs clearance modes to facilitate the effective and efficient flow of [Hong Kong, Macao and mainland] people, goods and vehicles
Support Hong Kong to enhance its status as an international financial, shipping and trade centre as well as an international aviation hub, strengthen its status as a global offshore renminbi business hub, an international asset management centre and a risk management centre
Outline Development Plan for the Guangdong-Hong Kong-Macao Greater Bay Area
Consolidate and enhance Hong Kong's status as an international maritime centre; support Hong Kong's development of high-end maritime services such as ship management and leasing, ship financing, marine insurance, maritime law and dispute resolution services; and provide such services to mainland and Macao enterprises
Increase the overall capacity of international shipping services in Guangzhou and Shenzhen; further enhance the service capacity of infrastructural facilities, including ports and fairways; form a complementary and mutually beneficial system of ports, shipping, logistics and ancillary services with Hong Kong; and strengthen the overall international competitiveness of the port cluster
Focus on major coastal ports, improve the cargo collection and distribution networks of inland waterways, port railway lines, motorways, etc
Develop modern freight and logistics systems; expedite the provision of railway-water, motorway-railway, air-railway and river-sea inter-modal transport, as well as "single cargo manifest" services. Accelerate the development of a smart transport system, and pursue the integrated application of innovative information technology in transport, such as the internet of things, cloud computing, big data, etc
Support the development of a marine economy through enhanced financial co-operation among Guangdong, Hong Kong and Macao; explore the issuance of corporate bonds for marine development both domestically and externally; encourage industrial (equity) investment funds to invest in enterprises and projects related to integrated marine development; and leverage Hong Kong's strengths in high value-added maritime and financial services to develop specialised financial services industries such as marine insurance, reinsurance and ship finance
Optimise management measures; strengthen co-operation among mainland, Hong Kong and Macao control point departments; expand and improve the functions of control points; and adopt more convenient customs clearance modes at control points in the three territories
Strengthen international co-operation among ports in Guangdong, Hong Kong and Macao, jointly set up port industry zones with relevant countries and regions; and form regional port alliances
---
1 Source: Census and Statistics Department of Hong Kong
2 Source: Marine Department of Hong Kong
3 Source: Maritime and Port Board of Hong Kong. Figures are of 2016.
4 Translation reference: Constitutional and Mainland Affairs Bureau of Hong Kong, Academy of Contemporary China and World Studies