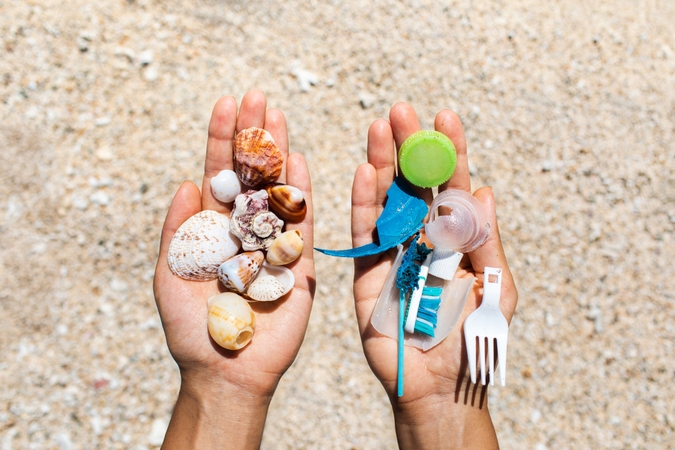 https://hkmb.hktdc.com/en/ODY2OTQzNTIz
From Sustainable Innovation to a Zero Waste Industry
Interview with George Chen, the CEO of Ecoinno
Charlotte Man
Reducing or eliminating the use of single-use plastics (SUP) has always been at the forefront of strategies to combat climate change and, by 2020, more than 110 countries had introduced laws or regulations to address this, compared to only 55 countries five years earlier [1].
The 450 million-strong EU, one of Hong Kong's principal export markets, banned the sale of certain SUP items from July 2021, and also plans to introduce an extended producer responsibility (EPR) scheme, as well as new product and marking requirements [2, 3].
One of Asia's leading international hubs, Hong Kong introduced the Plastics Shopping Bag Charging Scheme in 2015, and has stepped up its sustainability efforts with two public consultations on plastic beverage containers [4] and disposable plastic tableware [5] this year.
This plastic-free trend has been reinforced as a growing list of businesses have committed to actions that go far beyond basic compliance requirements. In 2020, more than 250 businesses, including big names like Apple, H&M and HP, together responsible for more than 20% of global plastic packaging consumption, pledged to phase out unnecessary packaging by 2025, along with meeting other ambitious green goals [6, 7].
In order to compete in an increasingly competitive global marketplace, Hong Kong companies have to innovate so that they can compete with their international peers across all levels of technology, service and products. Added to this challenge (and opportunity) is the ever-growing need to operate within a sustainable and environmentally conscious framework.
George Chen is an example of this change in mindset. In 2010, he established Ecoinno, a Hong Kong-based green biotech company. As Chief Executive of the business, he is committed to not only adopting and adapting technology, but also to being truly innovative with the objective of revolutionising the industrial sector and redefining the concept of sustainability.
Fast forward to 2021 and Ecoinno is now at the forefront of sustainability with its patented Green Composite Material (GCM), a highly functional cellulose-based material free from toxic chemical and plastic coatings that can be used to manufacture a wide-range of products including food packaging/containers, single use products, and medical disposables. GCM gives industry (and the world) a new hope for a truly sustainable, highly versatile and compostable material with physical characteristics superior to plastic and without any environmentally-damaging properties.
A Universal Solution
When asked to define sustainability, Chen said: "Until recently when many governments had yet to set out their green laws and regulations, it was a vague and often misleading concept, although we heard the word constantly. For example, the EU's SUP Directive defines plastics as 'materials consisting of a polymer to which additives or other substances may have been added, and which can function as a main structural component of final products, with the exception of natural polymers that have not been chemically modified'. Many packaging materials that had been previously regarded by the trade as 'eco-friendly', such as bio-based or biodegradable plastics, fall within that definition."
In order to align with the ever-changing regulatory requirements around the world, Chen urges industrial businesses to keep innovating and make good use of new technologies, saying: "In particular, they should consider things like GCM, which is made from natural cellulose extracted from agricultural wastes and processed using patented technologies. Its physical properties include high temperature tolerance and tensile strength, as well as low oxygen transmission rate (OTR), while it also biodegrades in a few months.
Physical Properties of GCM

 

GCM

Paper Coated with PLA

Biodegradable Plastics (PLA)

Plastics (PP)

Temperature Tolerance

-20°C to 200°C

<60°C

<60°C

<82°C

Biodegradability

< 75 days

 >80 years

Needs to reach 60°C
1-6 months

20-30 years

Waste Treatment

Home compost
​​​​​​​(Natural condition)

Landfill

Industrial compost at 60°C

Landfill

Tensile Strength (MPa)

125

30

65

40

Oxygen Transmission Rate (OTR)

0.1

4,000

 80

2,000

Source: Ecoinno
"In other words, it is a truly sustainable and compostable material with physical characteristics superior to plastic but one that causes no environmental harm. It can be used in a wide range of applications, including food packaging/containers, medical disposables and other single-use products, without any concerns about end of life waste treatment."
Welcoming crossover opportunities with all industries, Chen said: "Ecoinno will continue to spare no effort when it comes to research and development in order to enhance the characteristics and applications of GCM. We also consider all industries as our potential partners when it comes to developing new solutions for their businesses and more importantly to create new business opportunities from the enhanced properties of GCM."
From Cradle to Grave
In addition to creating a new technology with revolutionary industrial applications, Ecoinno has also developed a circular product lifecycle for GCM that opens up new possibilities for material and material flows, as well as the prospect of a new, zero-waste industry. Illustrating how a circular economy can be built around GCM, Chen explained: "The entire GCM production process is waste-free and gives a second life to agricultural waste. Products made from the material can be used to produce biofuels and fertilisers through natural composting when they are disposed of. They do not need to be recycled as there is virtually nothing to recycle at all."
"This concept has been tested and proven through our pilot projects in partnership with the Hong Kong government at a number of food waste compost plants. It also offers savings on food waste collection as packaging collectors and recyclers will no longer have to separate food containers from food waste. We believe this will offer a big incentive for businesses to dip their toes into the water."
Tailor-made Solutions
With a revolutionary industrial solution available for all and a new circular, zero-waste business model, Ecoinno has been supported by a variety of businesses, including some of the world's leading airlines and F&B businesses, many of which are striving to reduce their carbon footprint from packaging in order to fulfil their ESG commitments and gain rewards from such incentive schemes as emissions trading.
To win over new clients, Chen chooses not to compete on price, but in terms of total solution. "In order to develop best-fit solutions for clients, we sent our in-house technicians to their food processing and logistics centres to understand the entire operation. Typically, this company-specific learning and development process can last for a few months, depending on the particular technical challenges that need to be overcome."
Seeing these projects as an opportunity for the team to grow, Chen said: "We're very grateful for the opportunities we've been given to work with different industrial sectors. These hands-on experiences have sharpened our knowledge and skills in the field, which have become our most valuable assets."
"Another landmark project is our collaboration with a leading coffee maker to develop a GCM coffee capsule that can withstand the high temperatures and pressure of the coffee-making process, and fit into existing coffee machines. The project came to fruition after years of effort and the experience we accumulated has been applied in other packaging projects," Chen added.
Handy for Everybody
For small- and medium-sized enterprises (SMEs) which typically prioritise cost, Ecoinno offers added value in terms of streamlined workflow and enhanced production capacity.
Expanding upon this, Chen said: "Our green solutions offer unrivalled performance not only as packaging materials, but also as cooking and dining utensils. With their high tensile strength and temperature tolerance, they can accommodate steaming, microwave heating, baking and grilling. The ultra-low OTR, comparable to metal, increases shelf life and extends "best before" dates by reducing microbial growth."
"We have run trials with different restaurants, local and foreign, big and small. And we're proud to confirm that chefs are amazed by the performance of GCM packaging as a one-stop solution kitchen-to-table. As the food processing operation is streamlined, restaurants can take more orders – takeaways or dine-ins – without compromising on food or service quality."
Commercially Viable
Unlike many laboratory innovations that have still to be practically tested, GCM is a proven commercially viable solution. With the company gearing up for fully-automated, industrial-scale and robotic-driven production, Chen said: "We started to develop our own proprietary GCM manufacturing system and production protocols two years ago. More recently, we have reached a number of milestones, including the opening of our first fully-automated factory in Tai Po in November 2020 and the opening of a GCM R&D mega hub and production plant in Dongguan in January 2021."
Following these encouraging steps forward and an increasing number of large-scale projects unfolding outside Hong Kong, Chen and his team are looking at franchising the manufacturing rights to interested businesses in order to expand the utilisation of GCM. With this "user-invests" approach, Ecoinno will focus on the further development of GCM and its adaptation for various industrial applications.
With the Dongguan factory set to be used as a showcase for potential franchisees and business clients, Chen said: "We've trained our technicians in Hong Kong to serve as a foundation for the new factory. With the opening of the Dongguan plant, some technicians have been deployed to manage the production facilities and streamline the entire operation. Once pre-determined benchmarks for daily production capacity and other criteria are met, we'll consider commissioning and authorising third parties – franchisees or other clients – to start new GCM production units. The Dongguan factory will then serve as a training centre for newly onboarded franchisees in order to minimise start-up time."