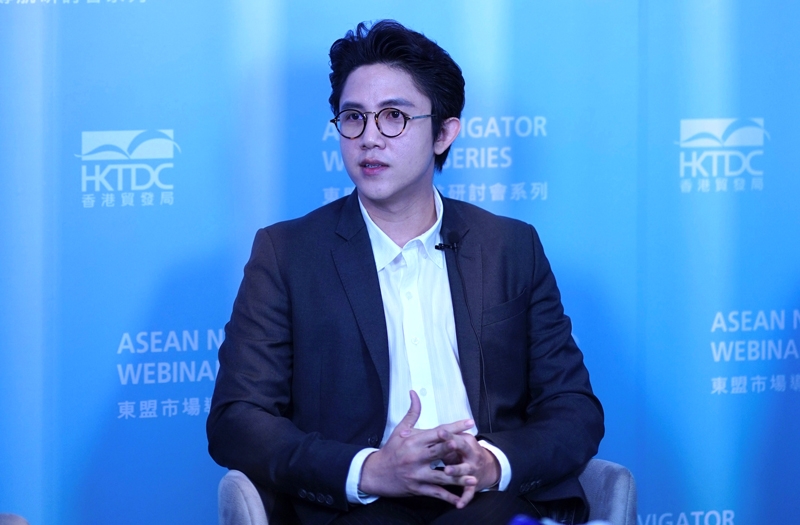 https://hkmb.hktdc.com/en/ODU4MDk1NjYw
ASEAN E-commerce: Unlocking Growth Via Digital Marketing
Interview with Chitpol Mungprom, Founder of Zanroo
Melissa Ho
Brands have traditionally relied upon surveys and research to understand their consumers, but these approaches have several shortcomings such as being time-consuming and having limited sample sizes. As the number of digitally connected consumers grows and social media usage expands, social listening provides an alternative for brands as well as marketers to tap into much richer consumer insights in real-time.
In Southeast Asia, social listening has profound implications for many core marketing functions – from consumer analysis to customer support to competitive intelligence – given the high social media penetration in the region. More than three out of five people in Southeast Asia are active social media users, with Malaysia having the highest penetration rate of 86%.[1] In view of the today's digital marketing climate in Southeast Asia, HKTDC Research sat down with Chitpol Mungprom, Founder of Zanroo, to understand how social listening and digital marketing works in the region.
Understand Consumers Through Social Data
Founded in 2013, Thailand-headquartered Zanroo provides business intelligence tools that track, monitor, collect and analyse online conversations across social media platforms and websites. Sharing the key benefits of utilising social data, Mungprom said: "For any brands to succeed, it is important to know your target consumers so that you can direct your marketing efforts towards the right audience and yield better results. Our social analytics solution can understand the diverse local languages in Southeast Asia, such as Thai, Bahasa and Tagalog, and offers a window into consumers' positive and negative feelings towards a brand and its products and services. It also shows what trends consumers are interested in."
Apart from consumer insights, social data informs marketers and brands about the competitive landscape. Mungprom elaborated: "Through social listening and monitoring, a company is able to get honest comments and feedback about brand loyalty, and the strengths and weaknesses of its competitors. With this information, it can look at ways to differentiate itself from other market players."
As a mobile-first region, Southeast Asia has made its way into the radars of many digital marketers given its high social media penetration, with almost seven out of ten people in the region being active social media users.[2] Understanding the centrality of social media to ASEAN consumers' shopping experiences and interactions with brands, Mungprom expanded his business to cover all ASEAN markets with offices in Malaysia, Indonesia and Singapore.
Moving Forward to Data Technology and AI
Mungprom shared that social listening techniques have been around for some years and becoming more common in consumer-facing industries. To differentiate Zanroo from other marketing technology companies, Mungprom believed that it was essential for the company to utilise data technology and analytics for more dynamic consumer insights. He said: "In Thailand, the industry has reached a consolidation stage for social listening technology. It is key for us to improve our offerings and solutions and bring the business to the next level. Instead of just tracking conversations online, we're looking to predict consumer and industry trends with the data we have."
One highlight of Zanroo's enterprise solution is to help brands match online and offline consumer data. Elaborating on this, Mungprom said: "Online data usually originates from various points across the customer journey such as online transactions, customer service chat logs and browser cookie data while offline data includes purchase history in physical stores and loyalty card information.
In today's world, consumers demand consistency across communication channels. By integrating online and offline data, we're able to identify and match the customer who visited the brick-and-mortar store with his or her online interactions with the brand, and hence achieving a truly omni-channel experience. At the same time, we are able to create more comprehensive customer profiles and bolster our marketing efforts for brands to attract new customers or convert potential customers."
In anticipation of heavier adoption of artificial intelligence (AI) in the future, Zanroo also provides chatbot solution to help brands engage with their customers. Mungprom pointed out that the Covid-19 pandemic has indeed brought AI chatbots into the spotlight for many brands and marketers in Southeast Asia, saying: "The pandemic has taken a toll on physical retail stores and brands are looking for alternative ways to connect with their customers and improve shopping experiences. Over the past year, we have seen more businesses adopting chatbots to automate responses to customer inquiries and help strengthen connections with customers." While chatbots can offer a better conversational experience for the customer, Mungprom advises businesses to always provide an alternative means of communication by giving customers the option to contact human customer service agents when needed.
Tips for Effective Marketing
Against the backdrop of the pandemic and the subsequent structural shifts in consumer behaviours, the significance of digital marketing cannot be understated. To deliver resounding success in social media marketing, Mungprom has identified some useful strategies for brands. He emphasised the importance of consistency: "Consistent content allows for top of the mind awareness. It's usually not the initial message that grabs the consumer's attention but the subsequent exposures to the content. Social media is fast-paced by nature, and content becomes obsolete quickly. That's why posting regularly is so essential. Besides, brands also need to engage customers consistently and swiftly on social media platforms to build up credibility online."
Whilst the region is highly active on social media, its cultural diversity means that taking a one-size-fits-all approach in marketing is ineffective. Mungprom explained using Malaysia as an example, saying: " It is a multi-cultural and multi-racial country with Malay, Indian and Chinese communities, and it is a melting pot of different religions and festive celebrations. Being culturally sensitive when communicating with the audience is vital.
"For example, a food and beverage company should be mindful about the month-long Ramadan fasting period. It would be useful to understand how and when Muslims fast during Ramadan –from dawn to sunset – and adjust the advertising or marketing campaigns accordingly."
While social media platforms including Instagram and Tik Tok are widely used to engage with customers in Southeast Asia, especially among Millennials and Gen-Z, Mungprom suggested that traditional marketing channels such as billboards and TV broadcast remains effective for certain groups of target customers. Mungprom said: "We have worked with a client who sells personal care products in Thailand and the company spent the major part of its budget on street and bus stop billboards rather than on online social media campaigns. Knowing your target audience before choosing the right marketing channels is important for any kind of marketing to be effective."
---
[1] We Are Social, Digital 2021 Report
[2] Same as 1
ASEAN
Southeast Asia
Thailand
Malaysia