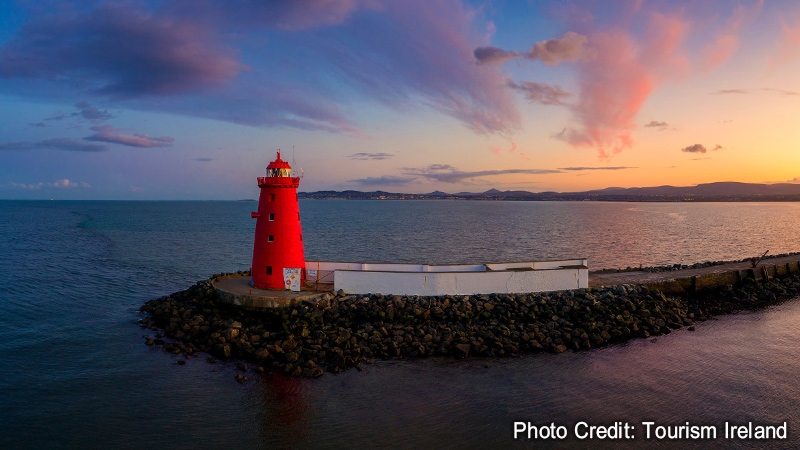 https://hkmb.hktdc.com/en/ODQ3MDg1NzEz
Post-Covid Prospects: Ireland
Louis Chan
It has been over 18 months since the first case of Covid-19 was confirmed in Ireland by the Health Protection Surveillance Centre on 29 February 2020. In stark contrast to the average contraction of more than 6% across the EU, the Irish economy was one of the very few European countries that were able to post positive economic growth during the first year of the global coronavirus pandemic, clocking up an enviable increase of 3.4% in its GDP in 2020. This was despite suffering from record Covid-adjusted unemployment numbers in excess of 20%, and putting in place arguably the most stringent infection containment measures in Europe – measures that affected almost every sector and meant that workplaces and businesses were shut down for much longer than in any other European country.
The principal reason for such an encouraging performance has been the upsurge in exports in the pharma and ICT sectors, driven by the production of cutting-edge immunology drugs and their components. These include cancer medicine Keytruda (pembrolizumab) by Merck (the company known as MSD outside the US and Canada) and psoriasis drug Stelara (Ustekinumab) by JanssenBiotech. Both companies have recently expanded their manufacturing capacity in Ireland. There has also been increased demand for Covid-19-related goods such as nebulisers, ventilators and other treatment and protection equipment, while enforced stay-at-home time has fuelled the market for a slew of electronic products like smart gadgets and home devices.
On 1 June 2021, the Irish government unveiled a €3.6bn economic recovery plan supported by the Next Generation EU recovery instrument, designed to support the progressive resumption of economic activity and get people back to work. The plan sets out supports, investment and policies for a new stage of economic recovery and renewal. It aims to have 2.5m of Ireland's 5m population in employment by 2024 (a figure which would exceed pre-pandemic levels), while maintaining alignment with the government's aspirations on other issues such as the environment and digital transformation.
Louis Chan, Principal Economist (Global Research) at HKTDC, interviewed David Costello, Ireland's Consul General to Hong Kong and Macao, to discover how, the Emerald Isle and its businesses are preparing to work with Hong Kong businesses to plot a post-Covid future.
Chan: How is the vaccination programme progressing in Ireland? Do we have a timetable or a roadmap to indicate when the majority of the population will be vaccinated?
Costello: Irish scientists like the World Health Organization's Health Emergencies Programme Executive Director Dr Michael Ryan, Emer Cooke, the Executive Director of the European Medicines Agency, and Professors Adrian Hill and Teresa Lambe, who are behind the development of the Oxford/AstraZeneca vaccine, have been at the forefront of scientific research into life-changing Covid responses.
Throughout the course of the pandemic, therefore, Ireland has trusted the science, with perhaps the most dramatic and constructive evidence being our vaccination efforts.
The Irish vaccination programme was launched on 29 December 2020 in coordination with other EU member states. By early September 2021, more than 7 million doses had been administered, with 92% of the adult population partially vaccinated and some 88% fully immunised. This places Ireland in the Top 15 territories in the world – with a population above 300,000 people – in terms of vaccine uptake. This is extraordinary, especially when taking into account the fact that one in five of Ireland's population is under the age of 15 and not currently eligible for vaccination.
With age and vulnerability being the driving forces, the phased vaccination programme has prioritised those who are most at risk from the coronavirus – such as senior citizens aged 65 or above living in long-term care facilities and frontline healthcare workers. The success of this approach is evident with 100% of those aged 70+, more than 98% of those aged 60-69 and more than 96% of those aged 50-59 now fully vaccinated. This has led to the Taoiseach (Prime Minister) making a live TV address to the nation announcing a road map to the full re-opening of Ireland. In line with this, a booster vaccine programme will be a key factor in the easing of the remaining restrictions in time for the Government's October 22 deadline.
Chan: What is the near- to medium-term outlook for Ireland's major industries and trade, in view of the government support that is being provided during the pandemic? When are you expecting the vaccine-boosted recovery to kick in?
Costello: Ireland, thanks largely to its multinational-dominated export sectors, managed to show overall positive GDP growth in 2020. Recent data shows that Irish GDP rose by 6.3% in the second quarter this year, following 8.7% growth in the first, with an overall 22% year-on-year economic expansion. That is despite the double whammy of Brexit (given our very high level of trade with the UK) and Covid. While Modified Domestic Demand (MDD) – which is a measure of personal, government and investment spending – actually decreased by 5.4% in 2020, it increased by 8.4% in the first half of 2021.
Across 2020 and 2021, €38bn has been provided in Covid-19 related support. As part of this, the €7.4bn July Jobs Stimulus announced on 23 July 2020 for enterprise, workers, training, skills and activation, and an additional almost €12bn in Budget 2021 to deal with the challenges arising from the pandemic, have provided a necessary bridge of support for the people and businesses affected by the various levels of containment restrictions.
But the domestic economy has borne the brunt of Covid-19 restrictions, with the tourism, hospitality (hotels and restaurants), entertainment and aviation sectors still feeling the impact of pandemic restrictions in early 2021. The Irish government has stepped up its efforts to help and support people and businesses and try to limit the "scarring" (or the permanent effects) of the pandemic in Ireland, with a €3.6bn EU-backed National Economic Recovery Plan, which is structured around three priority areas: advancing the green transition, accelerating and expanding digital reforms and transformation, and social and economic recovery and job creation.
As a recipient of the EU's €1.2tn long-term budget for the period 2021-2027 and the €807bn [1] Next Generation EU temporary recovery instrument, Ireland is expected to receive €915m in grants in 2021 and 2022 under the Recovery and Resilience Facility (RRF) – the largest component of the Next Generation EU – to repair the immediate damage and prepare for a greener, more digital and more resilient post-Covid future.

Now that we are at the peak of the summer tourist season, additional sectors are re-opening, including accommodation services, cinemas, theatres, gyms, leisure centres and sporting events with limits on attendance to ensure good social distance practice.
As part of the Re-Open EU initiative, Ireland has agreed to introduce the mutually recognisable EU Digital Covid Certificates, which will facilitate safe travel and the free movement of individuals within the EU, Iceland, Liechtenstein, Norway and Switzerland. Travel restrictions such as quarantine will not be imposed on holders of the certificate, which will confirm that they have either: (i) been vaccinated against Covid‑19, (ii) received a negative Covid-19 test result, or (iii) recovered from the coronavirus.
Before Covid, Ireland attracted a record 11.6 million visitors from around the world in 2019, a total far higher than the country's population. Mainland Chinese and Hong Kong students accounted for our biggest number of international students in 2019. These people-to-people connections are at the heart of our global relationships and we are very much looking forward to opening our doors again to all our friends around the world, in line with the necessary safety protocols and public health guidelines.
Chan: The Covid-19 outbreak has seen many businesses turn to e-commerce, while people have learnt to work, study, and exercise at home. What can you tell us of the digital transformation that has taken place in Ireland since the onset of the pandemic? How might these behavioural changes affect the consumer and industrial landscape in Ireland in the post-pandemic era?
Costello: The pandemic has profoundly changed the way we live and work and will continue to make us adapt to life under the "new normal" post-Covid. Digitisation across all businesses has accelerated exponentially in Ireland since the outbreak.
As an e-commerce forerunner, Ireland saw growth in online retail reach 160% (five times the average annual growth reported from similar studies) between 2017 and 2019. As many as two-thirds of Irish online retailers were estimated to have generated more than €1 million in online sales in 2020, compared to 41% prior to the pandemic. [2]
Under the extended lockdown procedures, Ireland has adjusted to extensive work from home arrangements, thanks to the many ICT support teams in organisations rolling out effective and user-friendly remote working protocols, as well as the robustness of the national data architecture.
During the pandemic, Irish companies have been creating new digital business models, workforce models and revenue generation strategies, while customer attitudes and behaviours have been shifting. The acceptance of cloud-based, real-time, digitally delivered business information services has now widely increased, pushing businesses to provide more and better digital solutions.
As for those who live in rural areas, in a recent survey among young farmers and rural young people, over 47% said they were happy with their current work/life balance, and 53% of them said they would like to work from home or from a remote working hub in the post-pandemic future. Another study by KPMG Ireland also revealed that many CEOs – 84% in Ireland and 80% in Northern Ireland – believe that remote working has by no means reduced the available talent pool, but in fact has actually widened it. Many Irish citizens also mentioned that they have devoted more time to learning new skills remotely during the pandemic, thanks to the availability of various kinds of online tools and resources.
Chan: Global trade and investment were weakened by the pandemic as many travelling and business plans were shelved or postponed last year. Looking forward to 2021 and beyond, what do you see as the most promising sectors or areas for Ireland-Hong Kong collaboration?
Costello: In recent months, I have had very constructive conversations with members of the HKSAR Government, including the Chief Executive, Financial Secretary, Secretary for Food and Health and Secretary for Commerce and Economic Development. Chief among the concerns in the Irish community has been finding a way forward to regularise the risk assessment for travel between Ireland and Hong Kong and recognise Ireland's extraordinary efforts in tackling the pandemic. In this regard, it will be important for Irish businesses to have a level playing field with their EU counterparts in relation to the quarantine requirements for access to Hong Kong. This will facilitate an even-handed approach to the resumption of face-to-face business engagements and international travel.
While the world has focused on post-pandemic recovery, in the context of Ireland-Hong Kong trade relations, Brexit is another important dynamic. In a post-Brexit Europe, Ireland is now the largest English-speaking common law country. With Ireland and Hong Kong consistently ranked among the best places to do business, Ireland is the natural partner for Hong Kong businesses looking to trade or invest in the EU.
Moving forward, we see good potential in certain sectors – especially financial services and fintech, pharma and medtech, agribusiness and aviation – that could lead the charge towards a gradual and orderly return to normalcy.
Financial Services and Fintech
The financial services sector in Ireland has proved its resilience and competence during the Covid-19 crisis. According to a recent Financial Services Ireland survey carried out between July and August 2020, 80% of its 155 members believe Ireland will continue to be an attractive location for financial services-focused FDI. Even under the Irish government's containment restrictions, 99% of respondents said that they could respond quickly and remain operational serving their local and global clients.
As a proven powerhouse for growth, financial services and related fintech businesses are among the most promising sectors for Ireland-Hong Kong collaboration. Our Ireland for Finance strategy – launched in Ireland in April 2019 (and in Hong Kong in September 2019) – will continue to support the future development of the sector in Ireland. The aim is to be a top-tier global location of choice for specialist international financial services through 2025, and to increase connection and cooperation with important financial centres, including Hong Kong.
An important pillar of the strategy is the development of Ireland as an international fintech hub. As one of the world's most active fintech seed investors and enablers scaling up Irish fintech companies, Enterprise Ireland, the Irish state trade and investment agency, has had an office in Hong Kong for more than 18 years promoting Irish fintech solutions in the city's financial ecosystem. For the last three years in a row, Ireland has sent the largest international delegation to Hong Kong FinTech Week.
Among the many different sectors of the fintech world, Ireland is seen as a world leader in regulatory technology (regtech). Irish regtech companies have proven experience of resolving the kind of risk and compliance issues that are fast emerging across Asia. A detailed analysis of how Hong Kong has been one of the key Asia-Pacific (APAC) markets experiencing a surge in regulatory requirements is included in the Enterprise Ireland's State of Regtech in APAC Report.
Many Irish regtech companies are active in Hong Kong. Fenergo, an Irish regtech 'unicorn' and the industry's number one provider of client lifecycle management software solutions for financial institutions, has recently opened an office in Hong Kong and is supporting leading banks with regulatory onboarding issues. MCO (MyComplianceOffice) works with financial firms across APAC to tackle increased regulatory, enforcement and compliance pressures by automating conduct-risk management. Know Your Customer, with offices in Hong Kong, Singapore and Shanghai, has quickly established a reputation for solutions that streamline onboarding through strengthening Know Your Customer (KYC) and Know Your Business (KYB) compliance.
The strategy also plays a key role in the creation and delivery of policies on sustainable finance and the transition to a climate-neutral economy. Ireland, among the first in the world to divest from global fossil fuel companies, passed the Fossil Fuel Disinvestment Act 2018 in 2018 when its sovereign development fund – Ireland Strategic Investment Fund (ISIF) – completed divestment of €68m from 38 global fossil fuel companies. Euronext Dublin's environmental, social, and governance (ESG) bond listings increased by more than 317% year-on-year in the first four months of 2021, with issuance reaching €20.2bn. That compares to last year's figure of €4.9bn. Cumulative ESG bond issuances on Euronext Dublin topped €93bn by the end of April 2021.
Ireland's credentials in this area and our encouraging ESG bond market development align well with the Hong Kong Monetary Authority (HKMA)'s May 2021 guideline on the three-year Green and Sustainable Finance Grant Scheme (GSF Grant Scheme that consolidates the Pilot Bond Grant Scheme and Green Bond Grant Scheme). This provides subsidies for eligible bond issuers and loan borrowers to cover their expenses on bond issuance and external review services. Together with the People's Bank of China's April revision of its green investment guideline with updated rules on green bond issuances, this is likely to encourage larger issuance sizes and also attract investors currently skeptical about boarding the sustainability train.
One of my first roles as Consul General of Ireland in Hong Kong was to bear witness in October 2018 to the signing of an MOU between Sustainable Finance Ireland and the Hong Kong Green Finance Association. As part of the 2020 Policy Address, the Chief Executive of HKSAR has set a target for Hong Kong to achieve carbon neutrality before 2050, making the scope for cross-jurisdictional collaboration – especially with Ireland – in sustainable finance and low-carbon economic transformation in Hong Kong clearer and sharper.
Pharma and Medtech
Ireland, as a global hub for pharmaceuticals and medtech, expects to benefit from the unabated growth in exports of medical devices and pharmaceutical products in 2021 and the years ahead, given the fact that the country is home to many of the world's biggest players in these sectors, such as Pfizer, Johnson & Johnson, Roche and AbbVie.
The pandemic has shown how important it is for companies to be flexible and agile to respond to the needs of the market. Many Irish pharma and medtech companies have pivoted to develop solutions in areas such as contact tracing, traveller safety and hygiene transparency in the hospitality sector, while - as one of the world's top five medtech hubs alongside Germany, the US, Switzerland and China – Ireland's medical device and supplies production has been ramped up to meet global demand for nebulisers, ventilators and other treatment and protection equipment.
For example, Medtronic, the world's largest standalone medical device maker, has more than doubled its workforce and moved to a round-the-clock operation to produce ventilators, Aerogen has increased production of its aerosol drug delivery products through ventilators to patients in critical and intensive care, and M&M Qualtech, which produces ventilators, nebulisers and medical monitoring equipment for medtech users, has reported capacity demand three to five times higher than pre-crisis levels.
In addition to big FDI projects from the US and Europe, we have been looking at investment from growth markets, of which mainland China would probably be the most important. We have secured the largest greenfield life sciences investment by a Chinese company in Europe, with Wuxi Biologics building a major production facility in Dundalk, a town halfway between Dublin and Belfast.
Many Irish companies have used their flair for innovation to come up with answers to alleviate the crisis. Software development company NearForm has worked with Ireland's public healthcare system, or Health Service Executive (HSE), to develop the national Covid Tracker app, which is now being used not only in Ireland, but also Northern Ireland, Gibraltar, Scotland and several states in the US, including Delaware and Pennsylvania. The Consulate in Hong Kong has partnered with Novaerus – which develops portable air disinfection devices using nanotechnology to inactivate airborne microorganisms to restore and maintain indoor air quality to provide first-line protection against viruses and bacteria – to ensure state-of-the-art protection from airborne viruses for our customers and citizens.
Other innovators producing solutions during the crisis include:
All these positive developments bode well for collaboration, given Hong Kong's roles as a global medical services hub and a world-leading biotech fundraising hub, not to mention the opening of the city's first smart hospital – Chinese University of Hong Kong Medical Center (CUHKMC) – specifically designed to make full use of the latest advances in mobile technology, Internet of Things (IoT) and paperless care model for every aspect of care delivery and hospital management.
Agribusiness
Lesser known perhaps in Hong Kong but certainly a force to be reckoned with is the increasingly strong global demand for Irish food and beverages (F&B). Higher expectations for credentials around sustainability and safety of food products, especially after the global pandemic, are set to put Ireland in the spotlight. Demand for dairy products is expected to continue to outpace supply, while demand for pig meat and sheep meat exports, particularly from Asia, Africa and the Middle East, will continue to lend support to our meat producers.
Thanks to the dividend of a decade-long diversification strategy and the Origin Green programme, which today collaborates with more than 53,000 farms and 324 leading Irish F&B companies responsible for some 90% of the nation's F&B exports, Irish agri exports now reach in excess of 180 countries. The industry's success is also evidenced by a reduced dependence on the UK market, particularly since the Brexit referendum in 2016. In the period since the UK voted to leave the EU, Ireland's F&B exports grew by 16% to top €1.9 billion, with Asia seeing a 14% uplift to €1.4 billion.

As the place where whiskey found its name, Ireland is the home of whiskey distilling with a history of whiskey production far longer than anywhere else. As Hong Kongers discover the depth and diversity of Irish whiskey, we have no doubt this will reflect well in the city's Irish whiskey sales.
With a return to global economic growth, Bord Bia/Irish Food Board's action plans, programmes and priorities for 2021 and beyond are centred on value creation for the full supply chain – from farm to fork. Hong Kong's status as a free port for international gourmet F&B means it is well-positioned to help new-to-the-region Irish companies promote their delicacies in Asia.
Aviation
When it comes to aviation (including aircraft leasing and financing), it is astonishing – even for me as the Irish Consul General – to discover that 8,000 of the world's 27,000 commercial aviation fleets are managed from Ireland. Over 50 of the world's aviation leasing companies are based in Ireland, including 14 of the top 15 lessors, managing 63% of the world's fleet of leased aircraft with assets worth more than €159 billion. This is thanks largely to our enviable legal and regulatory framework, including an extensive array of more than 70 double tax avoidance agreements, and a well-educated talent pool featuring, for example, Europe's first Masters in Aviation Finance programme.
Ryanair, which was founded in 1984 and is headquartered in Dublin, is currently Europe's largest airline group, the fifth biggest airline in the world in terms of the number of passengers and eighth biggest by fleet size. In a normal aviation year, an Irish-leased aircraft takes off every two seconds and three in every 10 planes flying overhead are domiciled in Ireland.
Of course, 2020 and 2021 are far from normal, with 30% of the global fleet remaining parked. But we believe we have good reasons for optimism. The International Air Transport Association (IATA)'s figures continue to suggest a strong improvement in demand, and even more reassuringly, a flurry of aircraft reactivations has taken place in most regions.
Hong Kong International Airport – with its connections to around 220 destinations worldwide involving some 120 airlines – will continue to serve as a travel hub for Irish tourists and businesspeople, as well as travellers flying with Irish aircraft to and from Asia. Hong Kong's status as an aviation hub for the Greater Bay Area (GBA) is also set to create additional bilateral synergies.
Finance & Investment
Medical Supplies & Medicine
Food & Beverages
Hong Kong
Western Europe
Ireland
Hong Kong