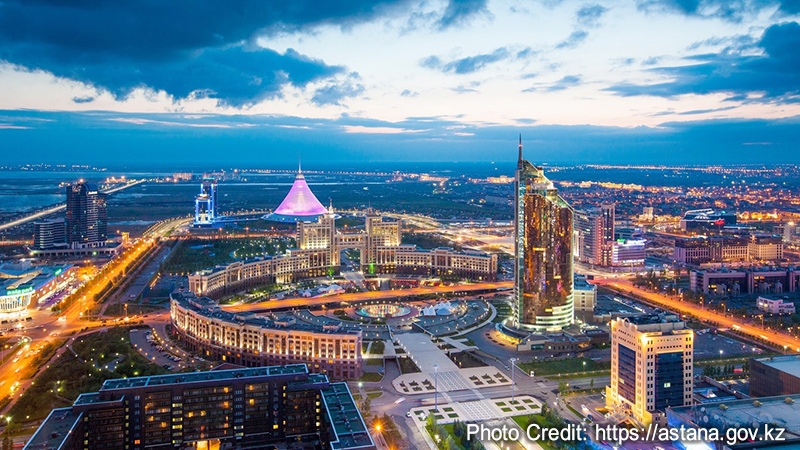 https://hkmb.hktdc.com/en/ODMxMjU1NTA2
Post-Covid Prospects: Kazakhstan
Louis Chan
As the most advanced economy in Central Asia and the world's largest landlocked country, oil‑rich Kazakhstan leads the region in terms of GDP and purchasing power, while also acting as a key business and logistic hub linking China and Europe.
Following the hosting of Expo 2017, the first World's Fair in Central Asia, and the WTO membership since 30 November 2015, Kazakhstan is seen as having huge potential, especially as it succeeds in its ambitious upgrade to its global connectivity, thanks not little to the unveiling of the Belt and Road Initiative (BRI) by Chinese President in his speech at Nazarbayev University in Nur-Sultan (renamed from Astana on 23 March 2019) in 2013.
The "black swan" coronavirus pandemic has brought the most challenging year since its independence from the Soviet Union in 1991 to the Kazakh economy – ending the three years' continuous growth of 4%+ with the first GDP decline since the oil price crisis of 1998 of 2.6% last year – with an economic fallout much harder than the 2018 global financial crisis in 2018 and the 2015 currency tumble following the shift to a floating exchange rate regime.
Following the start of Covid-19 vaccine administration of COVID-19 in February 2021, about 10m doses had been administered as of early August, with some 5.6m people having received their first dose and more than 4.1m being fully inoculated. According to the national immunisation plan, 10 million people or 100% of those who are eligible for vaccination will receive their jabs by September 2021.
This together with the timely stimuli worth KZT6.3 tn (US$15 bn) or as much as 9% of the country's GDP is setting the stage for a steady comeback of the Kazakh economy in 2021, despite the long tail of the coronavirus (and its variants) and the expedient social distancing restrictions to fend off fresh spikes in infections.
To discover how the Central Asian country and its businesses are ready to grow with Hong Kong traders and investors post-Covid, Louis Chan, Assistant Principal Economist (Global Research) at HKTDC, interviewed Rashid Yerishev, Kazakhstan's Consul General in Hong Kong.
Chan: How is the implementation of vaccination program in Kazakhstan? Do we have a timetable and roadmap for example when the majority of the adult population will be sufficiently vaccinated?
Yerishev: Kazakhstan puts faith in vaccination in the fight against the global coronavirus pandemic. We began the national vaccination programme on 1 February 2021, with Russian (Sputnik V), Chinese (Hayat-Vax and CoronaVac) and a home-grown QazCovid-In shots. The local development and production of vaccines has allowed us to mitigate the risks associated with the possible supply disruptions, while we are also in talks with Pfizer-BioNTech to secure vaccine supplies.
As of early August, more than 9.7m doses had been administered, with some 5.6m of the adult population partially vaccinated and more than 4.1m fully immunised. This bodes well with the goal of the national immunisation plan to have 100% of the eligible population or 10 million people vaccinated by September 2021.
To facilitate the management of the vaccination rollout, the Kazakh government has introduced an electronic vaccination passport (EPV), which is automatically generated by the e-government system after the jab using tax number authentication, and achievable by the e-government app, Ashyq, which Kazakhs nowadays use to gain access to public places and leisure facilities.
Chan: What do you see is the near- to medium-term outlook of Kazakhstan's major industries and trade, especially in the wake of the government support? How the vaccine-boosted recovery is kicking in, given these stimuli?
Yerishev: The coronavirus crisis has hit the Kazakh economy hard, with business activity slowing significantly under a wide range of prolonged social distancing measures. To keep our struggling businesses and households afloat, stimulus measures worth of some US$15 billion, equivalent to 9% of 2019 GDP, have been put in place. These timely efforts, alongside a more broad-based recovery in our key export markets and global oil demand, have allowed us to limit the GDP decline in the first year of coronavirus to 2.6%, while setting the stage for a steady comeback of at least 3% this year and 4% for 2022.


Chan: The Covid-19 outbreak has seen struggling businesses obliged to embrace e-commerce, work, study, play, exercise from home or telecommuting. Any good indicators to show the digital transformation done so far since the onset of the virus outbreak in Kazakhstan? How do you see these behavioral changes are going to overhaul the consumer and industry landscape of Kazakhstan post-pandemic?
Yerishev: The pandemic has seen an impressive acceleration of digitalisation around the world, with new business models being created, customer experiences being transformed and innovative goods and services being put on the market. Kazakhstan is no exception to these global trends, seeing unprecedented growth in cashless payments, e-commerce and e-government services since the onset of the health crisis.
Certainly a force to be reckoned with is the fast-growing digital literacy among the population. With more than 70% of its schoolchildren receiving education online during the coronavirus outbreak, Kazakhstan is the only country in Central Asia to have readied its education system for the adoption of remote learning.
As with many other countries, Kazakhstan has experienced a pandemic-induced e-commerce boom, with the online sales of the country's 650 online stores exceeding KTZ1.1 trillion (US$2.5 billion) or 9.7% of the total retail turnover and the number of online shoppers growing 20% from the previous year to 3.8 million buyers in 2020.
Riding on the encouraging performance, we have been helping domestic producers and merchants to tap into international online shopping platforms like Alibaba.com, Amazon and Ozon (Russia). By the end of 2020, 100 companies had received a Gold Supplier account on Alibaba.com, while access to Amazon was granted in May 2021.
No one knows how long the pandemic will last and how consumers' habits will change, but one thing is clear: the online world will likely prevail over the offline one in the post-Covid future.


Chan: International logistics have been upended during the pandemic, hampering both air and sea transportation, making land and rail support a crucial alternative, especially for Asia-Europe trade. How the Eurasian rail network has been lending support to Kazakhstan in terms of Asia-Europe trade?
Yerishev: Kazakhstan, as a regional powerhouse in Central Asia, serves as a crucial logistics link between Asia (the world's largest industrial producer) and Europe (the world's largest consumer market). This role has been strengthened by the 2013 announcement of the Belt and Road Initiative (BRI) as two of the six international economic co‑operation corridors set to be developed and/or strengthened under the BRI will pass through Kazakhstan, before branching out to the ports of West Europe, the Mediterranean coast and the Arabian Peninsula.
With global connectivity at the fore of both the BRI and Kazakhstan's Nurly Zhol state infrastructure development programme for 2020-2025 which focuses on developing road infrastructure, transport infrastructure and logistics have become an integral part of Sino‑Central Asian development.
Despite a steep decline of both air and sea transportation in the world due to Covid-19, rail transportation and container transit routing through Kazakhstan along major routes such as China-EU-China, China-Iran-China, China-Turkey-China and China-Central Asia-China has shown a yearly growth of 33% last year.
​​​​​​​

Chan: The global trade and investment were weakened by the pandemic when many travelling and business plans had been shelved or postponed last year. Looking forward, what do you see are the most promising sectors or areas for Kazakhstan-HK collaboration?
Yerishev: Kazakhstan and China, including Hong Kong have enjoyed very productive and dynamic relations since many years, with China, being one of the principal economic partners, supporting our well-balanced foreign policy and sustainable economic reforms since our Independence.
Among the many achievements, Hong Kong, being an international financial centre, occupies one of the key places in the Sino-Kazakh relations. The city's experience in areas such as the development of stock market, support for small and medium-sized enterprises is a role model for Kazakhstan, while its expertise in digitalisation, green technology, smart city development, fintech and logistics is in high demand for our economy.
We see great potential for the deepening cooperation between Kazakhstan and Hong Kong in upcoming years and our work at the Consulate is largely directed at strengthening existing partnerships and establishing new opportunities. We are putting extensive efforts in attracting investments from Hong Kong by expanding presence of Hong Kong companies and banks in Kazakhstan. The Kazakh government is constantly working on improving the investment climate and creating favourable conditions for foreign businesses and investors.
On 5 July 2018, we officially opened the Astana International Financial Center (AIFC), a regional investment hub featuring not only the region's first English common law system, but a wide array of business‑friendly perks, including a highly preferential tax regime, superb international connectivity and an expat‑friendly environment. All these are aimed at transforming Kazakhstan into a well‑balanced regional capital market, offering a comprehensive range of financial services, such as asset management, private banking, Islamic finance, green finance and fintech.
Kazakhstan is the only Central Asian country with a consulate office in Hong Kong. This, together with a reciprocal 14‑day visa‑free arrangement for HKSAR and Kazakh passport holders effective since 26 July 2012, makes business connections between the two economies far easier than those with other countries in the region. In addition, direct flights between Hong Kong and Almaty (starting also in 2012) give the country a further advantage over its peers in terms of being Hong Kong's first port of call for both business and leisure in Central Asia.
Another area of cooperation that keeps growing and expanding is education. Hong Kong universities have been working closely with schools and universities in Kazakhstan and providing generous scholarships and exchange programs to our students. We are confident that the inception of coronavirus will not derail the positive growth momentum in this area.


Chan: Kazakhstan has always been a keen BRI supporter. How about the Greater Bay Area (GBA) Initiative? Are Kazakh companies keen to make inroads into the GBA? What and how Hong Kong companies can best help?
Yerishev: The GBA, as a sizeable consumer market of more than 86 million people, is of course an attractive export market for Kazakh exporters, while its huge economic potential and enhanced interconnectivity will likely boast significant opportunities for a wide array of economic activities spanning investment, infrastructure and real estate, financial services, insurance, capital markets, technology and many others. To take advantage of the many opportunities and the favorable conditions the Beijing government has offered to foreign investors, we are advising Kazakh companies to develop comprehensive business strategies to profit from the economic integration and the more convenient flow of talents, goods, capital and information within the GBA.
While the quality and environmental friendliness of Kazakh products are already no stranger to many Chinese consumers, we are hoping that the GBA will further streamline the processes and procedures with which Kazakh businesses, including start-ups and scale-ups, can grow their businesses in the China market, while Hong Kong, Macao and mainland Chinese businesses can find success on their journey to Central Asia.
​​​​​​​

Chan: 2021 marks the 30th anniversary of Kazakhstan's independence. What are the key milestones? How are these milestones laying a solid foundation for the country's future developments?
Yerishev: 30 years of independence have become an era of progress and sustainable development for Kazakhstan. It was not only the most memorable day, but an epoch-making moment in the history of Kazakhstan.
Since gaining independence in 1991, Our Leader of the Nation and the country's first president, Elbasy Nursultan Nazarbayev has promoted and adopted a forward-thinking, business-friendly economic policy, transforming Kazakhstan into an upper-middle income country in 2006. As the region's leader spearheading the most successful, extensive market and political reforms, we have been widely recognised as the first state with a market economy in the post-Soviet space.
In the past three decades, we have received some US$350 billion in foreign direct investment (FDI), accounting for 70% of the region's total. Meanwhile, on the back of a 18x growth in GDP, more than 300,000 jobs and 1,250 industrial enterprises have been created.
Over the years, Kazakhstan has become a strategically important player in the world arena, developing a multilateral and peaceful foreign policy with diplomatic relations with 183 states of the world. Thanks to the many successful foreign policy activities and international initiatives, Kazakhstan has played a key role in the creation of such intergovernmental organisations as the Eurasian Economic Union (EAEU) [1] and the Shanghai Cooperation Organisation (SCO) [2], while being first in Central Asia to host the World Expo, to join the WTO and host the Organization for Security and Co-operation in Europe (OSCE) Summit.
As President Kassym-Zhomart Tokayev stressed, "Independence serves as a solid foundation of Kazakhstan's statehood. For Kazakhstan – a country with a rich history and deep roots – there is no greater value". 2021 is set to be a historic and milestone year, when Kazakhstan is entering a new period of 10 years of development. Much has been planned for the coming years, including the vision to become one of the top 30 global economies by 2050.
---
[1] Members include Armenia, Belarus, Kazakhstan, Kyrgyzstan and Russia.
[2] Members include China, India, Kazakhstan, Kyrgyzstan, Pakistan, Russia, Tajikistan and Uzbekistan.
Finance & Investment
Medical Supplies & Medicine
Eastern Europe
Hong Kong
Kazakhstan
Hong Kong