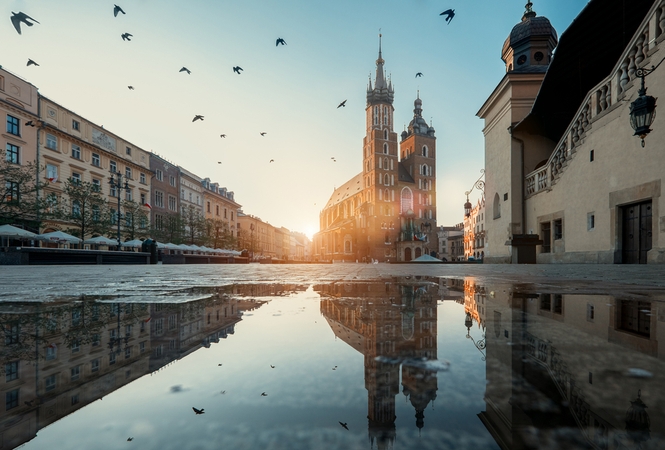 https://hkmb.hktdc.com/en/ODI1MzkyMDc3
Pole Position for E-Commerce
Sandwiched between Scandinavia and Germany to the west and Lithuania, Belarus and Ukraine to the east, Poland is one of the largest economies in Central and Eastern Europe in terms of population, area and GDP. As such, it offers ample e-commerce opportunities to international suppliers.
In recognition of this, a 23 July webinar, organised by the Research Department of the Hong Kong Trade Development Council (HKTDC), focussed on The E-Commerce Route into Poland.
Healthy Performance
Not immune to the Covid-19 pandemic, the 38 million-strong Polish economy shrank in 2020 for the first time since 1991, with GDP falling by 2.7%. That, however, was a mild decline by European standards, with the Eurozone and the EU sliding 6.5% and 6%, respectively.
Poland, as with many other European countries, is still battling against the long tail of the coronavirus, but its gradual reopening is readying the country's economy for a strong comeback in 2021 and 2022. This will be further facilitated by a slew of stimulus measures, including a multi-billion-Zloty support scheme for companies, a record-low benchmark interest rate and a successful national vaccination strategy, which saw nearly 60% of the adult population fully inoculated as of early August this year.
Vibrant E-Commerce
One of the country's most vibrant sectors is e-commerce. Among the brands taking a lead here is Allegro, which claims to be both the most popular online shopping platform in Poland and one of the largest e-commerce websites in Europe. Operating on the marketplace model, it hosts 125,000 merchants, allowing buyers to source pretty much whatever they need.
Zoltan Farkas, Education and Merchant Development Partner at Allegro, said the 21-year-old platform had initially served just Polish merchants, but two years ago also started inviting international retailers to use its services.
According to Farkas, the site has 21 million Polish users, of which 13 million are active buyers. Users carry out 1.5 billion searches a month on the platform, which stocks items across 14 categories, with overseas sellers free to list in every available option.
The largest categories are home and garden, electronics and vehicle products, Farkas said, with supermarket, health and beauty the fastest-growing. From a buyer perspective, pricing selection is key – commission is as low as 0.5% if a seller has attractive products, while also retaining customers through its Smart! loyalty programmes. The marketplace has a fee calculator for standard commissions, which range between 2% and 15%.
Most categories attract no listing fees, and the few that do are mainly geared to domestic sellers, such as vehicles. Merchants can also pay for additional options, including promotional tools, as a means of boosting listings.
Farkas said, as Poles tend to steer clear of overseas e-commerce sites, the platform is a good way for international sellers to reach out to Polish consumers.
Smart! Loyalty
Allegro introduced Smart! loyalty programme in 2018, offering free delivery and returns for subscribers for US$15 a year. Sellers gain loyal customers because members buy two and a half times more than non-members, while business growth can be as much as five times faster than for non-Smart! vendors. The success of the programme has already seen it extended to customers in Germany and the Czech Republic.
In terms of required procedures, Farkas said overseas buyers could register with identification documents and business papers, such as value-added tax certification, which can be in English or Chinese. Copies must be photographed rather than scanned and all such documents must be no more than four months old.
The platform yields pages of products from different sellers in response to queries. Farkas said it was important for merchants to position themselves well by filling in all the parameters thoroughly, with the company promoting listings that draw positive reviews.
While Allegro does not carry out order fulfilment, with sellers needing to take care of delivery, the platform does have a service-provider network and can put sellers in touch with logistics firms.
Merchants can use an Excel or CSV file to upload as many as 10,000 listings simultaneously, Farkas said, and there is an application programming interface connection for uploading such offers in bulk. As all listings should be in Polish, the service provider has a translation function, although many sellers opt to use their own translation tools.
Access to Europe
Merchants can manage orders through the website. Payments are made in the national currency, the Zloty, using PayU, a payment gateway enabling businesses to accept online payments. Payouts can also be made through other payment gateways, including LianLian Pay, Payoneer and PingPong.
Sellers can also attend the Allegro Academy help centre, which is free and requires no registration as a means of obtaining information on selling, conflict resolution and more.
In addition, the company now has a special welcome programme for new merchants from Hong Kong, offering commission rebates as well as free promotion deals that automatically place them high on the merchant list.
Jakub Kolodynski, Senior Business Development Partner at Allegro, said the platform was a good starting point for merchants venturing into Europe for the first time as registration was relatively straightforward. The system for submitting listings was also rated as easy and seen as a good way to find Central and Eastern European customers, he said.
Merchants using warehouses in Poland, the Czech Republic or Germany can also enjoy a free delivery service, he added. Over the medium term, Allegro is also said to be looking at expanding its offer beyond these countries.
Branding Importance
Farkas said overseas brands establishing themselves in Poland can promote on Allegro and also through such platforms as Facebook and Google, as well as via various broadcast media outlets.
Branding is important in Poland, and brand names in Roman letters or in Polish are a big plus. Farkas said mainland Chinese and Hong Kong brands had a good reputation in Poland as such suppliers were generally considered to be supportive.
One webinar attendee noted that Poland is surrounded by other emerging markets, such as Belarus, Ukraine and the Czech Republic. In light of this, they wondered if Hong Kong exporters could use Poland and Allegro as a base to explore these countries, even though the languages and customs systems were different.
In response, Farkas said exporters could use Poland or Allegro as a base to expand east to Belarus, Ukraine and other countries. Although the platform is Polish, he said, buyers come from all over Europe and other parts of the world, with Ukrainians especially keen buyers. Over the longer term, Allegro also intends to become more visible in a number of neighbouring markets.
When choosing to fulfil orders via air, sea or rail freight, Farkas said merchants needed to consider many factors, including the kind of goods on offer and the sales volume. While those supplying high volumes should use warehousing in Poland, international sellers often dispatch directly from their production centres, including many in mainland China. Exporters use mostly rail or sea as these are the cheapest. If buyers are willing to cover the cost, however, vendors could consider using airfreight.
Asked about sales of food, dietary supplements and traditional Chinese medicine, Farkas said Allegro does carry food items but suppliers, especially those from overseas, needed to be aware of the company's list of prohibited and restricted items, such as over-the-counter medication. While groceries were the fastest-growing merchant category, a key problem remained the transport time for perishable items, he advised.