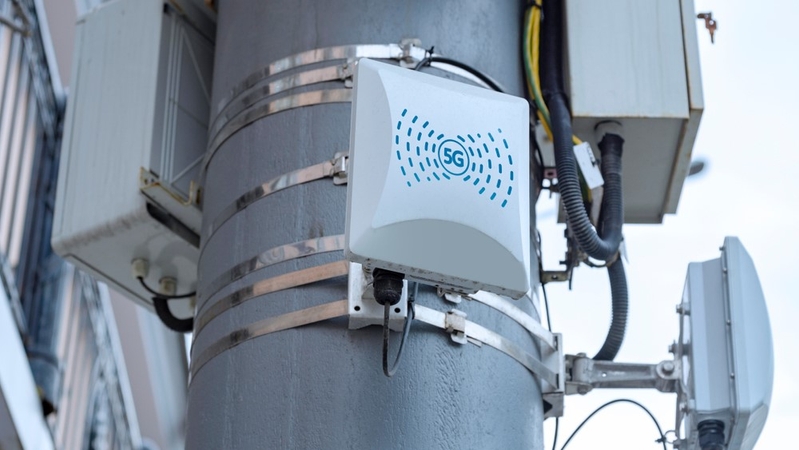 https://hkmb.hktdc.com/en/ODExNDI0NjU0
Delivering Digitalisation: Hong Kong's 5G First Mover Advantage
Capitalising on First-Mover Advantage and GBA Innovation Resources
The development of 5G networks around the world has been largely unaffected by the Covid-19 pandemic. According to data released by Viavi Solutions, more than 60 countries and territories worldwide (some 30% of the total) had launched commercial 5G services by January 2021, with networks covering 1,336 cities in Europe, the Americas, the Middle East and Asia-Pacific. The application and innovation of 5G technology is now topping the development agendas of the world's major economies. The EU, for example, unveiled its information technology development blueprint 2030 Digital Compass in March 2021, in which it envisages making 5G networks available to all residential areas by 2030. China also set new goals for the development of its infrastructure and digital economy in its 14th Five-Year Plan (2021-2025), aiming to raise the 5G penetration rate to 56% (or over 780 million users).
With the world pushing forward the innovation, R&D, infrastructure investment, and popularisation of 5G technology, Hong Kong officially entered the 5G era on 1 April 2020. The service scope of 5G has gradually been extended from core urban areas to various major infrastructure facilities, landmarks, shopping malls and country parks, and now - according to at least one ranking system - Hong Kong's 5G coverage leads the world[1]. Hong Kong's upstream and downstream electronics players are using this first-mover advantage to try to develop quality, safe, reliable electronic components and smart products in an effort to maintain their key role in the development of 5G.
Upstream Opportunities
The quantity of electronic components used in 5G base stations is expected to be much greater than in those used in the past. However, this will not necessarily translate into an expansion of the size of the base stations. Instead, base stations will be expected to operate in limited or even smaller spaces, and so the technical requirements for component miniaturisation and integrated design are becoming increasingly higher. This has in turn created great opportunities for Hong Kong electronics players, who are known for their product quality, to launch new products.
HKTDC Research recently interviewed Arthur Lee, the CEO of Kolinker Group, in order to gain an understanding of the role played by quartz crystal oscillators in the development of 5G. Explaining why such products are becoming increasingly important, Lee said: "As we enter the 5G era, the amount of end equipment used for network connection is set to rise rapidly, while the connectivity between end equipment will also become more and more complicated. As a result, the requirements for the accuracy of the technology used are also getting more stringent.
"Take the tyre pressure monitoring system (TPMS) for example. When abnormal tyre pressures or tyre temperatures are detected, the system automatically sends out alarms via the radio frequency (RF) system to the driver. However, since the majority of traditional TPMS products transmit and receive data via an RF range of low operating frequency, ambience noise or interference can cause false alarms. With bandwidth becoming increasingly narrow and short-range communication becoming more frequent, high-precision and high-stability crystal oscillators which prevent the interference caused by overlapping channels, and thus improve the accuracy of communication, are in great demand."
Expressing his complete confidence in the electronic parts, components and products produced by Hong Kong, Lee remarked: "Hong Kong excels in electronic and electrical products, plastic and metal parts, and mould making. The territory also emphasises high productivity and high efficiency management, possesses rich experience in quality control, and has close contact with overseas markets.
"Take our group as an example. We have over 30 years of experience in the automobile business in Europe and the Americas. Where the production technology and quality control of auto parts and components are concerned, we have built a sound reputation and foundation in the international automotive purchasing supply chain.
"Since the quality of auto parts and components is closely related to the safety of road users, the requirement that products be defect-free is extremely high. So it is only when not even a single defective product is found in one million parts and components that the production process is considered superior. Automobile manufacturers are in general extremely demanding where raw materials and the traceability and transparency of the entire production process are concerned.
"In light of this, our objective for many years has been to produce top-notch electronic parts and components. We conduct feasibility studies and have set up a complete information system for the safekeeping of all information concerning R&D and production. Today, many automobile manufacturers in Europe, the Americas and mainland China use our parts and components in their 5G product and project testing."
Lee believes that Hong Kong's electronic parts and components industry should move with the times and make use of Hong Kong's geographic advantage to integrate with the electronics production supply chain in the Guangdong-Hong Kong-Macao Greater Bay Area (GBA). Pointing out that pursuing industry clustering and differentiation could help tap the increasingly huge mainland auto market, Lee said: "Hong Kong has obvious advantages in intellectual property protection. As such, businesses can opt to carry out development, design and optimisation of core technologies in Hong Kong with scientific and research personnel from around the world. They can also capitalise on the unparalleled high-tech industry chain and infrastructure facilities in the GBA to carry out mass production."
Downstream Opportunities
In addition to smartphones, 5G has also boosted the development of artificial intelligence (AI), cloud computing, virtual reality (VR), augmented reality (AR), internet-of-things (IoT), robotics and drones, many of which are already widely used in e-commerce, eHealth, public services, infrastructure projects, industry 4.0 and modern agriculture.
In HKTDC Research's Navigating Covid-19 case study series, leaders in various industries pointed out that Hong Kong has enormous potential for 5G development. They urged local companies to grasp the opportunity to develop and promote more advanced smart electronic products.
Smart glasses are a case in point. Hong Kong, the third largest glasses and spectacle frames maker in the world after mainland China and Italy, is also a global leader in the R&D of smart glasses. MAD Gaze, a local AR smart glasses company, accounted for about 15% of the global smart glasses market in the first quarter of last year. The company is a rising star in the highly competitive market for novel electronic consumer products.
Hong Kong's neighbour Shenzhen, also a GBA city, has, after years of development, formed an industry chain spanning electronic information, advanced manufacturing and automation, involving over 10,000 enterprises. This helps to provide a full range of support to new-tech and high-tech enterprises such as MAD Gaze, allowing them to carry out proprietary R&D and manufacture own-brand products. Meanwhile, Hong Kong, as a global leader in 5G network coverage, serves as a testing ground for the R&D achievements and business models of these new-tech and high-tech enterprises.
Hong Kong also acts as the springboard for a great number of Hong Kong start-ups riding on the 5G bandwagon to launch their smart products and apps on the global market. One example of this is the KARA Mirror and KARA Smart Fitness app launched by OliveX, a start-up based in Cyberport. The company is a global leader among home gym service providers. It established its foothold in Hong Kong, capitalising on the strength of the electronics and electrical industry in the GBA to produce the built-in touch screen, speaker, camera lens, Bluetooth and network receiver in Shenzhen for its smart fitness mirror. OliveX collaborates with Hong Kong telecoms service providers to promote its smart mirror service, and makes use of Hong Kong's unique position as Asia's logistics hub to promote the KARA Mirror and app in the Asia-Pacific region, allowing users around the world to connect to the app via the 5G network.
According to the 2020 edition of Global Innovation Index (GII) released by the World Intellectual Property Organization (WIPO) under the theme of "Who Will Finance Innovation?", Hong Kong has moved up the rankings to 11th in the global league. As well as enjoying considerable advantages in terms of innovation inputs, institutions, human capital and research, and market sophistication, Hong Kong also continues to top the world in specific areas of innovation such as venture capital, R&D, entrepreneurship, and high-tech production.
It is worth noting that Hong Kong, Shenzhen and Guangzhou have emerged as the world's second largest technology cluster. Between 2014 and 2018, the overall performance of the trio, including the numbers of international patent applications made and scientific publications produced, was second only to the Tokyo-Yokohama cluster. For Hong Kong to go from strength to strength and develop into an international innovation and technology centre, efforts must be made to connect with the electronics industry in the GBA to create a vibrant innovation and technology ecosystem, actively participate in advancing innovation, and fully capture the opportunities arising from scientific research and development.
Telecommunications
Technology
Electronics & Electrical Appliances
Hong Kong
Mainland China
Hong Kong