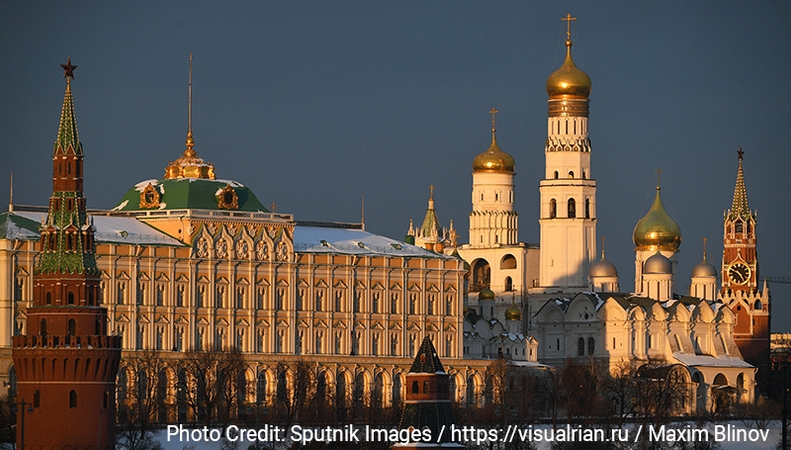 https://hkmb.hktdc.com/en/NzkzMjk0OTc0
Post-Covid Prospects: Russia
Louis Chan
The global pandemic shrank the economy of the biggest country in both Europe and Asia, Russia, by 3% last year – a more moderate contraction than that suffered by the world economy (3.3%) and its advanced economies (4.7%). This was largely thanks to a series of at-scale support and anti-crisis measures put in place by the Russian government.
Having said that, Russia was one of the countries worst hit by the coronavirus pandemic. With more than 6.2 million confirmed infections and 157,000 coronavirus-related deaths, Russia is still struggling to keep the pandemic under control.
Russia does, however, have four home-grown vaccines – Sputnik V, Sputnik Light, EpiVacCorona and CoviVac – with which to fight the virus. It was the first country in the world to approve a Covid-19 vaccine as early as August 2020. The national vaccination roll-out began in mid-January 2021, and by 2 August more than 25% of the population (37 million people out of a total 146 million) had received at least one dose, while about 18% (26 million) had been fully inoculated. Meanwhile, some European countries, such as Bulgaria, Cyprus, Greece and Hungary, have also given the green light for the use of Sputnik V, paving the way for pan-European recognition of the Russian vaccine. Recently, Sputnik V was included in the official list of Covid-19 Vaccines Recognised for Specified Purposes in Hong Kong.
To stay up to speed with how Russia and its businesses are weathering the storm and getting ready for a post-Covid-19 recovery, Louis Chan, Assistant Principal Economist (Global Research) at HKTDC, interviewed Igor Sagitov, Russia's Consul General in Hong Kong.
Chan: How is the vaccination programme progressing in Russia? Do you have a timetable or a roadmap to indicate when the majority of the population will be vaccinated? 
Sagitov: Fast mobilisation of the state healthcare system and reasonable restrictive measures introduced in 2020 helped to slow the spread of Covid-19 in Russia. The mass vaccination campaign started on 18 January 2021 and we foresee that the population will get herd immunity by autumn this year. 
​​​​​​​
Chan: What is the near- to medium-term outlook for Russia's major industries and trade, in view of the government support that is being provided during the pandemic? When are you expecting the vaccine-boosted recovery to kick in? 
Sagitov: The Russian economy has been resilient throughout the pandemic. GDP dropped by only 3 % in 2020 thanks to the government support package and timely anti-crisis measures such as the suspension of bankruptcy petitions and onsite audits of small and medium-sized enterprises (SMEs), state-backed credit holidays and interest-free payday loans, tax holidays, reduced insurance premiums and direct financial support to companies according to how many people they employ. 
The virus and its variants remain a threat, and normalcy is a long way off, but rising oil prices and unwinding the curbs on output are lending support for a quick recovery this year. According to the Ministry of Economic Development's latest forecast, the Russian economy is on course for 3.8% GDP growth in 2021, with the rise in consumer demand for goods (+6.9%) and services (+14.3%) driving the rebound, followed by increases in investment (+4.5%).
In the medium term, the Ministry expects the annual rate of growth to reach about 3%, given the implementation of structural macroeconomic measures and the knock-on effect of a new investment cycle. Ranked 28th in the World Bank's Doing Business 2020, Russia offers foreign investors a friendly business setting with no capital controls and a stable macroeconomic environment, a prudent fiscal and monetary policy with healthy foreign exchange reserves (US$605bn as of 31 May 2021) and a sustainable external debt-to-GDP ratio (32% in 2020). 
Continued efforts have been made to improve the country's investment climate and stay ahead of global trends. Among the many measures currently under consideration is the introduction of national experimental legal regimes in the area of digital innovation – so-called "digital sandboxes". Priority sectors include autonomous taxis, AI- and Big Data-empowered telemedicine and healthcare solutions, innovative SME services, biometric data for virtual contracts and cargo transportation using unmanned aircraft systems.
Russia is the world's largest country by land mass, spanning 11 time zones. Because of this, infrastructure development is always critical for the Russian economy and thus remains top of policymakers' priorities. Among the major projects under construction, funded by Russia's national wealth fund, is the extension of the Moscow-Kazan highway to Yekaterinburg, which is expected to be completed for 2024. 
Last but not least, the climate change agenda is an important part of Russian economic development, given the country's heavyweight status in the world's energy sector. Ongoing projects cover a whole range of issues like reducing greenhouse gas emissions, switching to green energy technologies and electric vehicles, and launching sustainability investments. The Ministry's current priority is the promotion of the nation's first law to limit greenhouse gas emissions. It features a carbon credit system to reward companies that have invested in reforestation, recycling, carbon capture or other initiatives aimed at fighting climate change, while also requiring companies that emit more than 150,000 tons of CO2 per year to limit their emissions from 2023 and others to report their emissions starting from 2024. 
​​​​​​​

Chan: International logistics have been upended during the pandemic, hampering both air and sea transportation. How has the Eurasian rail network been lending support to Asia-Europe trade? 
Sagitov: The volume of transit railway traffic from China to Europe via Russian infrastructure has grown significantly in recent years, rising to 163,000 Eurasian containers (TEUs) in the first three months of this year, representing year-on-year expansion of 220%. While this has brought a very positive impact on the development of the entire Eurasian transport system, we aim to increase the share of transit traffic passing through Russian territory still further, by improving the competitiveness of our railway transport over sea transport through strategic subsidies and investments to tackle so-called "bottlenecks". 
For instance, in order to strengthen Russia's competitiveness in the transport and logistics services market by reducing the cost difference between sea and rail freight, our Prime Minister Mikhail Mishustin signed a Government Decree on 21 August 2020 subsidising transit rail cargo transportation via Russia at a rate of 25,000 to 77,000 rubles (US$360-1,110) per container, depending on its type and direction of transit. 
The state-owned Rossiiskie Zheleznye Dorogi, better known as Russian Railways (RZD), plans to reduce the transportation time between the Far East and the western border of Russia to seven days, and carry out the large-scale reconstruction of the Baikal-Amur Mainline (BAM) and the Trans-Siberian Railway, which will see the speed of container trains increase from the current 1,150 to 1,500 km per day. The aim of these measures is to handle at least two million TEUs per year. 
​​​​​​​

Chan: The Covid-19 outbreak has seen many businesses turn to e-commerce, while people have learnt to work, study, and exercise at home. What can you tell us about the digital transformation that has taken place in Russia since the onset of the pandemic? How might these behavioural changes affect the consumer and the industrial landscape in Russia post-pandemic? 
Sagitov: The development of Russia's digital industry has been accelerated by the pandemic, thanks to a great deal of time and money spent on upgrading and expanding infrastructures like the Moscow-based Skolkovo Innovation Centre, which is increasingly becoming a hotspot for venture capitalists focusing on cutting-edge technologies. The gross value of Russian IT exports in 2020 was US$6-10bn, according to various estimates. 
Because of the many social distancing orders put in place as a result of the virus outbreak, online shopping in Russia – a continent-sized market home to 146 million consumers – jumped 59% to top 3.2tn rubles (US$46bn). Demand for e-commerce products was especially strong in categories that closely match the leading sectors of Hong Kong exporters – the top five categories are electronics and electrical appliances, clothing and footwear, food products, furniture and household goods, and beauty and health. 
Meanwhile, our largest national online retailers are expanding abroad. Wildberries is now active in 14 countries, including the US, Germany, France, Italy and Israel, and Ozon saw its business volume rise to more than 11m stock-keeping units and over 73.9m customer orders per year in 2020.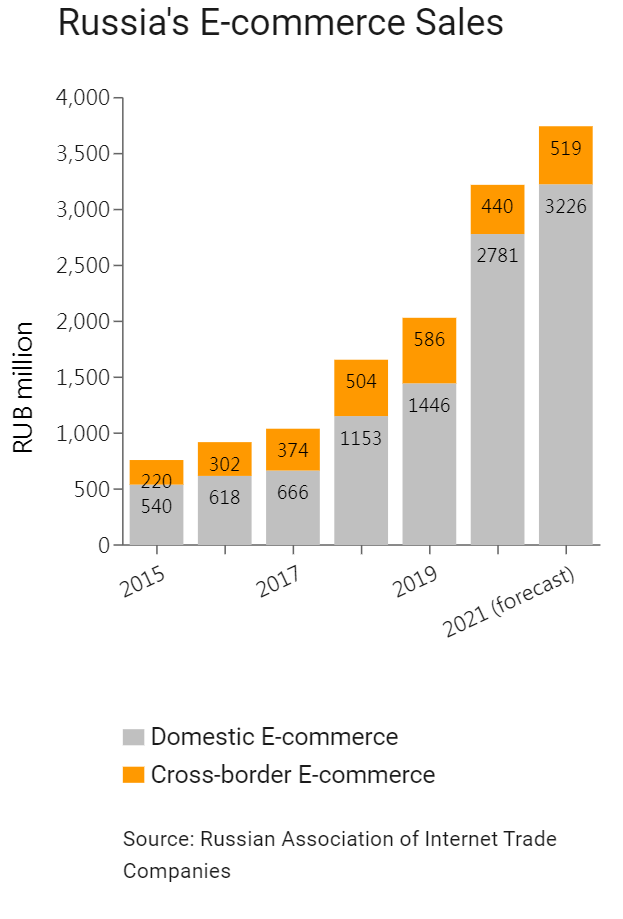 Going forward, we believe the competitive cost of doing business in Russia,  including cheap electricity and advanced IT infrastructure, in combination with a highly educated workforce and favourable tax incentives for cross-border e-commerce businesses (such as the waiver of value-added tax on online sales and import taxes on goods valued at less than €200, or US$245, per parcel or weighing less than 31kg), will outlast the pandemic and contribute to the nation's progress in the digital sphere. 
​​​​​​​

Chan: Global trade and investment were weakened by the pandemic with many travel and business plans shelved or postponed last year. Looking forward to 2021 and beyond, what do you see as the most promising sectors or areas for Russia-Hong Kong collaboration? How about the Greater Bay Area (GBA)? 
Sagitov: Despite the unprecedented global pandemic and the ensuing economic headwinds, our bilateral trade continued to thrive in the first year of the coronavirus. Russia-Hong Kong trade, according to the Census and Statistics Department of Hong Kong, rose by 7.3% in 2020 to US$4.9bn, with Russian exports to Hong Kong increasing by 8.9% to US$1.1bn and Russian imports from Hong Kong up 7.2% to US$3.8bn. 
Precious metals, iron and steel semi-finished products, coal, coke and coal briquettes, aviation equipment and parts, perfumes and cosmetics, raw meat, meat and food products, electrical equipment, raw and polished precious stones were the items most well-received by Hong Kong importers last year, while Hong Kong exporters were penetrating the Russian market with telecommunications equipment, computers, electric machines and their parts, piston engines, control and measuring devices, household electrical appliances, and gold and silver jewellery. 
Looking ahead, given that mainland China has been Russia's principal trading partner for many years and is number one on the trade list for several Russian regions, we believe Russia-Hong Kong trade will evolve in line with the positive changes concerning increasing shipments of Russia's agricultural and food products, metals and chemical products to the mainland in the post-Covid-19 future. 
When it comes to services, in addition to IT and a handful of growing non-commodity sectors such as agriculture, healthcare and tourism, one of the most promising areas of Russia-Hong Kong co-operation is finance, including FinTech and securities. Several large Russian financial institutions, including VEB Asia, VTB Capital and GPB Financial Services have already set up offices in Hong Kong. As the GBA project gathers steam, it's expected that Hong Kong's role as a top-tier international financial centre will be further strengthened. 
Initiatives in Hong Kong like Wealth Management Connect (Wealth Connect) and the opening up of a southbound leg for the Bond Connect scheme, as well as the city's three-year Green and Sustainable Finance Grant Scheme launched in May 2021 to support green and sustainable bond issuance and lending, are likely to bring new opportunities for multifaceted bilateral cooperation between Russia and Hong Kong, both in the public and private sector. 
Eastern Europe
Hong Kong
Russia
Hong Kong