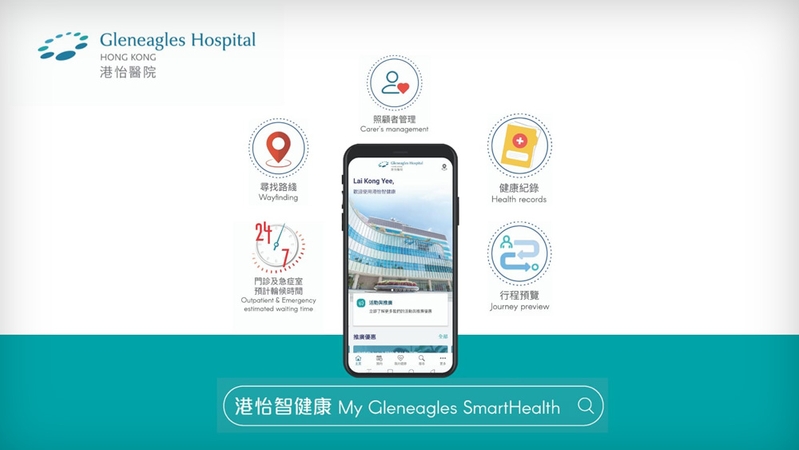 https://hkmb.hktdc.com/en/NzgxOTk1NDE1
Diagnosing Hong Kong: The eHealth Era
Since its onset, the Covid-19 pandemic has brought enormous pressure and challenge to the global healthcare sector and public finance. Some developing countries have run out of hospital beds needed to cope with the daily surge in confirmed coronavirus cases and many governments are borrowing at historic levels to help businesses and people stay afloat. In 2020 alone, global public debt surged by US$12 trillion to a record $82 trillion, equivalent to 105% of the world GDP. 
While there have been high hopes that Covid-19 vaccines will bring societies and economies back to life, the fact that only about 6% of the global population have been fully vaccinated as of the beginning of June 2021 shows we are far from out of the woods. Before reaching a threshold of 70% population herd-immunity, people will have to adapt to the new normal where there are drastic differences in mobility restrictions between those who are fully vaccinated and those who are not. 
Given the global scale of the current health crisis, eHealth has emerged as the most practical tool for the maintenance and delivery of many essential healthcare services. To manage the risk of Covid-19 infections, the US Centers for Disease Control and Prevention (CDC) has been encouraging the use of eHealth since February 2020, while the EU has been fast to embrace new eHealth platforms for better management and recognition of e-prescriptions and e-certificates, as well as facilitation of eHealth payments. Mainland China, as one of the eHealth forerunners, apart from digitalising its infrastructure and administrative (licences and insurance) landscape, has put in place additional supportive policies to authorise online sales of prescribed medicine and incorporate eHealth fees into national insurance programmes. 
In Hong Kong, Gleneagles Hospital Hong Kong (GHK), a pioneering, multi-specialty private facility, has been one of the key contributors to the city's eHealth development before and during the pandemic. Soon after the virus was first confirmed to have spread to Hong Kong, GHK has, since May 2020, launched on-demand virtual consultation services for selected categories of patients and an innovative HealthTech platform in partnership with a premier information and communication technology service provider. 
As part of IHH Healthcare's global network of some 80 hospitals, GHK is also fostering digital ties with a slew of overseas sister hospitals to improve patients' global healthcare experience, especially in the post-pandemic, contactless new normal. 
In a recent interview with HKTDC Research, Dr Kenneth Tsang, Chief Executive Officer of GHK, shared his views about how Hong Kong could ride on eHealth to improve the city's healthcare services and better serve the world market with unrivalled specialist diagnostic services. 
A Covid-Triggered Take-off 
While Hong Kong's world-class ICT infrastructure has long been regarded as a strong foundation for the city's success in eHealth development, it was not until the onset of Covid-19 that its adoption took off in the city. Dr Tsang explained: "Before Covid, the use of eHealth may not have made much sense to most of the population due to the city's high penetration of general practitioners that guarantees more or less in-time medical attention, covering the care of chronic health problems, the treatment of acute non-life-threatening diseases, the early detection and referral of patients with serious diseases and preventive care. But the urgent need for contactless alternatives in care delivery under the threat of Covid-19 infections has greatly speeded up the practice and adoption of eHealth. 
"In fact, eHealth covers a broad range of IT-intensive medical services spanning not only virtual consultations and door-to-door medicine delivery, but also AI-integrated new drug discoveries, remote monitoring devices such as the vital signs monitors and blockchain-enabled drug-dispensing systems." 
When it comes to the fields of medical practices where eHealth is considered applicable, the Medical Council of Hong Kong (MCHK) has, on its Ethical Guidelines on Practice of Telemedicine published in December 2019, left the topic rather open for doctors to make their professional judgment on whether "… the patient is suitable for a telemedicine interaction and that the standard of care delivered via telemedicine is reasonable considering the specific context". 
Dr Tsang sees this as a golden opportunity for the industry to explore and develop its own best practices from general medical advice to mental wellness, saying: "To better find out our patients' receptiveness, we, since May 2020, have been offering virtual consultations as an alternative choice for our patients in family medicine, general surgery, cardiology, neurology, respiratory medicine, oncology, gastroenterology and hepatology in strict compliance with the Code of Professional Conduct.
"So far, for instance, we have found that oncology patients are least receptive to a shift to eHealth options. When it comes to cancer or a matter of life and death within a short period, patients are generally more inclined to have face-to-face, physical consultations to get assurance and comfort from their case doctors. But for some asymptomatic patients who are just doing a preventive or screening colonoscopy as part of their regular body checks, receiving a five-minute post-test virtual follow-up on a reliable digital platform is equally, if not more, preferred to spending an hour to wait for a face-to-face consultation."
Dr Tsang also sees the differences in eHealth application among public and private hospitals, saying: "The mandate of public hospitals is to deliver patient care services with efficient use of public funds. Take in-patient meal services as an example. Public hospitals, given the large number of local patients, may find it more cost-effective to invest in autonomous delivery robots to maximise efficiency and reduce delivery errors. But for private hospitals, more emphasis will be put on delivering personal care to all patients, including business travellers and tourists who seek and require more personal medical care and attention." 
A Holistic Approach 
As international travel remains limited for the time being, the current eHealth model in Hong Kong relies largely on doctors and patients who are both physically present in Hong Kong. But what if a Hong Kong resident requires an urgent medical consultation when travelling abroad for business, education or other purposes, in the post-Covid era? 
As stipulated in MCHK's guidelines, eHealth could include "means of electronic communication between two or more people in different locations, at least one of which is within the Hong Kong Special Administrative Region" and should be performed in compliance with the basic guiding principle for the medical profession that only Hong Kong-registered medical practitioners can practise eHealth on patients residing in Hong Kong. Therefore, the practice of eHealth that involves a Hong Kong-based doctor providing remote consultation to a patient outside Hong Kong is enough to not breach the law. 
The concern, however, rests on the rules and regulations applicable to the eHealth recipient at the overseas destination. Like Hong Kong, most jurisdictions have laws and ethical guidelines allowing only locally registered medical practitioners to practise medicine. Even within the US, there was no national eHealth plan in place until 2009, and nowadays medical practitioners still have to be licensed in a state before he or she can see a patient there. Unlike a few forerunning European eHealth countries, Hong Kong-registered doctors would be required to register in the related jurisdiction(s) to provide remote consultations for Hong Kong residents travelling or staying abroad.
Under such regulatory constraints, GHK is looking to synchronise patients' local and overseas healthcare experiences by enhancing digital collaboration with its sister hospitals. As a first step, the hospital launched My Gleneagles SmartHealth App in October 2020, which not only facilitated patients' access to GHK services through the appointment booking system, estimated waiting time and wayfinding service, but also allowed storage of health records on the patients' smartphones for future uses. 
Dr Tsang explained the move, saying: "The handy health records are essential for the eHealth progress because they allow the patients to communicate their situation with any medical practitioners anytime and anywhere. Moving forward, we will develop and promote the technical standards of the mobile health record system among our global network of sister hospitals, enabling them to seamlessly exchange and analyse health records for the best interest of the patients." 
The Global Vision 
While international virtual doctor-to-patient consultations remain limited, practitioner-to-practitioner or business-to-business online consultations – in other words, remote second opinions (RSOs) – are by-and-large a much less regulated area in the medical profession worldwide. Some US hospitals such as the UCLA Children's Hospital and Stanford Health Care are permitted to offer RSOs for out-of-state patients with only a written referral from the original doctor-in-charge. 
Dr Tsang believes Hong Kong is in an excellent position to thrive in the global RSO market. "At the heart of all healthcare services, including eHealth, is the quality of medical research and practice. Home to world-class medical professionals in quite a number of medical specialties such as liver transplantation and orthopaedics, Hong Kong has the high ground to export its medical expertise through cross-border and cross-country RSO services."
To stay ahead of the new S curve, GHK is working with one of its sister hospitals in Shanghai to develop real-time services for orthopaedics and oncology RSOs. Dr Tsang elaborated: "We are developing an RSO platform where doctors in Hong Kong and Shanghai could instantly exchange medical information such as CT scans, MRI images, tumour biopsies, blood tests and other laboratory biomarkers to facilitate differential diagnosis. Upon the patients' consent, the doctor-in-charge in Shanghai could share, in real-time, the progress of a treatment or a surgery with Hong Kong-based orthopaedists, oncologists or pathologists to seek a professional second opinion." 
Rooted in Hong Kong – an international city and a global business hub – GHK's eHealth platforms can bring greater synergies to the overall healthcare experience of patients within IHH Healthcare's global network. Dr Tsang explained: "Imagine a senior business executive from India got injured in Hong Kong and he is visiting GHK for an initial CT scan before returning home for further treatment. In the past, our medical officers might have to spend one or two days communicating and exchanging all the vitals with the designated hospital in India for arrangements. With a better eHealth platform and collaboration mechanisms in place, the entire process could be shortened to a few hours, allowing the patient to receive the necessary treatment in a much timelier manner. 
"GHK is also ready to facilitate international travel resumption through providing digital health certificates as well as by setting up remote consultation booths at mega events such as trade fairs and international conferences. Together with our world-facing eHealth solutions, Hong Kong's medical profession and eHealth readiness are set to emerge stronger amid the recovery from Covid-19."

Medical & Healthcare Services