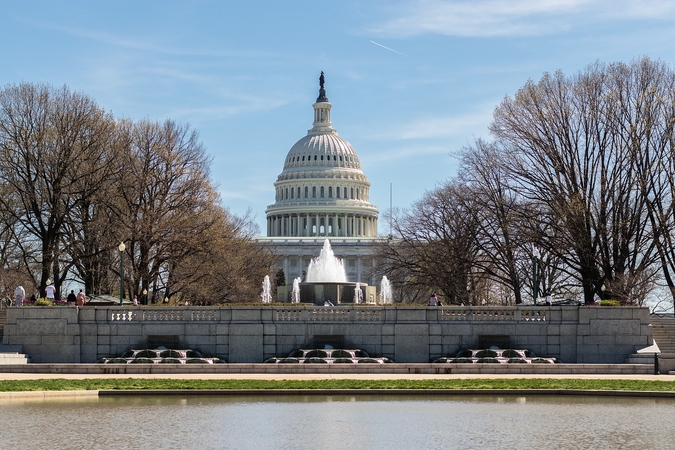 https://hkmb.hktdc.com/en/NzYxMzE5ODMz
Senate Consideration of Mainland China Legislation Delayed Until Week of 7 June
The Senate was unable to approve before it adjourned for a short break a comprehensive legislative package aimed at boosting U.S. competitiveness while addressing the challenges posed by mainland China, although it is expected to take up the legislation when it returns for business during the week of 7 June. Before it adjourned, the upper chamber approved an amendment to the legislation offered by Senate Finance Committee Ranking Republican Mike Crapo (Idaho) that had previously been negotiated with Senate Finance Committee Chair Ron Wyden (Democrat-Oregon) but was initially opposed by Senate Majority Leader Chuck Schumer (Democrat-New York). However, Crapo, Schumer and Wyden were ultimately able to reach an agreement and the amendment was passed by a 91-4 vote. 
The so-called Trade Act of 2021 contains a number of provisions of potential interest to Hong Kong and mainland Chinese exporters – many of which had been included in other proposed bills or amendments – including the following: 
a product exclusion process would be established under Section 301 of the Trade Act of 1974 and the exclusions that were previously granted to a range of mainland Chinese goods would be extended from the date of enactment of the legislation through 31 December 2022 (additionally, retroactive refunds could be sought for any exclusions that were in effect as of 31 December 2020); 
duty-free treatment (including an exemption from Section 301 and any other additional tariffs) would be provided through mid-January 2023 to COVID-19-related products classified under any of the following tariff lines or appropriately identified by the U.S. International Trade Commission: 2207.10.6090, 2208.90.8000, 2804.40.0000, 2847.00.0000, 3002.13.0010, 3002.13.0090, 3002.14.0010, 3002.14.0090, 3002.15.0010, 3002.15.0090, 3002.19.0000, 3002.20.0020, 3002.20.0040, 3003.20.0060, 3002.20.0080, 3003.10.0000, 3003.20.0000, 3003.60.0000, 3003.90.0120, 3003.90.0140, 3003.90.0160, 3003.90.0180, 3003.90.0190, 3004.10.1020, 3004.10.1045, 3004.10.5045, 3004.10.5060, 3004.20.0020, 3004.20.0030, 3004.20.0060, 3004.49.0060, 3004.60.0000, 3004.90.1000, 3004.90.9207, 3004.90.9209, 3004.90.9211, 3004.90.9214, 3004.90.9285, 3004.90.9290, 3005.10.5000, 3005.90.5090, 3006.70.0000, 3401.11.5000, 3401.19.0000, 3401.20.0000, 3808.94.1000, 3808.94.5010, 3808.94.5050, 3808.94.5090, 3821.00.0010, 3821.00.0090, 3822.00.1090, 3822.00.5050, 3822.00.5095, 3822.00.6000, 3824.99.9297, 3923.21.0095, 3923.29.0000, 3926.20.1010, 3926.20.1020, 3926.20.9010, 3926.20.9050, 3926.90.9910, 3926.90.9950, 3926.90.9985, 4015.11.0110, 4015.11.0150, 4015.19.0510, 4015.19.0550, 4015.19.1010, 4015.90.0010, 4015.90.0050, 4818.50.0020, 4818.50.0080, 4818.90.0020, 4818.90.0080, 6116.10.6500, 6210.10.2000, 6210.10.5010, 6210.10.5090, 6210.10.9010, 6210.10.9040, 6210.50.3500, 6210.50.7500, 6216.00.5420, 6307.90.6090, 6307.90.6800, 6307.90.7200, 6307.90.8910, 6307.90.9845, 6307.90.9850, 6307.90.9870, 6307.90.9875, 6307.90.9891, 6505.00.0100, 6505.00.8015, 6505.00.9089, 7311.00.0090, 7324.90.0000, 7613.00.0000, 8419.20.0010, 8419.20.0020, 8421.39.8040, 8705.90.0010, 8705.90.0020, 8705.90.0080, 8713.10.0000, 8713.90.0030, 8713.90.0060, 9004.90.0010, 9004.90.0090, 9018.11.3000, 9018.11.6000, 9018.11.9000, 9018.12.0000, 9018.19.4000, 9018.19.5500, 9018.19.7500, 9018.31.0040, 9018.31.0080, 9018.31.0090, 9018.32.0000, 9018.39.0020, 9018.39.0040, 9018.39.0050, 9018.90.3000, 9018.90.7580, 9018.90.8000, 9019.20.0000, 9020.00.6000, 9020.00.9000, 9022.12.0000, 9025.19.8010, 9025.19.8020, 9025.19.8060, 9025.19.8085, 9026.80.4000, 9027.80.2500, 9027.80.4530, 9028.20.0000, 9402.90.0010 and 9402.90.0020; 
within 180 days from the date of enactment of the legislation, the U.S. State Department and the Office of the U.S. Trade Representative would be required to prepare a report on the manner and extent to which the mainland Chinese government uses the status of Hong Kong to circumvent U.S. laws and protections, including U.S. export controls, U.S. sanctions, and antidumping and countervailing duties; 
S. Customs and Border Protection's efforts to enforce the prohibition on imports of goods made with forced labour, including from the Xinjiang Uyghur Autonomous Region, would be strengthened, including through the establishment of a forced labour division to receive and investigate allegations of goods, wares, articles or merchandise mined, produced or manufactured using forced labour and to co-ordinate enforcement efforts with other agencies; 
the miscellaneous tariff bill, under which the U.S. grants duty suspensions or reductions to thousands of products from all sources, would be reauthorised through 31 December 2023 with a four-month retroactive application, and the MTB consideration and submission process would be extended for the next two sessions of Congress (the next MTB process to consider new provisions would start in autumn 2022); 
USTR would be required to provide regular reports to the appropriate congressional committees on the implementation of the Sino-U.S. Economic and Trade Agreement of 15 January 2020; 
a reformed version of the Generalised System of Preferences would be reauthorised through 1 January 2027, retroactive to 31 December 2020; 
the president would be authorised to reduce or suspend duty collection on any essential medical supplies for a period of not more than 180 days beginning on the date on which the president submits to the Senate Finance Committee and the House Ways and Means Committee a certification that the reduction or suspension is necessary for crisis preparedness; 
no later than three years from the date of enactment of the legislation, the seafood import monitoring programme would have to be extended to cover all U.S. imports of seafood and seafood products; 
a strategy would have to be quickly developed and implemented to improve the quality and verifiability of the following data elements in the Automated Commercial Environment: (i) authorisation to fish, (ii) unique vessel identifier, (iii) catch document identifier, (iv) location of wild caught harvest and landing or aquaculture location, (v) type of fishing gear using to harvest the fish, (vi) name of farm or aquaculture facility, and (vii) location of farm or aquaculture facility; 
within one year from the date of enactment of the legislation, seafood importers would be required to provide for each entry subject to the seafood import monitoring programme information on the location of the catch or cultivation; paper records or electronic reports of chain-of-custody that identify each custodian of the seafood or seafood product; maritime mobile device identity number of each harvesting and transshipment vessel; and beneficial owner of each harvesting and transshipment vessel or aquaculture facility, as applicable; 
CBP would be required to issue regulations within one year from the date of enactment of the legislation regarding the verification of seafood imports to ensure that no seafood or seafood product harvested or produced using forced labour is entered into the U.S.; 
USTR would be required to identify and prioritise for enforcement U.S. trading partners that engage in acts, policies or practices that disrupt digital trade activities, including coerced censorship in their own markets or extraterritorially, and other e-commerce or digital practices with the goal or substantial effect of promoting censorship or extrajudicial data access that disadvantages U.S. persons; 
USTR would have to consider the viability and utility of negotiating digital trade agreements with like-minded countries as well as the degree to which such agreements may provide an opportunity to address digital barriers, deter censorship, promote the free flow of information, support privacy, protect sensitive information, and promote digitally enabled commerce; 
federal agency heads would be allowed to provide support, as requested and appropriate, to U.S. persons seeking technical, legal or other support in addressing intellectual property rights infringement cases regarding mainland China; 
a report on CBP seizures of counterfeit goods would be required within one year from the date of enactment of the legislation and imports from the top infringing countries would face increased inspections; 
within 180 days from the date of enactment of the legislation, the U.S. Department of Agriculture would have to prepare a report on efforts to ensure the safety of imported processed chicken into the U.S.; 
USTR would be required to prepare an annual report on overcapacity of industries in mainland China; 
an interagency committee on trade in essential supplies in the U.S. would be established to examine U.S. trade flows and supply chains for essential supplies, facilitate a whole-of-government strategy to ensure that the U.S. has reliable access to essential supplies from its trading partners, and advise private U.S. enterprises that produce or procure essential supplies on recognising potential threats to their supply chains by identifying unreliable trading partners and persons; 
efforts would be redoubled to facilitate trade in essential supplies, including by creating a supply chain database and toolkit; and 
a USTR official would have to be designated to monitor unfair trade practices of suppliers of information and communications equipment, including suppliers that are owned, controlled or supported by a foreign government.
North America
Mainland China
USA