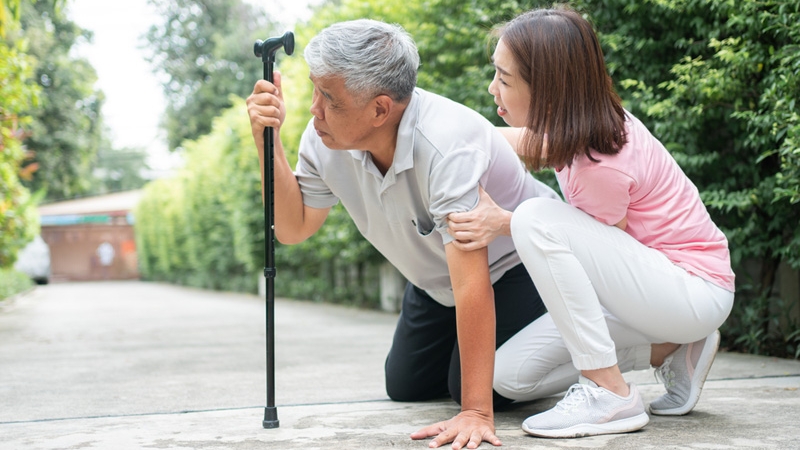 https://hkmb.hktdc.com/en/NzUwMDQwNDkx
Healthtech Innovations: Hong Kong Startup Pioneering Wearable Technology for Early Detection of Elderly Fall Risks
Interview with Gary Jin, CEO of Booguu Company Limited
Falls are the second leading cause of accidental or unintentional injury deaths worldwide. An estimated 646,000 individuals die from falls globally every year, with adults older than 65 suffering the greatest number of fatalities. The Hong Kong Department of Health reported that over 25% of elders suffer a fall each year, and most resulted in fractures and head trauma.
Assessment of fall risk should be the first step in prevention. However, the medical world has yet to find health indices and easy-to-use tools that can quantify fall risk. Gary Jin, CEO of Booguu Company Limited, spoke to HKTDC Research about the patented technology developed by his company for assessment of fall risk, discussing the development direction and potential applications.
A Wearable Solution to Measure Fall Risk
According to Jin, traditional task-based fall risk assessment methods, such as Timed-Up-and-Go Test and Romberg's Test, are unable to take into account all fall-causing factors, and are limited to the highly frail or at significant risk. However, more than half of the elderly population are at moderate fall risk. These older people also need an accurate fall risk test to raise early awareness and deliver effective fall prevention treatments.
Although there is some advanced medical equipment, such as Electronic Walkway, which are effective in screening elders of low to moderate fall risk, these advanced machines are usually bulky, expensive, complex to use and uncommon. In light of this, Booguu was founded in Hong Kong in 2016 to develop a simple, fast, low cost and accurate fall risk assessment system named, Aspire. Jin explained: "The vision of our company is to develop a technology that is both socially impactful and commercially viable. We would like to promote the well-being of our community, especially for the elderly group.
"Our technology can be used to drive effective, evidence-based fall prevention therapy programs to reduce fall risk and improve quality of life for the elderly. Our elderly-focused ambition also differentiates us from a lot of the wearable technology companies in the market that do tracking such as heart rate and distance for all age groups."
Aspire offers insights into human movement using wearable sensors, mobile apps, AI, and machine learning. To take the assessment, users only need to wear one body sensor around the waist, which is connected to the mobile app via Bluetooth and perform three simple tasks that take five minutes from start to finish.
The machine learning algorithms identify multiple fall risk factors that are undetectable with visual observations, such as posture sway from standing balance, gait variability and dysfunction while walking normally, and lower body limb strength during five repetitions from sit to stand test. Aspire then provides a comprehensive assessment report with tailored recommendations based on each unique risk profile to help the elderly take early steps to prevent falls.
Hong Kong as an Ideal Location for Startups
In recent years, the Hong Kong government and local organisations have been providing increasing support to local technology startups through multiple channels. Jin saw this as one of the biggest advantages in Hong Kong's start up ecosystem. He said: "Hong Kong has an organised supporting system, with a wide range of financial incentives and world-class infrastructure for innovation and technology (I&T) startups. The all-rounded supplementary measures make Hong Kong an ideal place for business trials, compared to other countries or cities in the region."
A product of the Hong Kong Baptist University (HKBU), Booguu have received funding from the Technology Start-up Support Scheme for Universities (TSSSU) launched by the Innovation and Technology Bureau. In 2017, it moved office to Hong Kong Science and Technology Park (HKSTP). Jin considered the move to be wise, saying: "HKSTP offers startups favourable conditions, from finance to talent, to grow our business. Leveraging on their connections, we were given opportunities to present our product to industry players to accelerate our speed to market and help us gain traction. For example, their Healthy Ageing Platform has successfully connected us with non-governmental organisations (NGOs), hospitals and day care centres for collaboration."
In additions, Booguu has also received tremendous support from the Hong Kong Housing Society Elderly Resources Centre on data collection. Jin explained, saying: "The fall risk levels of our system are calculated based on a dataset of more than 2,500 elders in Hong Kong. We are glad that the Hong Kong Housing Society Elderly Resources Centre was very helpful in providing the data of Hong Kong's elders, which significantly improves the accuracy of our solution."
Leveraging the complementary advantages of different places, Booguu has set up three teams around the world. The head office in Hong Kong is responsible for research and development (R&D), hardware design and maintaining relationship with partners, while the United States team mainly provide support to the Hong Kong team on data analytics and cloud development. The company's Shenzhen office helps to adapt designs and oversees manufacturing.
The strategic work allocation has aided Booguu's success, with its technology being recognised by local and international institutions worldwide. According to Jin, Aspire has been granted three patents and validated against the Gold Standard1. In 2017, Booguu won three gold medals in the International Exhibition of Inventions of Geneva. The company was also awarded gold medal in the 2019 Asia Exhibition of Inventions and the Business Innovation Award in the 2020 TechConnect Innovation Summit.
Bright Prospects
Partnered with organisations such as the Housing Society Elderly Resources Centre, Booguu has already offered fall assessment tests to more than three thousand elders in Hong Kong. Jin said: "We are working with Hong Kong Telecom, hospitals and NGOs to expand the reach of our technology. Furthermore, we have introduced a monthly or yearly subscription model to make our services more affordable for community centres, nursing homes, et cetera.
"We will expand the application of our technology to remote home-based monitoring for lower limb rehabilitation. Patients can wear the Aspire sensor at home and complete the simple tasks as required for assessment of lower limb function. The assessment report enables physiotherapist to objectively quantify patients' physical performance and to remotely track their compliance with a home-based exercise programme.
"If the patient's condition deteriorates the physiotherapist can track their real-time condition on the system and re‑schedule appointments for follow‑up. This way, the health service and the entire healthcare system can be more efficient and cost‑effective."
Apart from the fall risk assessment system, Booguu is planning to conduct multiple new projects, including scoliosis screening for children, consumer focused balance training, and an academic study in collaboration with Taipei Veterans General Hospital on leg length discrepancy. Jin said: "The Covid-19 pandemic has made more people realise the positive impact of technology on healthcare. We see huge opportunities moving into the post-Covid-19 era. Our next step will be to expand our business to China and the US markets."
---
1 Gold Standard refers to the diagnostic test or benchmark that is the best available under reasonable conditions. Apsire are validated against the Gold Standard GAITRite® Walkway, Bertec® Force Plates and Noraxon® myoMotionTM.
Medical & Healthcare Services
Technology