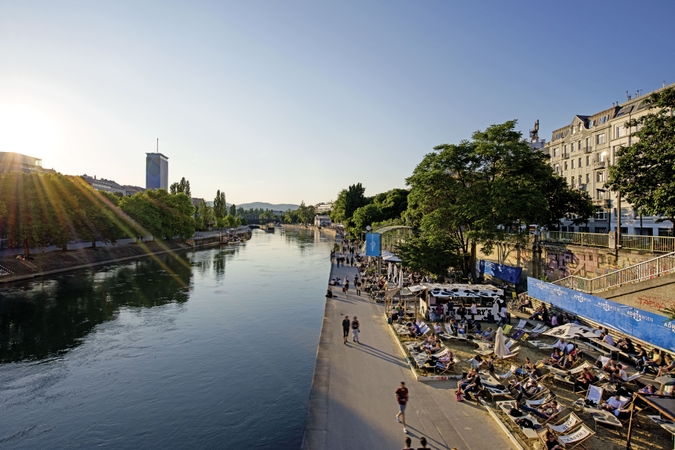 https://hkmb.hktdc.com/en/NzMzMDI0Mzk0
Post-Covid Prospects: Austria
Louis Chan
The Austrian economy recorded its most striking GDP decline since the Second World War in the Corona year 2020 with a fall of 6.6%. This was much more severe than the financial crisis of 2009, when GDP fell by 3.8%.
Despite being one of the most stable economies in Europe, thanks to its highly-resilient network of export-focused SMEs, excellent academic standards and significant R&D spending, the country's GDP fell by 6.7% in the service sector and 5.8% in the manufacturing sector.
The fact that Austria's economy was hit so hard compared to those of other European countries is partly due to the strong setback in accommodation and food service activities. This sector in Austria is three times larger than in Germany, for example. This was an inevitable consequence of the Covid-19-related travel restrictions and containment measures.
Although the country is still battling against a resurgence in coronavirus infections amid the rise of new strains, the gradual easing of travel restrictions and continued government support are expected to lead to a solid rebound in GDP in 2021 and 2022. This will be driven by pent-up consumption demand and a recovery in the tourism sector. The recovery should start in summer 2021 in line with the country's three-stage coronavirus vaccination programme which commenced in January 2021.
Louis Chan, Assistant Principal Economist (Global Research) at HKTDC, sat down with Franz Roessler, Austrian Trade Commissioner for Hong Kong and Macao and Head of ADVANTAGE AUSTRIA, to share his views on the performance of the economy and how Austrian companies can grow their business in Asia in partnership with Hong Kong enterprises.


Chan: How is the implementation of the vaccination programme progressing in Austria? Do you have a timetable or a roadmap to indicate when the majority of the population will be vaccinated?
Roessler: After a bumpy start in Europe due to supply bottlenecks, vaccination is beginning to make progress. The EU aims to vaccinate 70% of all adults by this summer. Vaccines for Austria were purchased through a joint EU vaccine strategy for their development, manufacture and distribution. By mid-April 2021, 15% of all Austrian adults had received the first dose of vaccine.


Chan: What is the near- to medium-term outlook for Austria's major industries and trade, especially in the wake of the government support? How is the vaccine-boosted recovery expected to kick in, given these stimuli?
Roessler: The Austrian economy is still in recession, but the gradual easing of pandemic measures and the start of vaccine campaigns provide some cautious optimism. Economic life over the coming months will continue to be restricted due to the relatively high number of infections.
The Austrian economy earns nearly six out of every 10 Euros abroad (56% export share in goods) and so a broad-based European recovery – as well as an improvement in major export markets such as the US – is very important for the economy to get back on track. Austria's manufacturing sector shows strong signs of revival with growing orders from home and abroad, and Asian orders are particularly promising. In its April 2021 outlook, the IMF raised its expectations for the economic growth in the EU and Austria for the coming years to 3-5% per annum. A strong recovery in Europe will be beneficial to Austria's industry, as well as to its tourism sector.


Chan: The Covid-19 outbreak has seen businesses turn to e-commerce, whilst people have learnt to work, study, and exercise at home. Are there any good indicators of the digital transformation that has taken place since the onset of the virus outbreak in Austria? How do you see these behavioural changes could change the consumer and industry landscape of Austria post-pandemic?
Roessler: Even before the health crisis, the Austrian government prioritised furthering digitalisation with initiatives rolled out by the Federal Ministry for Digital and Economic Affairs, including a broadband strategy aiming at near nationwide availability of 5G by 2025.
Austria has long been recognised for its state-of-the-art e-government services that provide simple, safe and fast administrative solutions for individuals and business users, all under very strict European data privacy regulations. A core element of e-government in Austria is the electronic ID card, which in combination with the internet and a mobile device allows users to sign applications or contracts that would normally require a handwritten signature, and enables official documents to be delivered electronically.
Like most of the world, Austria has also seen a digital acceleration throughout 2020. Many consumers have moved onto digital platforms. Today, 90% of all Austrians are internet users and the majority access it via mobile devices, with 80% regularly using social media. The past months have made it necessary for many to work or study from home, and Austrians have learned to adapt quickly. Telecom operators are also offering much better services with faster connection speeds and broadband offers. Video communication tools are widely used nowadays, and the offer for e-commerce and delivery services has significantly expanded.
This digital transformation worldwide could also increase Austria's international competitiveness. Remote work is increasing globally, giving people more choices of where to live. Thus, countries with high living standards, good medical facilities and supportive social security will be the most desirable. Austria rates highly against these criteria, and also offers a reasonable cost of living, making it especially attractive for new talent.
​​​​​​​

Chan: International logistics have been upended during the pandemic, hampering both air and sea transportation. How has the Eurasian rail network been lending support to Asia-Europe trade? What is the role of Austria given its strong economic relations with Eastern Europe?
Roessler: Established supply and logistics chains between Europe and Asia were severely affected by Covid-19. Production delays in Asian factories and difficulties processing freight in Europe, combined with reduced cargo transportation options by sea and by passenger plane created uncertainty, delays and increased costs.
Rail transport on the Asia-Europe route is growing quickly but its share, accounting for only around 3% of all cargo travelling between China and Europe, remains limited. For shipping between China and Austria, rail freight is faster than sea freight and more cost-effective than air freight. Cargo-only train services have been available between China and Austria since 2018, and some companies including the Austrian fibre producer Lenzing AG have already been chartering their own trains. Last year, for the first time in the history of Austria, Lenzing AG sent goods that were 100% produced in Austria directly to China by train. For Austria, the extension of the broad-gauge railway from Slovakia to Austria which is being discussed, for the transfer of containers between the broad‑gauge 1,520mm trains used in former Soviet countries, such as Russia, Kazakhstan and Belarus, and the standard‑gauge 1,435mm trains used in China and the EU, would greatly enhance efficiency.
Austria's manufacturing sector, accounting for 17% of the nation's GDP and 25% of the overall workforce, has made good use of extended business operations to Central and South Eastern Europe in recent years. Austria is very familiar with this region because of its proximity and historical ties. 
When it comes to Austrian investors producing in Asia for the European market, aside from the outsourcing of some labour-intensive activities, they normally opt for co-production in Europe. Because of all the turbulence created by the coronavirus, manufacturers worldwide, including in Austria, are likely to place more emphasis on securing a robust supply chain. In order to avoid future supply bottlenecks with raw and primary materials, dual sourcing (i.e. using two suppliers for a given component, raw material, product or service) and near-shoring (for Austria this would be in Central- and Eastern Europe) is expected to become more commonplace.


Chan: Global trade and investment was weakened by the pandemic and many travel and business plans were shelved or postponed last year. Looking forward to 2021 and beyond, what do you see are the most promising sectors for Austria-HK collaboration?
Roessler: Hong Kong remains for Austria an important hub for doing business with China and Asia. 40% of Austrian investments in mainland China go via Hong Kong.
A majority of the more than 200 Austrian subsidiaries in Hong Kong also focus on the mainland or other Asian markets. For many Austrian companies, Hong Kong is the test market for all of Asia, due to the importance of Hong Kong as a fair and convention place as well as the excellent infrastructure. Many Chinese companies use Hong Kong as a gateway for their internationalisation, with more than 70% of all Chinese investments in Austria done via Hong Kong entities.
Austria traditionally enjoys a large trade surplus with Hong Kong. The majority of Austrian exports to Hong Kong are machines and equipment, and materials for Hong Kong's infrastructure projects. The city remains an important market for Austrian consumer and luxury products, not to mention Austrian wine, beer and other food and beverage products.
​​​​​​​

Chan: How about the Greater Bay Area (GBA) and Belt and Road Initiative (BRI)? Are Austrian companies, start-ups or scale-ups keen to make inroads into the GBA or BRI projects? How can Hong Kong companies best help?
Roessler: Any initiative to foster better infrastructure is relevant for Austrian companies. Austria has several hidden champions, SMEs that are world leaders in their niches, e.g. for rail maintenance machinery, fire vehicles or airport communications. Many may well know Austrian consumer brands like Swarovski (crystals), Red Bull (energy drinks) or Frey Wille (jewellery) can benefit from the swelling middle-class in the GBA, while Austrian companies with subsidiaries in Hong Kong will benefit from easier access to the dynamic market across the border.
What connects Hong Kong and Austria, and especially Vienna, is that both are hubs for neighbouring bigger and familiar markets. For Austria it is Central and South Eastern Europe, an area very divided, complex and often overlooked by overseas companies. When looking at Austria as a potential entry point into Europe, one should not only look at the affluence of the 9-million strong local Austrian market, but also the potential access to the 450 million EU market.
Austria could act as a hub for Hong Kong, mainland and other Asian companies that wish to expand further in Europe, thanks to its closeness and familiarity with the region, and its large number of professional service providers. Hong Kong companies in the telecom, transportation and financial services field have already launched their businesses via Austria into Central and South East European markets, either by working with Austrian partners or setting up their own operations in Austria. The total investment adds up to €1.9 billion so far.
Companies operating in Austria are only subject to a unified corporate tax of 25%. Taxes commonly levied in other European countries such as a trade tax (Gewerbesteuer or a tax on profits calculated as a combination of a uniform tax rate and a municipal tax rate) or wealth tax do not exist in Austria. Companies that establish regional headquarters in Austria benefit from the "group taxation scheme" under which profits and losses of subsidiaries of the Austrian parent company abroad can be bundled together to form its taxation basis in Austria. In addition, Austria has concluded double taxation avoidance agreements with Hong Kong and the mainland, ensuring the income of citizens of all the specified jurisdictions are only taxed once.
Austria is an often-overlooked gem for Hong Kong companies. Once travel is again possible we would like to encourage more Hongkongers to travel there to experience how Austria can build bridges to other EU and Central and Eastern European markets for them. Austria will enchant you with its rich heritage and beautiful landscapes, but you will be surprised at how international and innovative the country is!
Western Europe
EU
Hong Kong
Austria
Hong Kong