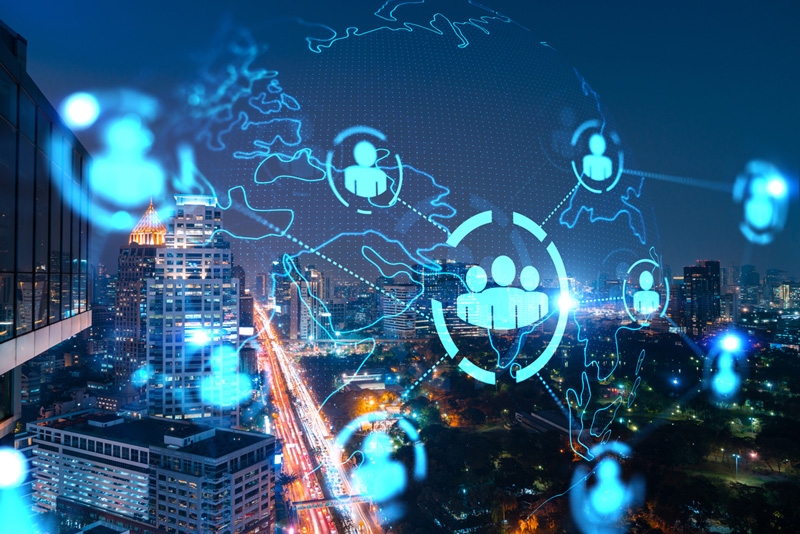 https://hkmb.hktdc.com/en/NzMxMDQxMDQ5
Expanding Thai Markets: Innovations and Technology
Innovations and technology have played a big part in the recent economic growth in Thailand. Businesses of all kinds are facing immense challenges to adapt to the latest developments, which will continue to impact every business sector over the next decade. Companies and organisations will have to invest significantly in a variety of technologies to remain afloat. Opportunities for IT solutions providers are thus on the upswing. 
Manufacturing Adopting IoT 
The Thai economy, which has traditionally been based on agricultural exports, has transformed within the past few decades. The industrial sector constitutes a substantial share of Thailand's economy, accounting for one-fourth of its GDP. 
To propel Thai industry forward and keep it competitive, the Government has officially approved the Thailand 4.0 initiative. Manufacturing in Thailand is looking to move away from traditional assembly lines with workers performing repetitive tasks to the adoption of automation and smart machines. 
In recent years the manufacturing industry has led the way in digital transformation and adopting IoT. Major manufacturers such as UAC Global, Unitech Co. Ltd, Royal Universal, and AAPICO Hitech Public Company have deployed IoT to improve the efficiency of the manufacturing process and cut maintenance costs. 
​​​​​​Smart manufacturing uses data analytics to improve the overall performance of the manufacturing process and develop connected solutions for automating manufacturing operations. For example, plant managers are able to access the latest production data instantly via a mobile device or access available inventory with the push of a button. 
Thailand's digital development will face challenges from legacy systems and complex technologies. End users will not be able to fully realise the benefits of IoT as long as these challenges are not addressed. Solution providers will need to understand the end user's perspective in order to deliver better service and contribute to the digital transformation of enterprises not only in Thailand but across ASEAN. 
Broad Applications of Blockchain  
In keeping with Thailand 4.0's emphasis on the use of digital technologies to spur national economic growth and development, the Thai government is investigating the feasibility of using blockchain to create value-adding services for mainstream industries. Blockchain technology has proliferated in a number of traditional industries outside of the cryptocurrency space in Thailand. 
In August 2017, Thailand Post introduced the use of blockchain for its warehousing, sorting, shipping, and delivery processes to enhance operational efficiency. Meanwhile the Electronic Transactions Development Agency (ETDA) has signed a Memorandum of Understanding (MoU) with local blockchain start-up Omise Co., Ltd. to build a national electronic Know-Your-Customer (e-KYC) platform, as part of the ETDA's Digital Identity project. 
In October 2019, the Ministry of Commerce of Thailand announced that it was exploring the use of blockchain in the areas of copyright, agriculture, and trade finance to boost the country's credibility in terms of intellectual property. Around the same time, the Ministry of Finance announced that it was planning to use blockchain to track tax payments for the purpose of detecting tax fraud. 
Thailand has emerged as one the most interesting cryptocurrency and blockchain countries in Southeast Asia. Increasingly blockchain will be used in food safety, royalties, real estate, intellectual property, and asset management. 
Many market players have pointed out the possibilities of blockchain technology to manage a variety of problems across different industries – from healthcare and manufacturing to retailing and finance. Some Thai companies believe blockchain technology will be a critical part of their future business and a significant priority in their planning. 
Robotic Process Automation  
Robotic Process Automation (RPA) is the automation of manual tasks that are time consuming, rule-driven, repetitive, and prone to human error. RPA in Thailand may lead to new investment across industries as businesses automate their processes to improve cost efficiency and productivity. 
ABeam Consulting Thailand, the local operating unit of the Japan-based consulting firm, released a survey that found 13% of SET 100 and multinational corporations in Thailand were using RPA, 66% of the surveyed companies had not heard of RPA while 21% said they were considering RPA, indicating considerable room to grow in the country. 
"RPA has been used in rule-based automation, which is not fully digital labour. It is a rising trend globally, including Thailand," said Ichiro Hara, Managing Director of ABeam Consulting Thailand. "RPA's benefits can be maximised if the businesses have standard processes, as well as the governance to control and simplify scaling up." 
The sectors which most use RPA are banking and insurance, manufacturing, services, energy, and food and drink.
Businesses across all industries can benefit from adopting RPA. RPA technology can enhance business processes to improve the customer experience, simplify service delivery, and reduce costs. 
The rapid adoption of RPA in Thailand among banks and insurance companies demonstrates the benefits. The implementation time required ranges from six to 12 weeks. 
Cybersecurity and Data Protection 
As Thailand's digital economy grows, privacy rights and cybercrimes have become major concerns. Thailand currently provides legal protection for certain types of personal data in specific areas under the National Health Act and Financial Institution Business Act. However, such limited protection is not sufficient when personal data is spread through various channels, devices, and platforms. 
On 28 February 2019, a Personal Data Protection Bill and a Cybersecurity Bill were approved by the National Legislative Assembly. The Bills have been drawn up to directly govern the collection, storage, use or processing of personal data. Such bills aim to enforce legal safeguards to ensure national security in cyberspace and protect the privacy of an individual's personal data. 
Fuelled by the increasing demand for data protection initiatives, consumer awareness of the importance of data privacy is rising. Consumers will not purchase from companies they do not trust to protect their data. So businesses are faced with the huge challenge of protecting customer information from unauthorised access, corruption, or theft. 
Digital transformation is profoundly altering every aspect of how businesses operate and compete. As the volume of data that enterprises create, manipulate, and store continues to grow, data security is becoming a "business problem" and not just an "IT problem". Failing to implement a comprehensive data security plan could be fatal for any business. 
Data security services go hand in hand with network security and cyber security services to keep companies or organisations aware of threats, safe from attacks, and prepared to respond in the event of an incident. Data protection is the process of safeguarding data against loss, corruption, or security threats. From backups to recovery and data reuse, it covers all techniques an organisation may use to keep data secure and universally available for its products, services, and operations.
ASEAN
Southeast Asia
Thailand