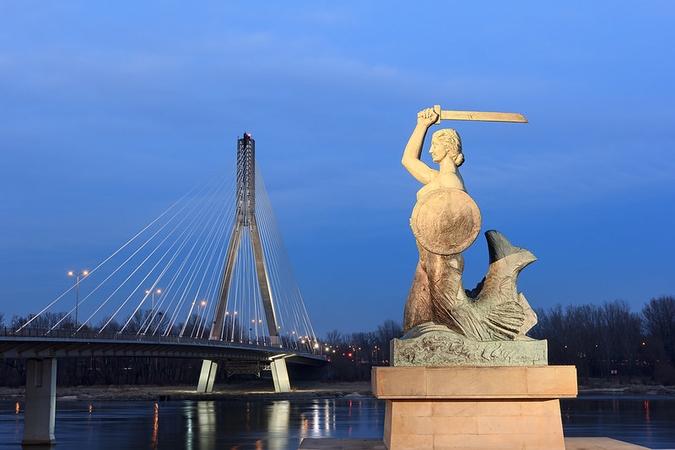 https://hkmb.hktdc.com/en/NzM5OTQyNzY3
Post-Covid Prospects: Poland
Louis Chan
The Polish economy shrank in 2020 for the first time since 1991, with GDP falling by 2.7%. The country is one of the fastest-growing economies in the EU, and its GDP continued to rise even during the 2009 financial crisis.
After the first coronavirus cases and the subsequent containment measures in March 2020, the country suffered a second wave of infection in October 2020. The return of stay-at-home requirements derailed the recovery, with GDP contracting again in Q4 after a 7.9% quarter-to-quarter rebound in the third quarter of 2020. In spite of that many analyses remain optimistic with regard to Poland's future prospects, with GDP growth of 4-4.7% widely anticipated for 2021.
Although the country is still battling against a third wave from March 2021 which has prolonged the restrictions on retail and businesses, the gradual easing of travel restrictions is readying Poland's economy for a strong comeback in 2021 and 2022. Government support has included a multi-billion-złoty support scheme for companies and a record low benchmark interest rate of 0.1%. The National Vaccination Strategy (launched on 27 December 2020) aims for all 31 million adult Poles to be vaccinated by no later than early 2022.
Louis Chan, Assistant Principal Economist (Global Research) at HKTDC, sat down with Dr Aleksander Dańda, Consul-General of the Republic of Poland in Hong Kong, to discover his views on the performance of the Polish economy and how Polish companies can grow their business in Asia in partnership with Hong Kong enterprises.
Chan: How is the vaccination programme progressing in Poland? Do you have a timetable or a roadmap to indicate when the majority of the population will be vaccinated?
Dańda: The vaccination programme in Poland has been proceeding well. As of the beginning of May this year, more than 12 million Poles (31% of the population) have been vaccinated. Reassuringly, the rate of vaccination has also accelerated, with some 200,000-300,000 people now being inoculated on a daily basis.
Although at the moment Poland is still in a serious situation dealing with a third wave of Covid-19 infections, we are striving to vaccinate as much of the population as possible to ensure a swift and successful social and economic recovery. According to the latest targets, the Polish National Vaccination Programme will ensure that 20 million people or around 52% of the total population will have been vaccinated by the end of June. All those who are willing to take the vaccine, which will give us a herd immunity threshold of some 70% of the population, will have been vaccinated by the end of August.
The registration for vaccination can be done either by an electronic form, a text message or a phone call, and priority is being given to groups such as medical workers, staff and inhabitants of social care homes, teachers, senior citizens and disciplinary forces in order to better safeguard the social and health systems.


Chan: What is the near- to medium-term outlook for Poland's major industries and trade, in view of the government support that is being provided during the pandemic? When are you expecting the vaccine-boosted recovery kick in? What are your hopes for EU-wide initiatives?
Dańda: Taking the structure of Poland's manufacturing and external trade sectors into account, both the short and medium-term outlooks for the main industries and trades in Poland are positive. This optimism is mostly because the pandemic and the consequent restrictions mostly affect the services sector. The current global health crisis has made it even clearer that the comparative advantages of Polish enterprises are not based on low prices but on premium quality. Poland is well positioned for international trade during these trying times.
Poland has experienced some recent supply chain bottlenecks, particularly in the automotive and auto parts industry. You might say it is a victim of its manufacturing success. The government's strategy for economic recovery aims to enhance the growth in productivity through digital transformation and supply chain recalibration, particularly in the sectors which have been affected most by the pandemic.
In anticipation of a vaccine-boosted return to normal, the proper timing of an economic stimulus and the gradual removal of travel and social restrictions remain key to a broad-based recovery. Of course, many factors are beyond the influence of the institutions of individual countries, despite a consensus on the support of multifaceted EU-wide fiscal, monetary and structural policies. We are looking to see how effectively these EU wide policy actions will be coordinated, and we hope the first fruits will be an exports rebound.
​​​​​​​
Chan: The Covid-19 outbreak has seen many businesses turn to e-commerce, whilst people have learnt to work, study, and exercise at home. What can you tell us of the digital transformation that has taken place in Poland since the onset of the pandemic? How might these behavioural changes change the consumer and industrial landscape in Poland post-pandemic?
Dańda: The Covid-19 crisis has accelerated the pace of digitalisation which was already progressing in Poland prior to the virus outbreak. The use of new technologies has become one of the most important tools to live with the virus. Since the onset of the pandemic, a large proportion of our social, economic and educational activities has been transferred from physical to virtual at a lightning speed.
Distance working – with the help of cloud computing, AI-enabled digital devices and developments such as virtual meetings and teleconferences – has become essential for many, while the e-commerce habits driven by the pandemic are widely expected to stay. More than 74% of the Poles who participated in PwC's recent study expect to maintain their present intensity of internet shopping and 10% intend to shop online more often.
Poland's e-commerce market is expected to grow at an average annual rate of 12% to reach PLN162 billion (US$43 billion) in 2026. In the longer term, the work-from-anywhere future may help reduce the brain drain from those cities and towns which are less well positioned economically. It may then be possible for the working classes to enjoy a lower cost of living in a rural town as well as a high income derived from virtual work in a big city.
This trend is substantiated by the findings of EY Polska's recent study, which found that 57% of the responding Polish companies have accelerated their digital transformation to cope with Covid disruptions. The potential of digitalisation was appreciated by 91% of responding companies, as a way to enhance efficiency (77%), meet customer needs (61%) and reduce costs (60%).
Apart from the private sector, there has been an unprecedented digital revolution in Poland's Social Insurance Institution (Zakład Ubezpieczeń Społecznych or ZUS – analogous to the MPF system in Hong Kong). A timely example is the new government programme which started in August 2020 to give tax-free electronic vouchers to around 6.5 million children, to subsidise their in-country holidays and boost domestic tourism. ZUS oversees the registration and distribution of these electronic vouchers, which are issued to eligible parents as 16-digit codes for spending at participating businesses and charities.
Another good indicator includes the popularity of e-administration initiatives such as Electronic Platform of Public Administration Services (Elektroniczna skrzynka podawcza or ePUAP) and Trusted Profile (Profil Zaufany).
Trusted Profile is a free electronic signature tool to prove one's identity online using the Polish 11-digit PESEL national identification number. A Trusted Profile can give registrants 24/7 access to public services such as ID card applications, birth registration, vehicle registration, business registration and health insurance card applications in Poland without leaving home.
In 2020 alone, more than four million Poles created their own Trusted Profiles, adding to a pool of 18 million registrants (after an increase of 2 million in 2019 and 3 million in 2018) and 9 million (47%) active users.
Poland is one of the "digital challengers" defined as countries which have the biggest digital potential in Europe. Higher demand for digital solutions has helped paint a particularly rosy picture for Polish ICT companies who saw their net profitability ratio improve from 7.5% to 9.1% in 2020. The country's digital economy grew by 18.4%, 2.5 times faster than the average of the two preceding years.
Despite the uncertainties brought by Covid, the promise of Poland becoming the digital heart of Europe has raised the eyebrows of international tech gurus such as Microsoft and Google. In May 2020, Microsoft announced a US$1 billion, 7-year digital transformation investment plan in Poland, featuring the opening of its first data center in Central and Eastern Europe (CEE) on Vistula, the largest river in Poland, in partnership with the country's leading cloud computing solutions provider, Chmura Krajowa.
Around the same time, Google, which opened its first office in Poland in 2006, announced the launch of a new Google Cloud region in Warsaw, also its first in CEE, with an investment of up to US$2 billion.
Chan: International logistics have been upended during the pandemic, hampering both air and sea transportation. How has the Eurasian rail network been lending support to Asia-Europe trade? What is the role of Poland given its strong economic relations with Eastern Europe?
Dańda: In 2020, rail transport between China and Europe, due to the pandemic and the consequent upheaval of global sea and air traffic, registered a substantial growth. The route passing through Poland and Central Europe at the Małaszewicze/Brześć terminal on the Polish-Belarussian border remains the most important Eurasian rail connection, accounting for as much as 90% of all of the railway transport between China and the EU. While about 60% of all the containers transported that way end up in Germany, 15% of them stay in Poland.
​​​​​​​

Chan: Global trade and investment was weakened by the pandemic and many travel and business plans were shelved or postponed last year. Looking forward to 2021 and beyond, what do you see are the most promising sectors for Poland-HK collaboration?
Dańda: The current trade between Poland and Hong Kong is far from reflecting the true potential. Many Polish exporters associate the Hong Kong market with a significant financial commitment in terms of marketing and logistics, especially when there is a relatively low recognition of Polish companies, products and brands.
In 2020, Poland sold US$471 million (+10% year-on-year) worth of products to Hong Kong, mainly meat and offal and machinery, while buying US$120 million worth of goods (-10% year-on-year), predominantly machinery. This ranked Hong Kong as the 45th largest export market and 75th largest import market of Poland, both with negligible market shares.
When it comes to the role of Hong Kong for Polish businesses, the Polish government considers the intensification of bilateral economic cooperation to be very important as the city is the most valuable channel for accessing mainland China and other neighbouring Asian countries.
It is worth stressing that in 2019, Poland was Hong Kong's 12th largest meat and offal supplier worldwide and 3rd largest (behind the UK and Ireland) in Europe.
As well as Hong Kong residents being open to trying traditional Polish flavourings, many consumers from mainland China and other Asian countries are also interested in the new regional and original products imported from Poland to Hong Kong. This is line with the growing pan-Asian appetite for quality food from Europe.
The Polish experience clearly indicates that brands which succeed in Hong Kong also sell well in mainland China, given the perception of assured high quality and product safety. What's more, Hong Kong has a slew of companies that specialise in introducing Western brands to the mainland and Asian markets, and they have a vast network of contacts that can bridge the gap between the culture and language of the West and that of Chinese and other Asian consumers.
Areas with big potential for development include beauty and cosmetics, furniture and interior design and ICT products. For example, in 2019, Hong Kong was the third largest buyer of Poland's ICT products with a share of 13% of the country's total ICT exports.
Medical Supplies & Medicine
Finance & Investment
Eastern Europe
EU
Hong Kong
Poland
Hong Kong