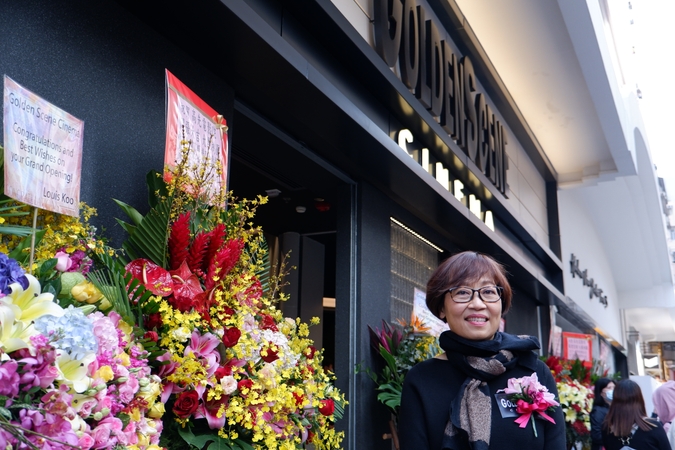 https://hkmb.hktdc.com/en/NzAyNTgyNjY0
Navigating Covid-19: A Film Enthusiast
Cinemas in Hong Kong were forced to close for more than 110 days in 2020 and practice strict reopening requirements under virus containment rules enacted to tame the Covid-19 pandemic. As a result, the city saw a 72% plunge in yearly box office receipts to HK$537 million, down from HK$1.9 billion in 2019.
Despite several rounds of government subsidies, which, according to the industry, fell far short of covering the average cost of operating a movie screen in Hong Kong, the strong coronavirus headwinds have caused devastating pressure on local cinema operators, with UA Cinemas, the city's third-largest cinema chain winding up after 36 years of operation.
Fighting an uphill battle is Winnie Tsang, Managing Director of Golden Scene, a local filmmaker and distributor. She opened a four-screen cinema in Kennedy Town just as entertainment venue restrictions were eased after the Chinese New Year holidays in February 2021. In a recent interview with HKTDC Research, the lifelong film lover shared her passion for Hong Kong films and ways to revive the decline in film attendance.
Reigniting Interest
The coronavirus has upended the global film industry, halting film production and closing cinemas. The dwindling confidence in physical venues coupled with the rise in the consumption of digital content from various sources, including mobile apps, TV streaming and gaming, has given an unprecedently hard lesson to the industry, triggering a rethink in future of movie production, distribution and consumption.
Talking about the challenges facing local film distributors on theatrical releases, Tsang said: "Most of last year's proposed studio films and billion-dollar blockbusters were on hold when most – if not all – cinemas worldwide remained shut. It goes without saying that people have started to disassociate a big film release from the experience of its traditional cinema venue, as they have been encouraged to shun public gatherings during the virus outbreak."
In an effort to make the best of a bad situation, some local film producers and distributors have moved forward the release of local films – new or library titles – in an effort to also jump-start the local film industry. The local filmmaker and distributor, Golden Scene, for example, has ramped up promotion of local movies in the city.
Tsang and her team have achieved much which had been considered unlikely, if not impossible, prior to the pandemic. They managed to distribute the award-winning Hong Kong gay romance film, Suk Suk, to more than 50 local cinemas, or some 90% of the city's total in the five months ending October 2020. Four of the films that Golden Scene distributed last year, namely The Grand Grandmaster, Beyond The Dream, My Prince Edward and Suk Suk, were among the city's top 10 highest-grossing local films in 2020.
Tsang saw the absence of big international titles during the pandemic as an opportunity for homegrown talent to move into the spotlight, saying: "Many award-winning and critically acclaimed local films have not had a chance to reach the audience to have their fair share of attention. This is exacerbated by the dearth of distribution channels, both theatrical and non-theatrical, rather than a lack of quality content and filmmaking techniques.
"Most, if not all, local indie films explore domestic topics or themes through different perspectives – a very important element to resonate with the audience and engage the next generation of cinemagoers. As the virus takes a heavy toll on the release of foreign films, we see this as a golden time to reignite Hong Kong people's interest in Hong Kong films."
Aside from ramping up its resources for marketing and distributing local films, a factor in Tsang's success is the avoidance of unnecessary competition. She said: "By harmonising the release calendars with other stakeholders, such as filmmakers and cinema operators, we've managed to map out a timeline that could best avoid clashes among our films."
Another bold step taken by the lifelong film enthusiast is to move down the value chain to open and run her own cinema. While the idea of setting up her own cinema actually dated back to 2019, the start of social incidents and the later coronavirus pandemic derailed progress. Despite this, Tsang's four-screen cinema officially opened its doors in Kennedy Town on 18 February 2021 – the very first day that cinemas were allowed to welcome customers after mandatory closure on 2 December 2020.
Tsang said: "Covid-triggered uncertainty clouded the global economy, let alone the film industry. Two of my original investors thus decided to de-risk themselves and quit the project in March 2020. But we are very grateful to find two new partners with the same passion for films as Golden Scene. Within a few months we were able to continue the project – a small, but not insignificant step to help the local film industry thrive again."
To better promote the local film culture, Golden Scene – like other filmmakers and distributors – has increasingly resorted to the so-called omni-channel or online-to-offline marketing approach, that blends traditional channels with new media to create the best synergy. This turned out to be a great success when physical gatherings were discouraged under the threat of Covid-19. As these marketing plans can take time and effort to come to fruition, Tsang suggests film marketers look more into the development of viral film marketing campaigns in collaboration with different social media platforms, influencers, traditional media and even brands.

To illustrate the idea with a recent example, Tsang said, "Our team leveraged Clubhouse, a new invitation-only social media platform, to host a flurry of virtual after-screening discussions in March 2021 for Keep Rolling – a biopic probe into the tumultuous, forty-year career of Ann Hui (one of Hong Kong's most influential filmmakers and a forerunner of the New Wave). This proved successful in generating leads online and bringing people back to cinemas offline."
New releases aside, filmmakers and distributors, like record labels and entertainment companies in the music industry, have tried to make more use of valuable assets, such as strong back catalogues or library titles to create new revenue streams. As a new stream of income, if not a lifeline, for the beleaguered film industry, Tsang and other local film distributors have managed to work with different cinemas and cultural venues, to launch a line-up of film retrospectives to present some classic remakes, including the Golden Scene Selection in collaboration with Hong Kong Arts Centre as well as an event organised by other industry members in memory of Ringo Lam Ling-tung, a legendary Hong Kong action film director.
As an optimist who sees the opportunity in every difficulty, Tsang believes the Covid-19 pandemic can be a potential fresh start for the local film industry if it plays its cards right. Without understating the challenges, Tsang started the long-term battle by drawing people's attention to local films, both new and classic, and bringing them back to cinemas in an effort to convert them into frequent cinemagoers.
Thanks to her visionary commitment, the first Golden Scene Cinema has been well-received since opening, with an average occupancy rate of more than 40%. This is in spite of harsh social distancing rules, which order a maximum seat occupancy of no more than half capacity and ban food and drinks.
Streaming and Theatrical Releases
In a similar vein, as the Covid-19 disruption on theatrical release has driven many cinemagoers to streaming, many film studios have responded with options like direct-to-streaming and simultaneous release (both in cinemas and on streaming platforms) in their distribution matrix, risking the elimination of cinemas' exclusivity window.
Walt Disney Studios, for example, skipped cinemas to stream Mulan on its Disney+ on 4 September 2020, while Warner Bros. Pictures streamed Wonder Woman 1984 on its HBO MAX on 25 December 2020 – the same day it debuted in cinemas in the US. This hybrid distribution format is set to become an even more prominent Covid-19 legacy following the game-changing announcement by Warner Bros. Pictures to release all of its 2021 features in cinemas and on HBO Max simultaneously.
Tsang saw the implications for Hong Kong cinema as limited – at least in the short term, saying: "The imminent impacts will be minimal, as both HBO Max and Disney+ are yet to gain a massive following in the local market. In the long run, the cinema business has to transform itself to provide cinemagoers with distinct film viewing and cinema experience (in terms of seating, thermal, visual and acoustic comfort). For Hong Kong, where not every household can afford giant screens at home, but with most people in very close proximity to cinemas, watching films will continue to be a great pastime, that also bolsters stress relief, social bonding and encouragement."
Having said that, Tsang as a film distributor, is open to working with local and international streaming platforms to expand the reach of Hong Kong films after cinema premieres. She said: "Without doubt, this can be a cost-effective, time-saving alternative for local films to go out, as the royalty fee paid by a streaming platform for the international distribution rights is usually way higher than the proceeds of selling the rights separately to different markets."
Golden Scene has sold a number of popular local films to streaming platforms after their successful theatrical releases, including, but not limited to, the award-winning street dance film The Way We Dance.
Online and Offline Marketplaces
The Covid-19-related travel restrictions have forced a number of premier film industry events to cancel, postpone or go virtual, including some of the most popular trade fairs, such as the Hong Kong International Film & TV Market (FILMART) and the Cannes Film Market (Marché du Film). These used to be local film distributors' darling in the search for international distribution opportunities with overseas distributors and streaming platforms, boasting far higher success rates than cold calls and sales emails.
Not everything played out when going completely virtual, especially for small- and medium-sized film distributors such as Golden Scene. Tsang said: "Ever since the onset of the pandemic, we've joined quite a number of online-only trade fairs. The level of engagement and interaction in virtual screenings, pitch events and meetings was far from comparable to what we had done previously during physical trade shows. Not to mention the unavailability of chance encounters and networking events that usually serve as important catalysts for new business crossovers and information exchanges.
"This, coupled with worldwide cinema closures, has seen many local film distributors' international sales eroded in 2020. For us, the revenue contribution from international distribution rights shrank from 20% in 2019 to 5% last year."
In anticipation of a vaccine-boosted recovery, Tsang looks forward not only to the return of the cinemagoing culture in Hong Kong, but also the resumption of physical film events, both in Hong Kong and overseas. With a firm belief in Hong Kong films, she hopes Golden Scene's achievements can create a positive ripple for the local film industry. By making the Hong Kong film industry popular again locally, she envisions the admiring glances of international film lovers and film distributors seeking Hong Kong films in the future.
Hong Kong
Hong Kong
Hong Kong
Hong Kong
Hong Kong
Hong Kong
Hong Kong
Hong Kong