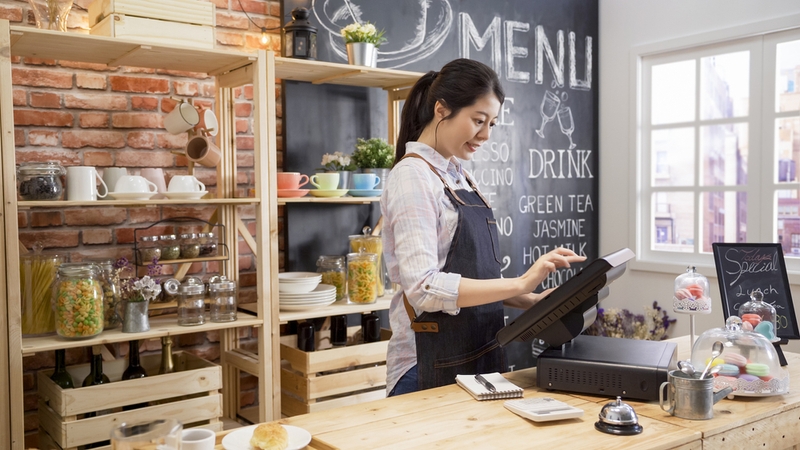 https://hkmb.hktdc.com/en/NzAwOTM1NjEx
Start-Up Hong Kong: Catering App Developer Prioritises Local Market
In recent years, Hong Kong's booming food and beverage (F&B) industry has been applying advanced technology to create new catering experiences for its customers. Restaurant patrons can now, for example, place their orders by scanning QR codes or make e-payments using their mobile phones. Cloud management technology and innovative supply chain platforms are also becoming increasingly popular in restaurant operation and management. There is an increasing desire among restaurateurs to explore the applications of big data and artificial intelligence (AI) technology to optimise management and long-term development.
Local start-up Ambros Soft provides centralised cloud management systems and supply chain big data AI solutions for F&B operators, allowing them to control and manage their resources and business more easily and handle customer demand and future business development directions more precisely. The founder of the company, Lewis Fung, told HKTDC Research about helping the F&B sector move from its traditional business model to the cloud era, and about how the F&B industry can improve its long-term development by applying technology still further.
Market Repositioning
Before starting his own business, Fung worked for Hewlett-Packard (HP) for over 13 years. He was responsible for the company's software development business in Hong Kong. His time with HP enabled him to gain in-depth experience in various fields, including corporate business strategy development, product management, sales and after-sales service.
When Fung met his current business partner, who was in the F&B business, the pair realised that prospects for the application of technology in the F&B sector were bright. In 2012, they set up their first company which focused on centralising the data collected from Points of Sales (POS) systems and providing a one-stop cloud management platform for the F&B sector. Fung pointed out that this was a very new development in the market back then.
In 2018, the duo created Ambros Soft, the first technology product development company to have the Hong Kong F&B market as its development blueprint. Because technologies such as cloud database and big data analytics were not common in the Hong Kong F&B sector at the time, Ambros Soft became known as a rare technology application company in the market and a forerunner in the industry.
Today, the company mainly provides three F&B management systems, each designed to meet the needs of restaurants of different types and sizes. The BF POS system is used by the vast majority of restaurants in Hong Kong. Offering multiple functions such as cashier, order placing, member management, order printout in kitchen, and data analytics, this system aims to raise the restaurant's overall operation efficiency. Horus POS is an app designed specifically for coffee shops, bubble tea shops and fast food shops, all of which tend to offer a relatively limited menu. Shop assistants can use the app to take orders, print out receipts and collect payments. The Ambros ERP system is a resource planning solution providing all-in-one management of sourcing, warehousing, processing and accounting.
Fung explained that his company had managed to succeed after repositioning its business largely because they have a great deal of experience in the F&B industry and a thorough knowledge of the trade's pain points. This helped them provide the industry with the right solutions by using innovative technology. In its first two years, Ambros Soft achieved good results and its business grew rapidly. Its current clients include the Victoria Harbour Restaurant Group, a large chain-operated Chinese restaurant group.
In the following year, the Ambros Soft team conducted thorough research into how to use the cloud to collect big data which would allow their restaurant clients to plan and control resources more easily, as well as use AI more effectively to meet customer demand. While carrying out product R&D, the company exchanged ideas with and learned from various clients and partners so that new products would not only meet current market needs, but would also be able to support the technical demands of restaurants and suppliers in their future business growth.
Challenges for Start-ups
High talent cost
Fung believes that having a shrewd and flexible team is the key to success as it can greatly shorten the time for product R&D. Currently, Ambros Soft employs tens of staff in both mainland China and Hong Kong, with the Hong Kong team in charge of product design. Although the cost of developing apps in Hong Kong is high, the company still employs local app developers with a good knowledge of the local F&B culture to design and develop apps.
Lack of investment matching opportunities
Reflecting on the experience of the last few years, Fung said that the financial assistance granted by the Hong Kong government to innovation and technology had helped local start-ups thrive. He added, however, that the government still needs to do more in areas such as expediting the process of examining and approving applications. He recalled a time when he applied to the Innovation and Technology Bureau for Technology Voucher. The whole process had, said Fung, taken 10 months, far too long for start-ups up against time pressures in their struggle to survive and succeed.
Fung warned that, apart from government aid, he couldn't see any opportunities for investment matching on the market or any support for small and medium-sized enterprises looking to enter the international market. He pointed out that Hong Kong's technological development is already very advanced and is unarguably at the forefront in Asia, and because of this, many innovation and technology enterprises have great potential to develop. However, shortage of funds is making it difficult for them to expand beyond the Hong Kong market.
Ambros Soft itself is a good example of this. Ever since it was set up, it has had to rely mainly on its founders' private capital. Early this year, the company received enquiries from an Australian investor who was interested in holding talks about possible co-operation. However, due to the Covid-19 pandemic, the plans had to be suspended. Fung said he would like the Hong Kong government to devote greater efforts to promoting Hong Kong enterprises, attracting more foreign investors, and formulating long-term policies to promote information technology in various fields. He said this would help to invigorate the innovation and technology climate in Hong Kong.
Low start-up survival rate
Fung pointed out that many start-up founders are young graduates or young people with only a few years' work experience, who are not proficient in skills such as negotiation techniques and management skills, and are also short of business networks and capital. In contrast with the large numbers of successful young start-ups in America and Europe, successful entrepreneurs in Asia tend to be more mature - some even being in their 40s. Fung suggested that this has a direct effect on the viability of start-ups, saying: "The survival rate of the start-ups I know is low. In view of this, in order to help the entire start-up ecosystem grow healthily, the government should adjust its education policy and should not over-promote the desirability of entrepreneurship among the young. Start-up founders must have a sound foundation in business before they can sustain the long-term development of their company."
GBA Opportunities
Fung used to develop his business in the mainland, but he now focuses on the local market. He has a great deal of knowledge about the market conditions and consumer preferences in both places. In recent years, the government has proactively promoted the development of the Guangdong-Hong Kong-Macao Greater Bay Area (GBA). Asked whether this has made him consider tapping the mainland market once more, Fung said: "The pace of innovation and technology development in the mainland and in Hong Kong is more or less the same, and their technologies do not differ greatly. This, coupled with the fact that the mainland market is already dominated by a number of large companies, means that Hong Kong enterprises do not have any advantages there."
Nevertheless, Fung still keeps an open mind about returning to the mainland market if a golden opportunity arises. For example, if a leading mainland property developer wanted to build a centralised F&B system, he would look into the cost effectiveness and return on investment of the project. However, because competition in the mainland market is so intense, many companies currently have to offer their services at large discounts in order to attract customers and gain market share. Fung said he would not follow the business development strategies of these mainland enterprises. Looking to the future, Ambros Soft plans to extend its clientele beyond the F&B industry to the retail and service sectors by promoting cloud management systems, which aim to help various industries take full advantage of technology applications.
Food & Beverages
Food & Beverages
Food & Beverages
Food & Beverages
Food & Beverages
Hong Kong
Hong Kong
Hong Kong
Hong Kong
Hong Kong
Hong Kong
Hong Kong
Hong Kong
Hong Kong
Hong Kong