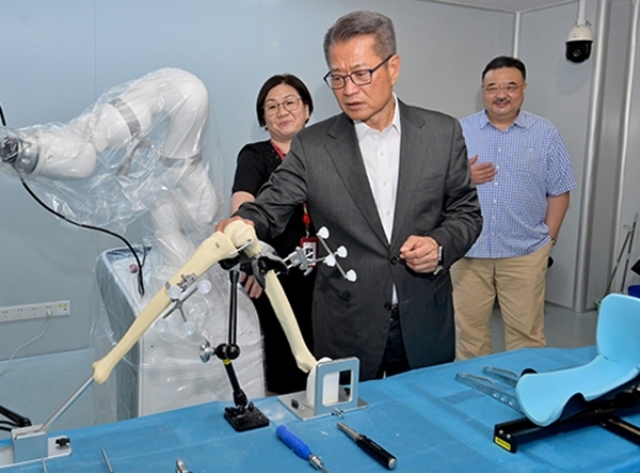 Innovation and technology (I&T) are important forces driving long-term economic development. The Hong Kong SAR Government has contacted more than 200 companies so far in its drive to attract innovative companies to the city, of which more than 25 had already settled or were planning to settle in Hong Kong, or expand their business scale in Hong Kong, with an investment of more than HK$17 billion (US$2.17 billion).
Hong Kong SAR Financial Secretary Paul Chan wrote in his blog that these overseas companies would create more than 4,000 job opportunities, mostly in scientific research or executive positions. In the next half year, more companies would start their business in Hong Kong.
Virtuous circle
Mr Chan said I&T are important growth engines worldwide, promoting higher-speed and higher-quality economic growth, while innotech development boosted competitiveness and economic development.
"Technology is the primary productive force, and innovation is the primary driving force for development," Mr Chan said. For this reason, the Government had made every effort to promote innotech in Hong Kong, investing nearly HK$200 billion and vigorously attracting talents.
In a fiercely competitive world, Hong Kong had to accelerate innotech growth to inject greater momentum into economic development and create more and better job opportunities for citizens, leading the Government to draw key enterprises from abroad.
Mr Chan said the current Government had successfully introduced innotech enterprises. The Government team, including the Bureau of Innovation, Technology and Industry and Office for the Introduction of Key Enterprises, had created more than 4,000 job opportunities, mostly in scientific research or executive positions by attracting the enterprises.
Increasing competitiveness
Mr Chan visited several mainland companies earlier, including Biren Technology, a leader in the field of artificial intelligence computing power, IQ Drive, which focuses on intelligent driving technology and related chip research and development, Asia's largest retail cloud solution service provider, and a high-end surgical robot and medical equipment maker. All of these companies have settled in Hong Kong, or are actively implementing plans to come to Hong Kong, and three have set up their international headquarters and overseas R&D centres in Hong Kong.
In addition, recently confirmed companies include New Horizon Health, a pioneer company focusing on home-based early screening of high-incidence cancers in Mainland China, which established a global R&D headquarters in Hong Kong earlier and Time Medical, a high-end medical diagnostic equipment R&D and manufacturing company with original technology, a new intelligent production line has been set up in the Hong Kong Science and Technology Park to realise the one-stop development of Hong Kong R&D, manufacturing and global sales.
Communications and IT giant Huawei, as well as the e-commerce leaders Meituan and JD.com, are actively expanding their operations and developing new businesses in Hong Kong. Mr Chan said he was in in-depth discussions with more key companies from the mainland and overseas and believed further firms will join in the second half of the year.
Related link
Innovation, Technology and Industry Bureau