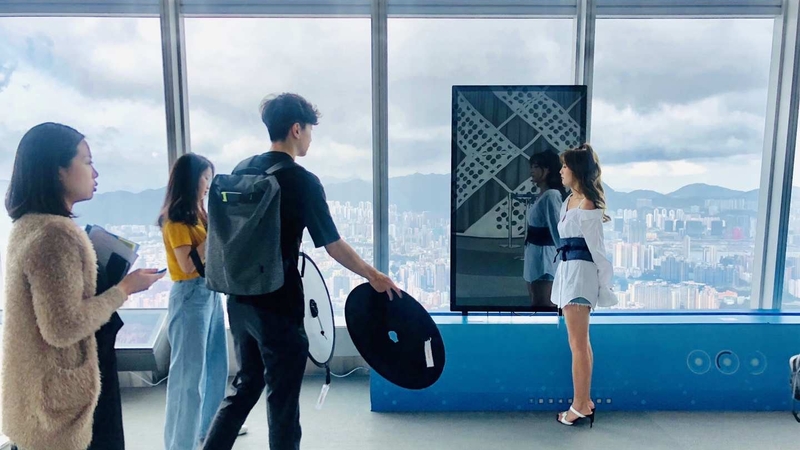 https://hkmb.hktdc.com/en/NjgzNTM0MTA2
Social Media Marketing in China: The Agency Advantage
WeChat/Weixin (Weixin) is the most popular social media and messaging app in China. As of 30 September 2020, the combined number of monthly active users of Weixin and WeChat1was over 1.21 billion2. As a marketing tool, Weixin can be a very effective way of reaching vast numbers of mainland consumers. However, in terms of user interface, business model and user culture, there are significant differences between Weixin and the social media and messaging apps commonly used by Hong Kong consumers. Hong Kong companies that want to tap the mainland market, but are not familiar with Weixin's operating model, may find co-operating with digital marketing companies a viable and effective option.
To find out how digital marketing agencies can help Hong Kong and overseas companies enter the mainland market, HKTDC Research recently interviewed ChinaMarketing.Asia Marketing Manager Nicole Xin and Senior Account Manager Caze Chui. ChinaMarketing.Asia is a digital marketing company with its headquarters in Hong Kong and offices in Shenzhen, Shanghai, Macao and Singapore. As well as helping businesses conduct marketing via Weixin, the company also provides marketing services on other mainland online media platforms such as Weibo, Xiaohongshu and Douyin. Xin and Chui analysed the advantages of carrying out marketing on mainland social media through agencies and explained how businesses can expand their mainland market via cross-border e-commerce.
Focusing on Official Account and Mini Program
An official account is the official page of a business or organisation on Weixin. Official account users can see the posts of the businesses or organisations they are following, and ask simple questions via the app. Mini programs are apps built within the Weixin platform which do not require downloading or installation. Many enterprises have set up online shopping platforms in mini programs, while a large number of mainland organisations and government bodies also use them to provide free public services to users.
Pointing out the advantages for companies of using Weixin official accounts and mini programs as their main marketing tools on Weixin, Xin and Chui said: "As a company develops, the number of its customers grows. If the company continues to use Weixin private chat rooms to keep in touch with its customers on a one-to-one basis, its workload will become increasingly heavy. But if the company runs a Weixin official account instead, it can send posts to all users at the same time, which greatly enhances efficiency when broadcasting the latest information to customers.
"Besides, operating mini programs can help businesses engage with customers. Many companies open mini program-based e-shops which allow customers to place orders, make payments and arrange deliveries any time, anywhere. Such a process not only helps enhance the customers' user experience, but also the company's corporate image. Because of the convenience offered by Weixin official accounts and mini programs, many Hong Kong and overseas companies have been actively planning to launch these services in recent years. For businesses, setting up official accounts and mini programs is the best option in Weixin marketing."
Account Opening and Operation
One of the services provided by digital marketing agencies is helping businesses set up official accounts and mini programs as well as providing training on the daily operation of these accounts and programs. Xin and Chui explained the process, saying: "Hong Kong companies that want to open a Weixin official account are required to submit documentary proofs such as their Hong Kong business registration certificate to Weixin, which, in accordance with its internal guidelines, may also ask the applicant to submit other supporting documents. The examination and approval process normally takes a few weeks. Digital marketing agencies can keep tabs on this process on behalf of their clients. If Weixin requests additional information, a dedicated team in our company will notify and advise our clients at once so as to help them avoid wasting time by making blunders.
"After a client has set up an official account, our team provides training on how to operate the account, as well as a copywriting service. Based on the information provided by the client, our team will compose write-ups that meet the mainland's advertising regulations and conform with the reading habits of mainland consumers. Depending on the services required by the client, our fee for helping to operate an official account ranges from several thousand to tens of thousands of Hong Kong dollars. Our company also offers pay-per-use options to clients - that is, billing them by the number of posts uploaded."
Turning to the mini programs, Xin and Chui said: "The examination and approval procedures for setting up mini programs are similar to those for opening official accounts. However, because many companies may not have their own app programmer to write mini programs, our team has prepared some mini program templates that can be used by those wanting to open online shops. Our team also helps clients design mini programs and teaches them how to manage them on mobile phones and computers, thus helping to speed up the pace with which these companies can start using mini programs for business."
Co-ordinating Marketing Strategies
According to Xin and Chui, as well as official accounts and mini programs, companies can also take advantage of other functions and promotion channels available on Weixin. Explaining how digital marketing agencies can use these functions to help clients plan and co-ordinate marketing strategies, Xin and Chui said: "In recent years Weixin has launched new functions such as WeChat Channels and WeChat Live Streaming. By releasing short videos and running live streaming on Weixin, businesses can broadcast their company news and reach out to consumers more effectively. Our company can arrange short video shooting and live streaming for clients and can also help them find the right influencers and KOLs3 to attract more followers on Weixin."
"In the midst of the Covid-19 pandemic, we organised a live stream promotion event for a large shopping mall in Hong Kong aimed at attracting mainland consumers who used to visit Hong Kong and shop at this shopping mall before the pandemic. It turned out that both the promotional effect and sales achieved were excellent. At present WeChat Live Streaming only accepts applications from mainland enterprises. Therefore, Hong Kong companies with branches in the mainland can consider using WeChat Live Streaming."
Outlining other strategies that their company can help Hong Kong businesses use, the pair continued: "Apart from Weixin, there are many other online promotion channels on the mainland, such as Weibo, Xiaohongshu, Douyin, and search engine optimisation (SEO)4. Digital marketing agencies can provide professional advice to businesses on promoting themselves on these platforms. They can also help co-ordinate marketing strategies on Weixin and other platforms. As for our company, we also organise seminars on marketing in mainland China for clients from time to time to help them gain a better understanding of the latest development of marketing in the mainland. This is value-added offered by us as a digital marketing company to our clients."
Facilitating Cross-Border Logistics
Hong Kong companies that had already attracted mainland customers before the pandemic may find that opening an e-shop in a WeChat mini program can help them continue to sell products to mainland customers amidst the pandemic, as well as pave the way for expanding their presence in the mainland domestic market when the pandemic ends. However, many small and medium-sized enterprises (SMEs) have problems arranging cross-border logistics. Describing how ChinaMarketing.Asia can help overcome this, Xin and Chu said: "Companies that open mini program-based e-shops targeting local Hong Kong shoppers can normally take care of logistics and product delivery themselves. But those that want their mini program-based e-shop to serve both local and mainland customers may find it difficult to make arrangements for cross-border logistics. In view of this, our company also provides cross-border logistics services.
"Our company has set up our own warehouse. When our clients receive orders at their mini program-based e-shop, they can send their products there. Our logistics team will, according to the product category and actual conditions, arrange for the products to be delivered to mainland customers in the form of  'cross-border e-commerce retail direct purchase imports'5.  Our clients can also choose to store certain quantities of their products at our warehouse, thereby raising delivery efficiency."
"The operating workflow of this cross-border logistics service is: after the mainland customer has made payment in Renminbi via WeChat Pay6, the payment is converted into Hong Kong dollars through a third-party platform officially approved by Weixin before the money is transferred to the Hong Kong bank account of the company. We only charge our clients when they use our logistics service, and they can decide on the way the logistics arrangement is to be made. Companies that have established their own logistics channel can handle their own deliveries."
Tips for Hong Kong Companies
Xin and Chui pointed out that, while digital marketing agencies can help businesses tap the mainland market, these businesses still have to be well prepared both in their mindset and their financial arrangements. They gave an example of the differences that Hong Kong businesses need to be ready for, saying: "When some Hong Kong companies get a quotation for digital marketing services, they are surprised to find that the cost of promotion on mainland social media and messaging platforms is much higher than it is in Hong Kong. This is due to the huge difference in population base. As the mainland market is far bigger than the Hong Kong market, the cost of promotion is naturally higher. But once these companies have built e-commerce and logistics channels that meet mainland consumer demand, the number of potential customers they can reach is much greater than in Hong Kong. So we would suggest that Hong Kong companies that want to develop the mainland domestic market should look further ahead and focus on the growth opportunities that the mainland market can offer them."
In the long run, companies targeting the mainland market should, in addition to estimating and planning their marketing and promotion costs, also be prepared to employ more staff and undergo restructuring in the future. Xin and Chui urged businesses to think long-term, saying: "After companies have established a firm foothold in the mainland market, they should consider forming mainland business operation teams, such as an e-commerce marketing team and customer service team, in order to serve and connect with their customers better. This will benefit the long-term development of the company. Meanwhile, in light of the huge size of the mainland market, companies must prepare more products for sale to customers to meet peak season demand, and may also have to expand their production lines as sales grow. Companies that cannot supply products due to inadequate production capacity not only miss out on sales but also leave a bad impression on their customers. The management of the companies should have a clear idea of their future development and should also raise funds in advance for future expansion.
"In sum, our recommendation for companies is that they should make definite long-term plans taking into consideration the demand of their target consumer groups as well as the sales and development objectives, financial income and expenditure planning of the company. When seeking advice from digital marketing agencies, companies should fully and honestly state their objectives and plans so that the digital marketing agency is better able to formulate targeted marketing plans for them. Among the Hong Kong companies we have contacted, many have already attracted quite a number of mainland customers who are impressed by Hong Kong companies and brands. As long as these companies make targeted plans and are well prepared, the prospects for tapping the mainland market via social media and messaging apps such as Weixin are bright."
---
1 WeChat and Weixin are social media and messaging platforms under the Tencent banner. The former is the international version for overseas markets while the latter is the version for the Mainland China market.
2 Source: Tencent 2020 Third Quarter Results
3 KOLs (key opinion leaders) are people with a large number of followers on the internet who can influence the buying decision of consumers.
4 SEO (search engine optimisation) is the process of raising the ranking of a website by setting keywords and arranging web content to make it easier for target audience to visit the website using a search engine.
5 Cross-border e-commerce retail direct purchase imports: When a mainland consumer places an order on a cross-border e-commerce platform to buy foreign goods on the List of Cross-Border E-commerce Retail Imports, the e-commerce platform would forward information on the order, payment and logistics to the Chinese Customs. Meanwhile, the commodity would be dispatched directly from the overseas warehouse to the cross-border e-commerce customs-supervised venue in the mainland by international courier service before it is delivered to the consumer after going through customs clearance, inspection and quarantine.
6 WeChat Pay and WeChat Pay HK are the payment tools of Weixin and WeChat respectively. Mainland users use WeChat Pay to make payments and Hong Kong users use WeChat Pay HK.
Mainland China
Mainland China
Hong Kong
Mainland China
Hong Kong
Hong Kong
Mainland China
Hong Kong
Hong Kong
Mainland China
Hong Kong