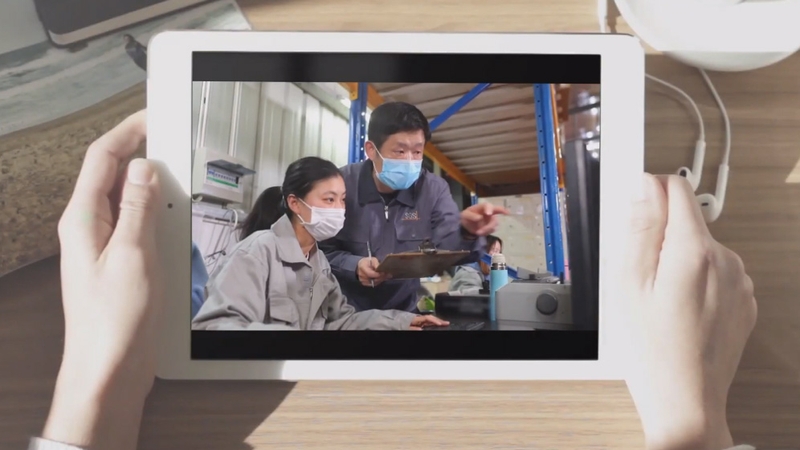 https://hkmb.hktdc.com/en/NjYxOTM5MDEy
Navigating Covid-19: A Global Trade Facilitator
The Covid-19 pandemic has disrupted the global supply chain, with a new normal characterised by remote working, learning and entertainment, an unprecedented demand for personal protective equipment (PPE), and accelerated digital transformation throughout the supply chain.
The backstage contributor to many of these business and social changes is the testing and certification industry. SGS, a world-leading inspection, verification, testing and certification company, has been helping many struggling businesses to transform their supply chains with a new remote inspection and auditing system. At the same time, the company has been helping Hong Kong PPE exporters to gain access to the worldwide market, while preparing the world to safely open up again for business.
SGS Hong Kong believes the city is well positioned as an international business hub and a regional trendsetter for both the consumer market and R&D development. It can therefore support local and foreign companies wanting to penetrate the Chinese mainland and ASEAN markets as the world economy starts to recover from the Covid-19 shakeup. 
Enabling Trade amid Global Pandemic
Covid‑19 is taking a great toll on the global economy, creating considerable challenges for health systems and supply chains worldwide. The unprecedented containment measures have included widespread border closures, travel bans and social distancing. These have made it impossible for many international traders to travel and conduct factory audits and quality checks on the nodes of their supply chains.
As a global trade and supply chain enabler, SGS has swiftly responded to these disruptions. As Chan explains, "while international buyers cannot visit their suppliers to check their factories in person due to the travel restrictions currently in effect, we have helped them to do so at distance using our remote technologies, video conferencing tools and on-the-ground inspectors. This has been useful in maintaining the supply chain in the first half of 2020."
"SGS has worked in partnership with many international businesses for factory and product inspection over the years," adds Chan. "With the SGS's Remote Audit and Inspection Solution, QiiQ, traders can access all the raw data and documents collected by the on-the-ground inspection teams and give real-time responses during the inspection via video-conferencing software."
Nurturing New Manufacturers
According to the World Health Organization (WHO), about 90 million surgical masks are needed every month during the Covid-19 outbreak, which is about double the market supply in 2019. Many enterprising Hong Kong businesses, including public transport operators, e-commerce platforms, beauty parlours, fashion brands and chemists, have started producing surgical masks in 2020. More than 100 PPE producers in Hong Kong have applied for a barcode starting with prefix 489 (meaning that the product is made by a registered company in Hong Kong) since the outbreak. This has led to a dramatic year-on-year surge of 424% in total exports of surgical masks and other made-up textile articles in 2020.
Hong Kong's Exports of Surgical Masks and Other Made-up Textile Articles

 

2018

2019

2020

US$ '000

US$ '000

US$ '000

Growth %

World

171,365

163,020

853,600

424

EU27

25,287

22,647

263,256

1,062

France

5,106

4,948

63,250

1,178

Germany

6,553

6,187

56,146

807

Netherlands

2,793

2,148

42,397

1,874

US

38,804

40,497

220,975

446

Mainland China

52,367

49,584

99,430

101

UK

6,740

6,384

32,806

414

Saudi Arabia

317

318

27,583

8,585

UAE

988

446

19,412

4,250

Source: Hong Kong Trade Statistics, Census and Statistics Department
SGS has been serving as the quality gatekeeper of the Hong Kong PPEs. "We managed to scale up our Hong Kong operating capacity for testing PPE in just three months," says Chan. "We've worked with the new mask manufacturers to guide them through the different health and safety requirements currently in place worldwide, while scaling up their ISO 14644-certified clean rooms, inspecting the quality of melt-blown non-woven fabrics from suppliers all over the world, and developing their production processes and management systems in compliance with the ISO 13485 standards and/or EN 14683 or ASTM F2100 end-product testing requirements. These standards have given new PPE manufacturers a big boost towards rapidly winning trust from international buyers."
There is a growing interest in understanding the health impacts and benefits of a product, explains Chan. "SGS, as a third-party independent company, can provide the public with detailed, trustworthy testing and certification reports. For example, buyers can use the unique QR code we provided for our tested or certified products to access the relevant quality and compliance reports on our official platform."
Chan sees greater transparency as the way forward for a broader range of consumer goods. "We are welcoming a new generation of consumers who are more educated. They are concerned with and able to understand the many different attributes of a product. These people might want to look up the laboratory test reports for surgical masks, or other consumer goods post-Covid-19. Brands and manufacturers also want to demonstrate their compliance with voluntary health, safety and environmental standards as a selling point. They want the public to see the money and effort that has been invested in testing and certifying their products to meet international standards, and so appreciate the value of the brand."
Ensuring Safe Re-Opening
The experience of Covid-19 has led the public to expect a greater level of hygiene from many businesses, whether they are shopping malls, retail shops, hotels, offices or restaurants. This has great implications as we prepare for the safe resumption of the offline economy worldwide.
With this in mind, SGS has developed a certification protocol for hygiene control and environmental health management systems. "In addition to standard environmental sampling and testing of air quality and bacteria, we also help our clients to evaluate and improve the processes, mechanisms and management protocols for virus disinfection, particularly at human touchpoints," explains Chan. "We use an overall hygiene management framework with different company-specific environmental settings and critical checkpoints. These voluntary hygiene measures are gradually becoming best practice for many private residential estates and hotels in Hong Kong and abroad."
Readying for the Post-Covid-19 Mainland Market
In Hong Kong, an Asian and international business hub, SGS Hong Kong works to facilitate trade between the mainland and the rest of the world. Explaining the company's visions of the post-Covid-19 era, Chan sees a greater role for her company in growing these trade flows: "In the past 15 years, we have helped many forward-looking Hong Kong companies to penetrate the mainland market. Now we are preparing to do the same for businesses from the wider world. There is ever growing interest right now, because China is the only major world economy expecting positive economic growth (i.e. 2.3%) in 2020, although it is much lower than in previous years due to the pandemic.
"The mainland market is too big for any company to neglect, especially given its vast product range and geography. To help Hong Kong and foreign companies enter into new markets including the mainland, SGS's global teams work together to provide market-specific consultancy and product quality certification services."
Manufacturers and traders interested in the lucrative mainland market should pay attention to its unique product standards and requirements for imports, according to Chan. Instead of general rules governing a product category, some mainland Chinese import regulations boil down to specific stock-keeping unit (SKU) and country levels. Importers need to keep abreast of the applicable rules and regulations for their products and monitor any changes.
"For example, mainland China has been improving its product labelling system to better protect consumer rights. We're therefore readying our clients for compliance with these increasingly sophisticated regulatory expectations."
Spearheading Sustainability Post-Covid-19​​​​​​​
The Covid-19-induced pause in economic activities has offered a glimpse of an alternative carbon-free economy. As the world economy contracts, many governments believe we have an opportunity to reboot the economy with greater consideration for sustainability and environmental conservation.
Apart from readying companies for green policy shifts, such as the new Substance of Very High Concern (SVHC) reporting requirement under European Chemicals Agency rules, SGS has been launching some forward-looking testing and certification services to guide businesses through the green transition. "There is growing attention to sustainability and health amid the Covid-19 crisis," explains Chan. "Many brands and retailers are seeking to develop more environmentally-friendly products and supply chains, or to add value to their offerings by focusing on health and wellness. Since the second quarter of 2020, we have increased our capability in testing biodegradable products, as well as developed new testing and certification services for vegan food and vegan leather goods.

SGS's Independently Checked Mark (ICM), for instance, is a product approval mark for non-food consumer products intended to offer an assurance that a product has passed independent, third-party testing and meets one or more of the program's seven voluntary performance-related criteria – including achieving the status of Preferred Material. In terms of initial testing, SGS's global team sources production samples, with either production or point-of-sale samples used for the subsequent monitoring / surveillance of the product. Consumers are then given access to the Preferred Material details via SGS's ICM directory. If a product is made from vegan materials, and has been certified as such by SGS, for example, it would then be designated as the appropriate Preferred Material, confirming that no animal-derived content had been used in its manufacture.

Against this backdrop, Chan believes that Hong Kong can take the lead in green R&D. "Hong Kong is a world-renowned business hub, providing our global R&D teams with lots of insights into global market demand and industry trends. The rapid expansion of surgical mask production demonstrates that Hong Kong companies are highly agile and responsive to shifts in market demand and supply. We look forward to serving as a reliable R&D partner of these entrepreneurs as they align their businesses to the post-Covid-19 reality."
Quality Inspection and Testing
Chemicals
Quality Inspection and Testing
Chemicals
Quality Inspection and Testing
Chemicals
Quality Inspection and Testing
Chemicals
Quality Inspection and Testing
Chemicals
Quality Inspection and Testing
Chemicals
Hong Kong
Mainland China
Hong Kong
Hong Kong
Mainland China
Hong Kong
Hong Kong
Mainland China
Hong Kong
Hong Kong
Mainland China
Hong Kong
Hong Kong
Mainland China
Hong Kong
Hong Kong
Mainland China
Hong Kong