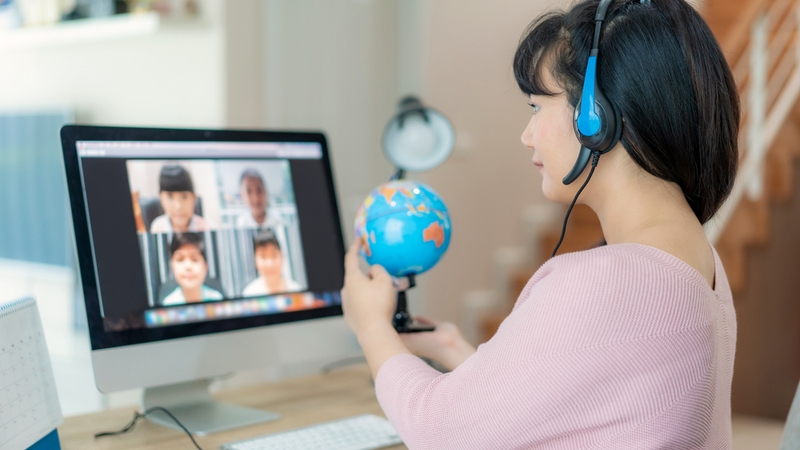 https://hkmb.hktdc.com/en/NjYwMzM4MTA4
The Post-Covid New Normal: Segmentation in China's Online Education Market
The ongoing Covid-19 pandemic has accelerated the adoption of "internet+" technologies across industry sectors. As a result, the markets for telemedicine, work-from-home and online learning in mainland China have grown exponentially. Students are studying at home to continue learning while their classes are suspended, while teachers are doubling as video anchors so that they can carry on teaching. Online learning has become an important conduit of teaching and learning for teachers and students, and it looks likely to become the post-pandemic "new normal" for education. Furthermore, with the workplace getting ever more competitive, increasing numbers of working people are looking to enhance their skills through online education. HKTDC Research interviewed John Xia, Operation Director of Youdao Premium Courses (Youdao), which is part of tech giant NetEase Inc. He talked about how the Youdao education platform is run and about the developing trends in online education in China. This information should prove to be a valuable reference for practitioners looking to venture into the mainland market.
Branding and Market Segmentation
The Covid-19 pandemic has changed many people's habits, consumption modes and ways of learning. With technologies in cloud computing, 5G network, big data, AI and multimedia advancing rapidly, people expect to be able to access more convenient, higher quality and more personalised ways of learning. Online education is an effective way to achieve these goals, particularly because the students born in the 2000s and 2010s are highly receptive to online learning. Parents, because of the concerns raised by the pandemic, also now have higher expectations of the services, teaching methods and teacher qualifications offered by online education providers.
Youdao is a live online teaching brand launched by NetEase Youdao in 2014. Its business model is different from that of the NetEase Open Courses launched in 2010 and the NetEase Cloud Classroom launched in 2012. Whereas NetEase Open Courses focus on quality teaching at the tertiary level and NetEase Cloud Classroom targets vocational education, Youdao is an online education platform aimed at the bigger user group of K-121 youngsters and university students. Elaborating on the brand's target market, Xia said: "Youdao caters to the needs of pre-school, K-12 and university students, as well as adult learners in the workforce. The course contents range from exam-oriented tutoring to practical skills in the workplace, while teaching is mostly in the form of large live online classes."
Lifelong learning is going to be one of the characteristics of education in the future. Pointing to one reason for this - the speed with which knowledge obsolescence is accelerating because of advances in technology - Xia said: "The knowledge people learn in school is already insufficient when they enter the workforce. People therefore need to continue their education to sharpen their vocational skills and job skills. Often, working adults have to enrol in courses using fragmented timeslots. By enabling adult learners to update their knowledge and skills any time anywhere, and put what they have learnt to immediate use, online education providers offer the services and convenience that meet market needs."
Massive Investments
As of June 2020, there were 380 million online education users in China, accounting for 40.5% of netizens in the country2. This huge potential market is attracting a lot of capital, not only from established education groups, but also from internet tech firms. Xia suggested that the tech firms have an equally good chance of doing well, saying: "An internet company might not fare worse than an established education group. Despite their background, all players are having to feel their way in the online education field. It is not a simple case of transferring from offline to online because offline advantages may not be directly applicable online."
Xia pointed out that online education can also solve some of the problems experienced by offline education users, saying: "Education resources are not evenly distributed. Online education allows users to access quality education resources and learn remotely, while it also eases the problems of high rents and stiff fees involved in offline education."
Celebrity Tutors
For students, as Xia pointed out, online education can help save time and money while allowing greater flexibility. At the same time, the teaching experience and skills of outstanding tutors can be transferred across the country more quickly without the restrictions imposed by geography. While online education may suffer in comparison with the offline in-person format in terms of the limited interaction between teacher and student, this disadvantage has prompted the development of more innovative supportive models and new products. One example of this is the formation of online communities through which teacher-student exchanges and interactions are strengthened.
Xia said that Youdao believes high-quality online education must satisfy three conditions. The first is effectiveness: students should get good learning outcomes and the courses should be able to generate long-term word-of-mouth recommendations among parents and students. The second is to design "native" online courses by using the advantages of internet technology from the outset. The third is to recognise and incentivise outstanding tutors and content producers so that they receive sufficient long-term stimuli. Also, there should be a range of incubation and image-building mechanisms to help these tutors and content producers stand out and run their own celebrity tutor IPs.3
Xia admitted that, when outstanding teachers switch to teaching online, they will invariably encounter some challenges. Moreover, not every good teacher adapts well to lecturing, presenting, communicating and interacting in front of the camera. In this respect, teamwork is more important than individual effort in online education.
Youdao encourages outstanding tutors to become "stars". It is also proactive in incubating more celebrity tutor IPs. In 2016, it rolled out an RMB500 million programme to establish 20 education workshops using a "tutor + incubator + platform" model. The programme aims at developing premium content, marketing celebrity tutor IPs, and commercialising the teaching content. The workshops -- variously named the Youdao exam god, practical English, and Youdao senior high super team – are said to be grossing more than RMB10 million per month.
Multi-channel Publicity
As well as its online education platform Youdao, NetEase also runs two other business segments: online learning apps (including Youdao Dictionary, Youdao Translator and Youdao Cloud Note) and AI learning hardware (including Youdao Translator King, Youdao AI Pen and Youdao Dictionary Pen). The three segments are designed to complement and draw customer flow for each other. Xia claims NetEase Youdao has unmatched advantages when it comes to cross-promoting in the new media, saying: "We have worked with Alibaba, Tencent, ByteDance, WeChat and Toutiao. We are also involved in brand image publicity. In 2020, we signed a brand ambassador agreement with Lang Ping, head coach of China's women's national volleyball team. This is the first time Lang has endorsed an education institution. We think that her celebrity coach image fits extremely well with Youdao's positioning."
Technology Helps Boost Quality
Xia believes that the development of 5G networks in conjunction with AI and virtual reality (VR) technologies will increase the drive towards the application of more diversified teaching settings for online education. Explaining how this would work, Xia said: "Currently, it is difficult to conduct hands-on physics laboratory courses online. But in future, with the aid of 5G networks, AI and VR technologies, as well as AI hardware, simulation of a realistic laboratory would be possible. It will even be possible to virtually demonstrate how to disassemble the engine of a car down to every part and component."
The use of big data and AI interactive technology can also help identify users' individual needs. For example, using information such as a user's learning habits, learning style and level of knowledge, it would be possible to calculate the learning programmes, tutors and study plans that are most suitable for that user. Xia pointed out that the use of big data analytics can help tutors improve their teaching methods too, saying: "Using big data analytics, we can analyse the characteristics of popular tutors. We can then find out which teaching styles are more effective and preferred by students, and which enable students to acquire a firm grip of knowledge."
Mainland Opportunity
Xia believes that Hong Kong's learning institutions and practitioners that want to participate in online education platforms on the mainland may find more potential in interest classes for adults. Outlining his reasoning, he said: "In choosing which courses to launch online, they can extend Hong Kong's existing advantages as a window to the world by offering, for example, courses in Western dining culture like baking, wine and coffee. Currently, there is a limited supply in the market of these types of courses, but the growth potential is there. For example, the markets for wine and coffee are growing year by year."
Xia reckons that if assessment and international certification systems could be brought in, linking up the training and award of international qualifications, mainland consumers' attraction to these interest classes would be much stronger. Pointing out that this would help make the classes more financially attractive, Xia said: "Unlike the demand for skills learning and vocational certification - in areas such as international wine or coffee sommelier training, for example - which is inelastic, demand for interest classes is elastic. For sure, the final stages of certification assessment and issuance would not be possible without actual offline operations. Still, if one can transfer part of the training online, that would reduce operating costs."
---
1 K-12 refers to the education from kindergarten to Grade 12 levels (equivalent to senior high level three in China); it is also the collective term for basic education.
2 The 46th China Statistical Report on Internet Development.
3 Celebrity tutor IP refers generally to the collaboration between an online education platform and tutors on developing teaching contents, market positioning, dissemination and commercial operations in order to build celebrity images.
Education & Training
Education & Training
Education & Training
Education & Training
Education & Training
Education & Training
Mainland China
Mainland China
Mainland China
Mainland China
Mainland China
Mainland China