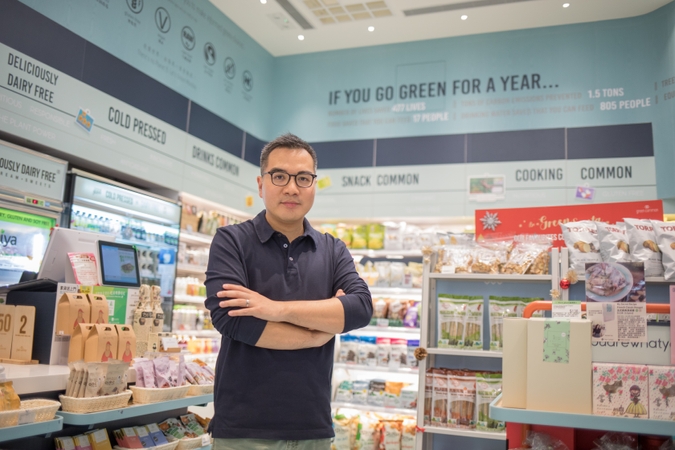 https://hkmb.hktdc.com/en/NjY2NDExNTc3
Navigating Covid-19: A Sustainable Living Proponent
The Covid-19 outbreak has become an unexpected catalyst for sustainable living. Concurrent with the pandemic, new consumption habits have emerged, offering an unparalleled opportunity changing the food and beverage market by driving the transition towards more sustainable food supply and production patterns.
Following the implementation of lockdowns globally, people are not only shifting away from dine-ins to home cooking, but spending more time learning about food sustainability. Many have started to view the animal food supply chain as fragile and risky, and regard intensive factory farming as an unsustainable solution to the planet's ever-growing population and meat demand.
In a recent interview with HKTDC Research, David Yeung, Founder and CEO of Green Monday, shared his views on how the multi-faceted social venture is contributing to the nourishment of the city's sustainable living lifestyle during the pandemic and beyond.
Covid-19, A Stern Wake-up Call from Nature
Meat and dairy are common sources of animal protein and fat in many diets worldwide. The outbreak of zoonotic diseases, such as Covid-19, has therefore greatly raised the collective awareness of the future of global food industries and their environmental impacts. While the exact repercussions of the global pandemic on agricultural markets were still largely unknown, and therefore not incorporated in the baseline projections of the latest OECD-FAO Agricultural Outlook 2020-2029, rising global meat consumption is widely believed to devastate the environment by increasing carbon emissions and reducing biodiversity.
Although regarding the situation as serious, Yeung was positive about the increasingly wide recognition of the problem. He said: "It is encouraging to see that food industry leaders and food scientists are taking substantial action to accelerate change towards sustainability, while consumers' growing environmental and health-consciousness is supporting a transition from animal-based protein towards alternative sources of protein, such as plant-based.
"This promising transformation has seen 40% of the Hong Kong population practising a flexitarian or plant-based diet, which translates to more than 3 million people, according to a 2020 survey conducted by market research agency Ipsos."
Covid: A Catalyst for Change?
Green Monday Group is a multi-faceted social venture with a mission to take on the world's most pressing crises of climate change, food insecurity and public health. It has a revolutionary food technology innovation in OmniFoods, a market-transforming plant-based retail, dining and distribution network in Green Common, and an impact investment arm in Green Monday Ventures. Founder and CEO, Yeung believes that the Covid-19 pandemic, for all its global harm, may also be a trigger for positive change in the future.
Yeung sees Covid disruption as highlighting vulnerability in worldwide food supply. He said: "The Covid-19 outbreak brought us unprecedented challenges. The global food supply chain and logistics suddenly became unstable due to various forms of lockdown, while some of our global projects have been postponed. But the recent Green Common openings in Shanghai and Singapore, together with our 20,000-plus distribution outlets worldwide, are encouraging in terms of bringing the world one step closer to a sustainable food system, less dependent on animals and meat. Hopefully, by doing so, we can altogether make our world less susceptible to the kind of virus outbreak that we are all still suffering from."
Plant-based meats and non-dairy products have gained a big following since the Covid-19 outbreak, thanks partly to the stay-at-home restriction that contributed to a spike in home cooking and sustainable purchases, along with growing sustainability concerns in the wake of the global health emergency.
On the supply side, with many meat packers forced to shut down, the fragility of the world's current food system was also exposed, which in turn offered a window of opportunity for plant-based alternatives. Yeung said: "In terms of numbers, we are certainly seeing a spike. Between 2019 and 2020, our sales across all products have almost quadrupled, indicating greater consumer demand and acceptance of plant-based products."
With the pandemic wreaking havoc, Yeung believes that consumers are increasingly aware of the inhumane, inefficient and unsustainable aspects of the global livestock industry. This has driven growing worldwide recognition of the importance of animal-based protein or meat substitutes, especially with the concurrent outbreak of African Swine Fever, Swine Flu and Shrimp (Hemocyte Iridescent) Virus in different parts of the world.
Yeung said: "It's encouraging to see both food suppliers and consumers become more educated on the risks and downsides of our current animal-dependent food system, and more aware of the benefits of alternative plant-based solutions. We're witnessing a sharp increase in plant-based offering in almost all cuisines and grocery stores, and the awareness is growing exponentially. So aside from continuing our R&D to maintain a healthy pipeline, my team is striving to increase our OmniFoods penetration in different overseas markets."
Hong Kong, a Beacon for Sustainable Living
Yeung believes plant-based products offer more than just animal-protein or meat alternatives, they are also an education driver. They serve a crucial role in global food industry evolution and lead all stakeholders in the global food chain to rethink global issues, such as sustainability, public health and animal welfare.
Yeung said: "The big picture of sustainable living aside, to make things happen we need something more than a benevolent idea. Take our OmniPork as an example. It contains 0mg cholesterol and is free from hormones, antibiotics and cruelty. With 86% lower saturated fat, 66% lower calories, 2.6 times more calcium and 127% more iron than pork, the all-purpose plant-based pork analogue is not only environmentally friendlier, but nutritionally superior.
"To better create an aspirational lifestyle and food with great taste, the product also fills a gap. So far, most plant-based innovations are designed for Western cuisines, but our team kept Oriental culinary applications in mind throughout the whole OmniPork R&D process."
Green Monday is proactively empowering communities in Asia and beyond with sustainable, innovative and wholesome food choices. It provides a one-stop plant-based platform, combining retail, distribution and dining services in more than 10 markets, including Hong Kong, mainland China, Taiwan, Japan, Thailand, Malaysia, Singapore, the US and the UK.
When it comes to the role of Hong Kong on the promotion of sustainable lifestyle, Yeung said: "Hong Kong's east-meet-west character has inspired Green Monday to embrace new global consumer trends and behaviours. We're one of the forerunners of plant-based lifestyle in Asia.
"As an international city, trends in Hong Kong create huge impacts on neighbours, such as mainland China and Singapore. By headquartering in Hong Kong, we're able to advocate a sustainable lifestyle and distribute plant-based products globally. Our Canadian-based R&D team and marketing team in Hong Kong will continue to play an important role for food innovation and evolution, while creating new sustainable experiences for consumers in Asia and around the world."
In addition to carrying out its own product R&D, Green Monday is also working actively with global animal-protein substitute suppliers to cross-pollinate and expedite the transition to sustainable living.
Yeung stressed that the world is likely to face other challenges in the future, saying: "Covid-19 is not the first pandemic to hit humankind, and it obviously won't be the last. Climate change has altered how we relate to other species on Earth and that matters to our health and our risk of infections. Many of the root causes of climate change also increase the risk of pandemics, so we all have to shift away from unsustainable lifestyles, whether we like it or not."
Food & Beverages
Food & Beverages
Food & Beverages
Food & Beverages
Food & Beverages
Food & Beverages
Hong Kong
Hong Kong
Hong Kong
Hong Kong
Hong Kong
Hong Kong
Hong Kong
Hong Kong
Hong Kong
Hong Kong
Hong Kong
Hong Kong