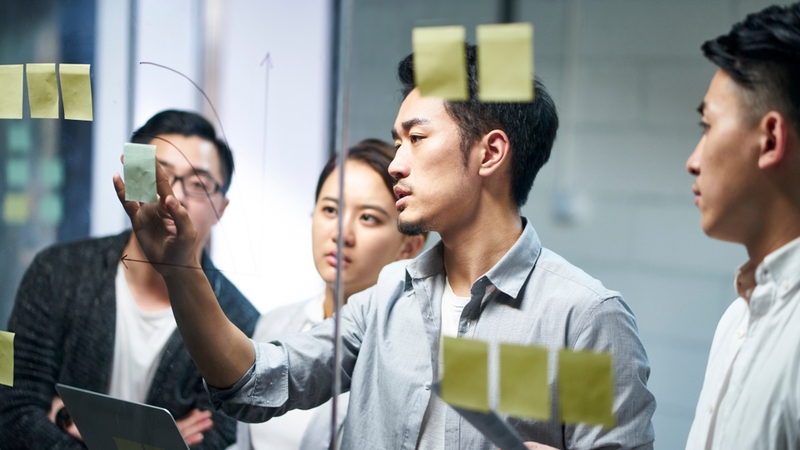 https://hkmb.hktdc.com/en/NjY0NDUyMjE3
Hong Kong Start-Up Survey: Entrepreneurs and Businesses
The growing trend of entrepreneurship in Hong Kong in recent years has led to a rapid increase in the number of start-ups. Between 2015 and 2020, the number of Hong Kong start-ups more than doubled, from 1,558 to 3,360. The growth of the start-up ecosystem hinges on the support from and collaboration of various stakeholders, including the government, academia, incubators, investors, the start-up community and others. Entrepreneurs in general are aware that starting a business not only involves turning their innovative ideas into action but also means bearing the risks that accompany entrepreneurship.
In order to identify the characteristics of Hong Kong's entrepreneurs and their businesses, HKTDC Research conducted a questionnaire survey and in-depth interviews1 with local start-ups in mid-2020 about the domestic start-up ecosystem. The survey found that most local entrepreneurs are young, highly educated people who want to develop new products and new technology by starting their own business. Their start-up capital, which can range from hundreds of thousands of Hong Kong dollars up to several million, mainly comes from personal savings, government funding and bank loans.
Young and Educated
The survey found that the majority of Hong Kong entrepreneurs are relatively young and highly educated. 43% of the founders of the start-up companies polled are aged between 30 and 39 and 17% between 20 and 29. 90% are university graduates and 49% have obtained a master's degree or a doctorate. During the in-depth interviews, some respondents spoke about taking part in entrepreneurship competitions while they were still at university. Some had won their start-up capital as a result of winning these competitions. In other words, some had already started their own business even before they had graduated.
Unsurprisingly, the résumé and background of start-up founders tends to be closely related to the nature of their business. Founders of 'new retail' enterprises tend to be relatively young, with an average age of 33.5 and 30% of them aged between 20 and 29. With biotechnology and health start-ups, on the other hand, the requirements for knowledge and technological ability are higher and work experience is a must for meeting business needs. As a result, the founders of these sorts of start-ups have an average age of 39.4 and half are aged 40 or above. 52% possess a doctorate while another 51% worked for more than 10 years before starting their own business. The education level and amount of work experience among this group of start-up founders rank top among those of the various sectors.
The difference in ages between the various types of start-up founders tends to lead to them having different characteristics. Young entrepreneurs tend to be full of vigour, in touch with trends, and have a keen market sense. However, they lack experience, often make mistakes, and have more difficulty in winning the trust of customers. To highlight one example of this, Carson Yau and Brian Chui, co-founders of local entertainment booking platform ReUbird, say that because most of their clients are older, they have to be very well prepared to be able to answer their questions and assuage any doubts they may have. Generally speaking, older entrepreneurs are more mature and possess better soft skills, such as negotiation and management techniques. These, coupled with the personal networks and capital accumulated throughout their years of work, help to raise the survival rate of their start-ups. In sum, age may not be a hurdle for local entrepreneurs looking to start a business. However, efforts should be made to equip aspiring entrepreneurs with the right business skills and knowledge in order to ensure the domestic start-up ecosystem is sustainable.
When asked about their motivations for starting a business, 56% of the respondents said that they wanted to develop new products and new technology, with half of them saying that this was their main reason for starting a business. Farm66 is a case in point. Its founder Gordon Tam said that he developed urban farming and established the first indoor aquaponics farm in Hong Kong because he was passionate about supplying healthier and safer vegetables to the local market. 48% of the respondents, meanwhile, saw entrepreneurship as a way of making money, while 47% said it was their dream to develop a business.
56% of the respondents learned about how to run a business from their friends. Start-up communities such as WHub and StartupsHK, which help entrepreneurs connect with their peers by organising networking activities, were also frequently cited by local entrepreneurs as a source of mentorship, as were university networks. Given that 90% of the entrepreneurs surveyed are university graduates, many had been helped by local universities which have set up entrepreneurship centres to provide support to their graduates. These include the Innovation and Entrepreneurship Hub iDendron at the University of Hong Kong (HKU), the Center for Entrepreneurship at the Chinese University of Hong Kong (CUHK), and the Entrepreneurship Center at the Hong Kong University of Science and Technology (HKUST).
Start-Up Funding
This survey also aimed at getting a better understanding of the characteristics of start-up companies, as well as those of the entrepreneurs themselves. Having sufficient start-up funding is a prerequisite for starting a business. 43% of the respondents started their business with less than HK$300,000, 38% invested over HK$1 million, while a small number of them put in as much as HK$50 million. The level of start-up funding largely depends on the nature of the business. The start-ups in the survey that had invested over HK$1 million were mainly engaged in information technology and hardware manufacturing, biotechnology and health, and the new economy; while the level of start-up funding of the majority (62%) of innovative services companies was less than HK$300,000.
85% of local start-ups in the survey relied partly on their personal savings for the funds to start a new business, 30% received government grants and subsidies, 22% obtained bank loans, and 20% acquired part of their start-up funds from family and friends. In the domestic start-up ecosystem, only a handful of start-up companies managed to raise funds successfully from the private market in their early stage of development. These private sources of funding included incubators and accelerators (15%), re-investment (10%), angel investing (7%), crowdfunding (4%) and venture capital (3%). On average, personal savings accounted for 59% of the start-up funding of each new business.
Staff payroll accounts for the largest part of the operating expenses of local start-ups. The start-ups in the survey employ an average of 8 to 9 staff – 4.7 technical staff and 3.8 non-technical – the cost of which comprises about 40% of total expenses. Although office rentals are high in Hong Kong, most of the local incubation programmes provide rental subsidies and even rent-free working space to start-ups. Because of this, office rental makes up only about one-fifth of the surveyed companies' total expenditure, a share significantly lower than that accounted for by staff payroll. Other major expenses include research and development (14%), hardware and software equipment (12%), and marketing (10%).
Start-ups are normally small businesses in their early stage of development. The majority of the companies in the survey focus on the Hong Kong market at the moment, with an average of 83% of their revenue coming from Hong Kong, 9% from mainland China, and the remaining 8% from overseas markets. Generally, the start-ups plan to establish a firm foothold in the local market first before venturing out to overseas markets. The respondents expect that in the next three years the Hong Kong market will remain their major source of revenue (76%), but that the share of revenue from mainland China (12%) and overseas markets (12%) will increase a little.
Among overseas markets, South-east Asia is most popular with local start-ups. 14% of the respondents indicated that South-east Asia was currently one of their major markets, while 19% said they would try to tap into the South-east Asia market in the coming three years. During the interviews, many start-ups interested in making a foray into the South-east Asia market mentioned that, compared to other regions in Asia, competition in South-east Asia is less fierce and the language barrier is less of a problem.
Nevertheless, the survey found that start-ups foresee a slow growth in revenue from non-local markets due to Covid-19 and weak global demand. When asked about the impact of the coronavirus, 66% of the companies said the pandemic had had a negative impact on their business, because of factors like clients cutting spending and a subdued desire for consumption. 16% of the respondents said the pandemic had already dampened their business expansion plans, while some respondents had had difficulty in securing overseas clients and had even had to put off their expansion into the GBA and other markets. However, despite the blow dealt by the pandemic to the local economy, local start-ups have responded positively to market changes and have fully demonstrated their entrepreneurial spirit by developing new products and new services and adjusting their production schedules.
---
1 See Appendix for background information on this survey.
Appendix
259 Hong Kong-based companies founded during the past eight years responded to the online questionnaire survey conducted by HKTDC Research from June to July 2020. The survey aims at achieving a better understanding of the development trend and performance of the local start-up ecosystem, and collecting views about the opportunities emerging from the Guangdong-Hong Kong-Macao Greater Bay Area (GBA). During the survey, in-depth interviews were held with 25 stakeholders and analyses of key cases were made. The survey covers major sectors of the local start-up ecosystem, including biotechnology and health, information technology and hardware manufacturing, innovative services, the new economy, and new retail.
Profile of Questionnaire Survey Respondents
| | |
| --- | --- |
| Industry | Share |
| Biotechnology and health (including biotechnology, foodtech, health and medical, sustainable/green technology) | 19% |
| Information technology and hardware manufacturing (including information, computer and technology and related hardware manufacturing such as internet of things, 3D printing, wearables) | 24% |
| Innovative services (including design, professional and consultancy services, data analytics) | 27% |
| New economy (including fintech, robotics/smart manufacturing, smart city) | 18% |
| New retail (including e-commerce, logistics technology, supply chain management, retail technology) | 13% |
| | |
| --- | --- |
| Current Stage of Business | Share |
| Seed Stage – Company starts to market and sell its product | 55% |
| Early Growth – Company gains traction in its market, improves processes, and increases hiring | 41% |
| Growth/Maturity – Company demonstrates strong growth, with good cash flow and stable profits | 4% |
| Company looks for IPO/acquisition | 0% |
| | |
| --- | --- |
| Number of Years of Establishment | Share |
| 5 – 8 years | 20% |
| 3 – 4 years | 43% |
| Less than 2 years | 37% |
Hong Kong
Hong Kong
Hong Kong
Hong Kong
Hong Kong
Hong Kong
Hong Kong
Hong Kong
Hong Kong
Hong Kong
Hong Kong
Hong Kong
Hong Kong
Hong Kong
Hong Kong
Hong Kong
Hong Kong
Hong Kong
Hong Kong
Hong Kong
Hong Kong
Hong Kong
Hong Kong
Hong Kong
Hong Kong
Hong Kong
Hong Kong
Hong Kong
Hong Kong
Hong Kong