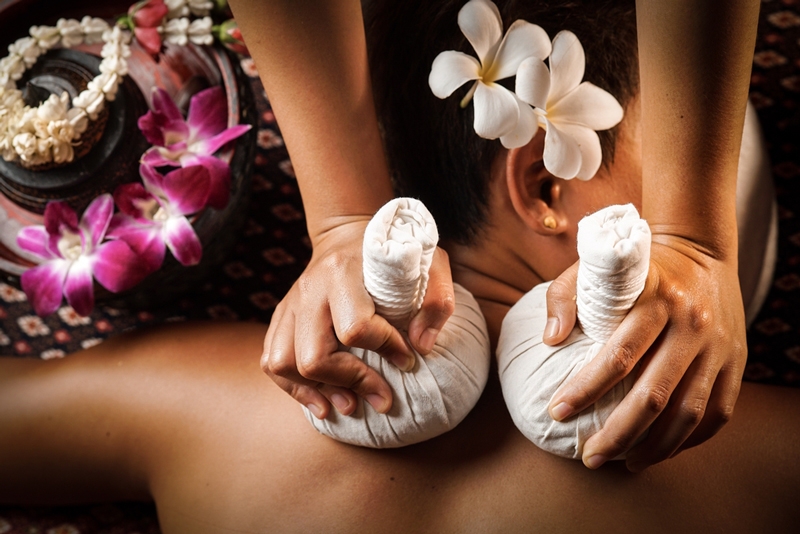 https://hkmb.hktdc.com/en/NjU5NTkxNDM2
Thai Consumer Preferences: Health, Beauty and Wellness
Thailand has always been a strong market for health, beauty and wellness in Asia. The relatively low cost of treatment, high standard of care, and relaxing environment for body and soul mean that people look towards this country as the perfect place for beauty and wellness retreats. In a recent HKTDC Research study, 81% of the Thai consumers surveyed planned to spend more or about the same as they do now on health, beauty and wellness in the next three years.
Thai Consumers' Expected Changes in Spending Pattern in the Next Three Years (Services)
Categories

Spend More

Unchanged

Spend Less

Net
(Spend More - Spend Less)

Dining Out and Meal Delivery

e.g. restaurants, coffee shops

49%

32%

19%

30%

Home Entertainment

e.g. subscriptions for home cinema, anime, gaming

46%

37%

17%

29%

Travel and Leisure

50%

28%

22%

28%

Education

e.g. self-improvement, special interest courses

41%

45%

14%

27%

Health, Beauty and Wellness

e.g. membership of fitness / beauty salons

42%

39%

19%

23%
Source: HKTDC Survey
Beauty and fitness centres operators in Thailand are catching on to a growing appetite for experiential purchases by the Thai middle class. Given the increasingly hectic lives people live, with their faces stuck in front of screens and bodies crammed into public transport, a visit to a beauty salon or fitness centre can seem like the perfect way to recharge their batteries. 
Thai consumers have also become more health conscious. The population is ageing, and people are acquiring more knowledge about the benefits of exercise. This greater awareness of healthy lifestyles is fuelling the health, beauty, and wellness market as a whole. The challenge for the thousands of fitness centres, spas, and beauty salons is how to differentiate themselves from the competition. 
To keep a loyal customer base, services providers have to make sure their customer service, the products and services they offer, and their establishment's environment are all up to scratch. Building a trusted and happy client base in the health, beauty, and wellness sector is all about giving customers the best experience possible at every touchpoint with the brand. 
Booking procedure 
A good user experience starts with the booking procedure. This may not occur inside the centre, but beauty salons or fitness centres often forget that the booking process is an important part of user experience. If clients have had trouble trying to book into the salon, they are not going to be in a great mood when they arrive. With a large portion of bookings taking place outside office hours, service providers have to be sure to provide clients with a flexible and simple way to book. 
Beauty and wellness customers are looking for a peaceful and quiet getaway from the busy and hectic city life. The last thing they need is to have to go through a complicated and stressful process just to book a service to relax. Online booking software that is simple, professional, and available 24/7 makes life easier for customers, meaning they are more likely to book a second time. 
Ambiance 
Customers of beauty salons and spas want to feel relaxed and looked after as soon as they walk through the door. Salon owners need to think about how to make the environment the best it can be. Scented candles set a mood of tranquillity, and some soothing music in the background can have a tremendously relaxing effect on customers' minds and bodies. It is equally important to make the space aesthetically pleasing – an inviting waiting area and professional, spotlessly clean treatment space. 
A noticeable example is the exquisite interior design of Bangkok Central Embassy, which blends local Thai handicrafts in a way that emphasises warm, authentic materials with a modern-day relaxed ambience. 
Customer service  
Customer service these days is so much more than a 'have a nice day' as customers leave. In the focus group discussions, the respondents all stressed that the level of personalisation influences their patronage of a beauty salon. One 36-year-old respondent said: "I expect a bespoke and personalised experience at all stages. After one or two times, the team should remember my name, and how I like the treatment to be done. If they have done everything right, I will keep coming back for that tailor-made personalised experience." 
While each member of the salon team should be able to channel their unique personality into their job, the service should be delivered to a consistent standard. It is essential for the team to follow the same guidelines on how to address customers, how to communicate with them, how to behave within the salon, and how to carry out specific treatments. 
For gyms and fitness centres, the winning recipe is similar. Thai middle-class consumers truly value personalised services, a sense of community and unique member experiences. Customer service should be at the core of a wellness business. It supports solid brand loyalty and builds long-term relationships. 
This point was underlined by Sato, CEO of fitness centre Wellgo SB Co, who said: "Much of our business's financial success depends on repeat customers and keeping cancellation rates low. We focus on members' engagement as it is crucial to customer retention. By creating a unique and memorable experience, we can boost member retention and referrals at the same time. 
"Our business is all about creating an ethos that values every individual that walks through the door. We listen to customers' needs so that we can tailor-make a bespoke training course for them. We deliver a range of styles that suit different people's tastes. If customers want to work out together, we offer them group lessons and help them create a community of like-minded people. We are single-minded about helping our customers progress and feel special." 
Sato outlined some of the other measures his business has taken to develop its customer base, saying: "We build great relationships with our members by creating a Facebook group where they can post workout results, share information and generally keep the sense of community going outside class hours. To reach out to prospective customers, we engage famous bloggers to write articles about our centre and take measures to improve our search engine optimisation (SEO) so that our website rises to the top of search-engine results. 
"Additionally, we empower our team so that they can provide the best customer service. In a service industry, management must delegate sufficient authority to enable subordinates to do their jobs, so customers do not need to wait for days to get an answer to a simple question." 
Discussing the direction that the fitness sector might look to in the near future, Sato added: "A few years ago, we identified another big growth area - corporations. Medical expenses in Thailand are rising steadily, and companies are trying to keep them down. They have an incentive to encourage employees to exercise regularly. We expect our corporate accounts to grow rapidly in the future." 
---
[1] The HKTDC conducted a consumer survey and four focus groups in the cities of Bangkok and Chiang Mai in April‑September 2020. 1,004 Thai consumers aged between 18 and 60, with a monthly household income of THB30,000 (US$930) or above, responded to the survey. The participants in the focus groups, as well as fulfilling the same age and income requirements as the survey respondents, had to be internet and mobile phone users, and to have travelled abroad at least once in the past year.
ASEAN
Southeast Asia
Thailand