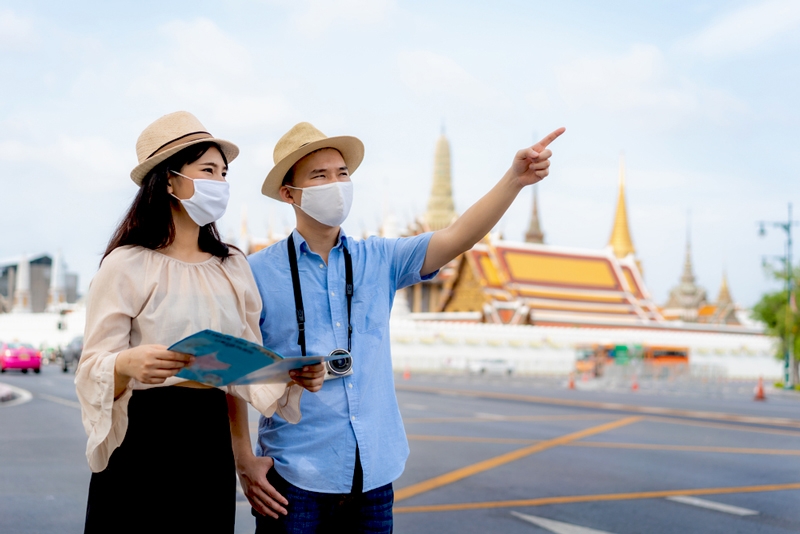 https://hkmb.hktdc.com/en/NjU5MzY4ODgz
Thai Consumer Preferences: Travel and Leisure
The outbreak of COVID-19 has created unprecedented challenges for the tourism sector. Facing restrictions such as quarantine measures, travel bans and border closures, and based on the patterns of previous crises, the tourism sector is expected to record a massive loss in revenue, especially at the international level. However, the demand for outbound travel is expected to bounce back after the pandemic, especially in emerging markets like Thailand where the middle class is growing rapidly. In a recent HKTDC Research study, 78% of the Thai consumers surveyed planned to spend more or about the same as they do now on travel and leisure in the next three years. Hong Kong service providers should look out for emerging travel trends in this region to identify new opportunities.
Thai Consumers' Expected Changes in Spending Pattern in the Next Three Years (Services)
Categories

Spend More

Unchanged

Spend Less

Net
(Spend More - Spend Less)

Dining Out and Meal Delivery

e.g. restaurants, coffee shops

49%

32%

19%

30%

Home Entertainment

e.g. subscriptions for home cinema, anime, gaming

46%

37%

17%

29%

Travel and Leisure

50%

28%

22%

28%

Education

e.g. self-improvement, special interest courses

41%

45%

14%

27%

Health, Beauty and Wellness

e.g. membership of fitness / beauty salons

42%

39%

19%

23%
Source: HKTDC Survey
According to the World Bank, Thailand's tourism sector normally contributes close to 15% of its GDP. While inbound Thai tourism is booming, so is Thai outbound travel. According to the Tourism Council of Thailand (TCT), the number of Thai outbound travellers was expected to pass 10 million in 2018, thanks to a rising middle class, strong spending power and intense marketing by airlines, hotel groups and credit card companies. 
Travel transformed by coronavirus  
Some current new travel trends reveal how the travel industry has been transformed by COVID-19. First, people are taking longer trips now, compared to short weekend trips before the pandemic. Second, travellers want as little intervention as possible by others in their travel experience. They want everything to be contactless, from the hotel check in to room service to car rentals and more. Third, travellers are demanding clear, transparent, and flexible cancellation policies as they do not want to be locked into decisions they may have to change or postpone. 
Moreover, the pandemic has led to health and safety becoming travellers' top concerns. They want full information about travel requirements and restrictions – including the answers to questions like where to get a COVID test, whether they will have to quarantine when they get to the destination, and where they can quarantine. Travel advisors must be trained to answer all questions regarding the health and security issues of a country and make sure that they have the most up-to-date information. 
Many countries are beginning to contemplate recovery plans and actions for their travel industry. Thailand's Minister of Tourism Phiphat Ratchakitprakarn said the country is aiming to allow foreign tourists to enter the country through a program dubbed "Safe and Sealed." At the start, tourists will be permitted to fly into Phuket, Thailand's largest island, and will need to quarantine in a designated resort for 14 days. Travellers will need to get tested for Covid-19 at the beginning and end of their quarantine period. Afterward, they will be free to travel on the island. 
After this unparalleled crisis in the tourism sector, the travel industry is hoping for a speedy recovery. Fortunately, affluent Thai consumers love travelling. When respondents in the focus groups were asked how they would spend the money if they won a lottery, almost every single individual indicated that they would spend a substantial portion of the money on travelling. This is consistent with the finding from the consumer survey that most respondents value experiencing things more than owning goods. 
Experience tourism 
Experiential purchases involve acquiring a life experience while material purchases are about acquiring an object. Focus group respondents are more willing to spend on acquiring experiences because experiential purchases are associated with more happiness than material purchases. As a result, travelling is considered by most respondents as a life-enhancing experience. 
Experience tourism is becoming the norm because of the increasing number of middle-class consumers seeking out activities that appeal to niche personal interests instead of booking busy trips packed with a full itinerary taking in all the tourist hot spots.   
Explaining what it is about experience tourism that is so appealing, one respondent, a 32-year-old engineer, said: "For me, travelling for leisure is all about the journey, not only the destination. It gives me a way of understanding and appreciating alternative ways of life, and learning new things about cultural and natural landscapes." 
Tailor-made travel agent 
A new form of travel agent is becoming more popular – the tailor-made travel agent. Simply put, a tailor-made travel guide helps the traveller plan a "bespoke holiday", where every part of the trip is created individually to suit the traveller's style, taste and budget. 
A tailor-made travel agent is an experienced consultant who is knowledgeable about a specific country or region and can therefore offer the traveller first-hand experience and recommendations about their chosen destination. A tailor-made agent will usually work very closely with a local agent in the country, who has up-to-the-minute knowledge of the different types of accommodation, the latest tours and the kind of trip that would suit the traveller.  
Travel agencies today must offer more than a simple product. They must offer and promote life-enriching experiences – language lessons and cooking classes, riding the rapids, trekking to remote locations, and joining local cultural events. The travel industry is evolving to meet and capitalise on this trend towards experiential purchasing. Hong Kong travel agents and platforms could take advantage of this trend by forming alliances with local Thai travel agents to promote both in-bound and out-bound trips that offer unique travel experiences. 
---
[1] The HKTDC conducted a consumer survey and four focus groups in the cities of Bangkok and Chiang Mai in April‑September 2020. 1,004 Thai consumers aged between 18 and 60, with a monthly household income of THB30,000 (US$930) or above, responded to the survey. The participants in the focus groups, as well as fulfilling the same age and income requirements as the survey respondents, had to be internet and mobile phone users, and to have travelled abroad at least once in the past year.
ASEAN
Southeast Asia
Thailand
ASEAN
Southeast Asia
Thailand
ASEAN
Southeast Asia
Thailand
ASEAN
Southeast Asia
Thailand
ASEAN
Southeast Asia
Thailand
ASEAN
Southeast Asia
Thailand