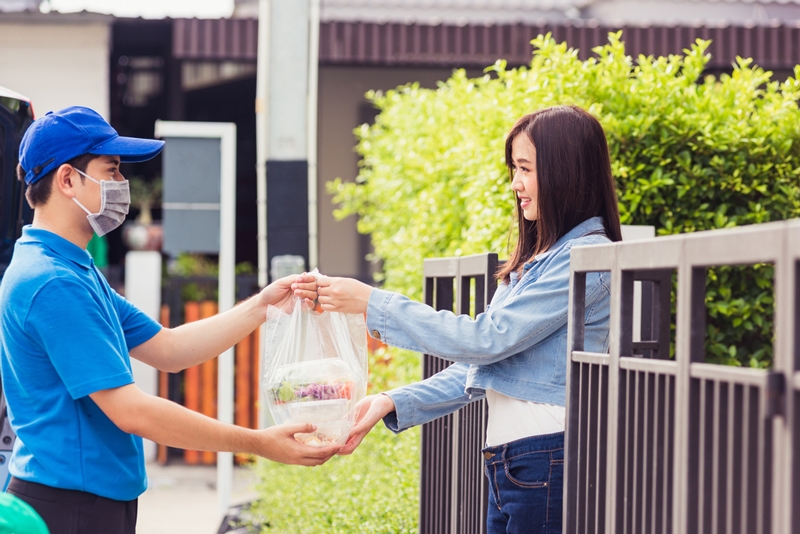 https://hkmb.hktdc.com/en/NjU1MDg0MDQ3
Thai Consumer Preferences: Dining Out and Food Delivery
With the coronavirus pandemic causing governments to put lockdowns and other restrictions in place, food delivery services have seen a surge in demand. This trend is expected to continue as consumers become increasingly accustomed to this convenient option. However, eating out is a multisensory activity because it is not just about the consumption of food - it encompasses many other tactile experiences such as visual stimuli, flavours and fragrances. Dining out is also seen as a social event which cannot be replaced by the delivery of a meal. In a recent HKTDC Research study, 81% of the Thai consumers surveyed planned to spend more or about the same as they do now on dining out and meal delivery in the next three years. The study also revealed a number of trends about the industry in Thailand.
Thai Consumers' Expected Changes in Spending Pattern in the Next Three Years (Services)
Categories

Spend More

Unchanged

Spend Less

Net
(Spend More -
​​​​​​​Spend Less)

Dining Out and Meal Delivery

e.g. restaurants, coffee shops

49%

32%

19%

30%

Home Entertainment

e.g. subscriptions for home cinema, anime, gaming

46%

37%

17%

29%

Travel and Leisure

50%

28%

22%

28%

Education

e.g. self-improvement, special interest courses

41%

45%

14%

27%

Health, Beauty and Wellness

e.g. membership of fitness / beauty salons

42%

39%

19%

23%
Source: HKTDC Survey
Food delivery  
In recent years, food delivery services have become one of the most popular business modes in Thailand. Kasikorn Research Center (K-Research) reported that Thailand's food delivery business was worth 33-35 billion THB (HK$8.5-9 billion) in 2019, a rise of 14% from the previous year. It accounts for 8% of the Thai restaurant market. In the past five years, food delivery has grown at an average of 10% per annum, a much faster rate of growth than that of restaurant business, which managed a mere 3-4%. K-Research also predicted that the food delivery business would grow much faster in 2020 than it did in 2019. 
Due to the recent lockdowns and social distancing, increasing numbers of Thai consumers have been forced to switch from restaurants to home delivery. This change of customer behaviour brought about by the COVID-19 pandemic may become the new normal even after the pandemic is over. 
The main food delivery service players in Thailand are Grab, LINE Man, Get Food and Foodpanda, which provide full-service food delivery in cities like Bangkok, Chiang Mai, Phuket, Hua Hin and Pattaya. LINE Man in particular has become very popular with Thai consumers. It is an app that combines five different types of service - taxi hire, postal delivery, messenger, and shopping and food delivery - all in one place. 
It was launched as a food delivery service by motorcycle riders, before venturing into the delivery of convenience goods in partnership with 7-Eleven, and then the delivery of documents and packages and taxi-hailing. The company claims to have partnerships with around 100,000 restaurants, and says its aim is to be the best on-demand delivery service in the country. To achieve this, it has been looking to expand its partnerships and develop new features and experiences by digging deep into customer insights.  
Highlighting how successful it has been, LINE Thailand's Chief Strategy Officer Jayden Kang said: "LINE Man was created by Thai people for Thai people. Thai people want to use various services through one app. We have become the fastest growing and most indispensable mobile application in Thailand, delivering convenience to our customers and creating jobs for local Thai people. LINE is a strong platform with a user base. It is an easy-to-use app that can be accessed by all and carries an all-inclusive ecosystem that covers the entire ordering, delivery and payment process from start to finish." 
Food delivery sales have reached new heights during the coronavirus pandemic. However, the food delivery service sector in Thailand is intensely competitive as diners hop between apps to cover all their favourite take-out spots and get the best deal. The factors behind the success of the best-performing players in this sector are the establishment of partnerships with restaurants, the clever use of technology and data, and the integration of essential services in one app.  
Dining out 
Most Thai consumers used to be mainly focused on two things when looking for a restaurant – availability and price. Diners simply wanted to find a table and satisfy a basic need. Today, things are quite different. There are many more factors influencing consumers' decisions, and thus many more elements that restaurant owners have to take into consideration. 
Food quality and presentation 
Good food has become one of the most important factors influencing the choice of restaurant when people are dining out. A particular signature dish is a key attraction with which to draw customers in. However, it takes more than just a tasty dish to keep customers happy. 
Outlining the factors which influenced his choice, one participant in a Bangkok focus group said: "I care that dishes are environmentally friendly, homemade and made with fresh local ingredients without unnecessary additives. Some of my friends are vegetarian, so when eating out with my friends, we have to make sure that the restaurant offers vegan dishes." In order to cater to diners like this, restaurants should ensure that they place their menu online and provide additional information about the ingredients of each dish. 
The rapid growth of social media means that many potential diners can judge a meal with their eyes before the food ever touches their lips. Many Thai diners now take every opportunity to post photos of their meals and share their experiences with their friends over social media. These same diners also judge restaurants by the images of the dishes that the restaurants present on social media platforms. With the ever-growing importance of social media in influencing dining decisions, restaurants that wish to remain competitive must win over their online audience. Presentation is therefore an essential consideration for chefs and restaurant owners when designing dishes to feature on their menus. 
One chef who works in a restaurant in Bangkok told the survey that offering unique presentations of the restaurant's dishes goes a long way to making it a "must-visit" for these "Insta-foodies". He said that adding a theatrical element, such as a cocktail topped with smoke from liquid nitrogen, makes for an ideal photo to post on social media and definitely attracts traffic. Pointing out though that presentation is not enough on its own, the chef added: "Good photos may entice guests. But if a restaurant does not deliver on taste, customers will never come back." 
Geolocation 
In the past, a restaurant just needed to be in a good location to attract customers. Today, however, diners can look for restaurants anywhere. The important thing for restaurants now is to have a good presence in the digital universe so that they can be found. 
A restaurant will have a greater chance of reaching out to new clients if it can be geolocated, which means having a presence on search engines such as Google Maps. When focus group respondents in Bangkok and Chiang Mai were asked how they would search for a restaurant for a friend's birthday celebrations, most said that they would start with Google Maps as they would want to know how far the restaurant is and avoid having to drive for hours just to get there. 
Another essential social network for restaurant businesses is Instagram. Instagram allows people to geotag their photos so that they can highlight the places they have visited. Instagram location tags offer many benefits for a restaurant. First, posts with location tags showing up in Explore pages increase the venue's visibility among its target audience. Second, a comment acknowledging diners' tagged posts adds a personal touch to their experience and can lead to higher engagement with the restaurant. Third, many potential customers rely on evidence on social media when making decisions, such as lively photos of other diners tagged at the restaurant. 
The experience  
Today's diners are not just satisfied with eating well, they also want to have a memorable experience that they can share on social media. As such, the more original, special, creative, specialised, personalised, fun or unique the experience that the restaurant can provide, the more it will stand out among the fierce competition.  
Most respondents in the focus groups thought that unique dining experiences were worth paying more for. Illustrating this way of thinking, one respondent in Chiang Mai said: "When I hang out with my friends, we don't just want some tasty food, we want to be relaxed and have fun. We want to make it a memorable experience among us. A display worthy of an Instagram photo or the chef cooking before the guests' eyes makes us feel there is more going on than just a meal." 
Different generations in Thailand view dining out in different ways. While older generations see it as a way to escape the realities of the day, millennials use it as an extension of their social lives. With this in mind, restaurants should think about how they can curate fun events for younger diners who can add them to their active social calendars.  
Millennials also like their meals to be customised. One respondent explained what this might entail, saying: "It could be as simple as introducing mix and match combination options of current entrees and sides or adding new shareable appetizers. A personalised, interactive dining experience will enhance my dining experience." 
Customer retention and advocacy  
As in the health, beauty and wellness industry, the restaurant and dining out sector makes most of its profits through repeat customers. Stressing the importance of this clientele, the owner of a Mediterranean restaurant in Bangkok said: "One of the many benefits of repeat customers is word-of-mouth, which tends to be the best form of free advertisement. Happy customers love to spread the word to their friends and bring the crowd into my restaurant." 
In order to attract these regular customers, the restaurant owner pointed out it was necessary to give them special treatment, saying: "I greet my guests in person and help them find their table. A little personal touch can go a long way. Hiring and training staff to provide regular customers with the service they expect is key to high customer retention. Everyone in my restaurant has to learn how to gauge the mood of a customer and take caution to avoid being too imposing." 
---
[1] The HKTDC conducted a consumer survey and four focus groups in the cities of Bangkok and Chiang Mai in April‑September 2020. 1,004 Thai consumers aged between 18 and 60, with a monthly household income of THB30,000 (US$930) or above, responded to the survey. The participants in the focus groups, as well as fulfilling the same age and income requirements as the survey respondents, had to be internet and mobile phone users, and to have travelled abroad at least once in the past year.
Catering Services
Food & Beverages
ASEAN
Southeast Asia
Thailand