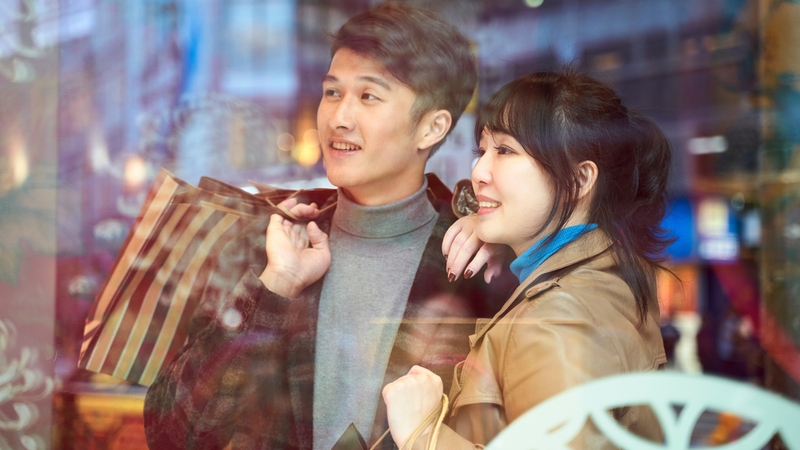 https://hkmb.hktdc.com/en/NjQxMTgwMDc5
New Marketing Strategies in China: Integrating Digital Technology with Culture and Art to Increase Store Attractiveness
As a great diversity of shopping centres move into various cities in China, physical retail in the mainland is becoming increasingly competitive. K11 Art Mall, which brings together creative brands from around the world, combining the three essential elements of art, culture and nature, builds on the concept of multicultural urban life to provide consumers with enjoyable shopping experience integrated with art appreciation. To date, K11 has established a presence in Hong Kong, Shanghai, Guangzhou, Wuhan, Shenyang and Tianjin.
In an interview with HKTDC Research, K11 Digital Marketing General Manager, James Yang, shared how the company managed to stand out from the shopping centre crowd and how it makes use of social media to market and promote the brands featured at its outlets.
In-store and Virtual ​​​​​​​
As K11's Digital Marketer for the China market, James Yang has good insight into mainland consumer preferences. He said: "Currently, as people live increasingly digital-physical hybrid lives, the mode of retail has also been updated and upgraded. Alibaba calls it 'new retail' and Tencent 'smart retail'. Today's retail mode is one that pursues digital transformation and combines the virtual with the physical."
In the early days, digital marketing only meant using social media to carry out brand promotion. Today, digital marketing has already moved towards integrating culture, art and education, as well as content marketing. Yang said: "We invite each tenant of our K11 malls to join our WeChat mini program K11GO. By offering wide-ranging, in-depth content, we draw-in and engage consumers via social media in order to retain loyal customers and increase sales. K11 has 3 million followers in its pool of private traffic1, that is, fans who follow us on social media, such as Weibo, WeChat and Xiaohongshu. These, coupled with the write-ups and videos posted by different key opinion leaders (KOLs), as well as the public traffic2 drawn from social media e-commerce platforms collaborating with us, can help businesses operating in K11 market their products through different channels and work together to advance culture, art and retail innovation."
The coronavirus has impacted retail businesses across the world, K11 is no exception. Yang explained the company's response, saying: "As the pandemic keeps consumers from shopping in-store, we have been helping our tenants to do business other ways, such as online shopping, takeaway food orders, and even online exhibitions. Since many offline businesses have no experience in online operation, K11 has expedited its pace of digital marketing deployment to help them achieve digital transformation as soon as possible. We also work to enhance consumers' digital experience by integrating AR, VR and AI technologies."
Augmenting Shopping Experience​​​​​​​​​​​​​​
The K11 malls in Shanghai, Guangzhou, Wuhan and Shenyang launched a 'cloud shopping' joint initiative between April and May 2020. Online platform Xiaohongshu connected with offline stores in the malls, allowing businesses and customers to meet in the cloud via live streaming. Consumers in their own homes can follow in the footsteps of the online host to visit different shops, explore products they like, and receive information on discounts. When consumers come across content of interest, they can ask the host questions, take part in interactions to get discounts, and then go to the shop to make purchases.
This is a shopping experience that traditional e-commerce operators and physical malls cannot provide. Yang said: "Each cloud shopping tour offers different content and is guided by a KOL or KOC (key opinion consumer) well-versed in a specific theme, such as gourmet food, fashionable trends, art, and design, all aimed at attracting consumers with different preferences."
Yang explained that this form of remote retail experience has been long in the making, saying: "In the past few years, the 'experience economy' had been the topic of discussion in the retail sector which looked into how virtual services could augment shopping experience by combining online and offline retail. In this regard, K11 hopes that the launch of cloud exhibitions and cloud shopping can help consumers better understand the ideas and concepts of different brand designers and multi-brand stores."
Social Media Bolsters Promotion and Sales

K11 runs its social media marketing campaigns, primarily on WeChat, Weibo, Xiaohongshu, Douyin and Dianping. Other platforms are also used depending on the marketing goals and strategies for drawing off-site traffic. Yang said: "For instance, we choose Mafengwo and Ctrip when we want to attract Greater Bay Area visitors to the Hong Kong K11 website."
In addition to maintaining day-to-day promotional and operating activities on major social media, K11 also collaborates with other platforms that may be more suitable for promoting its different events or product themes. Yang cautioned that since different platforms attract different follower profiles efforts have to be made to use the right content and tone in order to meet the needs of different audiences.
The mode of collaboration is also chosen according to different promotional events. In this regard, K11 collaborates directly with the marketing departments of social media platforms, and also works with MCN3 companies, creative advertising companies or media resources companies. Yang said: "We look at third parties' resources; if they have in hand KOLs or KOCs who are more suitable and have higher traffic volume than our home-grown ones, or if the content created by them is more diversified and attractive, then we are happy to collaborate with them."
Yang pointed out that K11 first attempted to do live streaming to help offline businesses sell goods as early as the end of 2019. Businesses operating in K11 malls may migrate their marketing, operation and customer services online, all aimed at achieving digital transformation in retail. He said: "K11 organises social media promotion or live streaming activities on different themes, such as sports, art, and environmental protection. If the products and market positioning of any businesses match the theme of a particular event, they can join the event, which in turn provides them with an extra online promotion and a sales channel to attract more targeted consumer groups."

Shopping Convenience, Culture and Art​​​​​​​​​​​​​​
K11GO, a WeChat mini program created by K11, is a nationwide e-commerce platform and an online shopping mall built for followers and members drawn from various social media. According to Yang, the biggest difference between K11GO and other e-commerce platforms or mini programs created by the businesses themselves is that K11GO not only sells goods, but also embraces content that promotes culture, art, knowledge and learning, in a bid to serve as a guide to consumer lifestyles. He said: "K11GO devotes great efforts to the digital innovation of traditional culture in the hope of unleashing new vigour in traditional art and craft.
"We recently produced an online version of the K11 Architecture Art Festival – Wooden Renaissance, a wooden structure revival themed exhibition organised by chi K11 art museum (Shanghai), re-opening the eyes of the people across the country to the beauty of China's traditional wooden architecture and structures. We have also run the K11 Original Masters series, with the first episode taking our audience to Paris without flying there. The series revealed a behind-the-scenes look into the inner workings of the renowned Chanel Metiers D'Arts – La Maison Lemarié.
"K11 strives to use the latest digital technologies to explore, advance and promote traditional cultures."
Promotion and Branding​​​​​​​​​​​​​​

In view of the great diversity of advertising and promotional methods used on social media, Yang pointed out that it is important knowing what to choose in line with a company's brand statement. He said: "K11 has already become a popular must-visit spot where many people, including influencers, love taking photos at our malls and art exhibitions for sharing on social media. But when we host live-streaming cloud exhibitions, we choose influencers with a strong knowledge of art to be the host or guide, someone who can help the general public appreciate art.

"In live streaming, we prefer to engage KOLs or KOCs who share the same values as our company's, rather than the most popular KOLs in live-streaming goods sales. We believe that our followers do not only go after the shops and products in our malls, they also want to become better informed in art, humanities and nature."

Consumer Engagement
Yang said that brand building used to be very costly, from bidding for prime-time advertising on CCTV (China's central TV station) some 20 years ago, to sponsoring variety shows, title sponsorship and product placement in popular web dramas a few years ago. These are all marketing and promotional methods requiring huge capital input, making it difficult for small and medium-sized enterprises (SMEs) to enter the fray.
"However, with the ubiquity of the internet and social media, the speed of information dissemination and feedback has picked up, providing SMEs with an opportunity to make a breakthrough. Thanks to easy access to consumer feedback, SMEs can now make bespoke products for their target customers in small quantities and wide varieties, instead of adopting the traditional mass production mode. And where brand promotion is concerned, since SMEs today have a good understanding of their positioning and target consumer groups, they no longer have to inject huge sums into promotion but can carry out targeted and precise marketing."

Yang urged SMEs to use their resources where they can do the most good, saying: "My advice is: focus on well-defined market segments; better small but focused than large and comprehensive. Approach core consumers who identify with the company's brand statement."
Yang remarked that K11 upholds art and culture and knows well that the company aims to attract consumers who share this idea. As such, all brand promotion and marketing is centred around this goal. He added that interactivity is the greatest advantage of social media. In the past, promotions were only one-way: one party did the talking and the other party listened. Today, social media offers two-way interaction, with both parties able to talk and listen to each other. This interactivity allows the brand owner to better promote its brand from the consumers' angle.
Yang admitted that he used to worry about whether K11's positioning in advancing art and culture would give people the impression of sounding too highbrow. He also wondered what should be done to help consumers better understand K11's brand positioning and statement and gain deeper and wider knowledge of aesthetics. He said: "The interactive feedback available on social media made us realise that we must not give people something they could not grasp and that we should not place art in a position too high for them to reach. Therefore, we must make changes and set off from the consumers' angle, offering them something interesting and helping them understand it, in order to attract a larger following.
"It is only by attracting more people and helping them appreciate art that we can further expand our market. To bring culture and art into our daily lives and make shopping experience more fun is exactly what we are doing right now."
​​​​​​​
---
1 Private traffic refers to traffic generated by fans who follow the official account of a brand, as well as traffic generated by the brand information posted by movie stars, influencers and KOLs in their private account on social media.
2 Public traffic refers to traffic generated by the ads or marketing content on third-party social media and e-commerce platforms such as Xiaohongshu, Douyin, JD and Tmall which draw consumers to visit the website of the brand.
3 MCN (Multi-Channel Network) is a new KOL economy operation mode linking different types of professional internet content producers and using its own resources to provide professional services, such as content generation management, content utilisation, followers management, and business conversion.
Public Relations
Advertising Services
Public Relations
Advertising Services
Public Relations
Advertising Services
Public Relations
Advertising Services
Hong Kong
Mainland China
Hong Kong
Hong Kong
Mainland China
Hong Kong
Hong Kong
Mainland China
Hong Kong
Hong Kong
Mainland China
Hong Kong