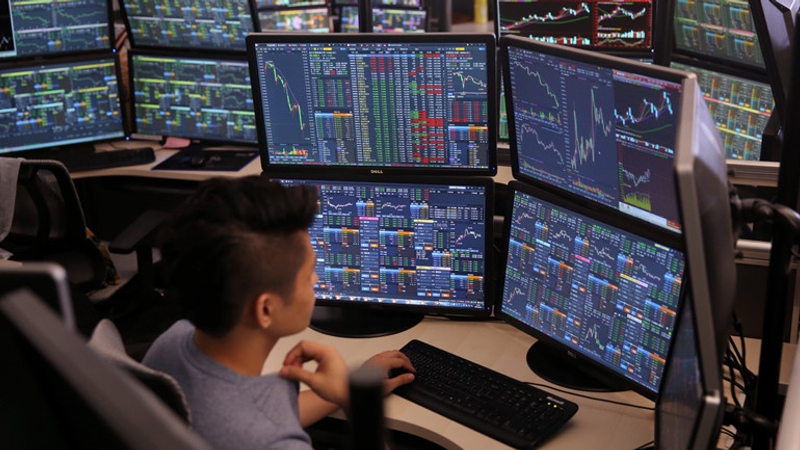 https://hkmb.hktdc.com/en/NjQxMTQzMzE0
Hong Kong as Development Platform for Fintech Companies in GBA
Fintech company Futu Securities mainly engages in stock trading. Its Chief Financial Officer Arthur Chen says Hong Kong is recognised as the world's premier international financial centre, with an efficient regulatory mechanism and transparent and fair rules and regulations. He says this is why Futu chose Hong Kong as its starting point for global development.

Hong Kong's Online Broker​​​​​​​
Futu Holdings Ltd was incorporated in 2012 for the trading of Hong Kong and US stocks. Futu Securities International (Hong Kong) Co Ltd (Futu Securities), its wholly-owned subsidiary in Hong Kong, operates the brokerage app Futubull which allows its users to trade stocks and find market information online. Stock trading is its main business, accounting for about 90% of its total revenue. It holds licences issued by the Securities and Futures Commission (SFC) of Hong Kong. It has its headquarters in Hong Kong and back office and systems operation in Shenzhen, and employs over 1000 people. It needs plenty of technical personnel to develop its fintech and operate its trading platform. Because staff and land costs are lower in Shenzhen, the majority of its employees are based there. Those who work in the front office in Hong Kong are mainly responsible for market development, marketing, compliance and other work.
Futu has close business connections with other cities in the Guangdong-Hong Kong-Macao Greater Bay Area (GBA). Its principal users are people from other cities in the GBA who manage their overseas assets via Futu's platform. Futu is also looking to develop international markets. It has put a great deal of effort into opening up the US market, obtaining broker-dealer and clearing licences from the US Securities and Exchange Commission in 2018 and 2019 respectively. It was listed on Nasdaq in 2019, becoming the first fintech company from the GBA to be listed in the US.
Talent Pool, Regulatory Regime and Business Environment
Chen said that Hong Kong is the ideal place for a company like Futu to have its headquarters, largely because it is generally recognised as the world's premier international financial centre. Futu has been licensed by the SFC since 2012. It applied to the Hong Kong Monetary Authority for the first batch of virtual banking licences in 2018. It boasts a good business and compliance record in Hong Kong, and the credibility the company has established in promoting fintech development in Hong Kong in conjunction with the territory's regulatory bodies has proved instrumental in winning the confidence and approval of professional institutional investors in the US and global capital markets. Being recognised by regulatory bodies and financial partners in Hong Kong has helped to support Futu's development of its global business networks. Other reasons why the company chose Hong Kong as the starting point for its global development include the high concentration of financial institutions and professionals in the city, its efficient regulatory mechanism and its transparent and fair system of rules and regulations.
Chen said that the process of applying for licences from the SFC had been smooth and efficient on the whole, despite the need to submit huge quantities of materials. He noted that the SFC had been scrupulously meticulous in its examination, but that every step was taken in accordance with the relevant rules and regulations. Compared with examination and application processes on the mainland, it was efficient and all queries were answered within the specified time. Chen explained that being able to use a transparent procedure saves a lot of unnecessary time and expense and said that in his opinion, Hong Kong's professional services providers are high quality and very professional, adding that he never had to worry about jobs not being done on time. Being a fintech company, the main professional services that Futu uses are legal services.
Development of GBA Offers Rare Opportunity
Chen is optimistic about the future prospects of the GBA, believing that its large population and high per capita income make it a market with great potential. He said that being able to use Hong Kong as a platform from which to expand its customer base in the GBA is a huge advantage for Futu as it looks to grow its business.
Hong Kong does, however, have some disadvantages compared with other cities in the GBA – in particular, its excessively high rent and operating costs, cost of living and cost of recruiting talent, especially hi-tech personnel. Hong Kong's reserve of hi-tech personnel is not as rich as Shenzhen's, and so Futu will continue to keep its R&D and back office support in Shenzhen. Chen hopes to see a strengthening of personnel co-ordination and exchanges in the GBA. This may require increased incentives and support from the Hong Kong government for family settlement, healthcare, education, taxation and so on, in order to encourage quality personnel to come and work in Hong Kong and remain there.
Diversification of Financial Products
Speaking about the depth and breadth of financial products available in Hong Kong, Chen said that the Hong Kong market offers a wide range, but the products are predominantly equity-related. He believes virtual insurance is the way forward and that Hong Kong's insurance industry should offer a greater variety of insurance products, including ones priced at more affordable levels, to attract more people into the market.
Chen also commented on the issue of co-ordinated development with other cities in the GBA. He said the biggest obstacle at present is that of restrictions on cross-border transactions, and added that if the restrictions on the cross-border movement of funds can be eased in specific areas or for specific groups of people, it would prove to be a great boost to the financial markets on both sides. Chen also spoke about the "Fintech Supervisory Sandbox", which allows brokerage firms and startups to conduct pilot trials of their fintech initiatives. He called it a big step forward and a great innovation.
Policies and Development Prospects
Asked about the regulatory environment in Hong Kong, Chen said one of the city's strong points is that its regulatory personnel are very professional and most come from a financial and legal background. However, he added that they may need time to understand technical innovations, and said he hoped that the regulatory authorities will recruit some professionals from a technical background who are likely to be better able to understand the technical side of fintech companies' products and the technologies they use.
Chen said that steps should be taken to increase the diversity of successful applicants for virtual banking licences. At present, most of the companies granted a licence are either big conventional financial institutions or subsidiaries of online heavyweights such as Ant Financial, Tencent, Ping An and Xiaomi. Chen argued that although these companies have experience in providing financial services on the mainland, this is not necessarily applicable to Hong Kong. He said that in the next round of applications, consideration should be given to companies like Futu - i.e. emerging fintech companies that are not very big but focus on the provision of financial and investment services in Hong Kong and have experience of serving Hong Kong investors.
Financial Sector Transformation
Asked about how to boost Hong Kong's status as an international business hub, Chen said the first priority should be to encourage the development of fintech businesses in the GBA. He believes that Hong Kong, being the GBA city with the most mature financial industry, should help other cities in the GBA. It should organise more regular exchanges of professionals through seminars, including those organised by government agencies in Hong Kong, Macao and the mainland; offer more tax breaks to fintech companies, especially startups (for example, over the handling of R&D expenses); provide infrastructure support to businesses, such as helping small and medium-sized enterprises open bank accounts; and further promote the "sandbox" model currently being implemented in Hong Kong.
Secondly, Chen said, it was necessary to increase investment in hi-tech industries. He agreed that the attention given by the Hong Kong government to hi-tech industries, including the introduction of virtual banks, has given a new impact to the banking sector, provided a platform for small and medium-sized enterprises to compete with conventional big banks, and promoted the transformation and upgrading of conventional banks. But he claimed that at present, Hong Kong's investment in new and high technologies is insufficient, especially when compared with that of mainland cities like Shenzhen and Shanghai.
Thirdly, Chen urged for changes in talent recruitment policies. He said bringing in more preferential policies in terms of family settlement, healthcare, education and taxation would stimulate the import of outstanding mainland and overseas talent into Hong Kong. Chen also called on the Hong Kong authorities to improve the speed with which they put policies into practice. He said that in order to match cities like Shenzhen and Shanghai, Hong Kong should respond with greater sensitivity to development trends in emerging industries. It should also be quicker and have a more targeted approach when it comes to the introduction of new policies. Chen believes that Hong Kong's strength lies in the stability and continuity of its policies, but when it comes to attracting businesses, it is not acting as quickly as some mainland cities. He thinks Hong Kong should put more effort into attracting companies to come to the city and start their business there.
Company interview conducted by PricewaterhouseCoopers Advisory Services Limited
---
Note 1: The opinions and views expressed are those of the interviewees and do not necessarily reflect the views of HKTDC or PwC. HKTDC or PwC shall in no way be responsible for the accuracy, completeness or timeliness of the information provided by them, and for any loss associated with the use of such information.
Note 2: This English version of the case study is translated by HKTDC based on the Traditional Chinese version prepared by PricewaterhouseCoopers Advisory Services Limited. Should there be any inconsistency or ambiguity between this English version and the Traditional Chinese version, the Traditional Chinese version shall prevail. PricewaterhouseCoopers Advisory Services Limited will not have or accept any liability, obligation or responsibility whatsoever for any loss, destruction or damage (including without limitation consequential loss, destruction or damage) however arising from or in respect of any use or misuse of or reliance on the English version of this case study.
Finance & Investment
Finance & Investment
Finance & Investment
Finance & Investment
Finance & Investment
Finance & Investment
Finance & Investment
Finance & Investment
Finance & Investment
Finance & Investment
Mainland China
Hong Kong
Hong Kong
Mainland China
Hong Kong
Hong Kong
Mainland China
Hong Kong
Hong Kong
Mainland China
Hong Kong
Hong Kong
Mainland China
Hong Kong
Hong Kong
Mainland China
Hong Kong
Hong Kong
Mainland China
Hong Kong
Hong Kong
Mainland China
Hong Kong
Hong Kong
Mainland China
Hong Kong
Hong Kong
Mainland China
Hong Kong
Hong Kong