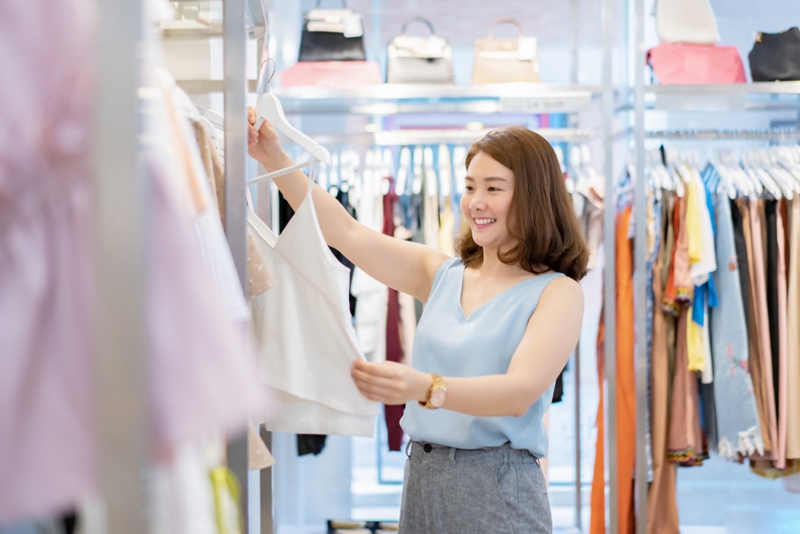 https://hkmb.hktdc.com/en/NjQwNDk1MzQ3
Thai Consumer Preferences: Clothing and Accessories
Middle-class consumers see fashion as the ultimate form of self-expression. Nowadays, clothes have more than a practical purpose. People feel more confident if what they wear matches up with their personality, identity and mood. According to a recent HKTDC research study, 86% of Thai consumers plan to spend more or about the same as they currently do on fashion apparel in the next three years. This presents a tremendous opportunity for fashion apparel brands which can keep across consumer shifts in fashion taste and accurately reflect the zeitgeist. Some of the fashion trends likely to affect this fast-changing and highly competitive business sector are discussed below.
Thai Consumers' Expected Changes in Spending Pattern in the Next Three Years (Products)
Categories

Spend More

Unchanged

Spend Less

Net
(Spend More - Spend Less)

Packaged Food and Beverages

54%

36%

9%

45%

Consumer Electronics
e.g. smartphone accessories and smart home devices

50%

38%

11%

39%

Home and Living
e.g. small home appliances and houseware items

43%

43%

15%

28%

Skin Care and Cosmetics

41%

40%

18%

23%

Fashion Apparel
e.g. bags and shoes, streetwear, and athleisure

34%

41%

25%

9%

Toys and Collectibles
e.g. traditional and digital toys, collectible figures

18%

37%

46%

-28%
Source: HKTDC survey
Fashion as a means of self-expression 
Both the survey and focus groups results revealed that middle-class Thais are increasingly seeking ways to express their individuality and reflect their self-image through what they buy and how they live. People feel more confident if the clothes they are wearing match up with their personality, suit their style and reflect their current mood. What people wear may not reveal their complete character, but it does provide an immediate snapshot of the image they want to present to the world. 
One comment that reflects this trend was made by a 32-year-old female survey respondent from Bangkok, who said: "Fashion is my favourite form of self-expression. No two people have the same exact personal style. Some people are shy while others are bold, but we can all show the world our distinct ways of approaching fashion, which can lead to a boost in self-confidence." 
Self-expression is the new currency in the fashion industry. Fashion brands need to match their products closely to their customers' experience and self-image. A fashion brand needs to develop a laser sharp image to convey to their special target customers. Also, it has to make sure that the image aligns with their brand story that is told through various digital and non-digital channels. 
Brands like Nike, Michael Kors, and Under Armour are some of the best-selling brands in Thailand. They have one thing in common – they all successfully manage to decipher their customer's lifestyle and understand what motivates them to develop a particular self-image. If the consumer feels that there is a broad similarity between their own self-image and the personality of a particular brand, this can create a powerful emotional bond between the customer and the brand. This makes the consumer more loyal to the brand and increases their lifetime value to the brand. 
Athleisure – when sport meets fashion 
Athleisure is another rising fashion trend in Thailand. Wearing casual but stylish outfits for nearly every occasion is common practice now, and this market segment is expected to keep on growing. 
Middle-class Thais prefer comfortable clothing which embodies an athletic and casual leisure time - the essence of athleisure. As one 28-year-old male respondent put it: "When I am grabbing a cappuccino in a coffee shop, or meeting friends for a drink after work, I don't want to be all dressed up and looking too serious, I want to feel comfortable and still look stylish. Sports performance clothing and footwear that has some kind of fashion design fits perfectly with my lifestyle." 
According to the ecommerceIQ E-Marketplace Survey Thailand 2018, Nike.com is the most visited website in the "fashion and apparel" category in Thailand, followed by Uniqlo, the e-marketplace Zilingo and streetwear e-retailer CarnivalBKK. This suggests that Thai shoppers prefer more comfortable clothing. Street fashion and athleisure outfits, like sneakers, yoga pants, tights, shorts, and leggings that can be both casual and trendy, are the most popular with Thai consumers. 
Zilingo is a fashion e-marketplace with thousands of sellers across south-east Asia. Its catalogue of best-selling items includes children's clothes (specifically, boys' clothes), casual shoes and sandals for men, basic dresses, casual and trendy sandals for women, and accessories (especially small handbags). This suggests its customers prefer casual wear and basics that can be dressed up or dressed down for work and play. 
The demand for comfort, style and performance in clothing and footwear has encouraged Thai consumers to include athleisure in their wardrobe. Many luxury and sport brands have already expanded their ranges to profit from this growing trend. 
Variety and sustainability 
The findings of the research reflected increasing awareness of global warming and climate change among middle-class Thais and their growing concern about the health of the planet. Fashion-conscious Thai consumers want variety, but at the same time they are concerned about sustainability. 
This shift in consumer trends has propelled the emergence of the resale and rental market. Consumers are likely to see a growing proportion of their wardrobes made up of pre-owned or rented products, especially when it comes to high-value items and accessories. A fashion rental model allows consumers to switch to a more sustainable and high-end alternative for the same budget. Some market players even predict that the resale market could be bigger than the fast fashion market within 10 years. 
The number of rental-native brands exclusively for rental or subscription models is predicted to increase. One noticeable example of this sort of brand in Thailand is Buch Runway, an online fashion rental platform for designer items which allows renters to temporarily own pieces from fashion labels around the globe. Buch Runway has something for every occasion, be it a grand ceremony, a date night, or just something that calls for a casual everyday look. Fashion for rent can help satisfy the conflicting desires of environment-conscious consumers for experiencing different things while avoiding irresponsible consumption. 
In response to consumers' increasing concern about the environment, another type of clothing that is predicted to gain a higher share of the fashion market is eco-friendly clothing. Explaining why Thai shoppers are turning to this, one focus group respondent said: "I am aware that the fast fashion industry is one of the biggest sources of pollution in the world. Clothing production is harmful to our planet. I'm willing to pay extra for eco-friendly brands. It is not only good for our planet, it is also good for our health as those products do not use chemicals and cause less pollution." 
Fashion brands that target this discerning middle-class market should be very careful what fabrics they use and what production methods they employ. Natural or recycled materials, organic pesticide-free cotton and low-impact dying are good choices. 
Influencers and fashion trends 
Another trend that fashion brands or suppliers need to become familiar with is the impact of Thailand's fashion influencers. No other B2C industry has thrived on Instagram quite like the apparel industry. With an audience willing to scroll and shop, Instagram has created unequalled opportunities for all apparel brands. 
The respondents in the focus groups are very well connected and love to follow popular influencers on platforms like Instagram and Facebook. They revealed that their purchase decisions are very much affected by influencers when it comes to fashion and apparel. Echoing this trait, one female respondent in Chiang Mai said: "I follow many influencers and shops on Instagram, and this is how I keep in touch with the latest fashion trends." 
According to Social Media Today, investments in influencer marketing could bring a return 11 times higher than that created by traditional forms of marketing, such as TV, print and desktop ads. Established fashion labels such as Zara and H&M, and smaller and unknown brands are all taking advantage of the reach and engagement of this visual platform. They attract and engage people with creative Instagram Stories, branded hashtags, shoppable ads, influencer-created content and so on. 
---
[1] The HKTDC conducted a consumer survey and four focus groups in the cities of Bangkok and Chiang Mai in April-September 2020. A total of 1,004 Thai consumers aged between 18 and 60, with a monthly household income of THB30,000 (US$930) or above, responded to the survey. The participants in the focus groups, as well as fulfilling the same age and income requirements as the survey respondents, had to be internet and mobile phone users, and to have travelled abroad at least once in the past year.
Garments, Textiles & Accessories
Sports Goods
ASEAN
Southeast Asia
Thailand