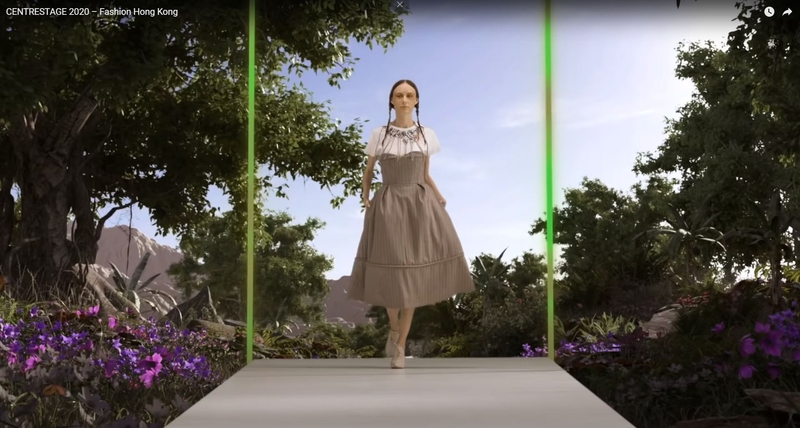 https://hkmb.hktdc.com/en/NjQ5OTk2NDc0
Navigating Covid-19: A Fashion Stylist
Hong Kong's fashion and accessories retailing sector has suffered significantly since the advent of Covid-19, with tourists virtually disappearing from the territory. In order to gain a deeper understanding of how local brands have responded to the pandemic, HKTDC Research recently interviewed Doris Kath Chan, Creative Director of DorisKath, to learn about how this haute couture brand – which is known for its cocktail, evening and business clothing – has broken into the mass market by actively developing popular casualwear lines. Making good use of social media marketing, DorisKath has also broadened its market propositions by offering total fashion image consulting and other value-added services, allowing it to develop new sources of income.
Creating New Product Lines
Local haute couture brand DorisKath is well-known for its attention to detail and finely embroidered dresses. Its most popular lines include cocktail and evening dresses, as well as ladies' business suits and blazers. The drastic decline in the number of business banquets and private parties due to the pandemic over the last year has dealt a resounding blow to the fashion and accessories sector, and DorisKath has not been immune.
In order to address the unprecedented challenges brought by the pandemic, DorisKath launched its first-ever casualwear series, both to maintain awareness of the brand and to broaden its customer base. Chan explained that this new venture has successfully infused elements of haute couture into casualwear, saying: "The design of this collection mainly makes use of the fine embroidery that we have always prided ourselves on to create visual changes that will enhance the fashion sense of white blouses. Our white blouses can be worn with vests, girdles and other high-fashion accessories, or worn comfortably on their own with jeans for a stylish look in line with the 'mix and match' characteristics of DorisKath designs."

Through this new casualwear series, Chan wanted DorisKath to broaden its customer base, break into the popular end of the market and enhance its brand awareness through offering creative designs at extremely attractive prices.

Chan knew very well that fashion brands must maintain elements of their accustomed design characteristics when creating new series in order to attract new customers without losing old ones. Citing DorisKath as an example, she said: "Fusion clothing that puts emphasis on the matching of single designs with different clothing styles is quite rare in the market. Most fashion items can only be worn on their own or with matching accessories, making clothing style monotonous. To the contrary, we focus on clever designs to create different clothing styles for a single piece of clothing through minor adjustments such as adding or removing some accessories or changing the arrangements.
"Our designs, both for haute couture and for the new casualwear series added during the pandemic, all feature the 'mix and match' characteristics of our brand. This experiment not only makes our casualwear series the hottest items of the season but also helps DorisKath consolidate its existing clientele and break into the mass market."
When analysing the feasibility of a new product, a fashion brand must carefully consider the degree of co-ordination in its supply chain to ensure that the product can be assembled without delays and to the desired quality standards. Chan said: "Since the connecting parts of handbags with various accessories are nimble and pliable and can fully embody the clever 'mix and match' designs of our brand, we take handbags into consideration when planning the launch of new products targeting the mass market. However, considering that we have difficulty visiting the factories of suppliers in person during the pandemic, we have ultimately decided to defer the launch of these products in favour of the white blouse series, which has greater feasibility."
New Media Marketing
Pressure on sales arising from the pandemic has driven more and more fashion brands to develop their online business. Chan agreed that this trend would generate new opportunities for local brands. She said: "As more consumers turn to online shopping, many local brands have grabbed the chance to step up online marketing. Since ingenious designs tend to attract younger consumers and stand out more in the social media, local brands can expect to see the dawn of a new era."
Meanwhile, some fashion brands are resorting to online sales and flexible approaches to physical commerce to reduce operating costs. Chan said: "Many local designers have given up the option of street-level shops and popular shopping malls in favour of online marketing. Some have even run pop-up stores and fashion bazaars on short leases in downtown areas in conjunction with other local fashion brands, and successfully attracted the attention and patronage of many local fashion lovers."
This model of 'flash marketing' is actually well-established in tier one cities in mainland China, where designers team up to stage joint fashion bazaars in high-end warehouses. The practice is less prevalent in Hong Kong; however, with the pandemic having dented the local retail rental market, more and more property owners are willing to offer short-term or temporary leases on street-level shops in downtown areas. As a result, this flexible model has been replicated across the territory in recent months.
Haute couture brands are also making use of online marketing. DorisKath, for example, launched its 2021 spring collection in last year's Fashion Hong Kong. Chan said: "In virtual shows, we are not only able to invite VIP customers to view our latest collection but can also provide relevant social media links in real-time to expand our audience. Both our B2C and B2B businesses have benefited from this."
In Chan's opinion, virtual fashion shows will likely take on more social media elements in future. Examples include signing up A-listers to attract fans or inviting key opinion leaders (KOLs) to provide real-time engagement with viewers to close the gap between haute couture fashion brands and the general public.
Chan is happy to see technology continuing to bring innovative changes to the fashion scene as new product launches switch to more flexible online models. She said: "Take fashion design as an example. If technologies such as rapid prototyping are more readily available with flexible charging methods, and if the sketching interface is more user-friendly, I believe more local fashion designers are happy to use these software tools. We can produce design sketches more swiftly for clients to suggest improvements, and communicate with them more effectively on the design."
However, Chan maintains that the online model will prove to be no substitute for offline services where haute couture design and production is concerned. Citing the customisation process as an example, she said: "Since different brands have different designs, designers tend to take measurements for customers themselves. When the semi-finished garment is made, they will arrange for fittings and make adjustments to ensure perfect fit."
Beyond Fashion Marketing
Chan stressed that she is committed to expanding what the DorisKath brand offers by providing customers with value-added services such as total image consulting. She said: "Times are changing and fashion designers should no longer confine themselves to fashion designing. They can provide image consulting services and advise clients on the matching of outfits and accessories, makeup and other styling design matters."
In fact, Chan has been providing image consulting services since she created her own brand in 2014. For example, she has created images and styling designs for various advertising, entertainment and other commercial firms. These jobs allowed her to hone her ability to communicate with different stakeholders in the process.
Demand for Chan's fashion image consulting services has only increased since the outbreak of the pandemic as more and more small and medium-sized businesses turn to online marketing. She said: "Faced with lockdowns, many beauty salon owners have to make use of social media to keep in touch with customers and share beauty tips while trying to sell beauty products online.
"This increasingly popular culture of social media marketing is generating new opportunities for those engaged in fashion image consultancy. We cater to our clients' requirements for a personal image and offer them styling designs that are attractive without being too flashy."
In addition to serving corporate clients, DorisKath has also launched short courses on fashion image design for fashion industry practitioners (such as makeup artists) and fashion lovers to help them improve their knowledge during the pandemic. These courses are another source of income for the brand.
Looking into the future, Chan plans to build a DorisKath channel on YouTube to share information and tips with fashion lovers around the matching of outfits and accessories, and to build the brand's image and popularity.
Garments, Textiles & Accessories
Education & Training
Garments, Textiles & Accessories
Education & Training
Garments, Textiles & Accessories
Education & Training
Garments, Textiles & Accessories
Education & Training
Garments, Textiles & Accessories
Education & Training
Garments, Textiles & Accessories
Education & Training
Hong Kong
Hong Kong
Hong Kong
Hong Kong
Hong Kong
Hong Kong
Hong Kong
Hong Kong
Hong Kong
Hong Kong
Hong Kong
Hong Kong