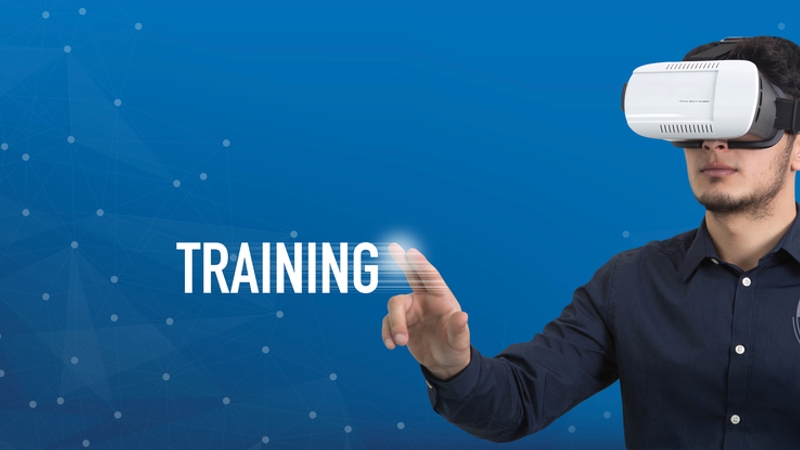 https://hkmb.hktdc.com/en/NjM3NjYyMDgx
The Post-Covid New Normal: VR Technology Boosts Training Efficiency
Human resources are vital to the development and success of a business. For this, most companies offer a diverse range of training courses to help staff unleash their potential, driving their growth alongside the business. Under the impact of the pandemic, many companies are rethinking their digital transformation strategy, and trying to incorporate new technologies in various areas. One example is the incorporation of virtual reality (VR) into training courses. HKTDC Research recently interviewed the founder of Market Trend Interactive Solution Limited German Cheung and his team to find out that VR can be effective in staff training, and enhance education and related development opportunities.
Debut in VR Marketing
Founded in 2010, Market Trend initially focused on providing one-stop digital-marketing solutions that include VR concept creation, VR advisory services, multi-media designs, app development and installation as well as on-site technical support. After years of development, Market Trend's capabilities are recognised by the industry as it has helped several prominent brands through the digital-marketing experience. For example, it has developed a touch-screen lucky draw mechanism for Standard Chartered Bank, in which qualified clients can participate simply by tapping the appropriate key on a touch screen. Through this innovative mechanism, the bank was able to effectively increase interaction with clients.
Since 2017, Market Trend has expanded its business scope by offering virtual sports solutions that combine VR with 4D sensory technology. This new effort was showcased when the company provided a simulator equestrian jumping game in the Joint Development • Shared Prosperity Exhibition organised by the Information Services Department to mark the 40th anniversary of China's reform and opening up. In the game, a player can experience horse-racing through a VR simulator, urging a horse to go faster by pulling the rein, and signalling it to jump an obstacle by pulling harder. Market Trend was also involved in developing AME Stadium – Hong Kong's first e-sports arena that incorporates sports with gaming. The company has devised solutions in virtual rowing, horse racing and cycling. In doing so, it has developed a multi-player battle system, an AI and AR virtual character creation system, human motion detection equipment, and calorie consumption analysis terminals.
Virtual Training
As businesses have become increasingly high-tech conscious, Market Trend started to develop virtual solutions to provide clients with a more effective way of training staff. So far, it has helped provide virtual training for several large companies, including Hong Kong Air Cargo Terminals Limited (HACTL) and The Hong Kong and China Gas Company (Towngas).
Highlighting the market's response to virtual training, Cheung said: "In Hong Kong, virtual staff training is still at a starting stage, so most companies find it unfamiliar and only a small number of companies are adopting VR technology in training their staff. Moreover, the way the technology is applied is rather limited – it's mostly used in high-risk technology industries." According to the 2018 Training and Development Needs Survey conducted by The Hong Kong Institute of Human Resource Management, though the tools used by Hong Kong companies in training their staff are increasingly digitalised and a considerable number of firms are beginning to embrace online training, just 3% of those polled said they were employing VR technology in staff training.
In contrast, virtual staff training has been extensively used in various sectors and industries in mainland China, Europe and the US. For example, multinational Walmart has been using VR technology to train its staff in soft power, such as response capabilities and communication skills. The aim is to provide a VR environment in which staff can experience in advance how to deal with busy shopping days and seasons such as the Black Friday1.
Safety the Top Advantage
Cheung believes that, compared with traditional training, VR has the advantage of bringing longer-term benefits to a business. Explaining that for high-risk industries, virtual training can better ensure the safety of trainees, he said: "Towngas, for example, regularly sends gas technicians to residential homes to inspect gas cooking equipment and outdoor gas pipes. To newly recruited trainees, the inspection procedures are repetitious and complicated. And, should there be a mishap, gas may leak or there may even be an explosion that could result in colossal losses. Therefore, if the trainees have fully rehearsed on a VR platform before attempting the actual procedures, they can more effectively circumvent the risks brought about by improper operation."
Cheung adds that Towngas is very satisfied with the effectiveness of the VR training course and has therefore started the second phase of co-operation with Market Trend to develop a VR training course in PE pipe2 electrofusion connection. He continued: "VR can also simulate an accident scene to a high degree of accuracy. For this, many public institutions are taking the lead in adopting virtual training in a bid to raise safety awareness in their staff while simultaneously promoting the importance of occupational safety."
Moreover, compared with traditional training, virtual training not only incurs lower expenses but also delivers higher efficiency. Cheung explained: "VR training courses indeed require a larger one-time investment. But to companies that have a long-term need to train staff, as long as there's no big change in course contents, the same course can be used for many years. Besides, as VR technology can support concurrent access by many people, it can effectively shorten training time."
In 2018, Market Trend designed a VR training course on aircraft maintenance for HACTL. Due to restrictions in venue space and resources, only one training aircraft was previously available for trainees to take turns practising. As the VR simulator system supports concurrent access by trainees, training efficiency is substantially raised. Cheung said: "In the past, trainees might make mistakes during their first actual practice that could lead to parts damage. Now, since trainees have undergone repeated training through a VR simulator system before carrying out actual practice, the risk of damaging expensive hardware has fallen drastically."
More importantly, every action can be quantified in a VR system, so trainers can now more accurately track the progress of trainees and check whether the steps taken are in the correct sequence. A company can even create big data from the training results to help continually improve training content and format.
A VR training course developed by Market Trend helps Towngas increase training efficiency.
Preparatory Planning Crucial
As to the care one should take in developing VR training courses, Cheung said: "It's very important to carry out thorough early-stage communication with the clients. Also, each step, each trigger point and the application of each part must be well planned. Steps added extemporarily during the development process will upset all the parts developed previously and result in extra costs and time."
Generally speaking, the first-stage development will take about one year, and the time will be shorter from the second stage onwards. Take HACTL's case as an example, Market Trend's project with HACTL is already at the third stage, and the development time for the second stage is already shorter than that for the first stage by three months.
Cheung explained: "Since clients are usually coming from diverse disciplines, our R&D team needs to be able to absorb new knowledge quickly so that they can learn well and understand the training course material provided by the client to develop effective VR training courses. If there is anything we don't understand, we will clarify it with the client before developing the course. During that time, we will also keep in close communication with the client to avoid hold-ups at a later stage."
Cheung also recommended inviting the client's trainers to participate in the development of a VR training course. "Trainers have a better understanding of where trainees usually make mistakes, so their participation can help increase the difficulty of the course concerned. This will allow the trainees to better appreciate the blind spots and points to note in the procedures and will make the whole training course more complete and the training more effective. Participating in the development of a training course will also make the trainers more skilful in the operation of VR equipment," he said.

New Applications Under the Pandemic
Other than training courses, VR technology can be applied to many other areas. During the pandemic, museums in Hong Kong have closed temporarily and exhibitions suspended. By setting up a virtual exhibition hall, Market Trend helped move the Science Museum exhibition Unlocking the Secrets – The Science of Conservation at the Palace Museum online, allowing the exhibition to be viewed without the need for people to leave their homes. In future, even after a physical exhibition has ended, people can continue to view the invaluable collections of the museum online at any time.
Market Trend is also collaborating with IOT Solution Limited to introduce Chinese history teaching materials with augmented reality (AR). By scanning an AR picture card, students are able to watch the corresponding three-dimensional animation on a tablet. AR teaching materials can help students understand abstract things more concretely while adding fun and interaction to the classroom. The education sector has responded to the AR Chinese history teaching platform enthusiastically and 80 secondary schools are said to be using it.
Commenting on the development of digital teaching in Hong Kong, Cheung said: "The mainland is more advanced than Hong Kong in this respect. For example, the concept of a virtual laboratory is widely adopted by many educational institutions on the mainland, whereas Hong Kong is still at the starting point. This means there is much room for development in Hong Kong." Market Trend would like to see the introduction of AR teaching materials in other subjects and is keen to promote the concept of a virtual laboratory.
Mainland Market Challenges
Looking forward, the mainland market is one of Market Trend's targets, but Cheung admitted it isn't easily cracked, pointing out: "On the mainland, the value of hardware far exceeds that of software, so much so that some customers reckon that software should be free if they are buying hardware. For this, if a Hong Kong company wants to expand into the mainland market, it cannot simply rely on replicating its business model in Hong Kong and focus on software. Instead, it will have to commercialise its products by integrating software and hardware into a complete set of products for sale."
Cheung said his company was now developing some gaming products consisting of both software and hardware and he hoped these could be launched on the mainland market. He believes VR technology, with its considerable development potential, will create new opportunities for Hong Kong companies.
---
1 Black Friday refers to the fourth Friday of November every year. The day usually heralds the start of the Christmas shopping season, and retailers launch large-scale promotions by offering steep discounts and favourable deals. Black Friday is one of the busiest days of the year for retailers.
2 PE (polyethylene) pipes are strong, corrosion-resistant and non-poisonous, and therefore used extensively in drains, gas, heating, and electric wires and cables.
Education & Training
Education & Training
Education & Training
Technology
Education & Training
Technology
Education & Training
Technology
Education & Training
Technology
Hong Kong
Hong Kong
Hong Kong
Hong Kong
Hong Kong
Hong Kong
Hong Kong
Hong Kong
Hong Kong
Hong Kong
Hong Kong
Hong Kong