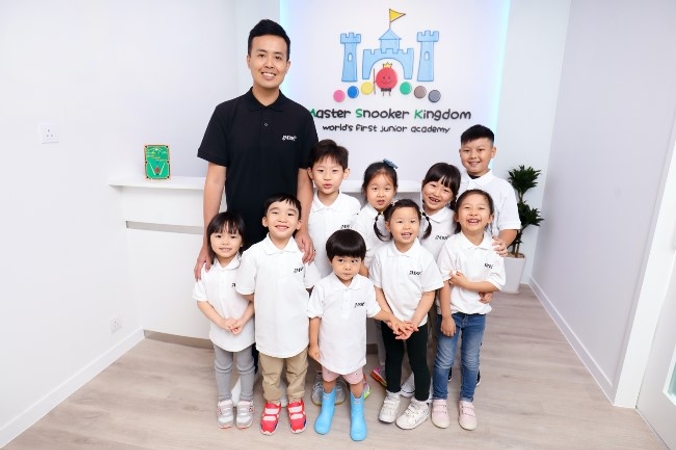 https://hkmb.hktdc.com/en/NjM1MzMzMTQ1
Navigating Covid-19: A Snooker Master
Every parent remains passionately interested in their children's development in spite of the Covid-19 pandemic. With public schools closing to contain the spread of the virus, parents have had to strike a balance between keeping their children safe at home and sending them out to take part in extra-curricular activities (ECAs) for the benefit of their all-round development. Facing this dilemma, many parents have begun to favour low-intensity sports during which participants do not need to take off their masks and are able to maintain social distancing to minimise the risk of cross-infection.
Taking advantage of this trend is Master Snooker Kingdom (MSK), the world's first-ever snooker school for children. It was founded by iconic Hong Kong snooker player Marco Fu and his two partners, Patrick Cheng and Baniel Cheung, who have a background in business and education. It has had a very good reception since its opening in June 2020 and is on track to achieve its first-year target of enrolling 200 students.
HKTDC Research interviewed the three founders of MSK, to understand more about how the company has adopted an unconventional approach to high-quality sport education that makes it more accessible to average households and incorporates games into each class. By creating a fun and rewarding learning experience, the school has managed to appeal to hundreds of parents and children in Hong Kong, despite the Covid-19 pandemic.
Cleaning the Slate
The sport of snooker has never appeared near the top of any list of ECAs for children, as it is widely perceived as a sport for adults. Historically, it had a somewhat dubious image too, as billiard and snooker establishments were once regarded as gangster hangouts. This perception is still to an extent reflected in a regulation that restricts those aged 16 or below from entering billiard establishments between 8 pm and 10 am, unless special permission has been granted.
In recent years, however, the sport has been destigmatised and is gaining recognition in Hong Kong, thanks mainly to the emergence of home-grown snooker players such as Marco Fu and Ng On-yee who have achieved outstanding results in international tournaments. This helps to explain why it has been included as one of the elite sports funded by the government through the Hong Kong Sports Institute (HKSI) since 2010.
Affordable, High Quality Education
In order to support the development of the sport still further, it is vitally important to boost the number of young people that play it. The opening of the world's first-ever snooker school for children, MSK, in Hong Kong in June 2020, by snooker star Marco Fu and his two partners, Patrick Cheng and Baniel Cheung, is a baby step in this direction.
While Fu's charisma has attracted many of his fans to the snooker school, the world's former No.5 snooker player is more than just a brand ambassador for MSK. He acts as the chief course coordinator, planning, designing and reviewing the entire curriculum, and the gatekeeper overseeing the quality of the school's coaches. The idea is to build a snooker school that can scale up as the student base grows, without compromising on the quality of the education it provides.
The school's current curriculum covers a wide range of levels of difficulty, from level 1 to 10. Learners aged between 4 and 10 are taught various skills and techniques in relation to the three core principles of snooker – bridge, grip and stance – alongside an associated knowledge of physics and mathematics as they move up to the higher levels.
The curriculum also aims at nurturing student's mental skills and traits, such as concentration, patience and resilience. Fu explained why these are important for a student to learn, saying: "If a player misses his first cue, his rival could end up clearing the snooker table in just one stroke. In those circumstances, the player has to keep quiet, and just watch and wait. This is a daunting challenge for any player, not to mention a child."
The school does more than just run courses certified by the Hong Kong Billiard Sports Control Council. It represents a novel approach to snooker education in which a top-class player uses his in-depth knowledge and years of experience to provide a visualised road map to help guide novice learners. Coaches guide learners in accordance with the well-structured curriculum, and students are expected to achieve every learning goal with regard to both technical and soft skills within the integrated framework for assessment in each class. All of the data and information will then be shared to parents and students for their review and improvement plan.
Such an approach is revolutionary in the sense that it provides a strategic role for an outstanding athlete like Fu. He can formulate a comprehensive training plan that can be made available to every novice learner, rather than just teaching a single student. In this way, it makes high-quality sport education more accessible to the average household.
Child-Oriented Approach
MSK has more than a universal education curriculum. Alongside its mission to promote cue sport to children, the school has also adjusted its educational approach, sports equipment and auxiliary facilities in order to fit the needs of child learners.
The school endorses a game-based learning approach. A father of two, Fu acknowledges the importance of engaging children in the learning experience and outcome. He used his experience of teaching his two young daughters to provide him with inspiration for how games can be incorporated into each class to achieve different learning goals.
For example, one of the tricks that he used with his daughters – an altered version of flying chess (a classic Chinese board game that most Hong Kong parents are familiar with) – is now one of the most popular games in his school.
This version replaces the rolling of a dice with hitting colour blocks marked with numbers. To illustrate how the reinvented game runs, Fu said: "Imagine that the chess player has just five steps from landing on the centre base to winning the game. He has to identify the combination of numbered blocks that add up exactly to the total of five and pot those snooker balls correctly. We've found that, through this game, child learners can enhance not only their shot-making accuracy, but also their mathematics skills."

The snooker school has its sports equipment and auxiliary facilities tailor-made as most of the standard snooker equipment is not suitable for young children to use, owing to their physical constraints. As the old saying has it, a man is only as good as his tools. This perhaps explains why Fu had a difficult time when he first practised cue sports at the age of eight, on a nine-foot tournament table using a standard 1.5m cue. To make things easier for the child population, Fu has specifically designed his snooker school cues and tables to be just one-quarter of the standard size. He believes this customised equipment is a good fit for the physique of child learners, and hopes it will help them master skills and techniques which are transferrable when they switch to standard equipment at a later stage in their development.

Omnichannel Education
In its first five months of operation, MSK has earned the trust of hundreds of parents in Hong Kong who have enrolled their children in the school's courses. In order to expand its coverage, the snooker school is planning to collaborate with schools, clubhouses and community centres across Hong Kong to offer outreach cue sports education and training services. Cheng believes this multifaceted approach will help the school to achieve its goal of boosting the popularity of cue sports among Hong Kong's child population, without having to take the significant risks involved in rapid commercial expansion.
The Covid-19 pandemic has also encouraged MSK to explore an omnichannel approach. In December 2020, it launched an at-home snooker kit with foldable snooker tables and auxiliary equipment as well as a series of tutorial videos by Fu. Cheng pointed out that the at-home kit could be a great Christmas gift, because it is not only a cure for the boredom triggered by the Covid-19 lockdowns, but is also a good tool to enhance parent-child bonding.
MSK is now eyeing the broader Asian market, including Japan and the Greater Bay Area (GBA), and is looking to promote cue sports to the next generation across the world.
Sports Tech Under Development
MSK is exploring the application of technologies like artificial intelligence (AI) and augmented reality (AR) in snooker education. Some of the initiatives have been supported by public funding such as the Cyberport Creative Micro Fund (CCMF). Discussing the school's first publicly-funded sports tech project that runs for six months from October 2020, Cheung said: "As the first CCMF-funded project, we aim to develop a prototype of how AR technologies can be applied to snooker training, especially in terms of aiming techniques."
Cheung added that the school is now planning to kick-start its second AI-related project, saying: "In the second phase, we aim to develop AI technologies that can be used to identify in an objective way when a player has the wrong posture and gesture. This will allow coaches to adjust training schedules accordingly to help learners overcome their weaknesses and reinforce their strengths."
Expounding further on the advantages that AI can bestow, Fu said: "In addition to gesture and posture detection, AI technologies can be used to analyse the weaknesses and strengths of your rivals in a competition – an application that is uncommon in snooker sports but is commonly seen in any football match."
Education & Training
Education & Training
Education & Training
Education & Training
Hong Kong
Hong Kong
Hong Kong
Hong Kong
Hong Kong
Hong Kong
Hong Kong
Hong Kong