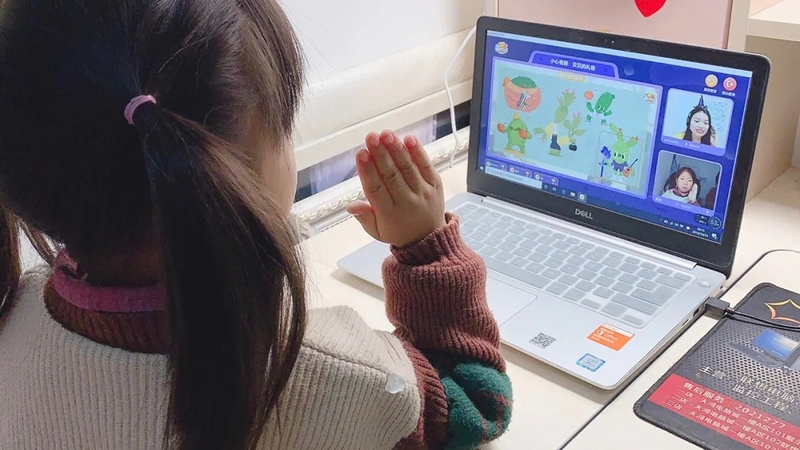 https://hkmb.hktdc.com/en/NjIzMTk0MjQ2
The Post-Covid New Normal: The Mainland Online Early Education Opportunity
In recent years, China's online education sector has expanded steadily, with both its market size and user numbers registering significant growth. The value of the mainland e-learning market is projected to top RMB540 billion this year1 , with over RMB150 billion of that total accounted for by the K-122 e-learning segment. The market potential is enormous. In an interview with HKTDC Research, Li Wei, CEO of Guangzhou-based Liuyi Education, outlined his company's operation model and principles and discussed the development of and outlook for online education platforms in China.
Online Education for Children
Liuyi, which was founded in 2014, is a specialised online arts education institute targeted at young children on the mainland. Its core founding members are well-known listed enterprises in the children's education field. It has its headquarters in Guangzhou and operates branches and teaching R&D bases in Beijing, Shanghai, Xian and Wuhan. As of July 2020, the company employed more than 2,800 people. This workforce includes experts on young children in various spheres, including young children's fine arts, pedagogy and child psychology. They have an in-depth knowledge and rich experience of quality-oriented education for children.
Liuyi offers three major product lines - an online arts education for children named Hualala Art, a general studies product line called Hualala Xiaodengta (or 'little lighthouse'), and Gubi AI classes. The development of Hualala Art, which was launched in 2015, is based on the growth characteristics of young children aged 5-12. In 2020, it was named the No.1 brand in online arts education for young children by the Guangzhou Internet Society. Hualala Xiaodengta was introduced in 2018. It provides video courses on general studies to children aged 3-12 on an innovative platform with carefully selected materials. In April 2020, there were more than 7 million registered users of Hualala Art and over 500,000 paid users, while Hualala Xiaodengta, had more than 5 million paid users and 2 million active users.
"Smart+ Education" Era
According to Li, e-learning on the mainland has journeyed through the stages of "digitised education"3, "internet+ education"4, "mobile+ education"5, before arriving at the present "smart+ education"6 era. This is characterised by a fine vertical division of learning sectors, diversity in forms and resource sharing. Based on the target groups' age range, the market can be divided into the submarkets of pre-school education, K-12 education, tertiary education, language training and vocational qualifications training. Classified by function, e-learning courses come in five categories - question-answering, tools, tutoring, guidance and question banks. Explaining where his company's products fit into this, Li said: "Hualala, offering products in the form of live online classes, falls under the guidance category."
Hualala uses small-class teaching with a ratio of 1:6. Under this model, children are both partners and competitors with each other. It has effectively addressed problems associated with the traditional 1:1 teaching mode, such as a lacklustre learning atmosphere and the difficulty of keeping children's attention. Describing how it works, Li said: "As opposed to language education, in which a child engages the teacher intensively, art education is more about the teacher giving guidance by the side of students who have a lot of time by themselves while drawing pictures. This is a subject well-suited to small-class teaching."
The 1:6 model generates a much higher return in terms of operational efficiency than the 1:1 model. In the case of a 50-hour course, for example, each student in a 1:1 class is charged RMB6,000 while those in a 1:6 class pay RMB4,000, raising a total of RMB24,000. Li pointed out that this economic advantage allows his company to provide a better service, saying: "Given secure profit margins and a positive cashflow, we can employ full-time teachers to guarantee teaching quality. Compared to part-timers, full-time teachers are more stable, making it possible for us to standardise our training and management practices. A more structured curriculum with better continuity can also be put in place."
Importance of Teaching Research​​​​​​​

Li pointed to Hualala's emphasis on teaching research, highlighting the company's innovations and breakthroughs in three areas: curriculum development, teaching models and its teaching and research team. In the area of curriculum development, Hualala has brought in K-12 core arts learning standards from the US and put together an online arts education curriculum tailored to young children in China. Children's sense of aesthetics is cultivated through teaching based on internationalised education principles and modern teaching approaches. Regarding teaching models, Hualala has invented its own 3T model, comprising Teammate (implementing 1:6 small-class teaching), Teacher (highly-experienced full-time teachers delivering online lessons) and Tutor (a class teacher tracking and updating parents on children's learning progress throughout a course). When it comes to its teaching and research team, importance is placed on both teachers' qualifications and teaching research, and strenuous efforts are made to improve course quality and teaching effectiveness. Hualala has a 1,300-strong full-time teaching team, with most of the teachers carefully picked from major arts schools from all over the country. A dedicated R&D team for curriculum development has also been set up, consisting of experts in the areas of fine arts, child psychology, early childhood education, and so on. Because students' demands change constantly, the team is continually refining products to cater to students' needs and diverse abilities.
Hualala relies primarily on users' word-of-mouth to promote its products. To trigger this word-of-mouth marketing, the company must impress customers with its top-quality courses. Li is convinced that the best promotion tactic is to offer the best products, saying : "For education products, this is the most effective marketing approach." Indeed, current users' word-of-mouth has so far proved to be a good form of viral promotion for expanding Hualala's user community. Potential upstream users are also identified through Hualala Xiaodengta.
Technological Innovation the Core Driver
Li believes that technological innovation is the core engine propelling the growth of online education platforms, and so Liuyi gives top priority to R&D. The company has continuously upgraded its technological applications and deployed advanced technologies like NLP (Natural Language Processing), big data analytics, face recognition and facial expression recognition to enhance interactions during classes and students' learning experience. This is done in several ways:
Firstly, through the application of NLP, students' learning behaviours, habits and interests are recorded in order to make projections about their ratings and course preferences. Personalised files for each student are created to offer more individualised services and provide custom-made classes and learning experiences.
Secondly, big data analytics is deployed across different stages of the teaching process. This helps record each student's learning process on Hualala's different platforms, and a learning report is compiled and passed onto teachers and parents. The report highlights areas warranting attention so that teachers can target students' weaknesses and help them improve in future classes.
Thirdly, via the use of face recognition and facial expression recognition technologies, teachers can get real-time feedback to help them interact better with their students. Students' level of concentration and ability to digest teaching materials can be assessed by analysing their faces and facial expressions. The information is then fed to the teachers in real time, so that they can adjust their teaching methods and content accordingly. Not only is the teaching quality enhanced, but young children's ability to focus can also be fostered.
Hualala has also developed its own online arts teaching system Art-Cloud and one-stop competitions service platform Art AI. Art-Cloud raises the quality of teaching by improving the speed, clarity and compatibility of transmission, and provides users with customised services based on their needs for different courses and actual circumstances. In this way, their learning experience can be greatly enhanced. Art AI uses artificial intelligence and big data analytics to link up with major domestic and overseas competitions. Individual files are opened for all students joining competitions. They are offered smart services and coaching for competitions.
Opportunities and Challenges Under Covid-19
The coronavirus pandemic has brought both opportunities and challenges for online education platforms. Forced to stay home, a great number of parents are switching to e-learning for their children, raising the penetration rate of online teaching. As a result, online teaching platforms are enjoying brisk business, lowered customer acquisition costs and increased profit margins, ushering in a golden age for the sector. On the other hand, the pandemic has accelerated the pace of offline learning institutions going online, escalating competition and speeding up the elimination of those that are not up to par. Li believes that, in the post-pandemic era, only platforms with a mature operation model offering quality teaching will survive in the long run.
Compared to traditional bricks-and-mortar learning institutes, online education platforms offer some unique advantages. At the same time, they also have their own limitations. From a student's perspective, e-learning overcomes the time and space constraints associated with offline learning and satisfies the demand from both parents and students for diversified and personalised education. However, students may find their own self-discipline and motivation to learn are put to the test. For education institutions and teachers, meanwhile, online teaching makes teaching easier and more effective while bringing in more revenue. Yet it is also more demanding on teachers as higher teaching standards are expected.
Li warned that when a conventional offline teaching institution goes online, it may face problems in two aspects - technology and teaching. Technology wise, a conventional offline institution's teaching team often lacks an "internet mindset" and the capacity to develop its own products. It is therefore advisable to engage a third-party platform to provide the technical support for live online classes.
In the area of teaching, teachers who are accustomed to the traditional face-to-face teaching mode and are short of online teaching experience often find it hard to manage the pace and atmosphere of live online lessons properly and guarantee teaching quality and effectiveness. Li says institutions should provide systematic training for teachers, encourage them to change their teaching mindset, and equip them with online teaching skills. This will help them progressively adapt to online interactions with students.
Bright Prospects
Online teaching can overcome geographical constraints, reaching people in multiple locations in ways that traditional offline education cannot do. While the majority of Hualala's users are mainland children, many come from Hong Kong, Macao, Taiwan and overseas, and the numbers from these areas continue to grow. Li says learning institutes and practitioners in Hong Kong should be more open-minded and proactive in seeking collaborations with quality e-teaching platforms, so as to introduce more sophisticated education concepts and teaching modes to Hong Kong children.
Looking ahead, Li believes that there are plenty of opportunities for projects in sectors related to quality-oriented education. One reason for this is that the country is implementing policies which support and encourage the development of quality-oriented education and is stepping up its efforts to drive forward education reforms. Moreover, the post-80s and post-90s generations, who have now become parents, are pursuing quality, diversified education for their children to help boost their imagination, creativity and practical skills.
There is also, Li says, good potential in developing interest classes for adults. As disposable income surges following a rise in living standards, many people - especially white-collar female workers and some full-time mothers with high education attainments - aspire to a richer spiritual life. Education institutes which can offer quality, meticulously-designed adult interest classes and services to meet these groups' specific needs will find their prospects to be very promising.
---
1 Report of the Key Laboratory of Big Data Mining and Knowledge Management of the Chinese Academy of Sciences
2 K-12 education refers to the education of a child from kindergarten to grade 12 (equivalent to High School Year Three in China). It is also known as basic education.
3 "Digitised education" refers to teaching using multi-media such as multi-media classrooms and tablet computers.
4 "Internet+ education" refers to an education mode integrating internet technologies and education.
5 "Mobile+ education" refers to education carried out in a mobile learning venue or using mobile teaching tools.
6 "Smart+ education" uses Internet of Things and cloud computing information technologies through smart computer programming to drive education informatisation and thus enhance the quality and effectiveness of teaching.
Education & Training
Education & Training
Education & Training
Education & Training
Education & Training
Education & Training
Mainland China
Hong Kong
Hong Kong
Mainland China
Hong Kong
Hong Kong
Mainland China
Hong Kong
Hong Kong
Mainland China
Hong Kong
Hong Kong
Mainland China
Hong Kong
Hong Kong
Mainland China
Hong Kong
Hong Kong