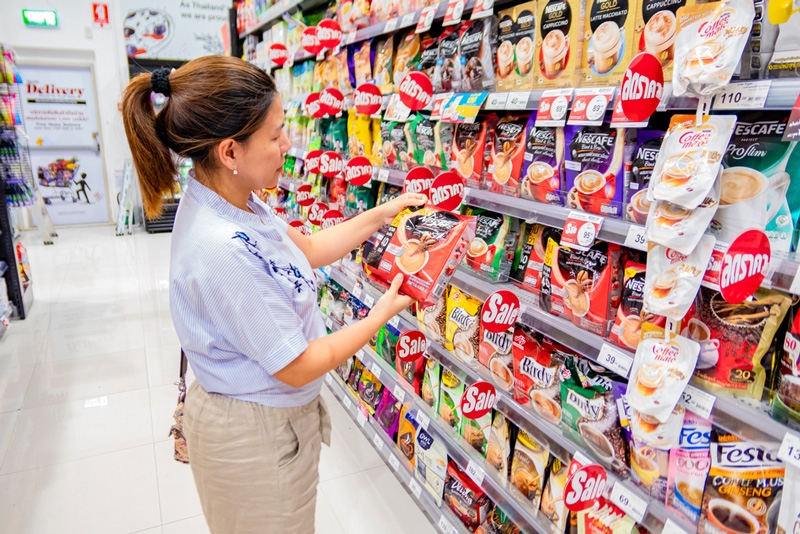 https://hkmb.hktdc.com/en/NjI4MzczNzA2
Thai Consumer Preferences: Packaged Food and Beverages
In a recent HKTDC Research study, 91% of the Thai consumers surveyed planned to spend more or about the same as they do now on packaged food and beverages in the next three years. Focus groups also revealed that middle-class consumers are keen on small indulgences such as coffee, ice cream, cakes, chocolates, crispy snacks, and so on. Respondents were especially interested in imported packaged food and beverages that are not found in Thailand. When they find something interesting or tasty, they are eager to recommend it to their friends and share it on social media. 
As the packaged food and beverage market in Thailand is highly competitive, players often launch new products, run discounts and promotions, bring innovative products to the shelves, and start advertising campaigns to cut through the competition and drive value sales. Some of the trends driving growth in this sector are discussed below.
Thai Consumers' Expected Changes in Spending Patten in the Next Three Years (Products)
Categories

Spend More

Unchanged

Spend Less

Net
(Spend More - Spend Less)

Packaged Food and Beverages

54%

36%

9%

45%

Consumer Electronics
e.g. smartphone accessories and smart home devices

50%

38%

11%

39%

Home and Living
e.g. small home appliances and houseware items

43%

43%

15%

28%

Skin Care and Cosmetics

41%

40%

18%

23%

Fashion Apparel
e.g. bags and shoes, streetwear, and athleisure

34%

41%

25%

9%

Toys and Collectibles
e.g. traditional and digital toys, collectible figures

18%

37%

46%

-28%
Source: HKTDC survey
Small Indulgences 
The responses from those in the focus groups reflected the desire among middle-class consumers for small indulgences when it comes to food. One respondent commented: "As my income rises, my list of guilty pleasures has become longer - ice cream, cakes, chocolates, crispy snacks, and so on. As for packaged food and beverages, I prefer imported items as there are many different tastes from all over the world and it's exciting to find something new and special from abroad." 
As families follow stay-at-home advice to help slow the coronavirus pandemic, people find themselves spending a lot of time watching TV and browsing on the internet. Packaged foods and beverages have become an indispensable way of relieving stress in these uncertain times. 
Connecting People  
Most respondents in the focus groups view food as a great unifier that allows people to connect and relate to one another across cultures. Food also operates as an expression of cultural identity and it can propel people to another time, place or culture without them even leaving their own home. 
Most of the time, food is a starting point for learning about and exploring a different culture. A country or community's cuisine can reflect its history, lifestyle, values, and beliefs. Explaining how this can influence behaviour, one focus group respondent said: "When I am in a foreign country, the first thing I am interested in is its local food. Trying the local favours is the fun part of travelling, as is discovering some packaged food to take home to my family and friends." 
Healthier Eating  
The consumer survey found that health and wellness is a dominant trend in Thailand. Increasingly health-conscious consumers are trying to take care of themselves through their food choices, driving demand for products that are low in sugar, high in fibre, low-calorie, and free from additives and preservatives, as well as organic fruits and vegetables, 100% fruit juices, energy drinks, and so on. Companies are introducing healthier items to the market in a bid to entice consumers to trade up. 
New opportunities present new challenges. While food companies are focused more on developing value-added products for niche groups such as the sporty type, the health-conscious type, or the elderly, they also need to differentiate their products so that they truly stand out in terms of integrity and quality. They should focus on winning strategies that can build brand trust, with the consumer's health and wellbeing in mind. 
Speed and Convenience  
Increasing numbers of Thais are living in cities and buying different types of food as their lifestyles change. Work hours are increasing, traffic problems are becoming more severe and there are more full-time working women. Speed and convenience are increasingly becoming high priorities for busy Thai consumers who are always on the move and short on time to cook. This is driving sales of ready meals and pre-cooked meals. Shrinking family sizes are also generating demand for products packaged in smaller quantities. 
The development of e-commerce in the food and beverages sector has finally taken off amid the coronavirus pandemic as people cook more at home while restaurants are closed down. The key challenges in this sector are facilitating the fast delivery of perishable goods, solving the "last mile" problem, and reducing the high cost of same-day delivery. 
---
[1] The HKTDC conducted a consumer survey and four focus groups in the cities of Bangkok and Chiang Mai in April-September 2020. A total of 1,004 Thai consumers aged between 18 and 60, with a monthly household income of THB30,000 (US$930) or above, responded to the survey. The participants in the focus groups, as well as fulfilling the same age and income requirements as the survey respondents, had to be internet and mobile phone users, and to have travelled abroad at least once in the past year.
ASEAN
Southeast Asia
Thailand