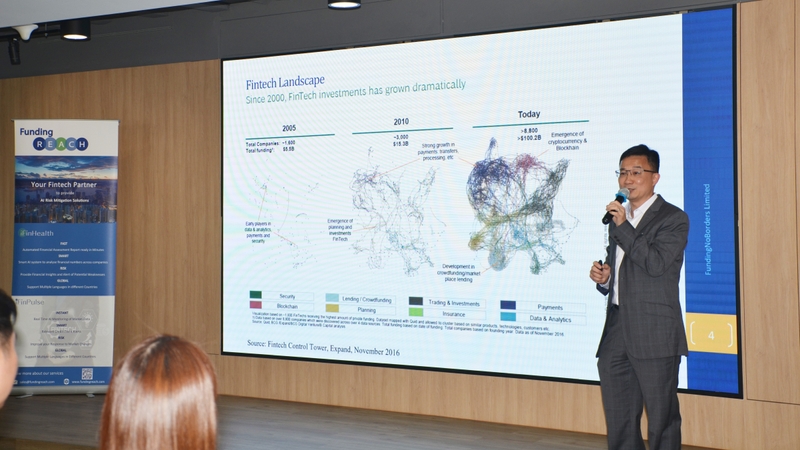 https://hkmb.hktdc.com/en/NjEyNjc3OTM2
Navigating Covid-19: A Compliance Risk Controller
While the Covid-19 pandemic has dealt a severe blow to economic activities around the world, it has also expedited the transformation and upgrading of the global economy. According to the latest International Monetary Fund (IMF) projections, the global economy will contract by 4.4% in 2020. Despite vigorous efforts made by governments the world over to implement various relief measures and quantitative easing policies to revive the economy, businesses are still facing unprecedented liquidity and capital flow crises amidst the volatile pandemic situation. Meanwhile, the economic nosedive has also triggered xenophobic calls for deglobalisation and trade protectionism, which have created further tensions in international economic and trade relations.
Against this backdrop, companies not only have to devote great efforts to keeping close tabs on their own financial position as well as their business partners', but also have to watch out for compliance risks which are becoming increasingly rampant around the world. In view of this, FundingReach, a Hong Kong fintech company, has in recent years launched a number of artificial intelligence (AI) empowered credit and compliance risks assessment solutions aimed at helping enterprises in Hong Kong and in the Guangdong-Hong Kong-Macao Greater Bay Area (GBA) to manage their risks more effectively.
Compliance Technology Taking Off
FundingReach was established in 2016 at the time when the Panama Papers scandal erupted. The scandal, involving the leaking of millions of confidential documents, exposed how a certain law firm headquartered in Panama helped its clients with money laundering, tax evasion, and sanction dodging. The case shook the world and aroused the attention of governments across the globe. It also prompted regulatory and law enforcement bodies in various countries and territories to strengthen co-operation with the financial sector pertaining to compliance.
Hong Kong, as an international financial centre, is a bridgehead for maintaining international financial stability and fighting financial crimes. In this regard, the Hong Kong Monetary Authority (HKMA) launched the Fintech Supervisory Sandbox (FSS) in September 2016, allowing the industry to conduct pilot trials of different fintech initiatives in an effort to promote the development of fintech and compliance technology in Hong Kong. As of September 2020, this arrangement has served a total of 85 compliance technology projects.
FundingReach grew from a startup company with only four members, to a financial compliance technology team of over 30 members within a matter of four years. William Lam, CEO of the company, said: "Back then, we found that the 'frontline' of fighting financial crimes was gradually moving towards the banks and other financial institutions. However, financial institutions might not necessarily have sufficient ability or manpower to cope with these changes and handle the large number of regulatory compliance requirements. In light of this, we collaborated with the University of Hong Kong's Faculty of Engineering and, with the support of Cyberport and the Innovation and Technology Fund, invested in research on AI applications in financial compliance. Eventually, we launched our first technology solution for credit and compliance risks assessment successfully in 2018."
FundingReach's compliance technology solutions are very popular with the financial sector in Hong Kong. Up to now, the company has served over 1,000 licensed financial institutions, including banks, insurance companies, accounting firms, law firms and securities companies. Among these, the growth of its market share in the insurance sector is the fastest, accounting for almost 30%. More encouragingly, the company's business growth has not been impacted by the coronavirus crisis. Lam said: "Fortunately, we managed to win 500 new clients during the pandemic. This shows that Covid-19 has not lowered the financial sector's standards of and service demand for compliance."
Lam reckoned that amidst the pandemic, the financial regulatory and enforcement bodies in Hong Kong and around the world find it absolutely necessary to maintain a high level of standards compliance requirements.
Hong Kong is a key player in co-ordinating global anti-money laundering efforts. Its performance in this regard is exemplary on the international stage. Moreover, Hong Kong is a member of the Financial Action Task Force (FATF) [1] on fighting money laundering and has been actively participating in, and making valuable contributions to, supervising and preventing money laundering, as well as conducting anti-money laundering investigation and law enforcement on an international level.
Managing Increasing Compliance Risks
In accordance with the Laws of Hong Kong Cap.537 United Nations Sanctions Ordinance, all individuals and legal entities in Hong Kong must comply with the "complete or partial economic and trade embargoes, arms embargoes, and other mandatory measures decided by the Security Council of the United Nations, implemented against a person or against a place outside the People's Republic of China". In this connection, the Commerce and Economic Development Bureau, Trade and Industry Department and relevant regulatory bodies have provided the local business community with the necessary guidelines and lists of entities subject to sanctions.
However, in recent years, some sanction cases have set precedents which have made it necessary for Hong Kong companies to look beyond UN's sanction measures in the course of compliance risk management. In his analysis of such cases, Lam said: "Take Huawei Deputy Chairwoman of the board Meng Wanzhou's case for example. As representative of Huawei, Meng was accused by the US of violating the country's trade embargo against Iran by selling computer equipment and sensitive technology produced by US businesses to Iranian companies. She was subsequently arrested by the Canadian police, at the request of the US government under mutual legal assistance treaties, while transiting through Canada.
"Although the sanctions imposed by Canada on Iran do not cover sensitive technology and equipment originated in the US, the persons involved could still be liable for extradition in the name of committing other extended offences and could eventually be extradited to other jurisdictions for trial of compliance breaches.
"This case sent out three important messages to business communities around the world. First of all, the country or territory imposing the sanction measures can, through mutual legal assistance treaties, implement these measures far and wide. In light of this, Hong Kong companies do not only have to follow the guidelines on sanctions imposed by the UN and other countries, they also have to take note of the agreements for mutual legal assistance in criminal matters, surrender of fugitive offenders agreements, and agreements on the transfer of sentenced persons reached between different jurisdictions. Below is an overview of the relevant agreements signed between Hong Kong and other countries and territories.
Lists of Agreements for Mutual Legal Assistance in Criminal Matters, Surrender of Fugitive Offenders Agreements, and Transfer of Sentenced Persons Agreements

 

Agreement for Mutual Legal Assistance in Criminal Matters (1)

Surrender of Fugitive Offenders Agreement (1)

Transfer of Sentenced Persons Agreement (2)

Australia

Agreement suspended

Agreement suspended

Agreement in force

Belgium

Agreement in force

No agreement

Agreement in force

Canada

Agreement suspended

Agreement suspended

No agreement

Czech Republic

Agreement in force

Agreement in force

Agreement in force

Denmark

Agreement in force

No agreement

No agreement

Finland

Agreement in force

Agreement in force

No agreement

France

Agreement in force

No agreement

Agreement in force

Germany

Agreement in force

Agreement suspended

No agreement

India

Agreement in force

Agreement in force

Agreement in force

Indonesia

Agreement in force

Agreement in force

No agreement

Ireland

Agreement in force

Agreement in force

No agreement

Israel

Agreement in force

No agreement

No agreement

Italy

Agreement in force

No agreement

Agreement in force

Japan

Agreement in force

No agreement

No agreement

South Korea

Agreement in force

Agreement in force

Agreement in force

Malaysia

Agreement in force

Agreement in force

No agreement

Mongolia

No agreement

No agreement

Agreement in force

The Netherlands

Agreement in force

Agreement in force

No agreement

New Zealand

Agreement suspended

Agreement suspended

No agreement

Philippines

Agreement in force

Agreement in force

Agreement in force

Poland

Agreement in force

No agreement

No agreement

Portugal

Agreement in force

Agreement in force

Agreement in force

Singapore

Agreement in force

Agreement in force

No agreement

South Africa

Agreement in force

Agreement in force

No agreement

Spain

Agreement in force

No agreement

Agreement in force

Sri Lanka

Agreement in force

Agreement in force

Agreement in force

Sweden

Agreement in force

No agreement

No agreement

Switzerland

Agreement in force

No agreement

No agreement

Ukraine

Agreement in force

No agreement

No agreement

Thailand

No agreement

No agreement

Agreement in force

United Kingdom

Agreement suspended

Agreement suspended

Agreement in force

United States

Agreement suspended

Agreement suspended

Agreement in force

Total number of agreements in force

25

13

15

Source: Department of Justice

(1) As at 5 September 2020

(2) As at 22 April 2020  ​​​​​
"Secondly, the sanctions targets are not limited to organisations involved in activities such as extreme terrorism and human trafficking. In the case where a legal person in a third country or territory has dealings with a sanctioned country, territory, institution or person, it is possible that the legal person concerned would be subject to 'secondary sanctions'. As such, not only regulated financial institutions must have detailed knowledge of the background of their clients, other stakeholders involved in the dealings must also have a good grasp of such information so as to avoid violating the law unknowingly.
"Thirdly, the above-mentioned case set a precedent for extending the definition of 'double criminality' as the basic condition for extradition. In other words, when the inchoate offence was committed, in the context of 'the suspect has violated the law of both the signatory parties concerned', the law alluded to here is not necessarily confined to the law enforced in the two signatory parties in question. This has greatly lowered the threshold for extraditing fugitive offenders under mutual legal assistance agreements. In this connection, Hong Kong companies engaged in international transactions must keep a keen eye on the laws and sanction measures implemented by countries around the world."
At present, the compliance departments of most financial institutions such as banks still rely on manual labour to collect client information, which is time-consuming and ineffective. Since such information has to be updated constantly, and the banks have to use a lot of time and human resources to get the job done.
In an effort to meet financial sector demand, FundingReach uses machine learning to provide industry players with faster and cheaper compliance solutions. Lam said: "Our apps offer 24/7 service tracking over 50,000 global online data sources, including sanction measures and sanction lists, company official websites and news websites all over the world. In view of the close economic and trade ties between Hong Kong and the mainland, we have built a mature and comprehensive database for the Greater China region. We can even provide information on records of criminal cases, civil lawsuits and bankruptcy cases handled by courts at different levels in various provinces and cities across the mainland."
FundingReach keeps in close contact with its clients in order to gain a good understanding of their business partner network, including information about management, stakeholders and major trading partners. The company's iFinGate artificial intelligence (AI) technology serves to screen relevant reports and analyse their impact on compliance risks. Lam remarked that FundingReach's AI natural language processing (NLP) system is currently capable of processing English and Chinese texts, and is expected to move towards processing other languages in the near future.
He said: "Our data is updated automatically every day in the small hours. Once the people or organisations being tracked are put on the sanction lists or appear in negative reports, our clients will receive the necessary information first thing in the morning.
"Generally speaking, traditional compliance consultant companies charge over HK$100 per background check on a single trading partner, which explains why financial institutions including banks usually only conduct routine risk assessment once a year. By comparison, our company provides compliance 'search' service for our clients anytime, anywhere, at a cost as low as HK$0.01 per search, which helps clients find out about the latest credit rating and compliance status of their trading partners. We also offer different annual plans for clients to choose from. Our fee for monitoring the compliance status of 10,000 individuals or organisations for 365 days a year is only HK$30,000."
Expanding to GBA
Lately, FundingReach has received an increasing number of enquiries from industry players other than financial institutions subject to compliance. Since many Hong Kong companies engaged in international trade (especially with factories in Vietnam, Cambodia and Thailand etc) provide credit to buyers, they need to assess buyers' ability to pay and are therefore eager to get information about these markets.
Lam cited an example, saying: "A petrol company headquartered in Hong Kong once faced a grave financial problem because its subsidiary in Singapore had an emergency. On the day the incident occurred, it was covered by the media in Singapore, the UK and Malaysia, yet the case was only reported in the Hong Kong press three weeks later. In this regard, our iFinPulse AI system, which digests media reports in Chinese and English around the world 24 hours non-stop, can help clients keep abreast of any news unfavourable to their business."
Separately, FundingReach's iFinHealth AI system allows businesses quick access to their trading partners' financial health and credit risks. FundingReach's research team responsible for carrying out credit risk assessment is made up of various international financial institutions' risk management department heads who have rich experience in corporate financial analysis. These experts add their experiences to the AI system. By supplying their target trading partners' stock code or financial statement, clients can obtain the required financial health assessment report within a few hours.
Lam said: "Different countries or territories have different financial issues. For instance, we pay close attention to the return on assets of companies in emerging markets, especially companies whose sales value and profit margin keep growing, while at the same time they keep borrowing to buy equipment and land.
"We once came across a company whose profit kept rising, yet the collection time for accounts receivable was getting longer and longer. After in-depth investigation, we found that the company in question made use of its affiliated companies to engage in some fraudulent financial activities. All these analytical skills built on our experience, including return on assets ratio, corporate performance track record, and sector comparison, have been incorporated into our iFinHealth AI system.
"We are devoting great efforts to promoting our AI credit risk assessment solutions to places outside Hong Kong. The first stop will be the GBA and Yangtze River Delta."
Lam believed that Hong Kong, with its sound banking system and excellent credit risk assessment – both ranking above international standards – can offer guidance and assistance to mainland enterprises and regulatory bodies. He said: "In the mainland, the concept of financial health relies more heavily on comparing the total asset value with the total liability value of a company, assuming that when the former is higher than the latter then the company's financial position is healthy. But in Hong Kong, more emphasis is placed on conducting detailed analysis of a company's liquidity, operating cash flow, and ability to obtain different capital sources, as the means to prevent such crises as bad debts or even bankruptcy caused by liquidity problems. If that happens, the company in question has to resort to selling its assets to obtain cash.
"In light of this, we keep close tabs on the assets portfolios of companies and assess the speed and value of asset realisation in their different portfolios, as well as the degree of market factors' impact.
"There is a shortage of experienced financial analysts in the mainland. Our AI system solutions can not only provide points of reference for a large number of credit analysts of different seniorities, but also integrate with international developments in financial analysis, as well as contribute to risk management in financial and other market systems."
---
[1] Established in 1989, FATF is a multinational organisation charged with co-ordinating anti-money laundering efforts. Its members include 39 jurisdictions and regional blocs such as China, the EU, Hong Kong, Japan, South Korea, the UK and the US.

Finance & Investment
Banking Services
Finance & Investment
Banking Services
Finance & Investment
Banking Services
Finance & Investment
Banking Services
Finance & Investment
Banking Services
Finance & Investment
Banking Services
Finance & Investment
Banking Services
Hong Kong
Mainland China
Hong Kong
Hong Kong
Mainland China
Hong Kong
Hong Kong
Mainland China
Hong Kong
Hong Kong
Mainland China
Hong Kong
Hong Kong
Mainland China
Hong Kong
Hong Kong
Mainland China
Hong Kong
Hong Kong
Mainland China
Hong Kong