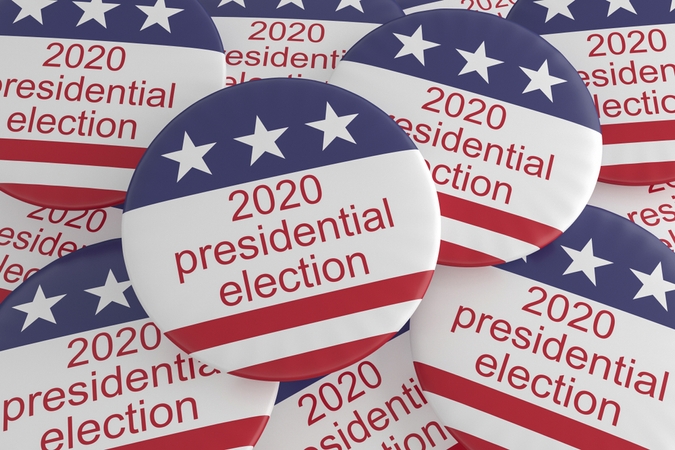 https://hkmb.hktdc.com/en/NjAwNzA4ODMx
New Trade Reality: After 2020 US Election
The 3 November 2020 election is expected to result in a new administration under Joe Biden. The Senate will either remain in control of the Republican Party or be split 50/50, pending the results of runoff elections in Georgia on 5 January 2021. If the latter occurs, the Vice-president (presumed to be Kamala Harris) will act as the tie breaker, resulting in a Democratic Senate. The Democratic Party has retained its control in the House, although with a reduced majority. As Biden will not be inaugurated until 20 January, President Trump has plenty of time to take additional actions on trade that may impact Hong Kong and Mainland China. Other branches of government may also act on matters of particular interest.
Trumpism through 20 January 2021
The Trump administration is expected to increase pressure where it can on US trading partners, particularly Mainland China. Despite statements prior to the election indicating that the mainland was buying more US goods than ever before, it is likely that Beijing will not be able to meet the purchasing commitments set forth in the Sino-US phase one economic and trade agreement. As a result, additional protectionist actions against the mainland may include:
Increasing Section 301 tariffs on List 4A items from 7.5% to either 15% or 25% (the rate currently faced by List 1, 2 and 3 products);
Removing the suspension of duties on List 4B goods and imposing either 15% or 25% Section 301 tariffs;
Adding more entities / persons to the US Department of Commerce's Entity List;
Adding more entities / persons to the Office of Foreign Assets Control Specially Designated Nationals List (SDN List);
Increasing the number of self-initiated anti-dumping (AD) and countervailing (CV) duty cases relating to mainland Chinese goods;
Increasing the number of self-initiated AD / CV anti-circumvention cases;
Increasing the number of Enforce and Protect Act (EAPA) cases on goods entering the US;
Imposing additional duties and / or quotas on critical minerals currently under investigation; and
Implementing punitive measures under the current International Emergency Economic Powers Act (IEEPA).
The International Trade Administration (ITA) has already self-initiated AD / CV duty investigations as well as AD / CV anti-circumvention investigations in the past. In addition, it recently used currency manipulation for the first time as a factor when calculating a CV duty margin in a case involving passenger vehicle and light truck tyres from Vietnam. It is therefore anticipated that more self-initiated actions will be pursued on goods from multiple countries, including Mainland China.
When it comes to Section 232 actions, it is believed that the tariffs on steel and aluminium imports will stay until the next administration. As the investigation on electrical steel cores has been completed and is pending action by the President, it is also expected that tariffs will be assessed on these products.
Tariff-related measures aside, the DOC's Bureau of Industry and Security (BIS) may add further entities and persons to its Entity List, which comprises entities that the BIS has reasonable cause to believe have been involved, are involved, or pose a significant risk of being or becoming involved in activities that are contrary to the national security or foreign policy interests of the US. Depending on the item, a company may be required to obtain a licence to export to an organisation on the Entity List even if one is not otherwise required. The list has been expanded to include persons alleged to have committed human rights or workers' rights abuses and additional entities are likely to be added before the new administration takes over.
Similarly, The Office of Foreign Assets Control (OFAC) under the US Treasury maintains the Specially Designated Nationals and Blocked Persons List, also known as the SDN List. The Office has recently been adding entities and individuals accused of human rights abuses, expanding its reach. An SDN designation bars any dealings with the US or US persons, placing severe constraints even on operations that are indirectly or tangentially associated with the US. Additional entities are expected to be added to this list soon.
As part of its statutory authority to oversee the enforcement of US laws at the border, US Customs and Border Protection (CBP) has recently focused on imported goods made with forced labour or prison labour. Such enforcement has taken place through withhold release orders (WROs). Twenty-six WROs have been issued over the past four years, compared to 39 in all previous years, and additional WROs will probably be issued in the weeks and months to come.
CBP also enforces the EAPA, which allows the agency to self-initiate allegations of illegal circumvention of AD / CV duty orders. Under CBP regulations implementing the EAPA, any interested party, including competing importers and federal government agencies, may submit allegations that AD / CV duties are being evaded; e.g., by misrepresenting the goods' true country of origin, submitting false or incorrect shipping and entry documentation, or misreporting the goods' physical characteristics. CBP has initiated 131 such investigations since the inception of EAPA in 2015 and the number could increase before the inauguration of the incoming administration.
Moreover, CBP has submitted a proposed rule to remove the de minimis or Section 321 duty exemption for mainland Chinese goods subject to Section 301 tariffs. The rule is before the Office of Management and Budget for consideration and it is possible that the exemption will be removed before the end of the Trump administration. If the exemption is removed, goods covered by the China Section 301 action may be subject to both regular MFN duties and additional Section 301 tariffs upon import.
As far as the Congress is concerned, the following trade bills could be acted upon before the end of the current session :
R. 6210 – Uyghur Forced Labor Act. This legislation has been approved by the House but is still pending in the Senate. It would prohibit the importation of all goods, wares, articles and merchandise mined, produced or manufactured wholly or in part in mainland China's Xinjiang Uyghur Autonomous Region (XUAR), or by persons working with the XUAR government for purposes of the "poverty alleviation" programme or the "pairing-assistance" programme which subsidises the establishment of manufacturing facilities in the XUAR.
Generalized System of Preferences (GSP) and the Miscellaneous Tariff Bill (MTB). Congress may pass legislation to extend the GSP and the MTB, which are slated to expire on 31 December 2020. Since both bills remove tariffs on imports, however, it is possible the President may refuse to sign them in order not to contradict his overall position on tariffs. If Congress perceives the odds of a potential veto to be high, these bills will likely not be passed until 2021.
United States-Mexico-Canada Agreement (USMCA). The Office of the US Trade Representative (USTR) is proposing to amend the USMCA to remove a current benefit for goods produced in a US free-trade zone.
4497. This bill would ensure that a range of specific Covid-related imports are not subject to Section 301, Section 232 or International Emergency Economic Powers Act (IEEPA) actions. In addition, the USITC is currently conducting a review of Covid-related personal protective equipment (PPE) being produced in the US. That report may inform the tariff provisions included in the bill.
The Biden-Harris Transition
Given the dire need to focus on Covid-19, employment and the economy, the first two years of a Biden administration will see trade issues taking a back seat with the exception of untangling certain Trumpist actions and continuing some of the negotiations that are already underway.
Having said that, it is unlikely that the new administration will lift all current Section 301 tariffs on mainland China in the short term. It would be reasonable for traders to expect full tariffs to be in place and all product exclusions to expire as of early 2021. As previously noted, President Trump could also raise the tariffs on List 4A products from 7.5% to 25% and / or proceed with tariffs on List 4B goods, leaving the incoming administration to deal with these increases.
As it would be considered politically destructive for the new administration to remove all of the Section 301 tariffs immediately after inauguration, it is quite possible that the Biden administration may instead:
Restart the product exclusion process after early 2021 expiry;
Allow the on-going court challenge against the Section 301 tariffs to continue with perhaps minimal contestation, and then let a potentially adverse determination against those tariffs stand by declining to appeal. Such an approach would ostensibly allow the new administration to let the courts make a final decision on the tariffs;
Use the USITC review for Congress on Covid-19-related products subject to the Section 301 tariffs as justification for removing tariffs on targeted items
Use anniversary dates (the Section 301 statute requires a review after four years of implementation) to remove the tariffs if the administration determines the threats to US commerce have dissipated.
The Biden administration is expected to pursue a more multilateral approach towards Mainland China, enlisting US allies to exert pressure over human rights abuses (such as those affecting the Uyghurs), intellectual property rights infringement and trade secrets theft, and policy enforcement at the WTO. It is, however, far from clear whether there will be a phase two economic and trade agreement with the mainland.
The removal of Section 232 tariffs, on the other hand, may be used as a lever to gain support from allies. For example, the new administration may use the removal of the ongoing steel and aluminium tariffs as a bargaining chip with its free trade agreement partners and other key allies to discuss the oversupply of steel and aluminium as well as the best collaborative mechanisms to address mainland Chinese overproduction. The same is true with respect to the pending Section 232 action on electrical steel cores, if tariffs are eventually imposed.
With respect to possible actions by other government agencies such as the OFAC, BIS or CBP, regarding enforcement of the Entity List, the SDN List and WROs, it is expected that enforcement will continue and possibly intensify through the addition of violators of human rights and workers' rights to these lists. The US Department of Labor and the US State Department could intensify their investigations for the Trafficking in Victims Protection Reauthorization Act report and the Trafficking in Persons report. These reports are being referred to more frequently as a source for various government agencies to review when evaluating allegations of human rights and workers' rights violations.
Last but not least, the outlook for the ongoing US FTA negotiations may also have implications on US-Mainland China and US-Hong Kong trade and their economic futures. The Biden administration may work with the former Trans-Pacific Partnership (TPP) countries to explore resumption of these discussions, but any negotiations are likely to include provisions similar to those of the USMCA (e.g., labour rights and environmental protection) and will be carefully negotiated with congressional Democrats and labour unions to get their support. The advent of the Regional Comprehensive Economic Partnership (RCEP) may provide the necessary impetus to kickstart some form of TPP discussions, which could potentially begin in Biden's first year in office.
Any congressional actions on trade will depend on the outcome of the Georgia runoff elections on 5 January 2021, so it is a bit premature to make any predictions for the 117th session of Congress. Some of the issues that may be addressed, however, are outlined below:
Trade Promotion Authority (TPA). TPA expires on 30 June 2021, and Congress may unilaterally extend the current authority or amend it significantly. There was considerable concern expressed by members of Congress over the lack of perceived consultation by the Trump administration as mandated under the existing TPA. Accordingly, Congress may seek to implement additional restrictions / requirements and priorities on the next administration. If the Senate swings to the Democrats, it is possible there will be more robust environmental provisions, and labour priorities more in line with the related USMCA post agreement outcomes.
Section 232. Congress has expressed frustration with the Trump administration's use of this provision, and two bills were introduced in the 116th session to put more controls in place and restore some of the constitutional authority that rests with Congress. A modification to the authority in order to require consultation with Congress prior to taking and imposing any actions pursuant to Section 232, or a bill that would allow Congress to remove any such tariffs through a resolution of disapproval, is therefore expected.
Section 301. Congress has also expressed frustration with the Trump administration's implementation of Section 301 actions. Some members believe there should be a congressional review of any action before it is taken, while others are of the opinion that the exclusion process implemented by USTR should be managed by the USITC. Thus, there will probably be legislation to restore oversight to Congress and shift the administration of the tariffs to the USITC. It is anticipated that guidelines may be drafted for the implementation of an exclusion process by the agency, as well as for the provision of an appeals process, increased transparency and a de minimis provision (i.e., if a shipper is importing no more than a certain amount per year or if a company's sole product is subject to the tariffs and could put that company out of business).
IEEPA. While, historically, Presidents have not used IEEPA to impose tariffs (generally using Section 232 instead), Congress may want to ensure that IEEPA cannot be used to impose tariffs under presidential authority.
GSP. If GSP is not extended this year the next Congress is expected to pursue its renewal. As Congress will no longer be under a timeline to renew, it is possible that a concerted effort will be made to significantly modify the programme. If so, labour, environmental and human rights conditions and enforcement might be added to the criteria.
MTB. If the MTB is not approved this year it is possible Congress will seek to pass the legislation as part of an economic stimulus bill.
North America
Mainland China
Hong Kong
USA
Hong Kong
North America
Mainland China
Hong Kong
USA
Hong Kong
Mainland China
Hong Kong
North America
USA
Hong Kong
Mainland China
Hong Kong
North America
USA
Hong Kong
Mainland China
Hong Kong
North America
USA
Hong Kong
Mainland China
Hong Kong
North America
USA
Hong Kong
Mainland China
Hong Kong
North America
USA
Hong Kong
Mainland China
Hong Kong
North America
USA
Hong Kong
Mainland China
Hong Kong
North America
USA
Hong Kong