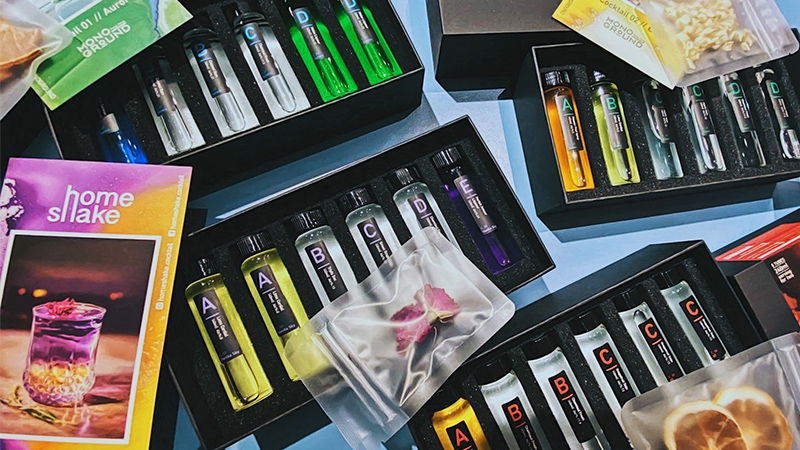 https://hkmb.hktdc.com/en/NjA0MDYzNTg3
Navigating Covid-19: A DIY Cocktail Idea
Since the start of the coronavirus pandemic early this year, unprecedented measures including mandatory quarantine, travel restrictions and dine-in bans have been implemented in many countries across the world in an attempt to contain the spread of the virus. Restaurants and bars are seen as a focal point for clusters of Covid-19 infections, and have been badly hit as a result by mandatory lockdowns. Facing steep financial decline, many have closed down.
Homeshake – a new at-home cocktail brand formed by a trio of friends from finance, marketing and bartending backgrounds – has however been faring well during the pandemic, by providing the whole cocktail experience for customers unable to go out to bars. The founders are also expanding their reach into the customised gifting business, with their DIY cocktails becoming popular with corporate clients who are using them for online ceremonies, festive celebrations and marketing events.
Although they were only launched in late May 2020, Homeshake's DIY cocktail kits have already gone viral, with thousands of comments, shares and likes from younger users on social media channels. To understand how they spotted and grasped this business opportunity amid the Covid-19 crisis, HKTDC Research talked to Jacky Chan and Benny Yau, founders of the at-home cocktail idea.

The Best of Times, The Worst of Times
The Covid-19 crisis has proved to be both the best of times and the worst of times for Chan and Yau, two drinking buddies who used to visit every quirky restaurant and bar in town. The dine-in and drink-in bans imposed in early April in a bid to restrict the spread of the virus basically grounded them and their fellow cocktail lovers and bar-goers.
Doing their own bartending at home remained an option in theory. However, Chan explained that in practice it was beyond the average drinker, saying: "Usually, it requires at least three or four types of base liquors to make a cocktail. That makes at-home bartending a big headache for drinkers living in densely-populated cities like Hong Kong. And that's not to mention the need for the right recipes, tools and bartending techniques."
This motivated Chan and Yau to develop the city's first-ever DIY cocktail set for beginners. The idea grew into a business as they realised the potential of the underserved market at private and corporate gatherings amid the coronavirus-fuelled rise of the stay-at-home economy.
Pointing to the gap that opened up in the market, Chan said: "Since the outbreak of the virus outbreak in late February, the beleaguered food and beverage (F&B) industry has tried to transformed itself to accommodate the new eating and drinking behaviour by offering takeaways and home-delivered meal kits. However, little was done to salvage the bar industry."
Cocktail Culture
As well as making money, the two cocktail enthusiasts want to promote the cocktail culture in Hong Kong. They hope their DIY cocktail kits can help begin to arouse the city's awareness of not just the taste of cocktails but their beauty too.
With this in mind, Chan and Yau were looking to create cocktail drinks that appealed to locals in Hong Kong, especially the younger generation. Using the professional bartending knowledge and experience of their other partner, Dave Tse, they developed four different DIY cocktail kits. From the moment the kits went on the market in late May 2020, they attracted lots of attention from the younger generation, and got extensive media coverage from popular local lifestyle magazines.
Yau believes that one of the main reasons for Homeshake's success is that consumers now put more value on hands-on experience. For example, at-home meal kits became more popular during lockdowns because people wanted to share simple, pleasant cooking experiences with their loved ones, rather than just heating up pre-cooked food to fill their stomachs. The same applies to cocktails. Stuck-at-home drinkers find it much more fun to prepare their own drinks than just knocking back a pre-mixed cocktail.
Meanwhile, Chan highlighted the photogenic appeal of the cocktails, saying: "The DIY experience of making a beautiful beverage gives consumers a strong sense of fulfillment and in turn creates a burning desire to share it on social media. Thanks to social or behavioural contagion, widespread social media sharing coupled with e-commerce can be a match made in heaven, quickly driving not only traffic, but transactions too."
Realising how important the photogenic factor was proving to be, Homeshake began to employ some out-of-the-box thinking to try to enhance the visual appeal of its DIY cocktails. The brand included a decorative garnish in each DIY kit to add character to the drinks, for example, and showed customers clever tricks to make their cocktails look more impressive – such as putting the Aurora cocktail on top of the flashlight of a smartphone to create an aurora effect at home.
Local Market
While the DIY nature of the kits and the visual appeal of the drinks themselves have helped to maximise the buzz potential of its products, Homeshake decided that the best way to grow the local market was to adopt a localisation approach. Explaining how they have taken the preferences of local residents into consideration to create the brand's unique cocktail recipes, Chan said: "In order to accommodate the low alcohol tolerance of the local community, we have toned down the alcohol level of our products to around 10%, compared to the 20% in an average cocktail. We recently launched a cocktail called 'Tipsy Lemon Tea' as a tribute to iced lemon tea, a popular local beverage."
Homeshake's clear vision and unique product features aimed at tapping the growing stuck-at-home drinking community have allowed its DIY cocktail kits to stand out from the crowd and attract the attention of popular local lifestyle magazines and platforms - an attribute which has meant the brand has received a lot of complimentary media coverage, both online and offline.
The brand views this media exposure as a welcome shot in the arm. Chan said he was delighted to see Homeshake cocktail kits winning media coverage ahead of many other competing lifestyle products, adding: "We are very much motivated by the recognition, not to mention the massive media exposure we have gained in the early stage of our brand."
Source of Inspiration
However, the company's founders are fully aware that media fame comes and goes very quickly in this digital age. Because of this, they are thinking long-term and trying to find ways to maintain Homeshake's attraction for its customers. To achieve this, the brand has made customers its primary source of inspiration, in everything from its offline distribution network to its product development process and customisation services.
Describing how this works in more detail, Yau said: "In the "new normal", where customer feedback can be captured and analysed real-time, the whole value chain from product development, manufacturing and marketing has to catch up with the shorter time-to-market. To do this, we carefully analyse every piece of information we gather from different channels, online and offline, to steer the brand in the right direction.
"For example, we found that more than 70% of our customers were buying our cocktail kits as gifts for friends, for occasions such as birthdays, anniversary celebrations and house-warming parties. Because people in a hurry often need to find cool and unique gift ideas at a moment's notice, we've worked with bars and pubs in commercial districts such as Central and Jordan to offer an in-store pick-up service catering for urgent orders from impulse buyers.
"Also, to our surprise, many customers consider our cocktail kits a great "staycation" companion. To save them the hassle of having to take the essential bar tools, spirits and ingredients to their hotel, we're exploring partnerships with hotel chains who want to enhance the experience they offer their guests by providing our DIY cocktail kits as part of their guest room minibars."
As well as dreaming up new methods of distributing its products, Homeshake is also expanding its cocktail collection through in-house efforts and crossovers with its peers in the bar industry. By co-creating a broad range of new signature cocktails with top mixologists, sommeliers and some of the winners in the Asia's Top 50 Bars awards in town, the brand aims to build a platform where bars can interact more with local drinkers, especially with relative newcomers, in order to showcase the appeal of cocktails and promote the local cocktail culture.
The rise of the new work-from-home economy also means that Homeshake is becoming increasingly seen as a perfect giveaway at virtual corporate events. Yau explained that companies have had to adapt to the circumstances dictated by coronavirus-related restrictions, saying: "We're seeing increasing volumes of orders and enquiries from companies that are thinking beyond the technical issues of moving face-to-face corporate activities online. Some, for instance, are trying to keep their business partners and staff engaged by sending them our DIY cocktail kits to use in toasting during online celebrations or networking functions, while others use them as icebreakers, part of their team building programmes or as energisers in virtual activities.
"To add extra value, we're now offering customisation services to accommodate these corporate orders, from tailor-made packaging to customised recipes. For instance, a company can place an order for a custom-designed cocktail to match its corporate colours."
Food & Beverages
Gifts & Premiums
Food & Beverages
Gifts & Premiums
Food & Beverages
Gifts & Premiums
Food & Beverages
Gifts & Premiums
Food & Beverages
Gifts & Premiums
Food & Beverages
Gifts & Premiums
Food & Beverages
Gifts & Premiums
Food & Beverages
Gifts & Premiums
Hong Kong
Hong Kong
Hong Kong
Hong Kong
Hong Kong
Hong Kong
Hong Kong
Hong Kong
Hong Kong
Hong Kong
Hong Kong
Hong Kong
Hong Kong
Hong Kong
Hong Kong
Hong Kong