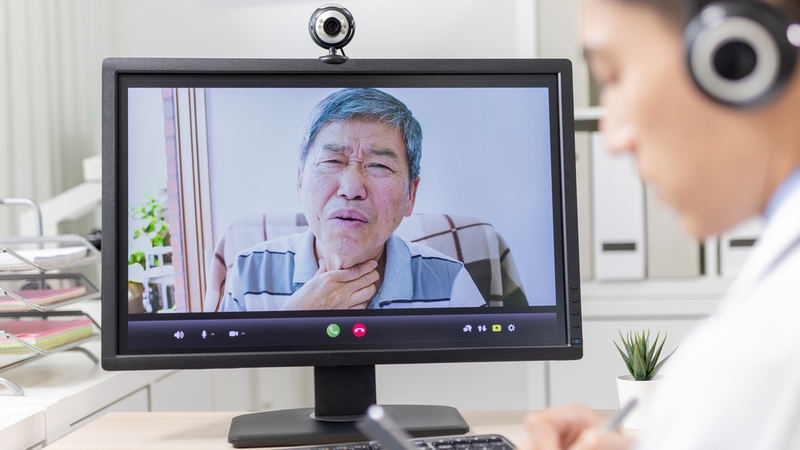 https://hkmb.hktdc.com/en/NTkzOTE0MDg4
The Post-Covid New Normal: The Rise of Telemedicine
The adjustments to Covid-19 have accelerated technological developments in many areas, and telemedicine is one of these. During the epidemic, many patients have stayed away from hospitals or clinics to avoid infection, even though they may need to seek medical treatment or attend follow-up consultations. Consequently, telemedicine has become more popular as an alternative route to healthcare. DoctorNow Group is a medical and healthcare service provider, which launched a telemedicine service in Hong Kong in January 2020 with its mobile app DoctorNow. The company designed its own video consultation platform, integrating the latest data communications with telemedicine technologies, to offer patients a brand new healthcare experience. David Wong, Co-founder of DoctorNow Group, shares the development and business model of his telemedicine service, and analyses the opportunities and challenges in developing telemedicine in Hong Kong.
Wong points out that video consultation offered via the DoctorNow app is appropriate for treating mild diseases (like fever, cough, diarrhea/vomiting, skin problems and emotional distress), and for organising regular follow-up consultations and health management for patients with chronic illnesses (such as diabetes, hypertension, hyperlipidemia). While the DoctorNow app does not insist that patients meet the doctor face-to-face for the first consultation, Wong says it is advisable for chronic patients to do so. "Based on overseas experience, doctors can treat patients with mild illnesses like flu on the first video consultation," he explains. "For chronic patients however, doctors need to have the patients' full medical records (such as surgery reports, blood test reports, and health check-up data) and understand their lifestyle in order to draw up a long-term treatment plan. It is preferable for chronic patients to meet doctors face-to-face in a clinic for the first consultation. Thereafter, follow-up treatment can be carried out through video consultation." Indeed, around 70% of the DoctorNow app's current users are chronic patients.
One-Stop Service
Prior to any video consultation, every patient must enter information into the DoctorNow app. This must be sufficient, for example symptoms and medical records, for professional healthcare staff to assess whether remote video consultation is appropriate. If not, the healthcare staff will call them up, suggesting a personal visit. Recalling the case of a particular patient, Wong says: "The patient suspected that he had broken his leg. On the way to the hospital, he sought professional advice from an orthopaedist through DoctorNow app. Of course, the patient still had to go to the hospital for a detailed check-up like taking an X-ray to see if any bone was fractured. Yet, to the patient, the timely advice from the orthopaedist helped put his mind at ease."
Suitable patients can opt to have an immediate consultation or schedule an appointment later. All processes including video consultations and payments are carried out on the DoctorNow app. After the consultation, patients will receive the results of their diagnosis and a QR code. Medicine may be couriered to patients, or they can visit the clinic to collect it. "We have our own vehicle fleet delivering medicine to the patients' home or office," explains Wong. "The delivery staff check the patients' QR code and identity card to minimise any error. Generally, patients will get the medication within two to three hours after the consultation. Ampoules requiring refrigeration like insulin are delivered by our professional medical fleet." Prescriptions are also provided in an electronic format so that patients can get their medicine in a registered pharmacy. However, as some Hong Kong pharmacies have yet to recognise electronic prescriptions, most patients still choose DoctorNow's medication delivery service.
Difficulties and Challenges
The development of telemedicine in Hong Kong is lagging behind other markets like Europe, the US, Australia, Singapore and mainland China. Wong cites the following reasons:
Investment in capital and information technology: telemedicine relies heavily on a robust and safe video consultation platform, and cannot be carried out using commercially available video telephone or video conferencing software. Patients' medical history as well as doctors' diagnosis and prescriptions are personal data which must be kept confidential. The log-in and consultation platforms for doctors and patients as well as the clinical systems of the DoctorNow app are designed, built and now managed by the company's own information technology team. The total investment has been more than HK$1 million.


Private doctors' lukewarm response: The Medical Council of Hong Kong issued the Ethical Guidelines on the Practice of Telemedicine in December 2019, stipulating that doctors practising telemedicine in place of traditional consultation services should meet all the prescribed legal requirements and ethical guidelines. The standards of patient care required in face-to-face consultations apply equally to telemedicine. However, the specific details and standards on practising telemedicine have yet to be drawn up, deterring many doctors from joining the practice.


Constraints in video consultation: doctors still have to physically examine patients and make clinical judgements in many cases. For instance, if a patient suspects that he has broken his leg, palpation is required to determine whether his tendon, ligament or nerve has been injured. X-rays must also be taken to ascertain whether there is any fracture.


Low awareness of telemedicine: some people mistakenly believe that telemedicine is just medical consultation via telephone or video. In fact, it has a much wider scope, including delivery of medication and issuance of doctors' referral letters, sick leave certificates and electronic prescriptions via the consultation platform. If need be, nurses can be also dispatched to the patients' home for taking patients' blood samples for testing.
Major Client Groups​​​​​​​​​​​​​​
According to the Medical Council of Hong Kong's guidelines, telemedicine can only be practised by Hong Kong's registered medical practitioners on patients in Hong Kong. If the patients are not in Hong Kong, the doctor must comply with the law governing the practice of medicine in the jurisdiction where the patients receive his telemedicine services. Given this restriction, the DoctorNow app now primarily serves users in Hong Kong, who are predominantly in the 30-50 age group. Some chronic patients aged over 60 receive video consultation assisted by their family members so as to spare them the tiring journey to a medical institution. In addition to serving individual patients, DoctorNow also partners with multinational corporations, banks, insurance companies and schools to provide online medical services for their staff and family members.
Many of the first DoctorNow app users were expatriates living in Hong Kong. "Compared to most Hong Kong residents, those coming from overseas may find it more difficult to see a doctor who is far from their home," explains Wong. "When you are ill, you may not want to drive to see a doctor. Expatriates are consequently more receptive to telemedicine. Even when visiting a doctor in Hong Kong is convenient, the waiting times may be unpredictable. If customers find that our service is fast and convenient, they are more ready to embrace the remote video consultation model. This is why 80% of our customers are repeat customers." The DoctorNow app now boasts a pool of more than 30 doctors including general practitioners, family medicine doctors and specialists (specialising in pediatrics, gynecology, cardiology and orthopedics) who have been consulted on more than 800 cases.
Call for Clear Guidelines
Wong reckons the development of telemedicine in Hong Kong should be spearheaded by the Hong Kong government, the Hospital Authority, the Medical Council of Hong Kong and related departments and organisations. "Owing to the Covid-19 outbreak, public hospitals have scaled back their specialist and outpatient clinic services," he explains. "The Queen Elizabeth Hospital has launched a video consultation service to help public understanding of how telemedicine is practised. It is also important for the relevant organisations to devise clear guidelines on the practice of telemedicine to allay doctors' worries."
Currently, telemedicine is practised extensively in Europe, the US, Australia, Singapore and mainland China. In the midst of the epidemic, telemedicine allows patients to seek and receive timely treatment and attend follow-up consultations with reduced risk of infection. Moreover, as the local population ages, the use of telemedicine for follow-up consultations with the elderly can reduce the burden on care homes to provide escort services for out-patient visits. These difficult times may serve to promote the development of telemedicine in Hong Kong.

Medical & Healthcare Services