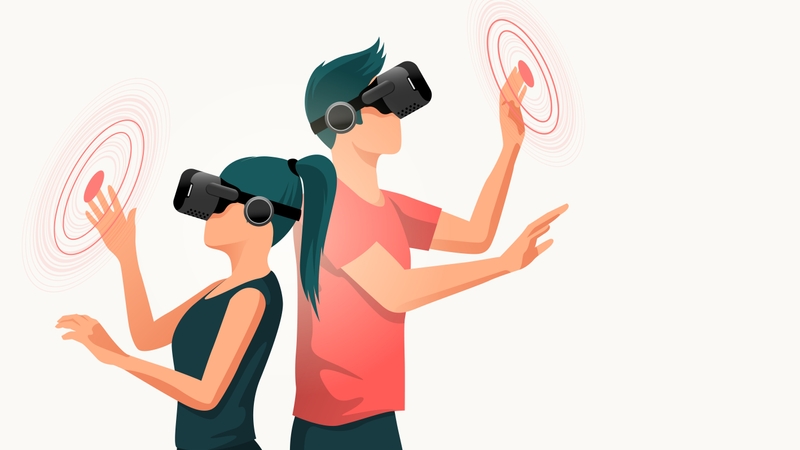 https://hkmb.hktdc.com/en/NTkyODM1NDE3
The Post-Covid New Normal: Application of VR and AR Technologies in the Education Sector
Interview with Kenny Leung, CEO, and Alex Lee, COO, of IOT Solution Limited
With the rapid advancement of science and technology, innovative approaches to aid the development of digital learning have been introduced in recent years. Virtual reality (VR) and augmented reality (AR) technologies, for example, enable students to experience real life scenarios and learn more efficiently through "immersive learning" 1. Adapting to the social interaction restrictions caused by the pandemic, many schools have come to appreciate the benefits of digital teaching, increasing the urgency to explore and implement new teaching approaches.
Founded in 2016 under the Hong Kong Cyberport Incubation Programme, IOT Solution Limited provides local schools with digital teaching materials designed to improve students' learning efficiency. Concurrently, the company advocates STEAM education2 among children and youngsters, and also promotes the significance of pedagogical knowledge among the teaching community. The company's vision is to spark and facilitate the imagination of our future workforce by equipping them with essential technological knowledge and skills, and develop their mindset towards innovation. In 2018, the company set up a 1,600-square-metre STEAM VR Experience Centre in San Tin, Yuen Long, Hong Kong. In this article, IOT Solution Limited's CEO Kenny Leung and COO Alex Lee share their insights on how the company develops and promotes AR teaching materials and uses VR technology to create innovative and interactive learning environments.
Developing AR Learning Platforms
The AR Chinese history learning platform is one of IOT Solution Limited's signature products. According to Leung, since its launch in 2018-19 the platform has been adopted by 80 secondary schools, about one-fifth of the total in Hong Kong. The product won the Outstanding Award in the Product Innovation Category at the Hong Kong SME Innovation Awards 2019. Recalling how the inspiration to develop the AR Chinese history learning platform came from his own high-school learning experiences, Leung says: "I found Chinese history lessons very boring in my high-school days. Teachers just read from textbooks in class. This gave me the idea of using AR technology in Chinese history teaching. I was hoping to make use of visual effects to make Chinese history classes more interesting and help students to memorise more effectively."
IOT Solution Limited's "AR Learning Platform" contains carefully curated Chinese history content, with the platform aimed at facilitating Form 1 to 3 learning. The rich cultural history of the seven dynasties – Qin, Han, Tang, Song, Yuan, Ming and Qing – are introduced via Cantonese animation (with English subtitles) and interactive maps. The platform features about 50 AR videos on various historical characters, events and artefacts. Upon installing the "AR Learning Platform" app on schools' portable tablet devices, students can scan the provided AR photocards. The 3D model of the object stated on the card will instantly pop up through the device screen, along with its description, which is also narrated in Cantonese. The scene of the first Qing's emperor's assassination, for instance, is enacted simply by scanning the photocards of Jing Ke the Assassin and the First Emperor of Qin simultaneously. The platform also comes with 360° guided tours of historical landmarks, including the Great Wall. Guides narrate the history behind each monument, allowing students to "take a tour" without visiting the sites in person.
The AR Chinese history learning platform comes with teacher and student user interfaces. Teachers can control the pace of the lesson delivery by monitoring students' learning speed through the teacher's interface. The interface allows teachers to devise bespoke questions for quizzes, with students' test results automatically generated instantly. IOT Solution Limited's Chief Operating Officer Alex Lee says most teachers appreciate the platform, adding: "Because AR technology stimulates the sensory and cognitive functions of humans – notably sound, vision and imagination – this provide users with an immersive experience and a sense of emotional resonance. The incorporated technology helps students to understand abstract concepts and scenarios in more concrete terms, which makes routine classroom teaching more interesting and interactive.
"In addition to Chinese history, we are developing an AR learning platform for primary school general studies. We also have plans to develop AR teaching materials for other subjects in future," Lee adds. "AR technology could be extensively used in subjects that put emphasis on three-dimensional space and field studies, such as geography, mathematics, physics, chemistry and biology. It vividly presents to students objects they cannot physically touch."
Using Government-Approved Teaching Materials
Leung stresses the need to be meticulous over details when producing the teaching materials, explaining: "For example, the First Emperor of Qin is the only Chinese emperor wearing the dragon robe in black. Details like this cannot be overlooked." Taking the flags of the Eight-Nation Alliance as an example, as there is insufficient visual data to reference back to the corresponding historical characters or objects, the company had to construct visual representations through careful examination of historical documents and paintings. Leung points out: "Teaching materials related to history are liable to dispute, so every detail must be researched thoroughly and cited with care." Collaborating with publishers, teaching materials selected are approved by the Hong Kong Education Bureau. They also received help from advisers to the Hong Kong History and Culture Educational Society and professors from Tsinghua University.
Experience Centre Showcases Interesting Learning Models​​​​​​​

Leung has also set his sights on utilising the potential of VR in addition to AR. The STEAM VR Experience Centre has served more than 200 primary and secondary schools, which accounts for one-fifth of the total number of schools in Hong Kong. The centre offers an interactive learning demo zone for different STEAM-related products and technologies such as 3D printing, fingerprint verification and autonomous driving workshops, allowing students to experience interactive learning via engagement in various technologies.
Leung says the experience centre regularly holds workshops on different themes for students to experience learning models that combine traditional subjects with innovative technologies, adding: "For example, historical site photography workshops allow secondary-school students to try out 360° cameras and produce videos for presenting their site visit, history and findings. The centre also encourages teachers to borrow equipment and products as teaching tools to deliver lesson objectives more effectively.
"AR and VR teaching tools have great development potential," Leung adds. "This is particularly true for AR. Its technology and business models are relatively mature after years of elimination and improvement. We believe AR teaching tools are the way forward and will become increasingly popular."
To encourage students' design potential and foster their practical skills, IOT Solution Limited hosted the first Student Formula Coding Competition in 2016. It also co-hosted the VR Robotic Challenge 2018 together with Hong Kong Polytechnic University and EGG Technologies Ltd, which was sponsored by AliCloud. Outlining the events' benefits, Leung says: "These competitions not only stimulate students' desire to problem solve and find feasible solutions, but also allow them to learn and build up their confidence and teamwork skills while playing. These competitions are popular among students and schools, and we intend to host more of them in future."
Gradual Expansion into GBA Market
Looking ahead, Leung says: "Many places outside Hong Kong have expressed an interest in AR teaching materials and VR experience. Several schools in Macao are planning to use our AR Chinese history learning platform. We are also negotiating with some schools in Taiwan."
IOT Solution Limited has successfully obtained the BUD Fund (Dedicated Fund on Branding, Upgrading and Domestic Sales) to expand its business. Leung continues: "We have great faith in the Guangdong-Hong Kong-Macao Greater Bay Area (GBA) market. In our next move, we plan to replicate the business model of running the STEAM VR Experience Centre outside of Hong Kong. We will promote AR teaching materials in local schools on a trial basis. After that we hope to extend our business to Guangzhou, Zhongshan, Dongguan and other GBA markets."
IOT Solution Limited is planning to launch a dedicated platform for distance learning to address the lack of teacher-student interaction on existing digital conference platforms. Buying cloud-computing services is very costly, and unaffordable for most start-up companies. Leung hopes to see more funds and resources to support innovation, research and development.
---
1 Immersive learning uses sensory and cognitive experience to completely immerse learners in particular situations or atmospheres as in a virtual world.
2 STEAM is an integrative approach to education that combines science, technology, engineering, arts and mathematics.