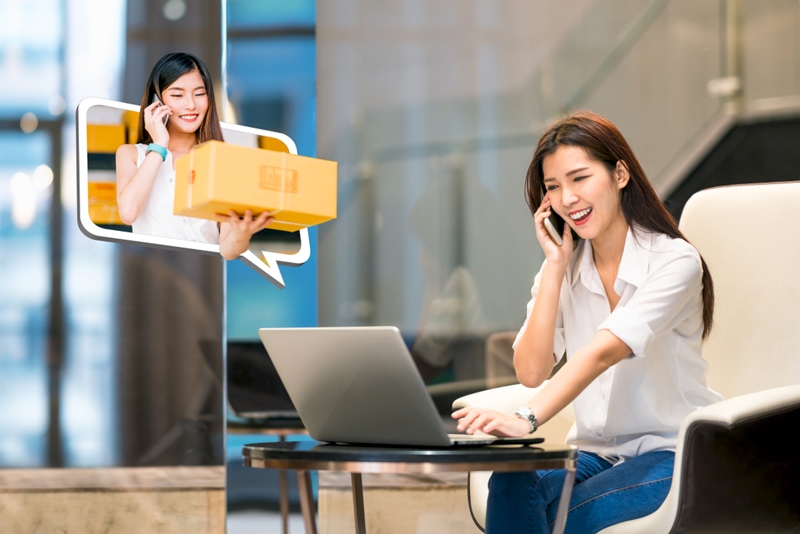 https://hkmb.hktdc.com/en/NTk1NTU1MTU0
Thai Consumers: The Convenience and Connectivity Dividend
Urban life is often characterised by its fast pace. As a result, people who live in cities increasingly prioritise convenience. Modern Thai middle-class consumers are no exception. A recent HKTDC survey [1] found that they have a great desire for convenience and time-saving time in all aspects of their daily life.
In the survey, respondents generally agreed with the statement "I always seek convenience and ways of saving time in my daily life", giving it an average rating of 4.05 on a scale of 1 to 5 (see below). Agreement with the statement was strongest among those aged between 31 and 40, perhaps because making the most of their time is especially important at this early stage of their careers.
Modern ideas of what convenience entails are quite different from the traditional notions of convenience. Nowadays it's not just about getting things done quickly and easily, it's also about being constantly connected on the Internet and social media. Modern consumers are increasingly paying more attention to digital trends. Respondents strongly agreed with the statement "I keep in touch with the latest digital technology trends", giving it an average rating of 4.29. This can be seen across all age groups.
Thai Middle-Class Consumer Lifestyle
| | |
| --- | --- |
| Descriptions | Average Rating |
| I believe in lifelong learning and self-improvement | 4.42 |
| I keep in touch with the latest digital technology trends | 4.29 |
| I am health-conscious | 4.22 |
| I am concerned about global warming and climate change | 4.14 |
| I always seek convenience and ways of saving time in my daily life | 4.05 |
| I value experiencing things more than owning goods | 3.92 |
| Travel, art and culture are important to me | 3.81 |
| I am interested in fashion trends and novelty items | 3.74 |
| I prefer unique, personalised items to standard products | 3.64 |
| I am more inclined to impulse buy than to make planned purchases | 3.04 |
Note: on a scale of 1-5, 1 denotes strongly disagree and 5 denotes strongly agree.
Source: HKTDC survey
Thai Middle-Class Consumer Lifestyle by Age Group
Descriptions

Average Rating

18-30

31-40

41-60

I always seek convenience and ways of saving time in my daily life

3.93

4.16

4.07

I keep in touch with the latest digital technology trends

4.22

4.36

4.26
Note: on a scale of 1-5, 1 denotes strongly disagree and 5 denotes strongly agree.
​​​​​​​Source: HKTDC survey
The connectivity of the Thai middle class is growing in tandem with increasing urbanisation and the greater penetration of technology in Thailand over the past decade. Thai consumers have grown up with smartphones and internet-related technology. They are accustomed to using mobile apps to make purchases, the Internet to obtain information, and digital payments to bypass credit cards. They have a digital footprint that surpasses that of their counterparts in many developed countries, and they like to have the convenience and comfort of having access to everything, everywhere, at any time via their smartphones. E-commerce is growing at double-digit rates in Thailand, especially among the urban middle class.
Explaining their attraction to online retail, one focus group respondent said: "I feel comfortable buying things online, except for jewellery and fresh foods. Online shopping offers a great deal of variety and convenience. During the coronavirus pandemic, I have picked up the habit of ordering groceries online. I think this habit will continue even when the pandemic subsides, as I discovered how easy and convenient it can be."
Many Thai consumers, especially Millennials, spend a great deal of time on social media apps to stay connected with their friends, making social commerce the indisputable market breakout trend for e-commerce over the next few years. Most Thai consumers discover social media shopping opportunities through advertising on Instagram, Facebook, and other social media sites. Respondents in the focus groups said that social media offers them a place to treasure hunt. They can look for bargains when shopping for their favourite brands and can negotiate with small businesses and individuals, hoping to land a great deal.
Thai consumers also look for brands or products that understand the way they prefer to engage with brands. A 25-year-old focus group respondent told the survey: "I follow many shops on social media like Instagram, Facebook, and Messenger that sell a wide variety of products, such as cosmetics, skincare, clothing, consumer electronics and household products. The shops alert me about their new products and seasonal sales. Some sent me birthday gifts or coupons. And I can negotiate with the sellers on social media and get everything done without leaving my home. And this means convenience to me."
With young consumers now nearly constantly connected online, mainly on social networks, and the shift towards digital commerce, brands are under mounting pressure to streamline their marketing models across devices and applications. Omni-channel strategies are becoming the key to brand success as they reflect a business's ability to deliver a seamless and consistent experience across channels while factoring in the different devices that consumers are using to interact with brands.
Video streaming is becoming an increasingly key trend among the methods with which consumers interact with brands. Short video content, which is being rapidly adopted by many brands as the primary form of their online content, is popular with consumers. One 21-year old respondent said: "I prefer interactive or visual content, such as videos, over static content. I've subscribed to some Youtuber and influencer channels. They are reliable sources of information to me. As a matter of fact, I search information more from YouTube than from Google."
Customer advocacy has become vitally important, with word of mouth spreading faster than ever on social media. Almost every respondent indicated that user reviews and comments are one of the most important determining factors in their purchasing decisions. This attitude is common among both young and mature respondents, and of either gender.
Underlining this point, one respondent said: "When I discover something new and interesting – a nice design and reasonable price – I will hop to the user reviews to see how other people think about the product. If there are many reviews which indicate that many people have used the same products before, and if most comments are mostly positive, I will believe that the quality of the product is good."
With this abundance of information at the consumer's fingertips, it's unsurprising that most respondents in the focus groups felt that the choice in products and services available to them has made their lives more convenient compared to how they were a decade ago.
---
[1] The HKTDC conducted a consumer survey and four focus groups in the cities of Bangkok and Chiang Mai in April-September 2020. A total of 1,004 Thai consumers aged between 18 and 60, with a monthly household income of THB30,000 (US$930) or above, responded to the survey. The participants in the focus groups, as well as fulfilling the same age and income requirements as the survey respondents, had to be internet and mobile phone users, and to have travelled abroad at least once in the past year.
ASEAN
Southeast Asia
Thailand