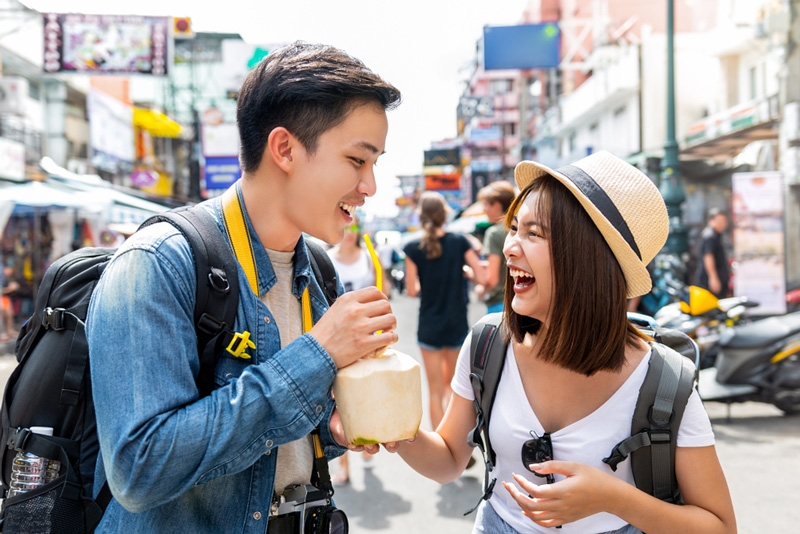 https://hkmb.hktdc.com/en/NTk0NzU5NDU5
Thai Consumers: Prioritising Experiences above Ownership
Over the past decade, there has been much talk about how Millennials value experiences over owning things. A recent HKTDC survey [1] suggests that this trend has also emerged among the middle class in Thailand over the last few years.
In the survey, respondents generally agreed with the statements "I value experiencing things more than owning goods" and "Travel, art, and culture are important to me". This attitude seems to have gained ground across all age groups, especially among the younger respondents.
While owning goods is not their top priority, the survey respondents do not appear to be extremely into impulsive buying – the average rating for agreeing to the statement "I am more inclined to impulse buy than to make planned purchases" is only 3.04 on a scale of 1 to 5. The least impulsive group, with a rating of just 2.62, is that of respondents aged between 41 and 60.
Thai Middle-Class Consumer Lifestyle
| | |
| --- | --- |
| Descriptions | Average Rating |
| I believe in lifelong learning and self-improvement | 4.42 |
| I keep in touch with the latest digital technology trends | 4.29 |
| I am health-conscious | 4.22 |
| I am concerned about global warming and climate change | 4.14 |
| I always seek convenience and ways of saving time in my daily life | 4.05 |
| I value experiencing things more than owning goods | 3.92 |
| Travel, art and culture are important to me | 3.81 |
| I am interested in fashion trends and novelty items | 3.74 |
| I prefer unique, personalised items to standard products | 3.64 |
| I am more inclined to impulse buy than to make planned purchases | 3.04 |
Note: on a scale of 1-5, 1 denotes strongly disagree and 5 denotes strongly agree.
Source: HKTDC survey
Thai Middle-Class Consumer Lifestyle by Age Group
Descriptions

Average Rating

18-30

31-40

41-60

I believe in lifelong learning and self-improvement

3.96

3.95

3.80

Travel, art and culture are important to me

3.82

3.83

3.73

I am more inclined to impulse buy than to make planned purchases

3.14

3.16

2.62
Note: on a scale of 1-5, 1 denotes strongly disagree and 5 denotes strongly agree.
Source: HKTDC survey
When focus group respondents were asked whether they prefer material things or experiences, an overwhelming number said they preferred experiences. As one 23-year old respondent explained: "Living a meaningful life is about creating and sharing my own unique memories earned through experiences. I like my material stuff too, but that remains separate from me. In contrast, my experiences are a rare part of me. Once they are created, nobody can take them away from me." 
Middle-class respondents not only value experiences, they are also willing to spend to create them. Most indicated that they feel happier spending money on experiences rather than on material items. "Compared to buying clothes or jewellery, I am more willing to spend on travelling, concerts, dinning out, and social events. I feel much happier and more excited acquiring new experiences than possessing material things. It just brings more fun and joy and they last longer," said a 35-year old female respondent. 
Almost every respondent indicated that if they won a lottery, they would spend a significant portion of the money on travelling. One said: "While buying a new gadget or wearing the trendiest clothes may be satisfying or thrilling for a short while, the thrill always fades very fast. With the money I could take a short trip to a new place, and I could share what I see and learn with my friends or family, which will give me much longer lasting and more fulfilling happiness." 
People these days live in a world where the largest store (Amazon) does not own any items, the biggest transportation service (Uber) does not own any vehicles, and the most popular holiday accommodation chain (AirBnB) does not own any hotels. With this phenomenon in mind, many middle-class consumers, especially Millennials, have inevitably begun to reflect on excessive consumption. 
Expressing this growing attitude, one of the respondents in a focus group said: "Why do we need to own a car when we can hire a driver on demand but none of the stresses associated with owning it? In today's highly mobile culture, in which travelling to any place on the planet is not a dream anymore, and it is possible for people to work from anywhere, the need to buy a home is becoming less important too." 
Another reason cited by the focus group respondents to explain why they feel owning things is increasingly becoming a thing of the past is that owning things makes them worry. When people buy expensive objects, they tend to spend a great deal of time taking care of them, and become anxious about them getting damaged or stolen. Rather than spending their money on buying things which make them feel anxious, respondents said that they prefer investing in experiences that improve their quality of life and can never be taken away. 
It may also be that they are less susceptible to being told what goods they should buy to make them happy. In today's society, people are exposed to more information than ever before. Consumers have the means to obtain any information they need at their fingertips, and do not have to take anything at face value. The mass media may try influence their targets by suggesting to them that buying things will improve their lives, but a simple look at the facts can show them that this may not be the case. 
There are many ways this new trend has played out in modern life. Around the world, a new wave of peer-to-peer, sharing-based economic activities are disrupting established business models. People are borrowing goods, renting homes, and hiring their neighbours to drive them to work or rearrange their closet. In Thailand, the middle-class consumers choosing experience over ownership are displaying a robust appetite for sharing-based businesses. 
The desire to purchase experiences has also created a huge new challenge for many established brands - the need to cater to their consumers' demand for "brand experience". This refers to brand‐related strategies that marketers employ to elicit favourable consumer responses. These responses are evoked by stimuli such as the brand's identity, packaging, and communications throughout the customer journey. Brands are now expected to connect with their target customers by giving them a unique, exciting, and enriching brand experience. Brand experience has become just as important as, and possibly even more important than, the product itself.
Modern customers interact with a brand on their own terms, flow across channels, and take unpredictable routes to their destinations. Maintaining a positive and consistent brand experience across channels and incorporating new technologies to stay on trend with the changing habits of their consumers is an enormous task for brands. In order to succeed in this, they need to develop a deep knowledge and understanding of these customer journeys.
---
[1] The HKTDC conducted a consumer survey and four focus groups in the cities of Bangkok and Chiang Mai in April-September 2020. A total of 1,004 Thai consumers aged between 18 and 60, with a monthly household income of THB30,000 (US$930) or above, responded to the survey. The participants in the focus groups, as well as fulfilling the same age and income requirements as the survey respondents, had to be internet and mobile phone users, and to have travelled abroad at least once in the past year.
Southeast Asia
ASEAN
Thailand