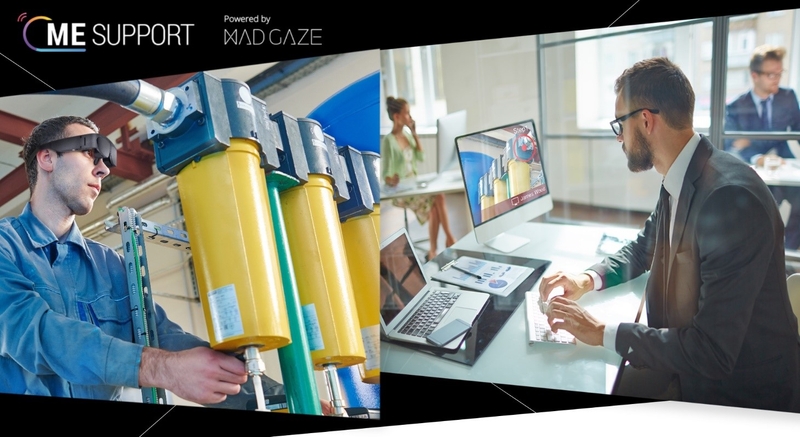 https://hkmb.hktdc.com/en/NTgzNDc1NzY1
Navigating Covid-19: A Smart Glass Contriver
Since the outbreak of Covid-19, businesses around the world have been trying their best to comply with government social distancing measures by arranging for their staff - especially those whose tasks are primarily done on computers - to work from home. In order to do this, many companies have had to provide computers for their staff to work on at home. This has led to a sharp rise in sales of desktop computers and tablets, to 70 million in the second quarter of 2020, an increase of 11% from the same period last year. [1]
Although staff who work from home can keep in touch with their office and with their colleagues via video calls using their computer or mobile phone, it can prove difficult for them to carry out their jobs while holding their smartphone and conducting video calls at the same time. This undermines their efficiency, creates occupational risks and can even, in a worst case scenario, endanger their life. To address this problem, smart glasses company MAD Gaze recently launched a smart glasses remote support solution that allows frontline and back-end staff of companies of all sizes to carry out remote collaborations at any time, anywhere they happen to be.
Since it was founded in 2013, MAD Gaze has launched four generations of augmented reality (AR) smart glasses. In a recent interview with HKTDC Research, Jordan Cheng, founder and CEO of MAD Gaze, explained how his company has helped businesses impacted by Covid-19, and how it has made a foray into the consumer market.
Remote Support Solution
During the coronavirus pandemic, MAD Gaze's remote support solution ME Support has not only registered a rapid growth in sales, but has also won a number of large corporations, including the CLP Group, Hong Kong Electric and MTR, as its clients. Explaining the product's popularity, Cheng said: "The working environment and duties of frontline staff are usually very challenging. Some of them have to carry out inspection and maintenance work in different locations and at different heights. Often in the course of doing so they have to communicate with back-end specialist staff and seek their advice. In the past, these frontline staff had to suspend their work to make video calls by phone. But now, they can wear smart glasses which feature functions such as voice calls and two-way image sharing so that they can share their first-person-view with the back-end staff. At the same time, they can also read instructions given by the professional staff on their smart glasses in real time, freeing both hands to carry on with their work or protect themselves."
It's not just the performance of engineering tasks such as this that can benefit from the use of MAD Gaze smart glasses. For instance, the company once partnered with international coffee brand Nespresso to show how its smart glasses could help frontline sales staff check inventory and scan product bar codes from a distance. Recently, a number of disciplinary forces in Hong Kong purchased ME Support smart glasses to strengthen collaboration between frontline and back-end personnel. Apps such as those for face recognition were downloaded onto the smart glasses to enhance their efficiency and applicability.
R&D Collaboration in Greater Bay Area
MAD Gaze was founded at a time when international dot-com giants were launching first-generation smart glasses one after another. Cheng pointed out that this meant there was plenty of scope for applying new technology, saying: "Compared with smartphones which are already very advanced, the hardware and software technologies of smart glasses still have much room for improvement. For example, the lenses of first-generation smart glasses could hardly project clear images under outdoor lighting. This provided our research team with a great opportunity to get a head start."

MAD Gaze's development has been considerably aided by the establishment in recent years in Shenzhen of a complete new- and hi-tech industry chain comprising over 10,000 enterprises engaged in electronic information, advanced manufacturing and automation. These industry players have provided the company with all-round support for the research, development and production of own-brand smart glasses. The company spent three years researching the materials for the lenses as well as algorithms and has successfully achieved major breakthroughs in optics, resolving the problem of projection under outdoor lighting in first-generation smart glasses. MAD Gaze launched Ares, its first-generation own-brand product, in 2017.
To try to popularise smart glasses, MAD Gaze introduced its GLOW series of light-duty smart glasses in 2019. Cheng explained the thinking behind this move, saying: "In general, smart glasses are powered by built-in batteries which add a lot of weight to the device. Weight is not a big problem for players who wear virtual reality (VR) video game glasses, because VR glasses are not designed for a real-life environment and are only used in a fixed position and within a limited VR game time. Wearing VR glasses does not exert too much pressure on the player's head. However, AR smart glasses are different as they are designed for use in both virtual and real-life environments and are designed to be worn for a long time in daily life. Because of this, the lighter they are the better. So we decided to do away with the built-in battery and instead power the glasses by linking them to the user's mobile phone. By doing so, we have successfully reduced the weight of the glasses to less than 100 grams."
Describing another benefit incorporated into the glasses, Cheng added: "In order to meet the needs of users with different types of vision, all our smart glasses are designed with a slot to accommodate corrective lenses."

Smart Glasses Apps
Taking a cue from smartphone software's business model, Cheng has set up an app mart called MAD Store for his company's smart glasses series. It has more than 1,200 apps developed by MAD Gaze and other software engineers for users to download. This has not only enabled MAD Gaze smart glasses users to send audio, visual and text data online, but also to link up with input devices such as mouses, keyboards or video game buttons via Bluetooth and other wireless transmission technology to play interactive AR games or do paperwork. It is hoped that in the long run smart glasses can replace some of the functions performed by smartphones and personal computers.
Hong Kong, with its well-developed information technology industry which has fostered a large number of experienced software engineers, is MAD Gaze's primary base for developing software for smart glasses. Cheng believes that Hong Kong is in an advantageous position to develop into the "Silicon Valley" of smart glasses software R&D. As an information engineer and developer of smartphone apps, Cheng is convinced that Hong Kong software engineers will have no problem switching from developing smartphone apps to smart glasses apps.
In a bid to encourage industry players to participate in AR software R&D, MAD Gaze has launched the MAD Gaze Developers online platform to provide a full range of support services to people interested in such a development. Elaborating on this initiative, Cheng said: "As a founding member of the Hong Kong Extended Reality Association (HKXRA), I hope to strengthen exchanges in the trade, drive innovation, and promote the long-term development of extended reality in Hong Kong."
Seizing Opportunities
MAD Gaze has risen to prominence on the international stage in recent years, helped by its efforts to pursue transformation and seek breakthroughs. Pointing to his company's success, Cheng said: "According to a study conducted by International Data Corporation (IDC), in the first quarter of 2020, MAD Gaze had a 14.8% share of the global smart glasses market, which is more than double the share we enjoyed in the same period in 2019. Amid the pandemic, our business continues to grow robustly, with revenue from January to September rising fourfold year on year. We are projected to sell 100,000 pairs of glasses in 2020.
"Many global dot-com giants are sparing no effort to get ready to launch more advanced smart glasses in the near future. We believe that promotional efforts by these international well-known brands will make consumers better informed about and more receptive to smart glasses. We also expect that the development trend of smart glasses will follow that of smartphones, rising from a niche market with annual sales of under 1 million pairs initially to a huge market with annual sales exceeding 1 billion pairs. With our first-mover advantage and moderate prices, we are confident that our products can run neck and neck with those set to be launched by the big names."
In view of the expansion of 5G applications in Hong Kong, MAD Gaze is ready to develop the local smart glasses market still further. 5G has a data transmission speed about 20 times faster than that of 4G, with latency of less than 1 millisecond, and can serve more smart devices simultaneously. This allows smart glasses users to have access to high-definition, multi-dimensional video games and audio-visual entertainment at any time or place. Being one of the leading 5G network coverage regions in the world, Hong Kong is poised to act as a testing ground for the use of 5G smart glasses. MAD Gaze is already working with major 5G network service suppliers to jointly promote 5G network applications, while seeking to expand in-store retail sales.
---
[1] Source: International Data Corporation (IDC).

Electronics & Electrical Appliances
Electronics & Electrical Appliances
Electronics & Electrical Appliances
Electronics & Electrical Appliances
Electronics & Electrical Appliances
Electronics & Electrical Appliances
Electronics & Electrical Appliances
Electronics & Electrical Appliances
Hong Kong
Hong Kong
Hong Kong
Hong Kong