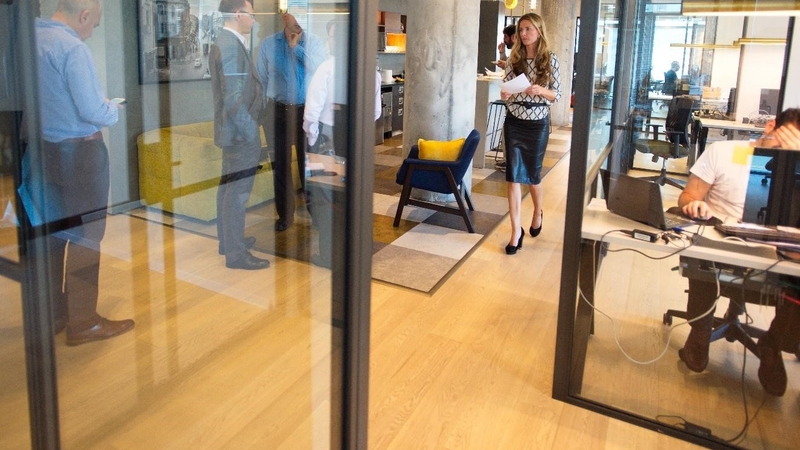 https://hkmb.hktdc.com/en/NTg4NTA1NDc4
The Greater Bay Area: Heading for the Top Floor
As the world grapples with a global health emergency and its financial fallout, surely there is no better time to consider the strategies and solutions that will allow the banking industry to emerge on the other side of the crisis in the best condition to cope with the undoubted challenges ahead.
Of course, even before the COVID-19 pandemic took hold, the industry was already facing up to the fact that, in the coming years, the way banking is conducted will look very different to the way we have become used to it being conducted.
And that is where Fintech firm, The Floor – which was set up in Tel Aviv in 2016 – saw an opportunity to leverage its Israeli DNA to partner up with some of the world's biggest banks, including HSBC (UK / HK), Intesa Sanpaolo (Italy), RBS (UK), Santander (Spain) and SMBC (Japan), to support and collaborate with start-ups from Israel and other regions, drive digital transformation in banks, and promote disruption in the banking sector with the aim of providing solutions for an industry that underpins the global economy.
Leveraging Israel's distinct advantage in technology and deep collaboration with its partner banks, The Floor is developing cutting edge machine learning and artificial intelligence technologies, to build a next-generation SaaS platform and empower banks to innovate faster and smarter.
Strategic Decision
Two years on from being established in Israel, The Floor took the strategic decision to open up an Asian front office. Its choice of location, for a number of reasons, was Hong Kong, not only because of the city's well-established reputation as an international financial centre but also because of its geographical and cultural proximity to China and, in particular, the Greater Bay Area (GBA).
That move – in late 2018 – came just months before the Central Government in Beijing unveiled its outline GBA plan, which looks to transform a geographical area that takes in the Hong Kong and Macao Special Administrative Regions (SARs) plus nine other cities in the Pearl River Delta.
The transformation of the region – which encapsulates a massive market of 70 million potential customers with a combined GDP of US$1.6 trillion – is part of a global vision that is also connected to China's bold aim of creating an inter-linked world through its wider Belt and Road Initiative (BRI), which it hopes will establish long-lasting economic ties to its closest neighbours and the wider world.
Intelligence Led
Managing Director and Head of Asia for The Floor, Rebecca Shao, believes that the company's deep roots in Israel's high-tech ecosystem and in-depth understanding of the financial markets has been a major asset.
"We were established in Tel Aviv in 2016, so we are still a young company. Our business model is very innovative and it leverages Israel's very strong and well-regarded hi-tech talents.
"Every young person in Israel goes through a period of mandatory military service and the very best of them are recruited to work in the military intelligence unit. After leaving the military, many go on to become entrepreneurs, a number of whom have ended up in Silicon Valley," said Shao.
"Our proximity to that ecosystem has enabled us to put together a team of highly skilled people while, at the same time, giving us the ability to partner with some of the world's biggest banks and work with major investors and government agencies on a global basis."
The Floor's founders and senior executives have also worked in positions – either with governments or financial institutions – that have brought them into contact with senior people at many of the global tier-1 banks, and this has helped smooth the way to creating partnerships.
"Trust is very important in this area and, because our management team have already worked with those we partner with, there is a level of trust that clearly helps these relationships. Our partner banks have all been with us for three or four years, so that shows we have been able to build up a strong level of trust," said Shao.
Significant Deals
The decision to locate its Asian headquarters in Hong Kong was also influenced by a major funding coup that The Floor secured in August 2018, said Shao.
In that month, the company secured a US$5 million investment from the Chinese conglomerate Fosun International and its financial services subsidiary. This offered a considerable boost to the company's ambitions to bring Israeli technologies to Asia in general and to China in particular.
At the time the funding was secured, Avi Cohen, the company's Chief Executive, told the media: "The Floor is shaping future technologies across fintech verticals and we believe that Fosun will put us on the fast track to becoming a market leader."
For Shao, the Fosun factor was also very important in the decision to locate in Hong Kong: ''For sure, the investor, a Fosun subsidiary investment bank, is in Hong Kong so the decision to locate here was a natural one. The Floor has always had a great relationship with and strategic focus on China, partly because our seed investor, Bloomage BioTechnology, is a listed, Shandong-based biotechnology business. Also, everyone wants to move into the China market, but it can be a very complicated market. Therefore, it makes sense to get started in Hong Kong."
Another landmark deal came in June 2019 when the government of Spain's ICEX Spain Trade and Investment agency announced it was to help Spanish technology companies gain a foothold in Tel Aviv and Hong Kong via a new immersion program in association with The Floor.
In terms of expansion into the GBA, there will be hurdles to overcome, says Shao: "There are jurisdictional issues around the whole idea of integration across the GBA but what Hong Kong will always have is its symbiotic relationship with Mainland China. If anything, the events that have taken place over the past year or so have upset things somewhat but, regardless of the situation, Hong Kong can continue to contribute to China's economic progress.
 "It is only a matter of time before China removes its cross-border capital flows control, something it has already begun to loosen in the past couple of years. When that happens, there will have to be a pilot programme and that could involve the GBA. If so, that will change the whole momentum of the region for the better," she added.

Hitting New Milestones amid Covid-19
The coronavirus-fuelled market challenges, however, have not stopped The Floor from reaching new milestones throughout 2020. On the contrary, the company has taken the opportunity to strengthen its Hong Kong presence.
This has seen the company hire a group of Hong Kong-based data engineers to build its most sophisticated data architecture to date, as it bids to map out the banking universe. The move stems from the fact Hong Kong has both one of the most open and supportive start-up ecosystems, while also being home to a sizeable pool of international banking talents.
In another key move, as of September 2020, following its award of a prestigious Israel Innovation Authority R&D grant, it has been accelerating the development of its machine intelligence technology as it looks to identify, evaluate and onboard the next big technologies and those start-ups offering particularly innovative banking solutions.
Also important to the company's future is the new leadership team it announced in November 2020. Elisha Wiesel, the former Global Chief Information Officer of Goldman Sachs, has taken up the role of Chairman, bringing with him his 25 years of experience in banking and technology, assets that will prove indispensable as he sets out to enhance the company's North American presence.
In a final move, the company has announced a new strategic partnership with the National Australia Bank (NAB). Outlining the significance of this particular development, Shao said: "Not only are we thrilled to have completed the entire deal-making process online, our success in bringing on new partner banks during this unprecedented global health emergency underlines the tectonic digital transformation that has been taking place, something that is only set to accelerate among banks and Fintech start-ups in the post-pandemic world."
Reshaping Banking
Overall, The Floor's strategy embraces a positive vision of the future, one where banks will become well-oiled machines, primarily digital, highly automated, smarter, and more flexible than ever before. The company sees such institutions evolving into efficient financial technology firms that offer all the services they do today and far more by using technology to deliver more effectively. According to Shao, the successful banks of the future will resemble supercharged shopping carts. Agile and dynamic, capable of adapting to new technologies and regulations, protected on all sides against cyber-attacks, they will also be able to cherry pick the best start-ups through open Application Programming Interfaces (APIs).

In addition, they will maintain the full value chain of financial services in the retail, corporate and investment banking sectors, while remaining strong, trusted and able to develop long-term relationships with their customers.
According to Shao, one example of The Floor's ability to offer its expertise to financial institutions was the work they conducted alongside one of their partner banks on the creation of a new and exclusively digital SME loan platform.
"We worked with one of our partner banks to enable them to create a platform for making loans to SME customers entirely online. The way we have done that is to connect the bank and an Israeli Fintech company, allowing their two separate areas of expertise to come together to create something completely new that is suited to the reality of digital banking as a whole. Collaborations such as this create mutual benefits to banks, allowing them to access the best available technologies and quickly launch new products and services, and to any brilliant start-ups looking to scale up. This is also the reason why we are building a platform that helps identify and solve a business challenge and identify the technology required to tackle it, all in seconds rather than as result of a weeks' long process," she said.
"One thing is clear – the banks of the future will look very different from the banks of today," said Shao.
Finance & Investment
Finance & Investment
Finance & Investment
Finance & Investment
Banking Services
Banking Services
Western Europe
Mainland China
Hong Kong
United Kingdom
Hong Kong
Western Europe
Mainland China
Hong Kong
United Kingdom
Hong Kong
Western Europe
Mainland China
Hong Kong
United Kingdom
Hong Kong
Western Europe
Mainland China
Hong Kong
United Kingdom
Hong Kong
Hong Kong
Mainland China
Middle East
Hong Kong
Israel
Hong Kong
Mainland China
Middle East
Hong Kong
Israel