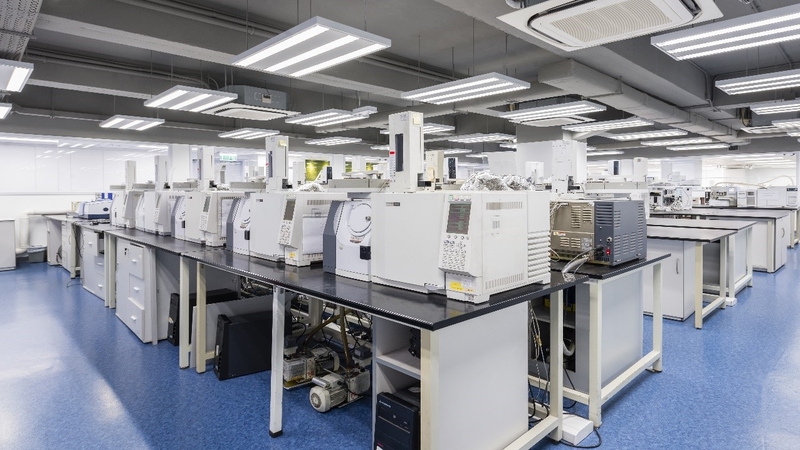 https://hkmb.hktdc.com/en/NTg3NzUwNTA4
Role of Hong Kong in Greater Bay Area Testing and Certification Sector
Hong Kong's testing, inspection and certification (TIC) industry has boomed since the 1980s. Joseph Poon, Chairman of the Hong Kong Association for Testing, Inspection and Certification Ltd, believes the Hong Kong government should collaborate with private companies to devise and set new standards for innovative services and products on which international testing and certification criteria have yet to be formulated, and promote them in the Guangdong-Hong Kong-Macao Greater Bay Area (GBA) and the international community. ​​​​​​​
Hong Kong Association for Testing, Inspection and Certification
Founded by a group of testing laboratories, inspection companies and certification bodies in 1981, the Hong Kong Association for Testing, Inspection and Certification Limited was officially incorporated as an independent, non-profit organisation. Its primary objectives are to establish and uphold a code of professional conduct, enhance the standard and quality of testing, calibration, inspection and certification, further international trade and customer satisfaction, and maintain a dialogue with the government and industry practitioners to foster the industry's development.
As well as being chairman of the Association, Poon is also the Service Line Director for Testing of the North East Asia Region for the TIC multinational Fugro, responsible for overseeing the GBA market.
Leading the GBA's Testing and Inspection Industry​​​​​​​

Poon argues that Hong Kong's strengths in the TIC field - the quality products and services it provides, and its high standard of business ethics and level of internationalisation - mean that the city's TIC services enjoy a potentially winning advantage over those of other cities in the GBA. He added that the industry could benefit further if Hong Kong were to strengthen its status as a premier city. In Poon's opinion, it is possible for Hong Kong to re-invent its traditional TIC services and products and encourage innovation in its business processes. This would include integrating the previously separate B2B and B2C businesses into a B2B2C (business-to-business-consumer) business. The city could also devise standards for products, especially innovative services and products for which international standards are yet to be introduced. The task could be championed by the Hong Kong government in collaboration with private companies, and the new standards promoted by the government to the GBA and the international community.
Another advantage of Hong Kong highlighted by Poon is its internationally renowned higher education institutions, grooming talents who can be readily deployed in technological research and development. According to the QS World University Rankings 2021, five Hong Kong universities are among the best 100 on the planet, evidence of the potential the city possesses to become an education hub in the GBA. Boasting as it does a large pool of talent and many government-subsidised research institutes, Hong Kong can aim to position itself as a technological research centre for industries with special characteristics.
The Hong Kong Research Institute of Textiles and Apparel Limited (HKRITA), supported by the Hong Kong Government's Technology and Innovation Bureau, is a good case in point. In 2017, in partnership with the non-profit H&M Foundation, HKRITA launched the novel garment-to-garment (G2G) recycling system whereby textile blends are recycled through hydrothermal treatment into new fabrics and yarns with no loss in quality. The project has contributed a great deal to the creation of a recycling loop in the textile industry, lessening the industry's damaging effects on the environment. HKRITA also co-operates with producers, supply chain management companies and multinational brands, embarking on initiatives such as waterless dyeing, wearable electronic and smart clothing, turning food waste into PEF yarn, and fashion trend forecasting by artificial intelligence (AI). Since its establishment in 2006, HKRITA has successfully applied for 106 patents and owns the intellectual property rights of 112 items, providing an excellent demonstration of Hong Kong's achievements in high value-added R&D and its competitive edge in the global market.
While manufacturing used to be one of the main drivers behind Hong Kong's development, in recent years most Hong Kong enterprises have moved away from manufacturing and into other sectors. Their manufacturing base has been relocated to neighbouring areas, partly because these offer more cost- and space-effective production. Poon believes, however, that although the golden age for Hong Kong's manufacturing is gone, the city can still use its industrial technology and the experience it has accumulated over the years to engage in early-stage production processes like R&D on production technologies and prototype making while outsourcing the actual production to other GBA cities. With its international horizon, its strength in education and R&D, its intellectual property protection regulations and its low tax rates, Hong Kong is set to remain unique and competitive in this sector within the GBA.
Technology and Innovation
With companies looking to new technologies to help them resolve existing problems or improve efficiency, many GBA cities are now placing much emphasis on technology and innovation. Poon believes that Hong Kong can play a significant role at the end of the manufacturing industry's supply chains by using new technology to offer better product inspection and after-sale service. Hong Kong's research institutes, including HKRITA, have begun developing testing and inspection equipment backed by 5G, which will enable businesses to carry out remote inspections to ensure that products manufactured overseas comply with the prescribed standards. Poon called on the government to expedite the construction of the 5G network in order to facilitate the development and implementation of this new technology.
Turning to Hong Kong's start-up ecosystem, Poon noted that the support rendered by the Cyberport and the Hong Kong Science and Technology Parks Corporation (HKSTP) is outstanding compared to other GBA cities. Both offer start-ups comprehensive support ranging from incubation programmes to assistance in output commercialisation. Poon called for the establishment of a "living lab" in each district in Hong Kong to tackle district-specific quality of life issues, deploying technologies based on local residents' needs. This would, Poon said, help build a people-centric smart city in Hong Kong and fuel the growth of start-ups. In this field, Hong Kong's unique technologies and innovative approaches should help set it apart from other GBA cities.
Mutual Recognition of Testing and Certification Results
Poon believes it is imperative to implement mutual recognition of certification results between the two sides, in order to promote synergy in the development of Hong Kong and the GBA. He said this would not only facilitate the free flow of goods, but also help Hong Kong people learn about quality products being made in other GBA cities.
Poon also stressed that the Hong Kong government should step up co-operation with other GBA cities to formulate and implement a unified set of standards within the GBA. These unified standards could also be applied in due course to cities along the Belt and Road routes, in order to strengthen connections with these markets and enhance overall production and sales standards.
Another recommendation Poon suggested is that the government should consider following the model in other countries of outsourcing tests for certain products to professional testing companies. He said that this would allow government laboratories to focus on updating existing standards and setting new ones.
Company interview conducted by PricewaterhouseCoopers Advisory Services Limited
---
Note 1: The opinions and views expressed are those of the interviewees and do not necessarily reflect the views of HKTDC or PwC. HKTDC or PwC shall in no way be responsible for the accuracy, completeness or timeliness of the information provided by them, and for any loss associated with the use of such information.
Note 2: This English version of the case study is translated by HKTDC based on the Traditional Chinese version prepared by PricewaterhouseCoopers Advisory Services Limited. Should there be any inconsistency or ambiguity between this English version and the Traditional Chinese version, the Traditional Chinese version shall prevail. PricewaterhouseCoopers Advisory Services Limited will not have or accept any liability, obligation or responsibility whatsoever for any loss, destruction or damage (including without limitation consequential loss, destruction or damage) however arising from or in respect of any use or misuse of or reliance on the English version of this case study.
Quality Inspection and Testing
Quality Inspection and Testing
Quality Inspection and Testing
Quality Inspection and Testing
Quality Inspection and Testing
Quality Inspection and Testing
Quality Inspection and Testing
Hong Kong
Hong Kong
Hong Kong
Hong Kong
Hong Kong
Hong Kong
Hong Kong
Hong Kong
Hong Kong
Hong Kong
Hong Kong
Hong Kong
Hong Kong
Hong Kong