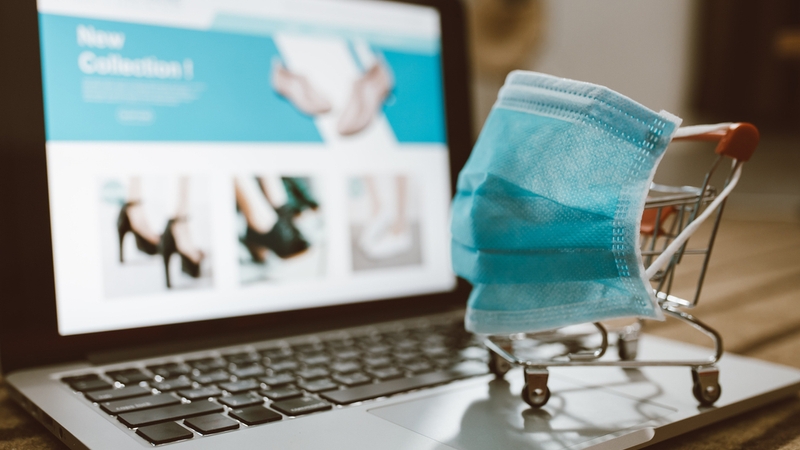 https://hkmb.hktdc.com/en/NTg2Nzg2MTk2
Start-Up Hong Kong: Stay-at-Home Boosts E-Commerce
In the last decade, rapid advances in e-commerce have reshaped traditional sales models. Edward Li, the founder of local e-commerce company Starlity, had worked for e-commerce giant Amazon for a number of years before starting his own business. Returning to Hong Kong from the UK, he discovered that the city's traditional manufacturing sector had been slow to embrace e-commerce. He decided to build a platform (www.starlity.com) for local manufacturers looking to develop e-commerce. Li found that the Hong Kong market does offer help to start-ups, although long-term support is inadequate. He is positive about the prospects for developing e-commerce and confident that plenty of opportunities exist despite the crisis brought on by the Covid-19 pandemic.
Growth of E-Commerce​​​​​​​
Li studied in the UK when he was young and worked for Amazon after graduating, gaining expertise in the field of e-commerce. After working in the UK for six years, he returned to Hong Kong, where he discovered that the development of e-commerce in the city was still only at an early stage. He founded Starlity in 2019 to help local manufacturers sell their products via an online platform to markets around the world. Businesses register as users and then upload images and information of their products targeted at overseas markets. Starlity then makes use of its networks to display these products on e-commerce platforms all over the globe. The company also offers one-stop services for its registered users, ranging from online store management to marketing, logistics, and customer service.
Li said that, although Starlity was only launched just over a year ago, its business has expanded continuously since then. E-commerce's popularity shows no sign of abating, and with the coronavirus pandemic propelling its growth still further, the number of Starlity's clients keeps climbing. Li believes that the rapid development of his company's business is being driven by the transparency of the service it provides. Because the company's clients are mostly mature, conservative middle-aged manufacturers, building trust is of prime importance. In order to do this, Starlity has developed a logistics management app which breaks down all the operation procedures into a to-do list so that its clients can have a clear idea of each step of online sales and of projected results. Li claimed that this service, which he considers something of a breakthrough in the field of e-commerce platforms' operation procedures, has won the trust of its clients.
As a start-up company, Starlity has done very well. Li said that the key to success for start-ups is focusing on one's specialisation. Because Hong Kong has so many market opportunities for developing companies, start-ups are sometimes led astray from their original business idea. Li pointed out that some start-ups modify their products or service contents in order to meet requirements for applying for funding from various sources. For instance, as part of the Distance Business (D-Biz) Programme under the Anti-Epidemic Fund launched by the government recently, financial assistance of up to HK$300,000 is offered to companies to develop distance business such as setting up online stores and engaging in digital marketing. Even though not all kinds of products are suitable for selling online, some companies devote time and resources to building an online platform in order to obtain funding. Li called this trend regrettable, saying that entrepreneurs should adhere to their beliefs and focus on developing the projects they specialise in.
Shortage of Local Talent
Starlity currently employs eight members of staff, who are responsible for developing and managing the online platform, customer business operations, and business administration, covering both the commercial and technical aspects. Li believes that, because Hong Kong's role on the international market is mainly related to commerce rather than technology, the city's business experts are better trained than its technology talent. Technical staff here can meet the demands of the majority of businesses as long as they are capable of handling basic technical operations. This has led to a shortage in supply of local technology talent. The mainland, in comparison, has a large pool of technology talent. Although Li had considered recruiting talent with a strong technical background from outside Hong Kong, he gave up on the idea in the end due to the complicated application procedures involved. In his view, whether one is recruiting business talent or technology talent, having a good working attitude is always his primary consideration.
Based on his experience developing Starlity, Li said that Hong Kong offers quite a lot of assistance to start-ups. Giving the example of the Cyberport Creative Micro Fund (CCMF), of which Starlity is a beneficiary, Li said: "In addition to obtaining HK$100,000 seed funding, start-ups can also take advantage of the CCMF Mentor Network Programme, under which they are given advice on and mentorship in business development by their mentor. Moreover, through this programme, start-ups can connect with established companies in the same line of trade, and exchange entrepreneurship experience with them."
This programme lasts for six months and start-ups which have completed the programme are given priority when applying for the Cyberport Incubation Programme. In Starlity's case, Cyberport made flexible arrangements to bring the company's graduation forward so that it could apply for the incubation programme sooner. As a result, Starlity is now in the Cyberport Incubation Programme, meaning that it can enjoy rent-free working space, free use of meeting rooms, co-working space and facilities at Cyberport. Li hopes that this status could also help his company shorten the time required for obtaining the next round of financial assistance of up to HK$500,000.
Although Li worked in the UK for many years, he did not come across any similar incubation programmes run by the UK government for start-ups. In other words, Hong Kong offers more advantages for entrepreneurs looking to start their business here. However, Li pointed out that local funding mainly takes the form of short-term programmes which are not a great help to businesses in their long-term development. Other countries have more platforms for exchanging ideas which provide support for start-ups and help them establish long-term business relationships.
Li also raised the issue of investment in start-ups. Li has not yet made any plans to raise funds from investors, but said that the experience of his peers is that most of Hong Kong's angel investors and venture capitalists are primarily interested in short-term returns. Li said that he'd like the market to provide more opportunities for start-ups to connect with investors and, better still, more chances to communicate with potential investors.

Opportunities for E-Commerce
Because most Hong Kong manufacturers have production facilities in the Guangdong-Hong Kong-Macao Greater Bay Area (GBA), Starlity's business is closely related to the GBA. Despite this, Li has no intention of setting up an office in the mainland for the time being. The mainland and Hong Kong have very different business cultures, and this, added to the rapid pace of technological advance and the steepness of competition in the mainland, means that if Starlity was to try to enter the mainland market, it would have to revamp its operation model and systems to meet that market's needs. However, Li praised the policies introduced by the central government in recent years encouraging Hong Kong people to do business in the mainland, saying that they have a positive impact on local companies. One example of this, regarding capital flow, is the availability of remote bank account opening services in the GBA. This, Li noted, makes it easier for Hong Kong companies to conduct their daily operations.
When it comes to expanding into foreign markets, Li said that he is eager to tap into those in South-east Asia. This is because, according to Li, competition in South-east Asian markets is less intense than in other Asian markets such as Japan and South Korea, and language barriers are easier to overcome.
Looking to the future, Li is confident that e-commerce will become a major trend. He expects manufacturers across the world to move towards this direction, expanding from original equipment manufacturing (OEM) to offering brands that come with various value-added services in order to adapt to the current market. Li said that in the next few years he intends to focus more on manufacturers in industries with a low e-commerce penetration rate (e.g. consumer household products), and put his efforts into researching new technologies and fine-tuning each phase of consumption to try to improve the way such products can be sold via e-commerce platforms.
As with most other parts of the economy, e-commerce has been affected in the short-term by the coronavirus pandemic. In the first few months after the disease began to spread, logistics virtually ground to a halt and some of Starlity's clients were on the verge of closing down. This forced the company, acting as an intermediary, to suspend operations. Li believes, however, that while the pandemic has brought about crises in the short term, opportunities are bound to emerge in the long run. Indeed, as far as e-commerce is concerned, Covid-19 has paved the way for it to develop into a mega trend. Li is confident that in the future his company's client numbers will continue to grow and business will keep expanding.
Hong Kong
Hong Kong
Hong Kong
Hong Kong
Hong Kong
Hong Kong
Hong Kong
Hong Kong
Hong Kong
Hong Kong
Hong Kong
Hong Kong
Hong Kong
Hong Kong
Hong Kong
Hong Kong
Hong Kong
Hong Kong
Hong Kong
Hong Kong
Hong Kong
Hong Kong
Hong Kong
Hong Kong