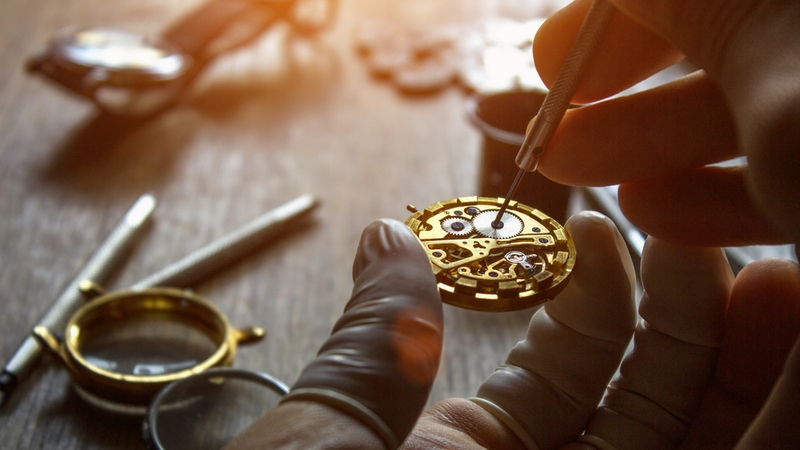 https://hkmb.hktdc.com/en/NTcxMzcwNjcw
Hong Kong: Preferred Logistics and Professional Services Hub for Greater Bay Area Manufacturers
Hong Kong's international business environment boosts the confidence of foreign companies in Hong Kong companies. While some Hong Kong manufacturing enterprises have relocated their production plants to mainland cities in the Guangdong-Hong Kong-Macao Greater Bay Area (GBA), they still maintain their headquarters in Hong Kong. According to Eddie Leung, Managing Director of Dailywin Watch Products Manufacturing Ltd, Hong Kong, as an international logistics hub offering professional audit and legal services, is the prime choice of service providers for manufacturing enterprises in the GBA. ​​​​​​​
A Hong Kong Watch Products Manufactory
Founded in Hong Kong in 1978, Dailywin Watch Products Manufacturing Ltd operated its first factory in Kwai Chung. Later, due to shortage of labour and production space, coupled with a rapid rise in labour costs, the company relocated its factory to Dongguan in 1989. The core business of Dailywin is producing quartz watches and high-end mechanical watches for large international watch manufacturers on an OEM (original equipment manufacturing) basis. Currently, the company's headquarters in Hong Kong is responsible for import and export, sales, accounting and auditing, while its manufacturing and design activities are carried out in Dongguan, where production is undertaken in the form of processing with bonded materials. Dailywin has also set up a company in Switzerland taking charge of creative R&D, design, production and sales.
Although Dailywin's production base is in Dongguan, Leung points out that Hong Kong is more integrated with the international community in areas such as the legal system. The Hong Kong business environment helps to boost the confidence of international companies in Dailywin, and this is why the company has based its headquarters there. This positioning also helps the company's export business. Precision products such as watches and clocks have stringent requirements for transportation safety, so Dailywin delivers its products to overseas clients by airfreight via Hong Kong. Compared with the mainland, airfreight fees are lower and there is also a greater number of flights and destinations. Hong Kong is therefore the best choice as a transport hub and it has been handling large volumes of cross-border logistics and transportation for Dailywin for years.
Dailywin also uses the professional services available in the territory. For instance, the company appoints accounting and legal firms in Hong Kong to handle its audit and legal matters respectively. However, in order to meet its business requirements in the mainland, Dailywin also uses professional consultancy services in Guangzhou. Comparing the professional services in the two places, Leung believes that those provided by Hong Kong are of a higher standard. Nevertheless, the standard of professional services in the mainland is catching up fast. For international patent registration service and pricing in particular, mainland companies are in a more advantageous position.
Government Subsidy Bolsters Enterprise Development​​​​​​​
Leung suggests that greater efforts should be made by the government to help enterprises promote their brands. Under existing preferential policies, including concessionary and subsidy policies, the same assistance is granted to enterprises large or small and the benefit for industry players is limited. Leung believes that in order to help enterprises promote their brands, the government should introduce a better enterprise screening system, set up a rating mechanism, and systematically select enterprises eligible for assistance and determine the amount of subsidy. The government could award subsidies on the basis of a company's experience and achievements rather than just focusing on large production volumes and high turnover.
Leung adds that many Hong Kong SMEs are still manufacturers of basic parts and accessories providing OEM services to large companies. These SMEs would benefit from government help to move up the industry supply chain and build their brands. Such support could involve not only financial assistance, but also, more importantly, time and effort in helping these small and medium-sized manufacturers to upgrade.
Technology Innovation the Key
Dailywin aims to exploit the historic opportunities brought about by the GBA initiative to improve the quality of its operations. The company's strategic plan focuses on five main areas, namely creative design, smart manufacturing, brand operation, personnel training, and time culture.
The Outline Development Plan for the Guangdong-Hong Kong-Macao Greater Bay Area not only unfolds the blueprint of 'the world's No.1 bay area', but also serves as a harbinger of the second 'go north' venture for Hong Kong companies (the relocation of Hong Kong manufacturers when the mainland embarked on reform being the first). Given the objectives of the Outline Development Plan and Hong Kong's present circumstances, business opportunities arise in two main areas. First, modern services led by financial services; second, using technology and innovation to advance manufacturing industry.
Currently the Hong Kong government is actively promoting "re-industrialisation", and its determination to support technology and innovation is evident. In fact, this innovation is the engine propelling social development as well as the "force" driving the growth of various industries and sectors. Hong Kong should take the lead in building an international technology innovation centre in the GBA. Co-ordinated efforts made by the Hong Kong and mainland governments can help manufacturers become more aware of novel technologies and new industrial methods.
Company interview conducted by PricewaterhouseCoopers Advisory Services Limited
---
Note 1: The opinions and views expressed are those of the interviewees and do not necessarily reflect the views of HKTDC or PwC. HKTDC or PwC shall in no way be responsible for the accuracy, completeness or timeliness of the information provided by them, and for any loss associated with the use of such information.
Note 2: This English version of the case study is translated by HKTDC based on the Traditional Chinese version prepared by PricewaterhouseCoopers Advisory Services Limited. Should there be any inconsistency or ambiguity between this English version and the Traditional Chinese version, the Traditional Chinese version shall prevail. PricewaterhouseCoopers Advisory Services Limited and Dailywin Watch Products Manufacturing Ltd. will not have or accept any liability, obligation or responsibility whatsoever for any loss, destruction or damage (including without limitation consequential loss, destruction or damage) however arising from or in respect of any use or misuse of or reliance on the English version of this case study.
Watches & Clocks
Watches & Clocks
Watches & Clocks
Watches & Clocks
Watches & Clocks
Watches & Clocks
Watches & Clocks
Hong Kong
Mainland China
Hong Kong
Macau
Hong Kong
Mainland China
Hong Kong
Macau
Hong Kong
Mainland China
Hong Kong
Macau
Hong Kong
Mainland China
Hong Kong
Macau
Hong Kong
Mainland China
Hong Kong
Macau
Hong Kong
Mainland China
Hong Kong
Macau
Hong Kong
Mainland China
Hong Kong
Macau