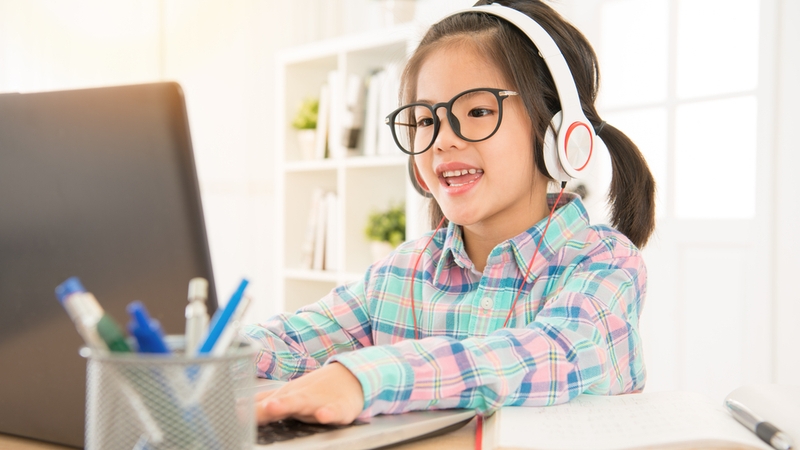 https://hkmb.hktdc.com/en/NTcwMzA2MDgz
The Post-Covid New Normal: The Coding E-Learning Opportunity
Interview with Harris Chan, Founder of Cobo Academy
The education sector is facing unprecedented challenges from the impact of Covid-19. With the suspension of face-to-face teaching, online learning has become the new normal whereby students continue to attend classes without going to school. Like schools, institutes offering extra-curricular courses for students are facing the same challenges. Harris Chan, founder of Cobo Academy, shared his practical experience in moving classroom teaching online and analysed the development prospects for STEM1 education in Hong Kong for the benefit of industry players.
Critical Thinking Through Coding​​​​​​​

Harris Chan, formerly a software engineer with Microsoft in the US and marketing director of its Hong Kong operations, has rich experience in advancing the development of digital technology. He is deeply aware of the challenges and opportunities brought about by digital transformation to various sectors. Chan founded Cobo Academy in Hong Kong in 2018 with the aim of providing coding and robotics education to students aged 4 to 16, in order to enhance their digital knowledge, analytical thinking and problem-solving skills. Such technical abilities and skills can not only complement their learning from textbooks but also, more importantly, make it easier for them to integrate into the future society and broaden their vision. The courses currently offered by Cobo Academy are designed according to the age, interest and coding experience of the students. For instance, elementary coding courses for students aged 6 to 8 focus on block-based coding, which is easier for young children to master. With an emphasis on logical thinking, this allows young children who are not familiar with computer operations to try to develop programmes with drag-and-drop coding blocks. Elaborating on how young children can give full play to their creativity by designing animations and simple games using coding, Chan said: "Such block-based operation is so simple and intuitive that even students of a very young age can easily get a sense of achievement and find interest in the learning process. It stimulates their creativity and expands their scope of thinking, as well as giving proper guidance to the development of their personal potential. During the process, the children get to enjoy the fun of coding."

Chan encouraged parents to let their children start learning coding from a young age so they can master the language of the new era and grow their interest in technology and ability in problem solving, explaining: "Children can pick up new things easily. Allowing them to learn coding at a young age can arouse their curiosity towards technology and creativity. The focus of learning is on nurturing logical thinking, which encourages them to consider and analyse problems from various angles. Coding not only teaches children a technical skill, but also teaches them how to apply it to learning and daily life."
Partnering With Schools
In terms of business development, Cobo Academy organises extra-curricular activities in co-operation with a number of international and local schools, including La Salle College, Chinese International School and German Swiss International School. Cobo Academy runs both on-campus and off-campus courses, and organises events and contests related to innovative technology for these schools. In April 2020, for instance, Cobo Academy partnered with Microsoft Hong Kong in hosting the Minecraft Story-coding Challenge for Chinese International School. This online event, which attracted more than 100 students, aimed to encourage participants to take up more reading and give full play to their creativity by combining coding, game design and story-telling skills to bring their stories to life. It achieved excellent results.
Organising Digital Transformation Workshops for MNCs
Apart from running coding classes for children, Cobo Academy also delivers corporate training and organises team-building workshops for companies. Explaining the drive behind the academy's co-operation with corporates, Chan said: "The person in charge of one company once told me he believed that everyone in a company must have a good working knowledge of technology before they can achieve maximum effectiveness. As such, he was hoping that his colleagues in all departments, including human resources and even legal affairs, should gain some understanding of coding so as to allay any fears they may have with technology. It was also his hope that through coding courses that even young children can master, staff with no technical background can come to realise that learning high technologies such as coding, robotics and artificial intelligence is not as difficult as they thought."
Cobo Academy has run digital transformation workshops for a number of well-known multinational corporations (MNCs) including Hewlett-Packard, A.S. Watson and CLP Power Hong Kong. In 2019, Cobo Academy was engaged by PUMA to run Design Thinking and Coding workshops in Southeast Asia and Taiwan for its local staff.
From Classroom to Online
Under Covid-19 lockdowns, schools in Hong Kong have moved classes online in line with the "suspending schools without suspending learning" motto. Cobo Academy, being no exception, swiftly switched all its courses online. Indeed, it first introduced online courses in mid-2019 when the academy was run in a hybrid mode of 30% online and 70% classroom teaching. But according to Chan, despite its six-month experience, when online teaching was fully launched this year the company still faced many constraints and challenges.
First of all, online learning has its limitations as it may not be suitable for certain courses or students of all ages. As Chan explained: "For courses involving hardware applications such as robotics, it's difficult to conduct demonstrations on video." Hence, during its transition from classroom to online, Cobo Academy had to review and revise its course content and prepare teaching materials suitable for online learning. Moreover, since young children such as kindergarten kids have short attention spans and are not computer savvy, they need their parents' help in going online, making it more difficult to finish online courses effectively and independently. Cobo Academy is therefore considering introducing courses that allow parents to attend with their children. In other words, they can learn and spend time with their children simultaneously.
Secondly, as e-learning has been growing rapidly in recent years, instructors need time to adapt to this teaching mode. In addition to mastering the techniques of operating the online teaching platform, instructors also have to change their teaching method, adjust the content and amend the materials. They also have to deliver the teaching content to students naturally, effectively and clearly in front of the camera. Outlining such challenges, Chan remarked: "Instructors generally feel that the absence of face-to-face interaction with students poses more obstacles to online teaching than classroom teaching. Besides, students also need time to adapt to this switch in learning mode. When a question is raised by the instructor, they may not be able to respond immediately on the computer screen. This has made it more difficult for the teacher to assess their learning progress. It is particularly difficult where enhancing learning interactions is concerned."

To deliver online teaching more effectively, Chan led a team of instructors in studying how to revise the teaching mode and content, and to help understand the needs of both the students and instructors in order to effectively launch interesting and interactive classes. The third challenge facing online learning is alleviating the anxiety of parents about their children having to spend a long time in front of a computer screen. During school closure, apart from the switch of classroom learning online, extra-curricular activities such as interest classes and tuition classes also went online. Elaborating on parental concerns, Chan explained: "Many parents are worried that spending lengthy periods in front of the computer screen studying would have a negative impact on their children's health." In light of this, Cobo Academy made appropriate adjustments by revising the duration of classes according to the age of the students, such as shortening the session time of online summer courses from three to two hours.

Parents' concern about the effectiveness of online teaching is the fourth challenge. It is easier for schools to implement online education because parents have no other choice. But many parents feel that extra-curricular courses taught online should cost less than classroom courses. In response to this, Cobo Academy has slightly reduced its online course fees and introduced many supporting measures to reinforce to parents that the quality of online courses is not inferior to that of face-to-face classes. As Chan explained: "At the end of each course, a learning progress report is issued to give parents the chance to understand the learning progress of their children and make suggestions. Besides, the number of students in each class of our online courses has been lowered from eight to four or five so as to ensure that the instructor has sufficient time to take care of each student and the students can have more chances to participate in the class."

Overcoming Time and Space Constraints
While online teaching faces many challenges, new opportunities have also emerged. As online teaching overcomes time and space constraints, target clientele can expand from Hong Kong to overseas markets. Chan said that the number of cross-district and even overseas students enrolling in Cobo Academy's online courses had increased markedly, explaining: "In light of this, we will continue to devote resources to developing online courses post-pandemic in the hope of expanding in overseas markets. In the long run, digital transformation will be the main trend for education. The advantage of coding education is that it is easier to be taught on electronic platforms. As coding is a common global language in the new era, even if we expand our courses to overseas markets, we don't have to make major changes to the course content."
STEM Education Market Has Huge Potential
In this digital transformation era, the integration of human intelligence and technological advancement helps to propel social progress. The rapid development of technology has overwhelmingly impacted the whole world. Against this background, STEM will undoubtedly become the new trend in education development. Although the Hong Kong government proposed STEM education for the first time in its 2015 Policy Address, Chan said it still had huge room for growth in the SAR, explaining: "At present, the Education Bureau lets each school develop its STEM subjects independently without providing any standard guidelines specifying the scope of knowledge to be taught to students in each grade. This policy of independent teaching has led to the uneven pace of development of all schools." As society moves towards technology and artificial intelligence, Chan believed that STEM would soon be included in the school curriculum as regular courses integrating digital technology into education. Since Hong Kong parents are generally results-oriented, when STEM becomes regular school subjects, they would naturally put more resources into nurturing their children's abilities in these areas.

Chan pointed out that STEM subjects were different to traditional ones, saying: "In the past 20 or more years, the content of traditional science subjects taught has not undergone too many changes. On the contrary, STEM subjects are expected to keep evolving in line with technological advancements. As such, their development direction is versatile, creating boundless market opportunities. And because of this, industry players must keep reviewing the curriculum framework in order to make the content up to date."

Under the Guangdong-Hong Kong-Macao Greater Bay Area development plan, Hong Kong's role is to proactively propel the innovation and technology industries. If the Hong Kong government is to increase its input into STEM education in the future, it can surely build the city into an international innovation and technology centre, and create huge room for development for Hong Kong companies.
---
1 STEM education refers to the interdisciplinary teaching of the four subjects of Science, Technology, Engineering and Mathematics.
Education & Training
Technology