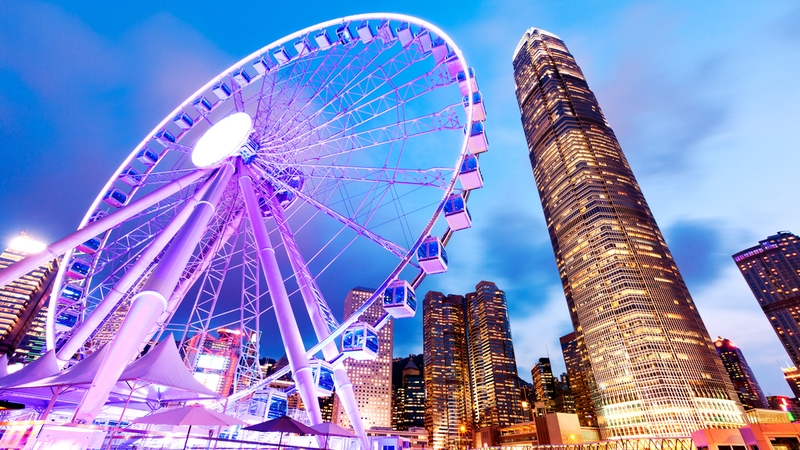 https://hkmb.hktdc.com/en/NTc5ODM1OTUw
Hong Kong's Future Development Direction: An International Financial Centre
Capital connectivity is a prerequisite for economic integration. Restrictions on cross-border transactions are currently one of the greatest impediments to capital market and business development. Hong Kong should cooperate on a pilot basis with the mainland to relax restrictions on cross-boundary capital flows in specific locations or for specific groups. This would promote the development of the financial and capital markets on both sides.
Promoting Cross-boundary Capital Flow
Hong Kong's "one country, two systems" arrangement gives it a unique status in the global market. Hong Kong should use this advantage to continue to push for the internationalisation of the renminbi. It could, for example, continue to promote the renminbi as a transaction currency in international trade. At the same time, it could also establish a platform for cross-boundary investment and continue to foster the development of Shanghai-Hong Kong Stock Connect and Shenzhen-Hong Kong Stock Connect by, for example, helping overseas enterprises or institutions buy mainland securities or bonds. The implementation and scope of "cross-boundary wealth management connect" pilot schemes like this could be increased gradually by, say, starting with low-risk wealth management products. It would be possible to carry out "early and pilot implementation" in the Guangdong-Hong Kong-Macao Greater Bay Area (GBA) by beginning with measures that are easier to manage and apply them to the 70 million-plus population. These measures could then be expanded to Hong Kong and Macao to form one merged market for financial and wealth management products.
Enhancing Connectivity in Financial Services
In the survey on Hong Kong's position as the international business hub for the GBA1, many respondents pointed out that the process for cross-boundary account opening is so excessively complicated that it is not conducive to trying to run a cross-boundary business. It could be simplified by using emerging technologies, such as fingerprint, voice and face recognition, which would eliminate the need for clients to provide on-site authentication. Many GBA businesses use Hong Kong's financial services, particularly for carrying out trade settlements.
Many respondents said that Hong Kong, a global financial centre with an extensive array of financial and wealth management products and services, should talk to other GBA cities about how to provide more efficient and convenient payment and settlement channels. For example, the integration of cross-boundary currency settlement systems in the GBA could be speeded up, while cross-boundary currency exchange and trading could be opened up to raise operational efficiency and lower costs, thus making it more convenient for mainland enterprises to conduct foreign trade activities through Hong Kong.
One respondent in the insurance sector said that the relevant departments in Hong Kong should talk to their counterparts in the GBA about how to improve the operation and administration of the cross-boundary insurance business. For a start, Hong Kong insurance companies could be allowed to provide after-sales services on the mainland to clients who have taken out a policy with a Hong Kong insurance company. This would provide a foundation for future policies that would allow insurance products and services to be sold outside Hong Kong.
Pioneering Financial Regulatory System Reforms
Hong Kong is a market-oriented free economy. In order to support mainland enterprises' transactions with Hong Kong and overseas companies, Hong Kong could help mainland cities in the GBA gradually ease restrictions on capital flow and make capital-flow channels easier to use. Many mainland enterprises use Hong Kong to make foreign trade settlements. The city should take advantage of its more open and more internationalised financial system to help mainland authorities liberalise their financial policies. It could encourage innovation in financial products, advocate a relaxation of restrictions on cross-boundary capital flows, and push for the launch of cross-boundary business by financial institutions. This would allow them to offer cross-boundary services to their clients, thereby advancing the development of cross-boundary financial products and services.
When it comes to regulation, Hong Kong could serve as a leading "regulatory sandbox", where new ideas can be tested. By implementing pilot schemes for laws relating to hi-tech and renminbi internationalisation, it can support the development of fintech products and services. With its mature financial services, Hong Kong can foster fintech innovation and inject new elements into the GBA financial sector, facilitating reforms in the traditional financial sector. Because Hong Kong enjoys special advantages as a global financial centre and a gateway to mainland China, its departments can take the lead in helping other GBA cities gradually convert to becoming more market-oriented economies, and in making them more internationally aligned in areas such as laws and regulations, market supervision and information flow.
In the area of fintech development, Hong Kong can use its status and experience in the international financial market to help bring the GBA financial sector up to international standards. One respondent said that Hong Kong, as the city with the most mature financial sector, should encourage the development of the GBA financial sector by organising jointly with other GBA cities more regular exchanges among professionals and authorities from the two territories. It should also provide more tax incentives (such as relating to R&D expenses) to fintech companies, especially start-ups. Hong Kong could also give businesses more support through infrastructure construction (such as bank account opening by SMEs), while at the same time continuing to push forward the "sandbox" model now being implemented in Hong Kong.
As fintech develops, regulatory personnel who traditionally have a background in finance or law may find themselves unable to understand how cutting-edge technology can be applied to financial products and services. Hong Kong's regulatory bodies should therefore look to bring in more professionals with technology backgrounds, who will help them get a better understanding of fintech companies' products and the technology behind them. The introduction of more professionals with technology backgrounds may even lead to greater innovation in the regulatory system. Hong Kong should also focus on fintech development to reinforce its current advantages in the financial sector. This could be achieved by cultivating a fintech-related start-up ecosystem to encourage the convergence of internationally leading fintech companies in Hong Kong and make the city a world-class base for fintech enterprises.
Hong Kong should also continue to reform the ways financial services and goods are provided. In the survey, one business engaging in financial services suggested that Hong Kong should encourage traditional banks to try out more new things. They could, for example, cooperate with mainland third-party mobile payment platforms in using AI and big data technology to examine the information and credit status supplied by clients and to offer customised financial products as a way to control risks.
Preferred Fundraising Centre for Start-ups
Hong Kong's unique status as a free port and a financial centre is recognised internationally. This allows it to raise capital efficiently across the world, which means it plays a vital role when mainland enterprises venture into the world markets. Hong Kong should look to continue to maintain its competitiveness as a capital-raising and financing centre, so that it can serve as a platform connecting international investors to businesses with potential. As technology and innovation industries develop, increasing numbers of start-ups will appear, needing to scale up through fundraising and financing. Hong Kong's authorities should take an early opportunity to carry out policy reforms, review listing mechanisms and roll out more flexible measures. In order to improve Hong Kong's position as a preferred fundraising and financing centre for start-ups, the authorities need to strike a balance between protecting investors and luring start-ups to Hong Kong.
Sustaining Development of Finance and Green Finance
In the survey, most respondents from the financial sector said they thought that Hong Kong has the potential to play an important role in the overseas financing of Belt and Road projects. Though the development of environmental, social and governance (ESG) investing is still at an early stage in Hong Kong and the mainland, the Stock Exchange of Hong Kong's recent strengthening of disclosure requirements and the mainland's trend towards electronic disclosure reporting will help healthy market development. There are also many opportunities in Hong Kong to invest in sustainable development construction. Examples include investment in certified green buildings, eco-friendly transportation and garbage disposal facilities. With the capital and bond market for green projects getting more mature, clear and transparent guiding principles and green project-related due diligence and review will become increasingly important. Diversity in investment products is one of the indices of the maturity of a market. So, in addition to green bonds, Hong Kong should also establish products such as ESG indices, social impact funds and social impact bonds. By using its status as a global financial centre and its strategic location as the gateway into mainland China, Hong Kong can make green finance a key area for development. By making use of its advantages in the financial sector, it can help build the GBA into a green finance hub. Some respondents also suggested that the authorities in Hong Kong should boost incentive measures for green finance projects. By setting unified standards for financial products such as green bonds, it could enable the certification of financial products in multiple locations. This will increase the mobility of these financial products and attract more banks into participating in the development of a green finance sector.
---
1 For the background information about this report, please refer to the appendix in Hong Kong as the International Business Hub for the Greater Bay Area (Executive Summary).
The Chinese version of the report is prepared by PricewaterhouseCoopers Advisory Services Limited. The English version of the report is translated by the Hong Kong Trade Development Council based on the Chinese version. Should there be any inconsistency or ambiguity between the English and Chinese versions, the Chinese version shall prevail.
PricewaterhouseCoopers Advisory Services Limited, other PwC Firms, its partners, employees and agents, accept no liability, whether as a result of breach of contract or tort (including negligence) in relation to the report (Chinese or English version), and will not accept any liability, obligation or legal responsibility for any loss or damage (including without limitation consequential loss or damage) however arising from or in connection with any use or misuse of or reliance on the report (Chinese or English version) by the readers. PwC Firms refer to any entity or partnership within the worldwide network of PricewaterhouseCoopers firms and entities ("PwC Firms"). Each of PwC Firms is a separate and independent legal entity.
Finance & Investment
Finance & Investment
Finance & Investment
Finance & Investment
Finance & Investment
Finance & Investment
Finance & Investment
Hong Kong
Mainland China
Hong Kong
Macau
Hong Kong
Mainland China
Hong Kong
Macau
Hong Kong
Mainland China
Macau
Hong Kong
Mainland China
Macau
Hong Kong
Mainland China
Macau
Hong Kong
Mainland China
Macau
Hong Kong
Mainland China
Macau