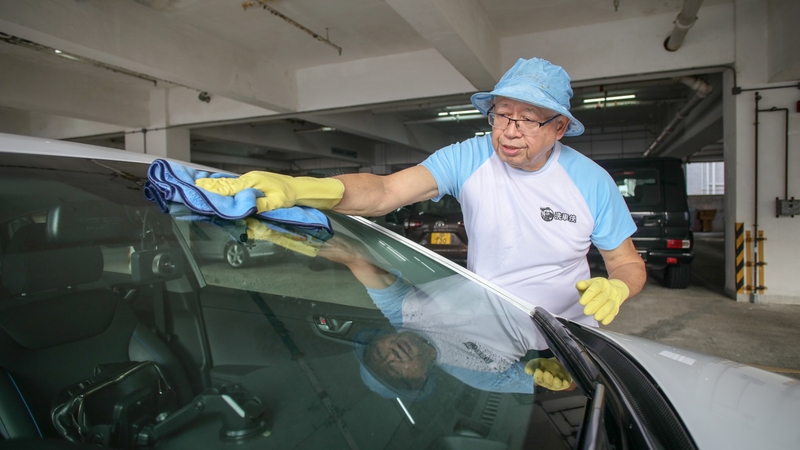 https://hkmb.hktdc.com/en/NTc3NDM0OTIz
Start-Up Hong Kong: Winning Ways with Local Resources
In the past decade or so, the rising popularity of smartphones has brought onto the market a whole host of mobile apps, ranging from electronic games to aids for daily life. Founded in 2015, CarWash.HK is a local start-up providing door-to-door car washing and detailing services. It provides a remarkable example of how mobile apps can be integrated with a local, traditional service. The company is also a social enterprise offering job opportunities and training on professional car detailing to local disadvantaged groups. Its founder Leo To spoke to HKTDC Research about how the company started and developed into a social enterprise and its recent experience of dealing with the Covid-19 outbreak.
Product Concept
To studied computer science in college. His first job after graduating was as a software engineer in an information technology company. Convinced that the use of mobile apps would continue to grow, To partnered with friends to start his own business. His company developed websites and apps for a number of other businesses, and launched innovative products such as a toilet finder app, Toilet Rush. To enjoys the flexibility involved in running his own business, and finds great satisfaction in having the freedom to develop non-mainstream apps.
To is a car lover and knows the problems that many Hong Kong car owners face. One weekend, he spotted a long queue of cars on the street and found that the drivers were lining up to use the automatic car wash machine at a filling station. Knowing that there were huge variations in quality in the car wash service market because of the low profit margins, To began to think about how the business could be developed. Taking his inspiration from Uber, To realised that it would be feasible to hail car wash workers in the same way that drivers are. It was from this that To's idea of "door-to-door car washing" was born.
To began studying the ins and outs of car washing. One main issue is that washing cars usually involves a large volume of water, which means big puddles of water are left behind on the ground. This has led to many of Hong Kong's private carparks banning the use of water in car washing, in order to prevent accidents. To therefore looked at the feasibility of water-less car washing, exploring techniques developed in countries where water supply is a problem and introducing them into his business.
To founded CarWash.HK on his own in 2015. It differs from traditional door-to-door car washing service in that it uses a dedicated mobile app to interact with customers. They can book a service and make payments via the app for a full range of door-to-door car detailing services, including washing, waxing and coating. In 2016, CarWash.HK won the Best Mobile Apps Silver Award in the Hong Kong ICT Awards. ​​​​​​​
Developing into a Social Enterprise
When CarWash.HK started up, it faced a severe manpower shortage. To had to take on most of the tasks himself, including washing cars for clients. The problem only became worse as the company's business grew. To resolved the issue by seeking help from social welfare organisations like the Hong Kong Society for the Aged, finding people in need of a job such as elderly retirees, ex-mental patients and housewives. Jobs are assigned to them via mobile apps, based on their individual work capability. When To started up CarWash.HK, he hadn't initially envisaged it becoming a social enterprise giving back to the community, but it is now listed on the Social Enterprise Directory of the Hong Kong Council of Social Service.
Helping Start-ups
To believes that, while Hong Kong's low tax regime makes it easier for businesses like his to operate, the city's prohibitive wage levels are a grave challenge to start-ups. Both his start-ups benefited from financial support and assistance with brand awareness in their initial development stage, having been incubated at the Cyberport and the Hong Kong Science Park. But, as To points out, government support for the start-ups' further expansion ceased after the one-year incubation period. Commenting on the lack of support for many new companies, To said: "The government's Public Sector Trial Scheme focuses only on hi-tech projects in fields such as biotechnology and robotics. It takes on mostly the R&D outcome of projects under the Innovation and Technology Fund. There is virtually no support for start-ups in businesses like ours which are more related to people's daily lives."
In To's view, given the government's extensive human resources network and the large demand for various types of services, it would be a huge benefit for start-ups if the government could deploy resources to consolidate local start-ups' services, match them with various departments' needs and give priority to procuring start-ups' services. In the case of CarWash.HK, if the government or public organisations chose the company's car washing service for some of their vehicle fleets, it would mean good business for the company, enhance its client profile and boost customers' confidence.
To is also critical of the level of support for start-ups among most of Hong Kong's investors, whom he said focus only on the property and stock markets. Although fund matching activities are being carried out in the Science Park, local angel investors are generally looking for short-term returns. As far as the government's Innovation and Technology Venture Fund is concerned, the very stringent vetting mechanism means that assistance for To's sector is hard to come by.
To remarked that, while resources are made available by the government for people starting a business, they are not deployed effectively to address those businesses' varying needs. Looking at the situation overseas, To commented: "Compared to Hong Kong, Singapore is more forward-looking and ready to invest in different industries, covering their operations from the R&D to the commercialisation of a product. In Hong Kong, however, to give one example, the government had a plan some years ago for the city to be built into an international Chinese medicine hub. Over 20 years have passed since then and development in this regard remains stagnated. In recent years, with global development moving towards technology and innovation, the focus of government resources and policies has been shifted to this sector. All in all, the impression is that the Hong Kong government is always lagging behind market developments. Nor is it far-sighted when it comes to devising long-term plans and development strategies. Since the government lacks the insight for focused development on a single sector, it might as well expand its scope of assistance to cover all sectors and lend support to start-ups of all kinds."
Challenge of Epidemic
The Covid-19 outbreak has dealt a blow to many local industries. To noted that the epidemic poses the toughest challenge to the company to date since its establishment five years ago, pointing out: "Many people work from home during the epidemic. With more time to spare, they naturally do their own car washing." In light of this and in response to changing market needs, CarWash.HK has concentrated on developing its car disinfection service, which has helped to bring business back.
To's recipe for success when starting a business is to have faith in yourself and be ready to take daring steps. Operational policies should be drawn up based on market needs and business expansion should be driven by closely following the latest trends. Going forward, CarWash.HK plans to continue with its focus on the local market. To is also looking to set up a "car network" in Hong Kong, offering comprehensive, one-stop support to car owners, including the provision of journey information, on-road support services and licence renewal services. The aim is for the company to carve out a bigger slice in the market.
Hong Kong
Hong Kong
Hong Kong
Hong Kong
Hong Kong
Hong Kong
Hong Kong
Hong Kong
Hong Kong
Hong Kong
Hong Kong
Hong Kong
Hong Kong
Hong Kong
Hong Kong
Hong Kong
Hong Kong
Hong Kong
Hong Kong
Hong Kong
Hong Kong
Hong Kong
Hong Kong
Hong Kong