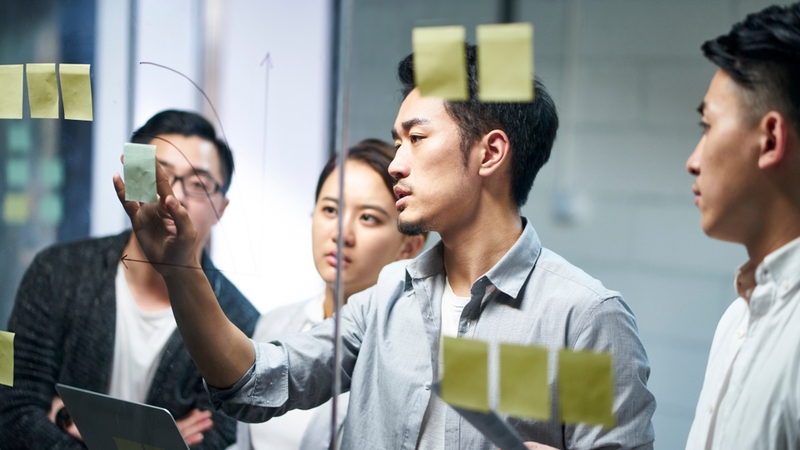 https://hkmb.hktdc.com/en/NTc3MzY4NDU3
Hong Kong as Focal Point of Startup Development in the Greater Bay Area
Having invested in more than 250 startup companies across China and other regions, Gobi Partners focuses on identifying and supporting early-stage startups in a broad range of technology sectors. Gobi's approach aims to build a regional network that can help entrepreneurs scale, while furthering the development of startup ecosystems in emerging and underserved markets. Chibo Tang, Partner of Gobi Partners leading the firm's Greater Bay Area (GBA) practice, shares his experience in managing the Alibaba Entrepreneurs Fund (AEF) in Hong Kong.
Gobi Partners: A Pan-Asian Venture Capital Firm​​​​​​​

Founded in 2002 from Shanghai, Gobi Partners is a leading Pan-Asian venture capital firm, with 11 offices, and a footprint covering Northeast Asia, Southeast Asia, South Asia, the Middle East, and Africa. Gobi manages multiple funds in both US dollar and local currency. To date, Gobi has invested in more than 250 startups across Mainland China, Hong Kong, Southeast Asia, and other regions. Over the years, Gobi has built a broad resource ecosystem, working with strong strategic partners like Alibaba, Bosch, and SONY to support its entrepreneurs.

Chibo Tang has been a venture capitalist for over a decade. He leads Gobi's Hong Kong office, overseeing the GBA practice, and manages the Alibaba Hong Kong Entrepreneurs Fund, for which Gobi is the exclusive General Partner. Tang has led numerous investments including Airwallex, WeLab, GOGOVAN, Urban Revivo, Prenetics, DayDayCook, Sandbox VR, AQUMON and Qupital. He is active in pursuing investments in fintech, logistics, consumer and new media sectors, and is at the forefront of driving the startup ecosystem in the GBA region.
Hong Kong: the 'Irreplaceable' Hub
Tang has a very positive outlook for Hong Kong as an international business hub. He said: "The image and reputation of Hong Kong as a preferred destination for doing business has been established over decades. Hong Kong enjoys a unique positioning in the Asia-Pacific region, especially given its proximity to China, and is irreplaceable for the time being."
"In fact, Hong Kong has been rated by the Institute for Management Development (IMD) at Lausanne, Switzerland, as the world's 5th most competitive economy in 2020. Hong Kong is an open economy with no trade barriers, no restrictions on foreign or external investments, no foreign exchange control, and no nationality restrictions on corporate or industry ownership. Being able to exchange information and conduct business without barriers with people and businesses worldwide is very important for a company. We are aware that many international companies wishing to enter the Chinese market have first established a foothold in Hong Kong."
Hong Kong also has world-class research institutions and government-sponsored startup programmes, such as Cyberport and the Hong Kong Science and Technology Parks Corporation (HKSTP), with numerous other startup incubators, providing resources and support to startup companies. According to studies conducted by the AEF, Hong Kong is seen by many respondents as a globally leading entrepreneurship location, surpassing Silicon Valley, Israel, London and other innovation hubs around the world.
In addition to its financial and legal infrastructure, Hong Kong's unique international position and open business environment gives it a competitive advantage not only in the GBA region, but also amongst tier one Mainland cities to attract top international and local talent.
The Greater Bay Area: Opportunities for Hong Kong
The GBA initiative encompasses 9 Mainland cities and the 2 Special Administrative Regions (SARs) of Hong Kong and Macao. Within this region, Hong Kong plays a unique role as a leading center of global finance and trade. Given its history and infrastructure, the businesses and talent based in Hong Kong are also much more international in nature, compared to other GBA cities.
As the region continues to develop, Tang hopes to see more cooperation among cities in the GBA, such as improvement of legal and tax issues to facilitate cross-border development of businesses in the region. He also hopes that new government initiatives can further deepen and improve the transportation infrastructure and networks to promote cross-border talent flow.
In Tang's view, what really sets GBA apart from other famous bay areas of the world, such as the bay areas of New York, Tokyo and San Francisco, is that it has three distinct but mutually inclusive systems and cultures. This is a distinguishing feature and strength. He said: "Hong Kong is the bridge between the international community and mainland China. It is a market where local and international talents converge, and where cities in mainland China can draw valuable experience and best practices."
For entrepreneurs and startups based in Hong Kong, the GBA also presents a large, attractive, and highly addressable market opportunity. Tang offers advice to local entrepreneurs, saying: "Hong Kong youth and entrepreneurs should be aware of the evolving opportunities within GBA. They should take advantage of the upcoming policies, subsidies, and other initiatives that aim to promote further integration within the region. These initiatives can make a material difference in the growth and traction of emerging businesses."
Alibaba Entrepreneurs Fund: Nurturing the Local Startup Ecosystem
Alibaba Entrepreneurs Fund (AEF) was established in 2015, with a HK$1 billion fund to support Hong Kong-based youth and entrepreneurs to achieve their dreams. Tang was positive about the impact of AEF on the local innovation ecosystem, saying: "The AEF mainly targets startups established by people in Hong Kong or Taiwan. The aim is to create a more active startup environment by providing funding to startup companies and support entrepreneurs in Hong Kong and Taiwan through venture capital investment, while providing access to the Alibaba ecosystem to further develop their business.
"Besides allowing startups to make use of the technology, data, network and other resources within the group's ecosystem, the Alibaba Group also hopes these companies can benefit from Hong Kong's unique advantages so that those with promise can grow and thrive."
According to Tang, Cyberport, HKSTP and the Hong Kong-Shenzhen Innovation and Technology Park on the Lok Ma Chau Loop have also contributed much to Hong Kong's ecosystem for innovation and technology. He said: "The AEF has close working relations with both Cyberport and HKSTP, and often looks for suitable startup companies for investment from their respective programs."
Tang is a regular judge at Jumpstarter - the World's Largest Online Startup Competition - which first began in 2017. This global pitch competition is initiated and organized by AEF each year, and supported by Cyberport, HKSTP and Gobi, among others. It takes place not only in major Chinese cities but also in the San Francisco Bay Area, London, Toronto and Kuala Lumpur. The global event attracts startups from all over the world with aspirations to do business in Hong Kong and Asia, providing them an opportunity to showcase their startup and meet other entrepreneurs, investors and industry experts. Through this initiative, global startups and talent can also learn about the various opportunities in Hong Kong, which promotes the further development of the local innovation ecosystem.
The Hong Kong Artificial Intelligence (HKAI) Lab is another non-profit initiative driven by AEF, and jointly funded by AEF, HKSTP and SenseTime. The program is an accelerator for early-stage startups in the field of AI, and together with its partners, the HKAI Lab offers funding, R&D facilities, and AI-related data and know-how to attract world-class businesses and talent to Hong Kong.
Outside of organizing Jumpstarter and the HKAI Lab, AEF also invests directly into numerous startups from the seed to growth stages. Investment activities for both AEF and the HKAI Lab are managed exclusively by Gobi Partners. To date, the overall portfolio includes over 40 companies. These have included local standouts such as WeLab, AQUMON and Qupital in the fintech space, AutoX in the self-driving car sector, GOGOVAN and Pickupp in the logistics sector, and consumer tech companies including DayDayCook, Sandbox VR and Prenetics.
Portfolio Synergies: Leveraging Alibaba's Ecosystem
The AEF has invested in over 40 startup companies in Hong Kong since 2016. One of its earlier investments was in the seed round of Qupital in 2017. Qupital is an online trade finance platform serving small and medium-sized enterprises (SMEs) in the e-commerce sector, providing financing solutions to SMEs currently not covered by traditional banks to help ease cash flow pressures. Qupital's next-generation receivables financing solution is able to help many Hong Kong businesses and this type of support is highly aligned with AEF's philosophy to advance the local ecosystem through the innovation and adoption of technology.
After the company's initial round of financing in 2017, it subsequently raised US$15 million (HK$117 million) in a Series A round of financing in early 2019, also supported by AEF. Qupital quickly expanded its network of clients leveraging the broader Alibaba ecosystem, including strategic partnerships and collaboration with Alibaba.com, Cainiao and WorldFirst just to name a few.
Tang sees Alibaba's collaboration with Qupital as a prime example of win-win co-operation between AEF and its portfolio companies. He said: "It gives a chance for both sides to further expand their client reach and impact, and also generates significant synergies from which further collaboration can be explored. Qupital's success not only sets an example for other portfolio companies of AEF, but also proves that the innovation happening within Hong Kong's startup ecosystem is very relevant to other larger markets in the region."
Looking Ahead: Challenges and Opportunities
There is no doubt that the local innovation ecosystem in Hong Kong has come a long way over the last 5 years. With strong local stakeholders and supporters such as the AEF, the startup scene has really come alive and numerous Hong Kong-based unicorns (startups with over US$1 billion valuation) such as Welab, GOGOVAN, Airwallex, Sensetime, Lalamove and Klook, demonstrate amply that local entrepreneurs have what it takes to succeed at the highest levels. At the same time however, much more progress can be made in terms of governmental support, talent retention and funding.
In terms of regulatory frameworks and policies, there are still many legacy issues that can be addressed to help startups innovate in a more free and efficient manner, especially in the fields of fintech and AI. In Tang's view, the innovation of technology and related development of government policies should be a two-way process. He said: "As a venture capitalist, I look at cutting-edge startups focusing on previously overlooked or underserved markets that can be addressed with innovative technological solutions. Their potential value contribution may be phenomenal."
"However, from an incumbent's perspective, these companies could be seen as 'disruptors' who would stimulate significant market changes in ways that are currently unknown. Regulators oftentimes lag behind these trends and are unable to provide effective policy frameworks in a timely manner. In these cases, the government and startups must work together to promote effective regulations for sustainable long-term development."
Another challenge or opportunity that Hong Kong faces is talent retention. In the past, many international talents have been drawn to Hong Kong as a key market bridging China and the rest of the world. However, these international talents are highly mobile. They may be company executives sent to Hong Kong to develop new businesses or build new teams. When their job is completed, or if they see little prospect for advancement, they will leave Hong Kong in search of new opportunities. Tang emphasised the need to retain this highly mobile talent base, saying: "the Hong Kong government should try to think of ways to retain these outstanding international talents. We should also try to make use of their experience and expertise to train up local youth."
Finally, despite Hong Kong being known as an international finance hub and home to numerous financial institutions and service providers, there are relatively few venture capital or private equity firms focused on early stage technology companies. There is a marked funding gap in the institutional financing rounds of startups in the region, and most Hong Kong startups must go to Mainland China or Southeast Asia to seek larger investors for their growth round financings. There is actually a significant opportunity here for professional fund managers with mandate to invest at the growth stage.
Tang is ultimately quite hopeful when it comes to the future outlook and prospects of Hong Kong's startup ecosystem, especially vis-à-vis the GBA region: "The next 10-15 years of the region's development will be another golden age, as Hong Kong finds its optimal position within the GBA, and local entrepreneurs are able to identify and realize the emerging cross-border opportunities that the GBA can offer. I am excited to play a role in supporting this ecosystem's continued development."
Company interview conducted by PricewaterhouseCoopers Advisory Services Limited
---
Note 1: The opinions and views expressed are those of the interviewees and do not necessarily reflect the views of HKTDC or PwC. HKTDC or PwC shall in no way be responsible for the accuracy, completeness or timeliness of the information provided by them, and for any loss associated with the use of such information.
Note 2: This English version of the case study is translated by HKTDC based on the Traditional Chinese version prepared by PricewaterhouseCoopers Advisory Services Limited. Should there be any inconsistency or ambiguity between this English version and the Traditional Chinese version, the Traditional Chinese version shall prevail. PricewaterhouseCoopers Advisory Services Limited will not have or accept any liability, obligation or responsibility whatsoever for any loss, destruction or damage (including without limitation consequential loss, destruction or damage) however arising from or in respect of any use or misuse of or reliance on the English version of this case study.
Finance & Investment
Finance & Investment
Finance & Investment
Finance & Investment
Finance & Investment
Finance & Investment
Finance & Investment
Mainland China
Hong Kong
Hong Kong
Macau
Mainland China
Hong Kong
Hong Kong
Macau
Mainland China
Hong Kong
Hong Kong
Macau
Mainland China
Hong Kong
Hong Kong
Macau
Hong Kong
Mainland China
Hong Kong
Macau
Hong Kong
Mainland China
Hong Kong
Macau
Hong Kong
Mainland China
Hong Kong
Macau