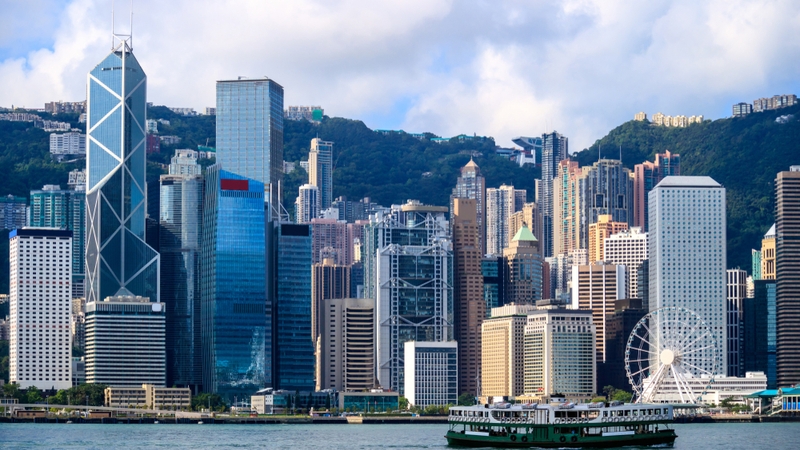 https://hkmb.hktdc.com/en/NTc1NDQ5OTEw
SWOT Analysis of Hong Kong as an International Business Hub: A Prime Site for Business Headquarters
Given its diverse range of financial, legal and other professional services, its well-established, fair legal system and its familiarity with international investment practices, Hong Kong is considered by business leaders in the Guangdong-Hong Kong-Macao Greater Bay Area (GBA) to be an ideal springboard for expanding their overseas business. These qualities have also helped Hong Kong become an Asian business hub, attracting more than 9,000 overseas and mainland enterprises to the city to base themselves and operate here. In a study1 conducted recently by PricewaterhouseCoopers Advisory Services Limited (PwC), one respondent from the financial services sector said that Hong Kong was the top destination for many overseas asset management companies and financial institutions looking to set up an offshore presence.
Financial institutions particularly favour Hong Kong because it is a business centre that has developed under a market economy, and is a melting pot of east and west. In terms of market size and business environment, Hong Kong is indisputably the best place to start venturing into the Asia Pacific market. Foreign-backed enterprises looking to penetrate the mainland market can use Hong Kong as a conduit through which the goodwill and word-of-mouth that they have built up in Hong Kong and overseas markets can be publicised on the mainland. Companies can also enhance their reputation and localise their services and products in Hong Kong to meet the needs of the mainland market.
One survey respondent in the fintech sector added that the main reason that companies consider Hong Kong the first port of call when they are looking for a location to set up their headquarters is that, in their words, "Hong Kong is a world-recognised leading financial centre". The regulatory system in Hong Kong is such that companies based there can use their business and regulatory compliance records to facilitate their entry into other major financial centres and instill confidence among professional institutional investors in the global capital market.
56% of respondents in the survey have established a presence in Hong Kong. This includes setting up corporate headquarters (which 32% of respondents had done), regional headquarters (10%), a branch office or functional office, such as treasury, sales and marketing, and so on (12%), and a representative office (6%). 40% of the respondents indicated that they do not currently have a presence in Hong Kong. One respondent from the financial services sector commented that as the GBA develops, Hong Kong needs to maintain its advantages as an international financial centre, especially its functions as a financing hub, corporate treasury centre and asset management centre. The respondent added that the reason that a number of investors and private equity funds from OECD countries are coming to the GBA is to invest in unicorns with growth potential. It is therefore important for Hong Kong to stay competitive and become a platform for linking up international investors with businesses with potential in the region.
Of the respondents who do not have a presence in Hong Kong, 22% said that they will probably establish a presence there in the future, or that if their company does look to establish a presence overseas, Hong Kong would be one of the options. However, only 5% said that it was very likely that they would establish a presence in Hong Kong and are considering such a move. The remaining 73% indicated that they are not interested in establishing a presence in Hong Kong for the time being.
The survey found that Hong Kong's role as an international business hub is a factor affecting enterprises' interest in establishing a presence in Hong Kong. This indicates that if Hong Kong is to build itself into a business headquarters hub in the GBA, much improvement still needs to be made. The relevant stakeholders must consider different ways and means to attract more GBA enterprises with the potential to set up a presence in Hong Kong to come to the city.
​​​​​​​
---
1 For the background information about this report, please refer to the appendix in Hong Kong as the International Business Hub for the Greater Bay Area (Executive Summary).
The Chinese version of the report is prepared by PricewaterhouseCoopers Advisory Services Limited. The English version of the report is translated by the Hong Kong Trade Development Council based on the Chinese version. Should there be any inconsistency or ambiguity between the English and Chinese versions, the Chinese version shall prevail.
PricewaterhouseCoopers Advisory Services Limited, other PwC Firms, its partners, employees and agents, accept no liability, whether as a result of breach of contract or tort (including negligence) in relation to the report (Chinese or English version), and will not accept any liability, obligation or legal responsibility for any loss or damage (including without limitation consequential loss or damage) however arising from or in connection with any use or misuse of or reliance on the report (Chinese or English version) by the readers. PwC Firms refer to any entity or partnership within the worldwide network of PricewaterhouseCoopers firms and entities ("PwC Firms"). Each of PwC Firms is a separate and independent legal entity.
Accounting Services
Banking Services
Finance & Investment
Intellectual Property
Legal Services
Quality Inspection and Testing
Technology
Accounting Services
Banking Services
Finance & Investment
Intellectual Property
Legal Services
Quality Inspection and Testing
Technology
Accounting Services
Banking Services
Finance & Investment
Intellectual Property
Legal Services
Quality Inspection and Testing
Technology
Accounting Services
Banking Services
Finance & Investment
Intellectual Property
Legal Services
Quality Inspection and Testing
Technology
Accounting Services
Banking Services
Finance & Investment
Intellectual Property
Legal Services
Quality Inspection and Testing
Technology
Accounting Services
Banking Services
Finance & Investment
Intellectual Property
Legal Services
Quality Inspection and Testing
Technology
Accounting Services
Banking Services
Finance & Investment
Intellectual Property
Legal Services
Quality Inspection and Testing
Technology
Hong Kong
Mainland China
Hong Kong
Macau
Hong Kong
Mainland China
Hong Kong
Macau
Hong Kong
Mainland China
Hong Kong
Macau
Hong Kong
Mainland China
Hong Kong
Macau
Hong Kong
Mainland China
Hong Kong
Macau
Hong Kong
Mainland China
Hong Kong
Macau
Hong Kong
Mainland China
Hong Kong
Macau